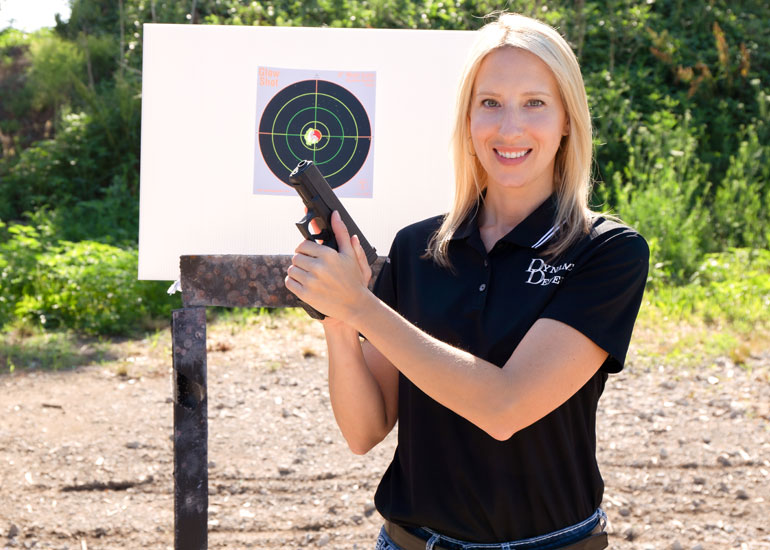 To say Rebecca Richter knows her way around a firearm is a bit of an understatement.
"I grew up in a hunting- and gun-enthusiast family, so I've always been around guns," Richter said. "I was taught from an early age to be respectful of what they're capable of and to handle guns safely."
Richter is a certified instructor through the National Rifle Association, the U.S. Concealed and Carry Association, and the Minnesota Bureau of Criminal Apprehension. She's also the owner of Dynamic Defense Firearm and Situational Awareness Training, LLC in Mankato. As a woman, she's a rarity in this field.
"In Minnesota, there are less than a handful of women who own a firearm business and are the primary instructors," Richter said. "There was a huge need for female instructors."
Dynamic Defense offers handgun fundamentals and permit to carry classes for both women and men. Richter also teaches situational awareness and personal defense training for individuals, private groups, and businesses.
"The situational awareness class has nothing to do with guns. It's solely about learning how to identify a threat, how to get yourself out of a situation, and how to avoid the situation altogether," Richter said. "It's all about the mindset. A lot of people don't understand that a gun is just a tool. Your No. 1 tool, your biggest asset, is your mindset."
Sessions are scheduled through the Dynamic Defense website and led by Richter at the Caribou Gun Club in Le Sueur and the Nicollet Conservation Club in Nicollet. Once her students have mastered basic handgun skills, Richter encourages them to continue to learn and practice, practice, practice.
"Firearm training needs to be ongoing. It's a perishable skill," Richter said. "When you are in a defensive situation, and the adrenaline and the fear kick in, you don't rise to the occasion. You default to your highest level of training. You wouldn't run a marathon without training. It's the same thing with a gun."
Richter said her classes draw people of all ages and all walks of life.
"Wanting to be safe and wanting to protect yourself and your family is a basic human desire," Richter said. "We should all be able to do that."
---
The Essentials
Dynamic Defense, LLC
Phone: (507) 381-2001
Facebook: @dynamicdefensemn
Web: dynamicdefensemn.com
Photo by Jonathan Smith