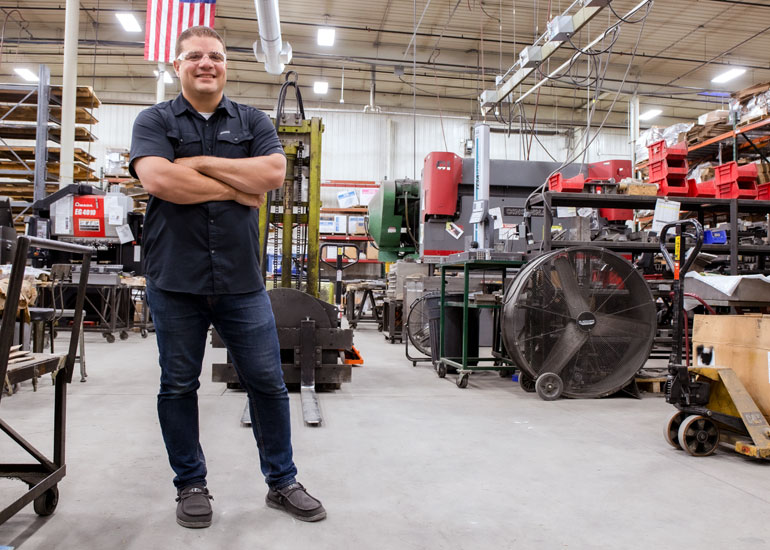 Dan Sacco is a man with a plan.
From the time he was a young boy, Dan Sacco dreamed of being a police officer. He would play cops and robbers around his dad's business, then called Northstar Specialties, not paying much attention to what was going on around him at the time.
"My brother and I would just run around the shop and break stuff," Sacco said. "There was an old-time elevator we used to play on. At that time, my dad's shop was across from where the St. Paul Saints play, so one weekend we cordoned off the parking lot and charged 5 bucks for parking. My dad came out all mad and said, 'What are you guys doing? Our employees need to park here!' I have lots of fun memories."
While Sacco grew up around the business, he didn't grow up in the business. Now known as AmeriStar Manufacturing Inc., the company is headquartered in a 45,000-square-foot facility in Mankato. AmeriStar is a full-service sheet metal fabrication business. Its services include stamping, precision laserjet and waterjet cutting, welding and assembly, and short-run and long-run stamping. It touts state-of-the-art equipment that can take your metal components from prototype to large production quantities.
With his childhood memories and just a vague notion of what his dad did every day, Sacco decided the family business was not for him and chose to follow his own path. He left to study law enforcement at St. Cloud State University and then moved on to San Diego to be a cop. But as time went by, working at AmeriStar became more appealing.
"While I was out there, I was still talking to my dad about the business. I began to realize that while I had this dream as a kid of being a police officer, after doing it, I realized it might not be for me," Sacco said. "It was a really dangerous job, and we lost someone we worked with on my patrol squad. When that happened, I thought to myself, 'What are you doing? Just move back, be with your family.' So I asked my dad, 'Hey, would you mind if I came back and worked for you?'"
It turns out his dad didn't mind. But he had some conditions: If his son was going to come back and be a part of the business, he would have to earn it. Sacco turned in his badge and went about the business of learning the family business.
"You might not think the two different careers would jive, but strangely enough, they do. In law enforcement, we dealt with life and death every day, especially in a large city like I was (in). Being able to handle that and deal with those situations really helped me when I transitioned to business because it helps me always keep a level head," Sacco said. "When things seem like a crisis at AmeriStar, I think, 'Man, this could be a lot worse.' No one is going to die. This is just a part we made a mistake on. I can reach out to the customer to find out how to make them happy. So my experience in law enforcement helped me learn to take things in stride. Now I am in a completely different career, but the same principles (apply): you have a problem, you have to solve it, and you have to rely on your team to help."
At AmeriStar, team members understand the importance of the job they do. At first glance, the parts that come out of AmeriStar Manufacturing don't look like anything special: a small $2 bracket or a $4 hinge. But the Sacco family and AmeriStar's 55 employees all understand that one small part is a piece of a much bigger assembly. It's important. It may be one of a couple of hundred parts customers, like John Deere and Bosch, need to complete their multimillion-dollar projects.
"We are mindful of the importance of what we are doing, and we don't want to hold up these large assemblies," Sacco said.
"These are big deals. You have to understand your place in the supply chain and what it takes to maintain that relationship with the customer. You have to understand the process and know what the client wants. To do that, you start developing a relationship with the customers. I enjoy that, getting to meet people that we've done business with for 30 or 40 years."
It was important to Sacco's father that his son learn how every department worked. He even learned the computer-aided design engineering side of things. In doing so, he eventually earned his path to buy the business from his dad.
"He wanted to make sure I understood every aspect of the business," Sacco said. "As business goes up and down, there may not always be someone in those roles. He wanted me to understand the business so I could fill the different holes as they come up. I spent time on the production floor, in estimating, quality control; I rotated through every department."
Sacco knew all the rotating was teaching him what he needed to know and steering him in the right direction.
"While I was working my tail off on the floor, my dad would sometimes pull me into the banking meetings, the lawyer meetings, the employee issue meetings," Sacco said. "He was giving me a feel for the bigger things that were going on around us, but that I didn't necessarily see when I was out on the floor. He wanted me to get exposure, (to learn) how to get a loan for a piece of equipment or how to negotiate contracts with material suppliers."
Sacco discovered he loved the communications side of the work.
"I grabbed on early to the documentation side," Sacco said. "I enjoyed the interaction with the employees. I mean, being a police officer, that was my job. I talked to people every day."
Sacco worked his way from quality assurance manager to plant manager to president.
"I ran the business for two or three years independently. John (his father) was still involved, and we were working on a transition plan," Sacco said. "It is not that we didn't want to do it. We were just always working on something together, fixing different issues that popped up. So just naturally, the transition was pushed aside. Because while it was important, we were just so focused, having fun together. We were in no hurry. We knew it would work out."
And it did work out. In October 2020, Sacco officially took ownership of AmeriStar Manufacturing. To chart a path to the future, he is looking at the company's past.
"I think the most exciting thing about AmeriStar is looking back at its history when my grandfather owned it and then my dad took over," Sacco said. "I just think about all the obstacles they had to overcome to get the business ready for me and, after a century, have it still thriving. All of those years, they spent late nights at work, not making it home for dinner, missing our hockey games. Now my dad gets to see it all come together. I hope he knows I appreciate it."
Looking at the company's history has been an inspiration for Sacco. He's already thinking ahead to the legacy he wants to leave his own children.
"I guess it makes me have a greater understanding of what it takes, of how much work it takes, to get a business to this point. When my dad took over, it was a $3 or $4 million company," Sacco said. "It is upwards of $12 million this year, and I am starting to see the pieces falling in place to get us to the $20 or $30 million range. We have the right customers to help us get there and that want to grow with us. So maybe this becomes a legacy thing. It's fun to envision where we will be in 30 to 60 years. It's my charge now to have it ready someday if my kids are interested in taking it over."
Part of Sacco's strategy is paying attention to AmeriStar's culture, not just its bottom line.
"I spent tons of time evaluating different personalities and hiring people that I felt could best fit in with what we are building here," Sacco said. "There have been some missteps, of course, but now we have a cohesive team. Nine out of 10 times, I know they are going to make the right decision. There are times the wrong thing is going to happen, but I trust them to fail. As I've learned, you can't grow until you make a decision that may turn out to be the wrong one. So I have learned to trust my team and let them make the decisions I am paying them to make. That was always a tough obstacle for my dad, and even for me, because as much as … we want to dive in and just do things ourselves, we realize how strong our team is and how smart our managers are. They want to do a good job, and if you give them the opportunity to succeed, it is usually beneficial."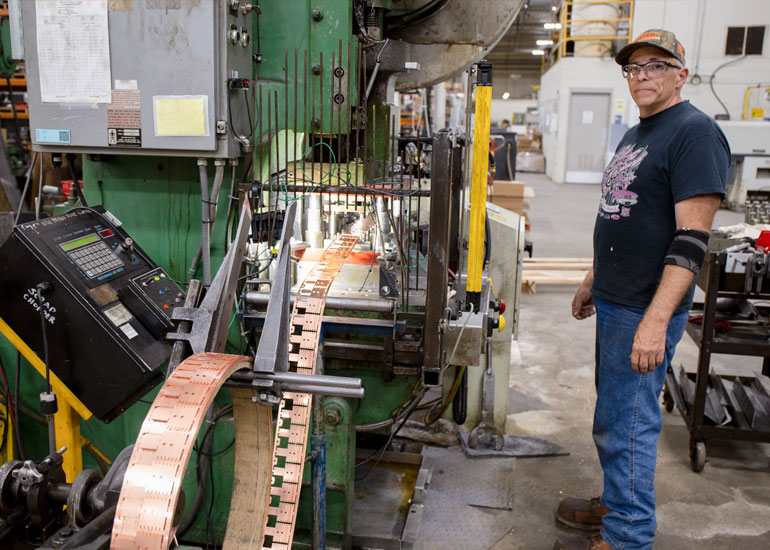 Larry Glaubitz running a punch press, stamping out a bracket utilizing a compound tool.
In the midst of a workforce crisis in our region, the first challenge Sacco tackled was addressing hiring needs.
"Finding general labor has been difficult," Sacco said. "One of the big improvements I made right after I took ownership is I hired an HR professional. She has been phenomenal even in these periods of difficulty finding people. She not only finds people, (she) really acquires talented people. So it's been exciting to have her and be able to keep up with growth.
"The wage increases are difficult to deal with sometimes. We have to take care of the people we have, so we are mindful of those wages when we hire new people. We make sure we are fair to all involved."
Another challenge Sacco has had to face is supply chain issues.
"These days, we are having a big issue with material. Luckily, we are staying ahead of the game and taking proactive steps with our customers to make sure we can serve them. We often understand our customers' forecasts better than they do. So we are getting allocations of material before they even realize they need them, so we always have what they need. It's something we've had to do to stay competitive. The last thing we want to do is call our customers and tell them we can't do it and interrupt their assemblies. We don't want to risk a shortage," Sacco said.
Sacco is also constantly looking at cost evaluations on new orders to make sure the company is still profitable.
"There have been some missteps in our industry," Sacco said. "Maybe someone had a purchase order last year and they send the same PO this year to sign. Well, if you just accept that as the price, you could get into a lot of trouble. I mean, (multiply) that by 400 or 500 different jobs a month and it adds up. There are pricing fluctuations in people and materials now, so you just really have to work with your customers and explain to them any price increases and get them to buy in."
Sacco's third challenge was looking inward to see how he would fit into his new role.
"Constant feedback is super beneficial to me. In fact, I have a business coach that I work with, along with a business ownership group called Allied Executives. It allows you to evaluate yourself," Sacco said. "What I realized is that we have a great group of people in our management team, but I was eliminating some of what they could do for us because I was holding on too tight. It's nerve-wracking because it's your name on everything, so you want to control it. It's tricky and hard to let go just a little bit and allow these people to do what they are good at. Once I started doing that and believing in them, we started to see pretty substantial growth. Every once in a while, there is a mistake or misalignment with values or vision. Then I step in. I feel like I have released them. It's been fun to watch them and the business grow."
---

Sacco Outside of Work
"My wife and I have three boys, ages 6, 4 and (9 months)," Sacco said. "We enjoy camping as a family. We became friends with resort owners on Leech Lake and sneak away on a Thursday or Friday to take a long weekend. I love to fish with my boys. It's great on those weekends because the only thing I have to worry about is whether the fish are biting and that becomes the stressor, not work stuff.
"The kids are starting to get into sports, so it is fun watching them. They are really starting to grow, and I think back to when I was their age and things my parents said or did all (make) sense."
Sacco's father and mother, John Sacco and Antoinette Sacco, have been enjoying retirement since their son took over AmeriStar. In fact, one of Sacco's fondest memories with them occurred a few weeks ago.
"I was helping dad with something in his house … and suddenly, he just looked at me and said, 'I am so proud of you.' It was impactful because while I know he loves me, we have just never had the kind of relationship where you voice those things," Sacco said. "I am committed to the promises I made to him when he retired. I want to make sure his retirement is all he wants and needs it to be. That makes me wake up and go extra hard."
---
Proactive Approach to COVID
"Early on, I could see what was coming with COVID," Sacco said. "I am a worrier, so I am always thinking, 'What's the worst thing that can happen?' Then I think, 'What's the plan to overcome it?'"
When lockdowns began in other countries, Sacco shifted his focus to preparing for possible employee illness and quarantines.
"Am I going to have to call John Deere and say, 'Hey, one of my employees is sick and we have to quarantine. So, we are going to have to shut down, and you won't get your part for your multimillion-dollar assembly line.' That's a call I didn't want to have to make."
Sacco reached out to friendly competitors with an offer: if one business needed to shut down, the others would cover its orders so clients wouldn't be impacted.
"We became friends pretty quickly because we had a common enemy: we were all fighting COVID. … It was a way to sleep at night, knowing that if this happens, we have an option. I was happy to let our customers know that we had a plan. It gave us hope and reassurance. Now we didn't have to shut down, and we were essential, so all of my employees toughed through it all, and I'm proud of them."
---
The Essentials
AmeriStar Manufacturing Inc.
2600 9th Ave.
Mankato, MN 56001
Phone: (507) 625-1515
Web: ameristarmfg.com
Facebook: @ameristarmfg
Photography by Jonathan Smith