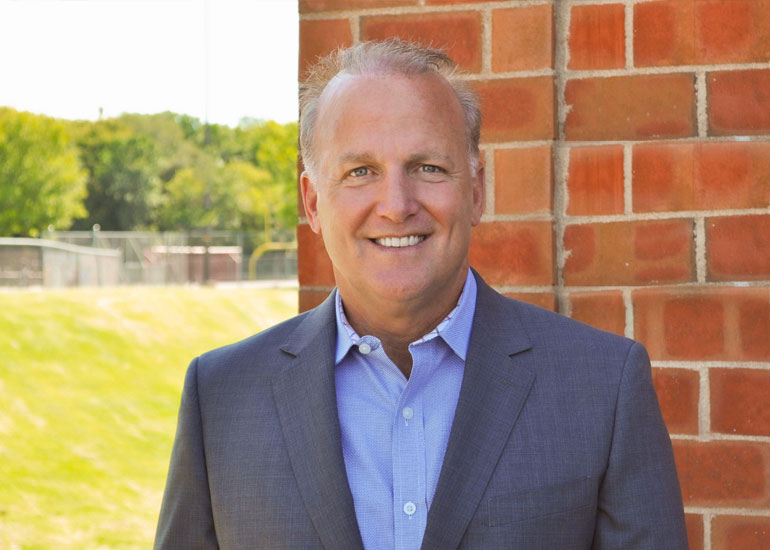 The Brennan name has been a fixture in the Mankato construction and real estate development scene for 27 years. Founded by Mike Brennan and Cathy Brennan in 1994, Brennan Construction offers general contracting and construction management services. Its sister company, Brennan Properties, opened in 2000, adding development and property management to the mix.
With offices in Mankato and Minneapolis, Brennan's construction and renovation projects are sprinkled throughout Minnesota.
Recent projects include Bridge Plaza, a five-story mixed-use building in the heart of Mankato, and the Wings of Newport, a 200-unit apartment complex in Newport.
In this month's Leaderboard, Mike Brennan shares some of his philosophies on leadership and business success.
Tell me about your background.
I'm a Mankato boy. I grew up here. I received a civil/structural engineering degree from the University of Minnesota and an MBA from St. Thomas. I spent seven-plus years with Ryan Companies, a large developer out of the Twin Cities. With (wife and partner) Cathy's CPA background, we came to Mankato in 1994 and started Brennan Construction together.
Cathy and I used to daydream about what it would be like to start our own business. We thought, "Well, why don't we try it?" We tried to think in terms of, what's the worst that can happen? Well, if we don't make it, then we'll just have to go out and get jobs like we have right now. So, we did it.
Our first project was for Young America in 1994. It was to replace a door in their office. The check was $500, and I remember looking at the check with Cathy and thinking, "Wow, we made $500!" It didn't even matter that we had $440 in expenses. It was our first payment received.
Since that first project, we've had incremental growth in both the office and the field, one person at a time, over the last 27 years.
Where is your business at today?
Today we have 18 employees and two offices. Seven years ago, we opened a second location in Minneapolis. Our son, Joe Brennan, runs that office.
We are set up to do large projects. Last year sales were close to $50 million, so we've had growth. When some people saw Bridge Plaza going up in Mankato, they might have thought, "Wow, you're able to do this?" Yes, we are. Our recently completed Newport project at over $20 million is actually quite a bit larger than Bridge Plaza.
Why did you choose the Mankato community for your business?
Mankato is a steady, economically diverse and thriving community. We have many economic sectors covered, such as ag, education, medical and industrial. Cathy and I couldn't have picked a better town to start our company in.
I believe Mankato has got something special going on. Here many of us, though we are competitors in our individual business sectors, respect each other. We want everyone in our industries to do well. As a community we talk. In both the private and public sectors, we solve problems and meet challenges together. There's not a zero-sum mentality.
How would you describe your leadership style?
My leadership style is to let people swim on their own and at the same time offer support if needed. I try to be encouraging because construction and development are hard work. When you have good people, it works.
I love my job right now because we have the younger generation of people in the office and in the field taking hold of their roles.
I don't need to do the day-to-day work like I used to. I get to oversee what's going on with our companies, and it's a lot of fun. I'm enjoying mentoring.
I just read a wonderful book called "The Cave and the Light" by Arthur Herman. It talks about humankind's natural state, or condition of "tension and renewal." The tension stems from how we all see and interpret the world in different ways. As a company, as a community, we can't get to great if everyone agrees all the time. I tend to be a visionary that doesn't back away from this tension. But this tension needs to be followed up with renewal, or "coming together" with ideas, with vision. As long as we respect each other, listen to each other, it's a marvelous way to get big things done with excellence. This process takes grit.
What is the key to your success?
I tend to be open to opportunities. Many of our projects started with a random conversation over a cup of coffee or a glass of wine. A series of projects with one developer started by saying hello to him on the sidewalk as he was holding a set of plans and asking him what he was doing. Thomas Friedman talks about this principle in his book, "The World is Flat." It's amazing how big things can happen if you are open to them happening.
Ten years ago, I would have said I'm an optimist. Today I would say I'm a realistic optimist. You've got to be careful how much time you invest into things that might not happen. You got to know where to focus and when to take the off-ramp.
What is your biggest challenge?
The easy answer would be the recent construction material costs, such as steel and aluminum, going up or finding good help.
But many of these things are cyclical and change. Free markets self-correct over time. Long term, the biggest challenge for any business owner is to keep doing the right things for the right reasons. And the right reasons go a lot further than being profitable. If business owners care about and appreciate their employees and their communities, this is the best thing we can do to weather economic storms.
Any advice for someone considering starting their own business?
A businessperson has to manage risk. You have to ask yourself what's the worst that can happen and decide collectively, "Can we live with that?" Dean Doyscher is a well-known developer in town. Cathy and I have known him for years. He used to say,
"People come up to me and say: 'We think we should do this new venture,' and I say, 'OK, stop right there. Tell me five things that can go wrong with it, address them and then bring it back to me again.'" If you can answer all five of them and you still have a passion for doing it, that's a good check.
---
THE ESSENTIALS
Brennan Construction
201 N Riverfront Drive, Suite 210
Mankato, MN 56001
Phone: (507) 625-5417
Web: bcofmn.com