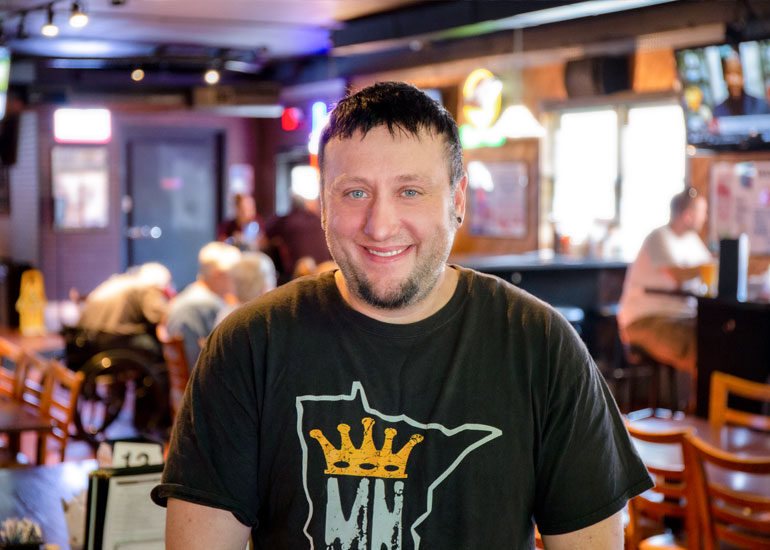 Looking for chicken wings and barbecue that are fit for a king? Check out St. Peter's new restaurant royalty. The Minnesota Wing King opened on June 1. Owned and operated by Sean McCasey, it's located in the former Hobbers Hwy 99 Bar and Grill site on the outskirts of St. Peter.
As its name implies, one of the restaurant's specialties is chicken wings, but there are plenty of other options on the menu, including daily barbecue specials.
"Going with the barbecue has been the best thing that we've done," McCasey said. "We do brisket, baby back ribs, beef ribs, smoked chicken and smoked pulled pork."
The restaurant has indoor seating for 100 and outdoor patio seating for 80. It's situated on a scenic 2-acre lot complete with bonfire pits to warm patrons on chilly nights. McCasey has enlarged the indoor bar, tripling its size and stocking it well.
"We offer 37 varieties of whiskey, a number of vodkas and 82 different varieties of beer. And our bartenders make a mean margarita," McCasey said. "We were really able to make this place our own. This location on French Hill Road feels like a destination location. You can come here and really make a night of it."
McCasey is no newcomer to the restaurant business. He started doing concessions at fairs and festivals about a decade ago. Four years ago, he added restaurant operation to his resume, running the kitchen at a Belle Plaine brewery. But having his own restaurant was always the goal.
"The route that we took was from fairs and festivals to a brick-and-mortar location," McCasey said. "When we saw this building for sale in St. Peter, we jumped on it."
McCasey is happy to report that business is good and customers are keeping his 24-person staff busy.
"We've seen customers from all over," McCasey said. "We had a really good following in Belle Plaine that has followed us here. Being the new face in town, we also get a lot of locals from St. Peter and Mankato coming in to check us out."
The Essentials
Minnesota Wing King
43539 French Hill Road
Phone: (507) 519-1083
Web: mnwingking.com
Facebook: @mnwingking
Photo by Jonathan Smith