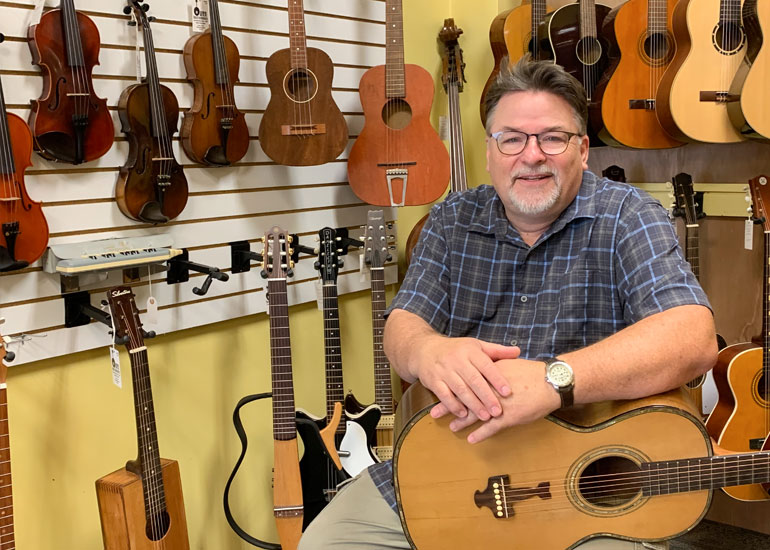 Ouren Instruments is a one-of-a-kind place filled with unique and vintage string instruments. Its walls are lined with guitars, banjos, mandolins and other string instruments that have been lovingly restored and rebuilt. Some are over a century old.
"I'm attracted to old things. There's a whole history of gigging that these instruments have seen," Eric Ouren said. "Banjos and heads will come in, and they'll be signed on the back. You'll get stuff written on these that are 80 to 100 years old."
Ouren is the owner of Ouren Instruments in St. Peter. The store was initially located in North Mankato, but it quickly outgrew the space. In April 2021, it opened in its new location on Minnesota Street in downtown St. Peter.
You could say Ouren has been in the business of transformation his whole career — first as a sculptor coaxing new forms out of different mediums, then as a teacher transforming young minds, and finally as a craftsman restoring and rebuilding string instruments.
It was a sculpture that led Ouren to his current obsession with wooden instruments. The life-size wooden figure that started it all sits in a place of honor in the corner of his store.
"This figure is the ancestor of all my instruments. I wanted to make him lighter, so I cut off the front part of the chest and hollowed it out. Its curved shape reminded me of a violin," Ouren said.
That's all it took for Ouren to start down a new artistic path. He began dabbling in instrument making, using found objects to make unique instruments. That was in 2005. He's been building and restoring old string instruments ever since. He turned it into a business in 2019.
One of the pleasures of Ouren's business is searching for neglected and forgotten old instruments and bringing them back to life. Lucky finds include a 1927 Supertone guitar commemorating Lindbergh's famous flight and a 1930s guitar named after cowboy crooner Carson J. Robinson.
The Essentials
Ouren Instruments
208 S. Minnesota Ave.
Phone: (507) 351-1403
Facebook: @oureninstruments
Photo by Jonathan Smith