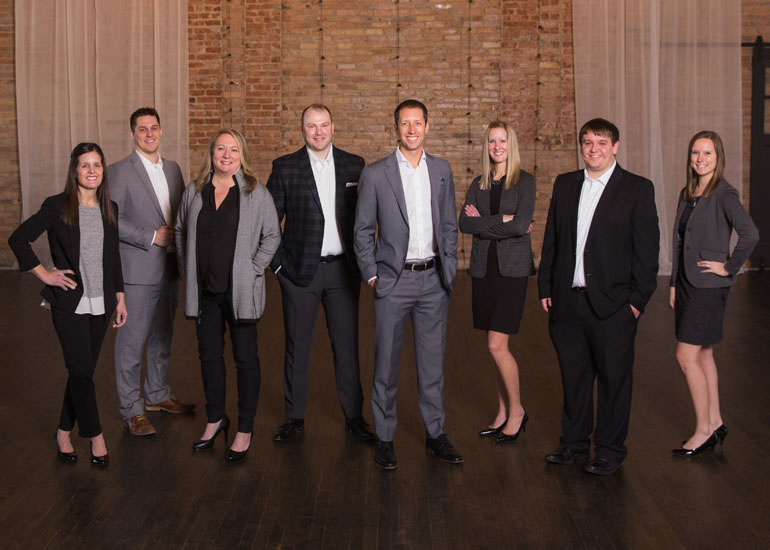 Staloch and his team (pictured left to right): Kate Waagner, Brandon Flowers, Tiann Madson, Justin Fenlon, Colby Staloch, Maria Pinero, Jacob Runck and Mariah Proehl
For more than 100 years, Northwestern Mutual has left its footprint on the financial world and its clients' lives in southern Minnesota. With advisors across several offices in the region, they are part of that culture that has grown and adapted to the changes of the growing industry, built on a foundation of teamwork and collaboration.
"We have an office in multiple spots for a one-team approach in southern Minnesota. People today value a team approach. Traditionally, clients were used to one advisor, one assistant, one corner office," says Colby Staloch, the managing director at the Mankato office. "So for us to be able to work together, whether it is through joint work with our advisors, or internally with the team, we are much better when we work together. As a team, we collaborate to bring our clients the best financial foundation. It's not just about one client."
Working together through generations.
Not only do they have veteran advisors who have been there for more than 30 years, they also have a wide range of advisors who have 10 to 15 years of experience. There are also new advisors coming in who can hit the marketplace to be at the center of their clients' lives and help them in generational planning – a benefit that spreads throughout the area.
Northwestern Mutual Southern Minnesota has offices in Mankato, Marshall, Faribault, Albert Lea and New Ulm, with the main hub for training centered in Mankato at a prominent Cherry Street office.
When Staloch started in 2006 after first interning with the company, there were 12 people in the Mankato office. In 2021, 60 people make up the Mankato office and surrounding locations. They also have a booming internship program that draws for students from around the area, such as Bethany, Gustavus and Minnesota State University-Mankato – a testament to the company's growing footprint from generation to generation.
"In the early '90s, we were an insurance company only, today we provide a balance of both insurance and investments. Every person, family, and business we meet with today receives a full financial plan. We believe that in order to be at the center of our clients lives it starts with understanding their key goals and objectives. When we couple that with the team approach we give our clients the best chance to be successful in the areas that are most important to them. Its not about one product, one cookie cutter solution – its about meeting the client where they are, where they want to be in the future and growing with them through our planning process and team approach."
Northwestern Mutual, a company that is rooted in the belief of a growth-minded culture and has adapted to the changes of a growing industry, to be at the center of its clients' lives.
The Essentials
Staloch Group Northwestern Mutual
111 West Cherry Street, Suite 200
Mankato, MN 56001
Phone: (507) 625-9400
Website: colbystaloch.com