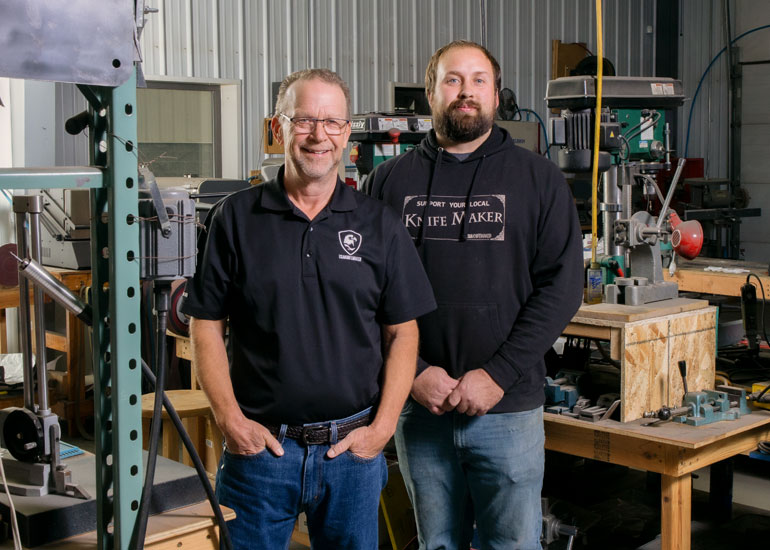 Luke Hoff and Tracy Mickley
At first glance, Midwest Knifemakers Supply appears to be just another industrial building, one of many manufacturing facilities that fill Mankato's Third Avenue industrial park. But to passionate knifemakers all around the world, it might as well be Santa's toy shop, filled to the brim with materials, tools and inspiration.
"We don't make knives here, and we don't sell completed knives. We sell raw materials, semifinished parts and finished parts that would go into a knife or cutlery of literally any kind you can think of," Tracy Mickley said.
Mickley is the founder and co-owner of Midwest Knifemakers Supply along with his wife, Lora Mickley. He started MKS 16years ago, working out of the garage of their family home.In a few years, his part-time hobby became a booming online business. It serves a growing population of blademakersaround the globe.
"My best guess is there are 20,000 full-time knifemakers in the U.S. alone," Mickley said. "All they do is make custom knives. They sell it any way they can, whether it's through social media, a knife show, word of mouth, or at a farmers market. There are people that earn $100 a knife and people that earn $20,000 a knife. It is a very hidden, unique market that you wouldn't know anything about unless you are really into knife collecting. It's a real niche."
Today MKS is one of the top suppliers of knifemaking materials in the world. Although based in the U.S., its customer base is global. The passion for crafting blades knows no boundaries, and demand is high in Italy, Brazil, South Africa and many other countries.
"We ship anywhere from 75 to 100 boxes out every day, five days a week, and we sell all over the world," Mickley said.
Business is Up, Up, Up
Business has only increased in the past two years as the pandemic left people looking for ways to fill their time at home or a side hustle to earn extra income.
"Demand exploded. The more the sanctions and mandates came on, the busier we got," Mickley said. "We were so busy a year ago; it was hard to keep up. It's still hard to keep up. It should be phenomenally difficult to match last year's numbers, but we are. We're having literally the best year we've ever had this year."
The popular TV show "Forged in Fire" has inspired a whole new generation of knifemaking enthusiasts and positively impacted MKS' performance. The program first aired in 2015 and is now in its eighth season on the History Channel. In each episode, four top-notch bladesmiths compete to build a bladed weapon.
"When 'Forged in Fire' started, we could track when they showed something on the show because the next day, we would get phone calls related to whatever it was they showed," Mickley said. "With the popularity of that show, things just really took off."
MKS supplies many of the knifemaking materials used on the show.
"When they send the knifemakers off to get materials, half that stuff is ours that we sold to them," Mickley said. "One of the judges is a friend of mine, and I know many people that have been on that show. I've had three phone calls asking me to be on the show, but that's not what I want to do. I just want to come in and enjoy what I do and go home."
The "Forged in Fire" program has proven to be the gift that keeps on giving to MKS—providing a steady stream of new knifemakers and customers to the company.
"It was cable's No. 1 show for a long time, and it's still on. Then Netflix picked it up two years ago, and we saw a whole new crowd of people coming in from watching the old shows on Netflix. That exposure coupled with COVID keeping people at home resulted in 20 to 30 percent increases in business year –over year," Mickley said. "We're a 15-year-old business that would typically see a 3 percent increase. But we're running 20, 30, 40 percent higher year over year."
From Hobby to Startup
Mickley started making knives over 30 years ago. He was looking for a hobby when an article in Popular Mechanics magazine caught his eye.
"I started with a hand file, sandpaper, and a piece of steel and a place to clamp it down. I had no idea what I was doing. So, I started researching, and I got ahold of some knifemakers who gave me some pointers," Mickley said. "YouTube wasn't developed back then. So you just have to knuckle down, buckle up and start. You make lots and lots of horrible, terrible knives, and you learn."
At that time, Mickley's career was in middle management at Walmart. When a company reorganization came along, he realized it was time for a change.
"I was interviewing for the job that I'd held for 25 years, a job I'd won an award for as the single best district manager in the company," Mickley said. "I decided right then I would start my own business."
He explored a number of business options, looking for the right product and path. At the same time, he continued to pursue his knifemaking hobby. Then one day, Mickley realized there were thousands of other knifemakers out there who needed to get their supplies somewhere.
"I really liked this particular sandpaper, so I bought a big bunch of it thinking I would just sell the extra and then I'd have some free sandpaper. One thing led to another and I started selling supplies online," Mickley said.
Those early years were busy. Mickley continued to work at Walmart by day, then devoted his evenings and weekends to packaging, shipping and promoting his knifemaking products.
"I did all that for five years," Mickley said. "My wife, Lora, saw how busy I was. She stepped in and started helping. By then, we'd taken over two garage stalls plus a room in the basement. Then we hired some help and I had employees in my house, running from room to room."
The business soon outgrew the Mickley home, so they bought a 4,000-square-foot warehouse in North Mankato. It was bursting at the seams within a year and a half, so they purchased a new space. MKS' current space is 12,000 square feet and is home to over 9,000 product SKUs.
"We're full, but we're not adding anything else," Mickley said. "We've put a cap on the maximum number of employees that we're going to have here. We'll never have more than 15. I'd rather stay small. It's not about money at this point. It's just about taking care of people as best we can and enjoying what we do."
Mickley's wife and son have worked at MKS. His daughter is currently the company's customer service manager and his son-in-law, Luke Hoff, is its general manager.
"I'm fortunate that Luke came and brought Chelsea. I get to see my granddaughter all the time, and he's taken over all the hard parts of the business," Mickley said. "He's doing a great job, and it allows me to come in and do product development and enjoy what I do."
When Hoff joined the business, one of Mickley's requirements was that he learn knifemaking. MKS was founded on an intimate knowledge of the craft. Experience and product know-how are still what set it apart from its competitors today.
"I talk to at least eight to 12 people a day asking real questions about how to make a knife. We are the face of our business. So that's a big part of our job, making sure that we know what we're talking about," Hoff said.
The Process
MKS sells everything you need to make a knife from start to finish. This includes materials, tools, equipment and learning materials. It also manufactures some materials and equipment.
"We do manufacture some products here. For example, we make different styles of quench tanks. We process tons of wood, and we make something called a mosaic for knife handles. We also make some leather sheaths," Mickley said. "But most things we just purchase and resell. We're a distributor. We buy in bulk, and we sell retail."
For those customers who wish to shape, forge, grind and polish their blades, MKS offers a variety of metals ranging from brass to copper to steel to titanium.
"We have 30-plus different types of metal," Mickley said. "One might be very tough and able to handle a camping environment. Another metal might hold an edge; it's very strong but delicate, like a Japanese sushi knife. The different types of steel have different properties, and a knifemaker that knows what they're doing will pick out the right kind of steel that matches the knife's intended use."
Other customers may skip the time-intensive forging process, purchasing premade blanks instead.
"We sell knife blades that are ground and heat-treated already. So all you do is put a handle on it, make it look pretty and then give it away or sell it," Mickley said.
Blanks are available in dozens of shapes and sizes. There are various forms of kitchen cutlery, including standard knife sets, oyster knives and cake knives. For outdoor use, there are camping, hunting, filleting and skinning knives. Then there are the fighting blades: dirks, daggers and even fantasy combat weapons.
Once the blade is completed, the focus shifts to the knife's handle. MKS carries a wide variety of materials, colors and textures. Options include wood, carbon fiber, resin, stone, bone and metal. Various types of horns or antlers are also popular, including red stag and sambar stag. MKS is also the leading U.S. supplier of micarta, a resin laminate.
New Ideas Welcome
Mickley keeps his product lineup fresh, staying ahead of trends and even starting a few himself. As a result, there are always new materials, tools and techniques to be showcased.
"A lot of this stuff we just stumbled into and said, 'Man, there's an opportunity. We'd better jump on that.' That's the fun part," Mickley said. "The entrepreneurial side of building a business is 10 times more fun than the maintenance, day-to-day operations of the business."
"That's why I get that side," Hoff said with a laugh.
Mickley agrees: "That's why he gets that side, and I get the entrepreneurial side. He gets to make my dreams come true."
Mickley and Hoff keep an eye on trends, and an ear open to feedback from their customers and fellow knifemaking enthusiasts. In addition, they attend knife shows to see the latest knife designs and products.
"When we're at these shows, that's where our heads are at. We're looking for trends, for what's on the tables and on the knives," Hoff said.
Mickley's focus is now on product research and development. One of MKS' success stories is a clip-on thumb stud product developed for the Buck 110 folding knife. It has sold tens of thousands of this wholesale product alone. In 2021 he added new CNC plasma grinder products.
"Tracy's always got a new idea on the horizon. If you don't figure out what's next, you fall behind," Hoff said. "We both learned in retail – Tracy did it for 40 years, and I did it for 13. We're not going to sell the same things today as we will in 10 years. We won't be in business if we do."
Currently, Mickley is exploring wood carving knives and chisels as he considers adding them to MKS' offerings.
"I'd say it's the next wave," Mickley said. "There's some whittling and carving knives on my bench that I'm experimenting with right now."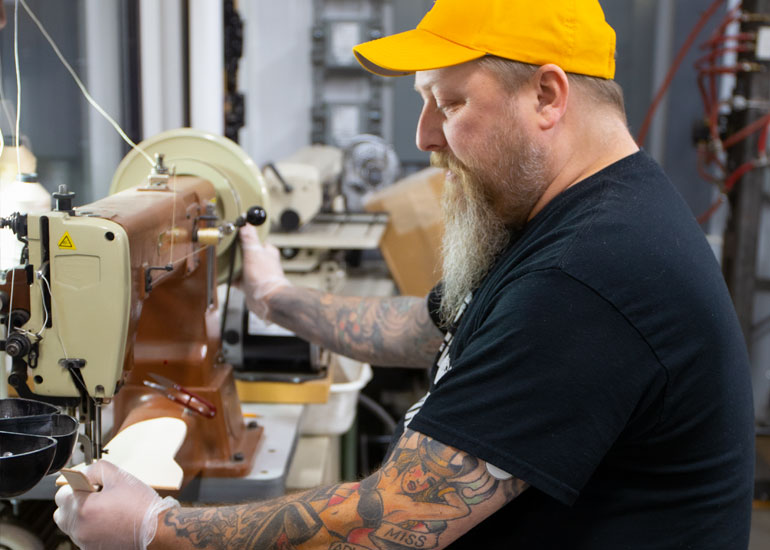 Todd Smith stitching leather sheaths.
New Opportunities As A Third-Party Supplier
MKS' website, usaknifemaker.com, is its primary online store. But the business is venturing further and further into third-party supplier relationships.
"A couple of years ago, we started legging into third-party resellers, specifically with Amazon. It's now anywhere from 10 to 15 percent of our daily business," Mickley said. "I never saw that coming."
Third-party supplier sales are a growing part of the company's business model, and MKS is exploring other platforms.
"We have several hundred products now on Amazon. We're now leveraging into Etsy, and we're also starting to leg into Walmart.com," Mickley said. "The whole third-party reseller thing is appealing. In five to 10 years, I expect we may be 100 percent third-party reseller and our website will disappear. That takes all that technology support off our hands because the website is unbelievably expensive to operate."
Still, Mickley remains cautious. He acknowledges an inherent risk in moving sales from MKS' online store to other platforms that it can't control.
"The downside is Amazon could change their philosophy tomorrow and boot everyone, and then you're destroyed," Mickley said. "So you have to be very careful. That's why we're legging into being a third-party reseller slowly and pursuing a variety of platforms. We want to have at least two or three. If we lose one support platform, we have another.
You've got to have redundancy in multiple channels. The business today that sticks with one channel is going to fail."
A Culture of Shared Knowledge
Mickley said the culture of knifemaking is one of shared knowledge. It's a tradition he works hard to continue, sharing knifemaking lessons on YouTube, spreading the word through social media, and building community through MKS' online forum and guild. He's also been published in numerous industry magazines, including Blade, Knives Illustrated, Knife World and Wood Illustrated.
The Knifedogs Forum provides a place for knifemakers to ask questions, join in discussions and share project pictures. A classified section also allows forum members to buy, sell and trade materials, equipment and knives. Find it online at knifedogs.com.
USA Knifemakers' YouTube channel reaches a broader audience, teaching different techniques and skills to knifemakers of all skill levels. It has almost 8,000 subscribers and over 90 videos in its library.
For those who live within driving distance of Mankato, there's the Midwest Knifemakers Guild. It provides a space for area knifemakers to gather together and learn. MKS hosts its quarterly meetings and invites experts in various aspects of knifemaking to share their knowledge with guild members.
"We helped found the guild, where guys get together and share knowledge. We have training sessions here once a quarter. So we'll have anywhere from 30 to 60 knifemakers show up here for the weekend, and we'll have instructors and show them different aspects of knifemaking," Mickley said.
The guild recently invited a professional forge maker, etcher and knife sharpener to lead sessions.
"All of those people come in and share their knowledge, and that's the culture of knifemaking," Mickley said.
---
The Essentials
Midwest Knifemakers Supply
2650 9th Ave.
Mankato, MN 56001
Phone: (507) 720-6063
Web: usaknifemaker.com
Photography by Jonathan Smith