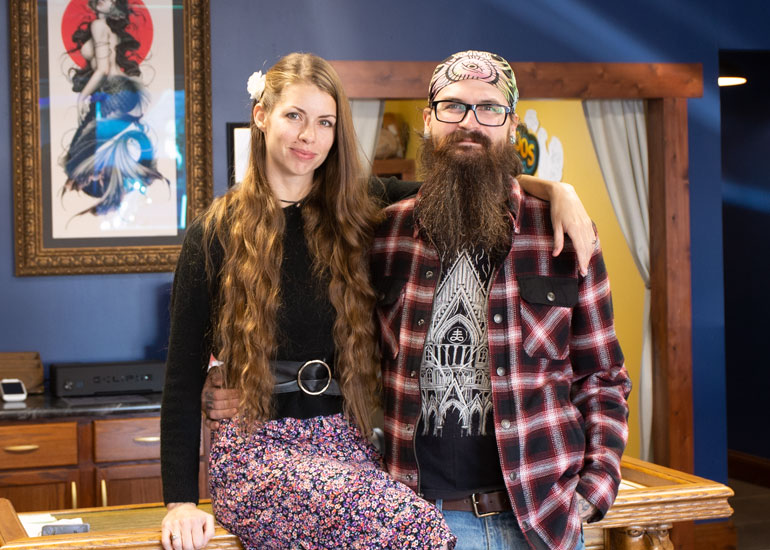 Patrick Marshall and Cynthia Marshall have lived in more places than many people visit in a lifetime. Both children of military families, they met in high school in England, then continued on their independent orbits to other foreign places — only to find each other once more in Minnesota.
"The tattoo on my knuckles says homesick. I never had anywhere I really truly called home," Patrick Marshall said. "I've been in Minnesota for 12 years, so I think I'm a Minnesotan now."
The Marshalls married in 2020 and found the perfect place to call home in Lake Crystal.
"We fell in love with a Victorian house and couldn't not have it," Cynthia Marshall said.
In June 2021 they opened Arcadium Tattoo on Lake Crystal's Main Street, where they provide custom tattoo work in a friendly, welcoming environment.
Cynthia Marshall manages the shop's bookings and business details while Patrick Marshall provides experience, vision and artistic talent.
"Patrick does the heavy lifting with the tattooing and I chat with people when they come in, book their appointments and help them suss out ideas," Cynthia Marshall said.
Patrick Marshall is an award-winning tattooist with more than 10 years of experience. He said most of his customers come armed with photos and ideas, which he converts into a design, sometimes drawing them on his clients' arms with Sharpies to give them a feel for how the finished work might look.
"I'm a contract artist and I do custom work … I've tattooed people from ages 18 to 90. The oldest client I've had was 90, and he got a portrait of his wife and a portrait of his dog," Patrick Marshall said. "The biggest thing for me is I want the customer to leave happy. And I'm willing to work with them until they do."
It didn't take long for word of the new business to get out. Arcadium Tattoo is now booking appointments six months in advance.
As Patrick Marshall observed: "When you make one person happy, they tell a lot more."
---
The Essentials
Arcadium Tattoo
125 S. Main St.
Lake Crystal, MN 56055
Phone: (507) 726-2036
Web: arcadiumtattoo.com
Photo by Jonathan Smith