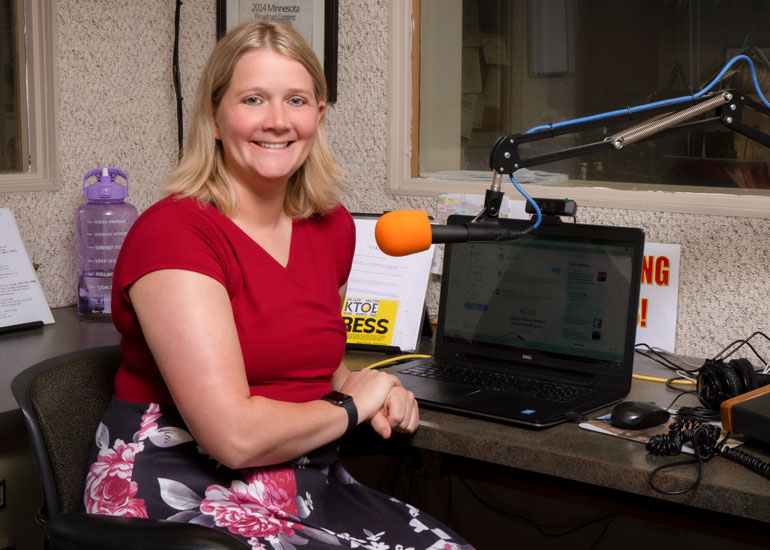 Ashley Hanley is the news director for Radio Mankato, where she writes and delivers the news daily for seven stations across southern Minnesota. She also cohosts "The Morning Blend" on KTOE and works as a freelance writer for numerous publications in the Mankato area.
What steps did you take to get to your current position?
I grew up in Mankato. I went to West High School and then on to the University of Wisconsin-River Falls, where I played softball and majored in journalism. Literally two days after graduation I started at KEYC in Mankato as a general assignment reporter and I loved it.
That was my dream job.
I stayed at KEYC for five years, but then my oldest son was born. He rolled over for the first time while I was doing a newscast, and I didn't want to miss any more. I love my job, but I love being a mom more, so I decided to be a stay-at-home mom. That lasted all of two weeks. Then KTOE asked me to be their part-time reporter. It was perfect. I could do a few stories a day for radio and still be a mom.
After we found out we were expecting baby No. 2, the news director position at KTOE opened up. Babies are expensive and it was a cool opportunity, so I decided to apply. I got it and I've been in this position for almost two years now.
I love every single moment of it.
What drew you to journalism?
I love writing, I love current events and I love history. I remember watching the news after Sept. 11. I was 10 years old, and I remember just staring at the TV. I was fascinated by how they were telling the stories. I decided then that I wanted to be a reporter. Then in college, I took some journalism classes and just absolutely fell in love with it.
What personal strengths do you bring to the job?
Passion is my first strength. No matter what I do, I try to give it 110 percent. I think another strength is being from this area and my love of community. Growing up here, I'm familiar with the people and the values and the things that we take pride in. I want to tell the best stories and keep the community informed.
What is your favorite part of your job?
It's getting to tell the stories of amazing people. I've had the opportunity to meet some cool people: covering President Donald Trump's trip to Mankato, sitting in courtrooms during murder trials and honoring the memory of a fallen Marine from Waseca. I also got to go into the Vikings' locker room after a game during training camp.
What inspires you?
Family. I want my boys to be proud of their mom: proud that she can provide for them, have a job that she loves, yet still be there for them. Every day I work hard to set an example for them. Journalism gives you that opportunity because no two days are the same. You have to strive to be good each day. You can't say, "Oh, I was good yesterday, so I can kind of slack off today." Every day is a new opportunity to be better.
Do you have any advice for anyone who is just starting their career?
Go after it and make your own opportunities. I first got acquainted with KEYC through an internship. They weren't advertising for it anywhere … I literally went in and said, "I want to intern with you guys, what do I need to do?" Within the day, I was hired as an intern. I didn't get paid, but that led to my first job.
Another example was at Radio Mankato. Last year the Derek Chauvin trial was up in Minneapolis and the whole world was watching. I said, "Hey, can I go up there and cover it?" And they said yes. If I hadn't asked, I wouldn't have gotten that opportunity. So, go after it. Create your own opportunities and don't be afraid to dream.
Looking back, is there anything you wish you'd known before?
It's OK to say no. As a reporter in a small market, you're always short staffed. There were times I was working 50 to 60 hours a week. Usually that meant there were big stories going on and (I) wanted to be the one to cover the big stuff. But I'll be honest, I got burned out. Now I prioritize. I'd rather do less things better instead of doing more things kind of mediocre. It's OK to say no, and it's OK to put yourself and your family first.
Take out your crystal ball. Where do you see yourself in 10 years?
Right here. I love this community. I love my job and I love the people I work with. I love that I can be close to my family. I picture myself sitting in the bleachers, watching my little guys play football or on the robotics team.