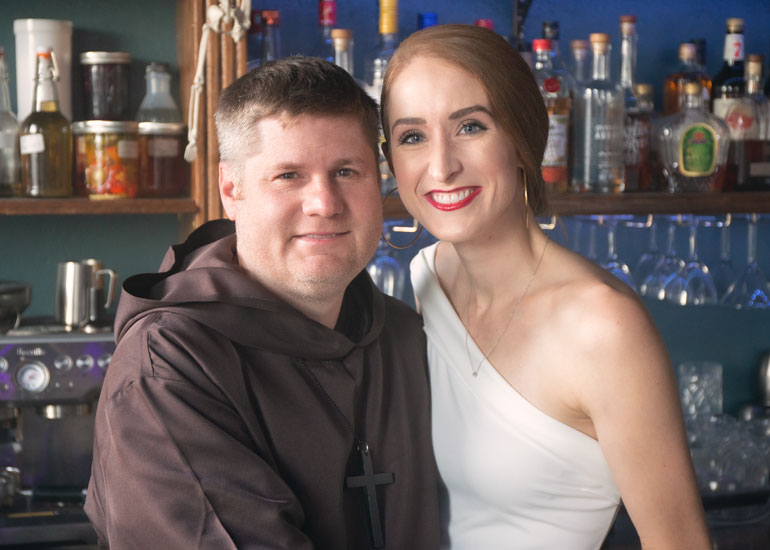 When the pandemic shut down the Twin Cities and remote work became an option, Adam Bryant and Karina Bryant moved to Mountain Lake, Karina Bryant's hometown. There was just one problem.
"There are two things that we really like," Karina Bryant said. "I love craft beer and Adam loves fresh cocktails. So, we found ourselves consistently driving to Sioux Falls and Minneapolis to get libations."
To solve their dilemma, the Bryants opened the Botanist in July 2021. Built in a beautifully restored old bank building in downtown Mountain Lake, the Botanist celebrates the science and art of mixology. Karina Bryant is the bar's owner, while Adam Bryant is her self-described and willing slave and chief mixologist.
"I'm more of a chemist mixologist, so I view every drink as an equation in balance," Adam Bryant said. "What you want is a cocktail that's nuanced and complex, that not only looks great, but tastes great. It's a balancing act."
Adam Bryant's passion for a well-made cocktail inspires the Botanist's cocktail menu and monthly specials. It contains a mix of classic, pre-prohibition cocktails and seasonally inspired concoctions. The Botanist also serves excellent local beers, mocktails and milkshakes.
Milkshakes? Yes, indeed. Milkshakes that will satisfy your every childhood dream, with flavors that include strawberry unicorn, Snickers chocolate and vanilla supreme.
"I wanted a nonalcoholic option that not only tasted wonderful but looked beautiful when I set it in front of you," Karina Bryant said.
The Botanist's food menu features a selection of small plates and appetizers made with locally and internationally sourced ingredients, such as Bavarian pretzels, woodfired pizza and chocolate truffles.
Although it's only open on Friday and Saturday evenings and for special events, the Botanist has already attracted quite a following.
"It is going incredibly well," Karina Bryant said. "We've been really, really, really busy and at least one night a weekend we're standing room only."
Stay tuned. The Bryants have big plans for the Botanist's future, including adding a wine cellar and a basement speakeasy.
---
The Essentials
Botanist
302 10th St. N.
Mountain Lake, MN 56159
Phone: (970) 235-0250
Web: thebotanistbar.com
Photos by Jonathan Smith