C&N Sales: The Business of Fun

Bringing Pool, Darts and Arcade Games to a Game Room Near You!
C&N Sales has been in the business of fun for almost a century. Headquartered in North Mankato, Minnesota, the company also has regional offices in Marshall, Minnesota, and Okoboji, Iowa. You'll find C&N pool tables, dartboards, shuffleboard tables, pinball machines and video games in family basements, recreation venues and local bars across southern Minnesota and northern Iowa. Its jukeboxes provide the music that keeps patrons' toes tapping and set the mood for many a fun night out.
If you play in a pool or dart league in our region, chances are good C&N made it possible. Its league systems for pool and darts serve over 126 taverns, 1,190 teams and 5,000 league players. It also hosts numerous multiday dart and pool tournaments every year that draw hundreds of players to its chosen venues.
Of course, with the COVID-19 pandemic, the past two years have been anything but fun for the bar and restaurant industry. As a result, league play and tournaments came to a screeching halt.
"We had a very short league season last year, but they're starting to come back. Many bars that were forced to close their doors are now reopening either under the same or new ownership. So we just have to roll with it," Christine Phinney said. "Things are coming back. Our numbers are still down a little bit, but people are getting vaccinated … and people aren't quite as afraid to be out."
Chris Phinney is one of 20 employee- owners at C&N Sales as part of the company's employee stock ownership plan. She said C&N had to stay nimble during the pandemic, shifting its energy to providing more equipment to residents investing in their home entertainment areas and providing more services, such as ATMs, to businesses that had transitioned to more takeout food sales.
"The ATMs go mostly into the bars because we're making sure our bar customers have everything they want," Chris Phinney said. "That's going well. Even during COVID, ATMs still continued to get used because people would go in, and they'd get cash to pay for the food they were buying and taking out."
Today Chris Phinney is happy to report positive signs in the entertainment sector; at C&N, league play and tournaments are back on the calendar.
"We're social by nature. We've got to get out and do something. So hopefully, things always come back around," Chris Phinney said.
Transition To Employee Ownership
C&N Sales was founded in 1928 and remained a family business for three generations. In 2000, C&N's third-generation CEO was relocating to another state and needed on-site leadership. He hired Mark Phinney, his banker at the time, to be his new president. In 2010, Mark Phinney organized the company's employees to form an ESOP and purchase the business for themselves, moving C&N Sales into a new era of employee ownership.
Chris Phinney joined the C&N team in 2006 just to "help out" with bookkeeping and the retail store. She has been with the company ever since.
Today she serves as the office and retail manager in the company's North Mankato location.
C&N has 20 employees between its three locations. But, like many businesses, C&N is experiencing staffing shortages and could use a few more hands on deck.
According to Chris Phinney, those who join the C&N team can expect a relaxed, casual work environment.
"We're very laid back. Nobody's too uptight about anything. Everybody gets along with everybody," Chris Phinney said. "Yes, you've got to get your stuff done, and it gets a little more hectic at the beginning of the league season and when we're getting these tournaments together. But everybody chips in to get the work done. The thing about an employee-owned company is the harder and more efficiently you work, the better the rewards are."
Coin-Operated Games and Services
C&N has multiple revenue streams that complement and support each other. The foundation of the business is providing coin-operated games, jukeboxes and other equipment to taverns and other commercial entertainment venues. The next layer is selling game room equipment, furniture, lighting and accessories. Then there are services, such as repair, reconditioning, transportation and installation services for pool tables and other gaming equipment. Finally, C&N's dart and pool league systems, which culminate in annual tournaments, keep customers happy and demand for its services high.
The company's primary focus is its partnership with neighborhood bars, restaurants, resorts and other venues. C&N provides coin-operated pool tables, dartboards, jukeboxes and other amusement games on a shared-revenue basis. The business provides the space, and C&N delivers the equipment, parts, supplies and service.
"The equipment in all the bars is owned by C&N Sales," Chris Phinney said. "Basically, we rent the space by giving them a percentage of the money that the equipment earns."
C&N also provides ATMs to its commercial customers, supplying the machine, the cash, and any necessary service and parts. Other popular vending equipment includes plush cranes and ticketing machines. For all of its coin-operated partnerships, C&N's goal is to make it easy for the venue and fun for its patrons.
If you need to move a pool table and are wondering how the heck you're going to get it done, C&N has you covered there, as well. C&N's staff will transport, set up and level home pool tables for people that are moving, installing new carpet or purchasing a table from a previous owner.
If your pool table is looking a little worn or you're just ready for a new color, the service team can also recover it with new cloth and bumpers.
C&N Game Room Outlet
The C&N Game Room Outlet sells game room equipment, including foosball, air hockey, video games, pinball, pingpong tables, card tables, bar furniture, lighting and décor. You name it, C&N's got it — or will happily order it.
A quick tour of the North Mankato showroom reveals the stars of the show are pool tables, dartboards and related accessories. Displays of darts and pool cues for all levels of players are available for customers to try so they can determine which of the latest and greatest options suit them best.
"The Game Room Outlet serves our league players with all the supplies they need to play. I do my best to have the latest in technology and style that our players want," Chris Phinney said. "Darts players appreciate the opportunity to handle and even play with the darts before buying. If you buy them online, you can't touch or try them out before buying. So when they come in here to purchase darts, they're able to play with the darts and to see how they handle."
The Game Room Outlet is also an excellent stop for anyone seeking advice. Whether you're in the market for a new pool cue or a set of new darts, or you're designing a new home and need help determining space requirements for a recreation room, the C&N sales team has the experience to help.
"If you're going to build a game room and you need to talk to somebody about what you want to have in your space and the dimensions you need, we can help," Chris Phinney said.
Customers who want commercial-caliber equipment at a bargain price will want to keep an eye on the outlet, as well. Whenever C&N upgrades its equipment in the field, the retired systems are reconditioned and sold at the outlet. They don't stay there very long. The opportunity to buy used, commercial-grade equipment at a great price draws in residential customers eager to scoop them up for basement rec rooms and garage man caves.
"We recently upgraded our dartboards to a newer version. Like most electronics, upgrades are necessary to keep up with the latest technology. So we bring the old ones to the shop and fix them up for sale," Chris Phinney said. "We were able to quickly sell most of the used dartboards that we switched out. People just snatched them up. There are still a few left, which will be available as we have time to get them ready for sale."
Staying Ahead of Inventory Issues
Supply chain issues have had an impact on the business. Orders that once took a couple of weeks to arrive now require three- to six-month lead times. Chris Phinney said she's trying to stay ahead, anticipating delays so she can keep the showroom stocked and ready to meet demand.
"I ordered my pinball machines in March, and I just got them at the beginning of October," Chris Phinney said. "It used to be if a customer came into the store and I didn't have what they wanted, I could get it in two weeks. I've got to have inventory on hand because people expect that kind of service. So, it's a matter of ordering what I think people will like and want. I am keeping more inventory than usual because of the long wait times and have to hope I have what customers want."
Chris Phinney speaks from experience. The 2020 holiday season was hectic, as families splurged on recreational equipment to make their time at home more fun. As a result, by the time New Year's Day rolled around, offerings in the C&N showroom were sparse.
"Last year was above average, mostly because everybody was stuck at home and willing to purchase the bigger ticket items in order to have something to do at home," Chris Phinney said. "There were also many basements and game rooms being completed that needed to be filled. By the time Christmas was over, I didn't have much inventory of pool tables left. I had to sell off the floor models because lead times were three months and customers didn't want to wait."
Despite its long history and loyal customers, many people don't realize the C&N Game Room Outlet is open for both commercial and residential customers to browse through. The North Mankato and Marshall locations are open daily from 8:30 a.m. to 5 p.m. The Okoboji store has more limited hours, but is always available by appointment.
"I get people coming in at least once a week that tell me, 'I drive by here all the time, and I've just never stopped. I had no idea you were here.' So a lot of people have no idea what our store is and what we can do for them," Chris Phinney said.
For anyone who drives by one of the C&N Game Room Outlet locations, the staff extends an open invitation to stop by and say hello.
"We're here, we're open and we'd love to help," Chris Phinney said.
The Game of Kings
Billiard-style games, such as carom billiards, snooker and pool, are played on a table with balls and a cue stick. Although the contemporary versions of these games have different rules and tables, they all date back to 14th century Europe.
Billiards was originally a lawn game similar to croquet. However, the game eventually moved indoors and was played on a wooden table with a green cloth covering it to imitate grass. The first record of an indoor billiard table was in the palace of King Louis XI of France, who made the game popular with the French nobility. Soon it was popular with the masses throughout Europe. It is mentioned in William Shakespeare's plays and was a popular pastime for many historical figures, including Mozart, Napoleon and Charles Dickens.
The game was brought to America by the colonists, and soon billiard rooms were popping up across the new world. As the country gained its independence and grew, the passion for billiards grew along with it and different versions of the game emerged. Four-ball billiards gave way to 15-ball billiards, which eventually evolved into eight-ball and nine-ball in the 1900s. Those games remain the standard today.
The game eventually became known as pool in America because it was frequently played in betting parlors for horse races where collective bets, or "pools," were made. Interest in the game of pool waned after World War II, only to be revived again in 1961 by the movie "The Hustler," starring Paul Newman. The game got a second shot in the arm with the 1986 sequel to that movie, "The Color of Money," with Newman and Tom Cruise. Enthusiasm for the game remains strong today. According to Statista.com, the pool and billiard hall sector in the United States was estimated at approximately $861.8 million in 2019.
Top-of-the-line Pool Tables
Supplying equipment to pool enthusiasts is C&N's forte. It is an authorized dealer for Olhausen, Brunswick, and Plank & Hide pool tables. These beautiful, professionally made tables take up much of the real estate on C&N's showroom floors. There are classic billiard styles that would look at home in any game room; there are rustic styles complete with Buffalo Nickel sights; and there are contemporary styles, including sleek metal tables.
"We are the only dealers of these three table brands in the area, so you would have to drive to the cities to find the same tables," Chris Phinney said. "Olhausen and Brunswick are the top two selling brands. Plank & Hide I kind of fell into because a gentleman wanted a particular table. So, I became a Plank & Hide dealer. It's a great complement to the other two brands, and they're all quality tables. It's high-end equipment that's going to last you a lifetime."
Competition-level pool tables are constructed with three pieces of slate. It's the best substrate for pool tables, as they require a completely level playing surface. Slate naturally splits into large, level pieces that are ground and polished to create a flawless flat surface.
"The tables are made with three pieces of slate to make them easier to install, which is professionally done by our experienced staff," Chris Phinney said.
While more expensive than wood, slate won't warp or buckle, ensuring the playing surface remains smooth and level. On the downside, slate makes pool tables very heavy. For example, a 9-foot tournament-length slate table weighs about 1,000 pounds. That is why professional installation and setup are critical.
C&N's staff is well versed in this process. Every pool table it sells includes installation, leveling and a package containing everything needed to play. When the installers leave the customer's home, the table is ready to play.
The slate pool table substrate is covered with fabric made with a combination of wool and nylon or wool and polyester. The type of fabric selected affects the look, feel, performance and durability of the table. It also impacts play.
Pool fabrics are available in recreational-, intermediate- and professional-grade cloths. Recreational-grade fabrics have a higher nap, which feels softer and slows play. It's great for amateur players. Intermediate-grade fabrics offer faster play and better durability, a good choice for players with intermediate skills. As the name implies, professional-grade fabrics are the preferred choice for experienced players. Its tightly woven fabric and high wool content make it incredibly smooth, allowing for very rapid play.
"The different types of cloths really affect play. A fast cloth has very little nap, so the ball rolls much faster and farther. It makes the game much harder because you have to learn how to control your ball," Chris Phinney said. "We use the fast cloth on most of our tournament tables."
The Right Pool Tools
Once you've found the perfect pool table, you'll need the right tools for the game. It's a personal choice and will vary from person to person, depending on their experience and personal preferences.
It's impossible to ignore the polished wood and gorgeous colors in the showroom's cue stick displays. The average cue stick weighs 18 to 21 ounces and is 57 inches long. For a beginner, the important thing is to find a cue stick that is easy to handle, durable and weighted correctly.
Things get interesting once you move beyond the basics. That's when different materials and technology are integrated into the cue shafts to improve control and accuracy.
"Pool is all about angles and geometry, but it's also about hitting the ball in the correct spot. You want to know that it's going to go exactly where you are aiming," Chris Phinney said. "If you hit a ball with a wooden cue, the wood's going to vibrate. That creates a little vibrational deflection in that wood. So cue technology nowadays is designed to lower that deflection so that when the ball is hit, it's going to go where the player wants it to go."
To reduce deflection, wooden cues are bonded with other materials, including graphite, carbon fiber and fiberglass. Some cue shafts dispense with wood entirely.
"These cues all use special shaft technologies. This cue is not just black; it's actually made out of carbon fiber. So some shafts are no longer made of wood, and the deflection is very low. That is what really good players are after, a lower deflection. When you hit the ball with this cue, there's only precision," Chris Phinney said.
C&N carries a variety of cues for players from beginner to master levels, with options from Viking, McDermott, Cuetec, Lucasi and J. Pechauer. In addition to high-tech materials and designs, these professional cue sticks look good. Really good. Their handles are covered with intricate and unique patterns in vivid colors.
"The second part of what you're paying for is pretty. Cue designers use a variety of woods and beautiful inlays that add to the allure and price of the cues," Chris Phinney said. "Some of these cues can cost up to $1,000 or more, depending on the detail, but most are between $300 and $700. These are what competitive players use."
Top-of-the-line pool cues can exceed these prices, with some costing up to $4,000. In fact, the world's most expensive pool cue, the McDermott Intimidator, is made of stainless steel and inlaid with gold and other precious metals. Its designers started with an 82-pound piece of stainless steel and spent over 1,860 hours hand engraving, etching and machining it to create the final 9.5-pound cue stick. It tops the pack at $150,000. But don't bother adding it to your wish list; it's already been sold.
Getting the right tools for the game also means paying attention to the cue tip. The tip transfers energy from the cue shaft to the cue ball, resulting in accuracy, speed and spin. The average tip is 11 to 14 millimeters in diameter. Pool tips are made from soft, medium and hard materials. Soft materials, such as leather or rubber, absorb more impact, allowing the cue tip to stay in contact with the cue ball for a split second longer than harder tips. When correctly aimed, this can create more cue ball spin. The downside of a soft tip is it requires more maintenance and needs to be replaced frequently.
A hard tip offers less spin; however, it will last longer and require less maintenance. The hardest cue tip is a phenolic tip, made of phenolic resin, and is as hard as a cue ball. These make excellent tips for break cues. Most pool players rely on medium tips that combine the best elements of soft and hard tips, allowing for good ball control and consistent play.
The Ancient Game of Darts
Darts is another game that has been played for centuries – seven centuries, to be exact. It originated in medieval England, where it was a favorite military pastime. Historians believe bored soldiers devised the game, throwing arrowheads or spearheads at the round, flat bottom of an empty wine cask. It was a fun distraction that also helped soldiers simultaneously improve their aim and throwing skills.
Eventually, wine casks were set aside in favor of cross sections of tree trunks whose growth rings and radial cracks created the first sections for competitive scoring. Next, carved wooden flechettes with feathered tails and metal tips replaced spearheads. But it wasn't until the 1800s that point-scoring and rules became standardized and darts began to resemble the game we know today.
Although darts was always a popular game in British and Welsh pubs, it took WWII to bring the game to America. The British Navy, Army and Air Force brought dart sets with them wherever they were stationed. Soon they were playing the game with their U.S. allies.
The popularity of darts has grown tremendously in America, and dartboards are now a common feature in many bars and family game rooms. According to Statista.com, in 2014 almost 17 million Americans were dart players.
Choosing the Right Dartboard
Modern dartboards are available in bristle and electronic boards. Bristle boards are made of sisal or hemp, which fixes itself after a dart hits it. Used for professional and tournament play, they range in price from $50 to $200.
The darts used with bristle boards have steel tips and brass or tungsten bodies. They range in weight from 16 to 20 ounces, the maximum weight allowed for league play. The world's most expensive dart set is solid gold and costs more than $4,000.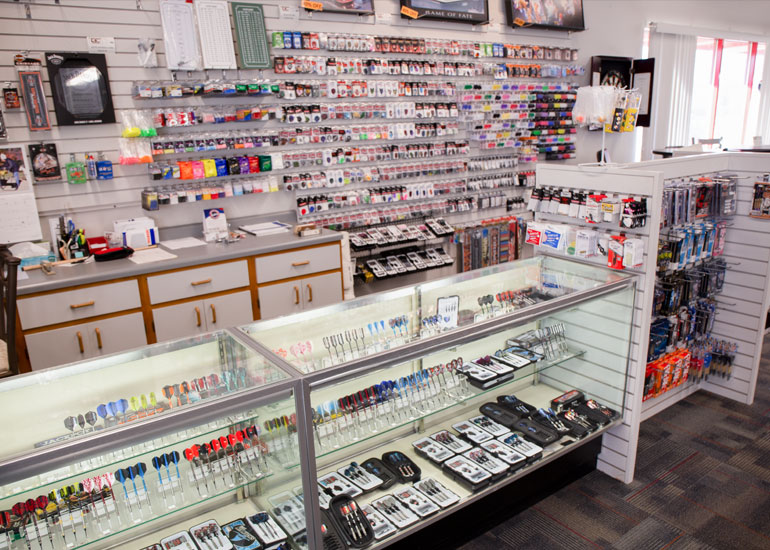 C&N offers a wide range of darts and accessories.
"Brass darts or other kinds of cheap metal darts cost about $25, but they work just fine. A higher-grade metal like tungsten is going to help your grips to last longer. They can run anywhere from $50 to $250. Different sets suit different shooters. Many of our dart players have five or six sets of darts.
"Darts can at times be kind of a mind game. If you're shooting darts one day and they are not going where you are aiming, many players will put them in their case and get out something different. Suddenly you're shooting great," Chris Phinney said.
Electronic dartboards have become very popular. They are made of plastic or nylon, which is covered in tiny holes. The darts stick in the holes and an internal computer calculates the score. Electronic boards can also be made of synthetic E-Bristle, which simulates a natural bristle board. These boards may include various modern features, such as helpful prompts, various game options, computer play or handicap modes that allow players of different skill levels to compete together.
Electronic boards come with plastic-tipped darts. Recreational models cost between $100 and $300. Commercial-grade electronic models range from $1,500 to $6,000.
There are specific requirements for dartboard setup. Regulations stipulate the bull's-eye must be placed at the height of 5 feet, 8 inches from the floor for both soft tip and steel tip darts. The player's distance from the dartboard face varies depending on the type of dart used. For steel tip darts, the proper distance is 7 feet, 9 ¼ inches. For soft tip darts, the correct distance is 8 feet.
League Players Wanted
The best tools in the world won't improve your skills unless you play consistently. That's where leagues come in. It's a fun way to gather with friends for some competitive play that is sure to improve your game.
C&N Sales has been running large, sanctioned pool leagues since 1982 and dart leagues since 1990. It's a win-win-win strategy that provides recreational fun for players, brings hundreds of patrons to bars that host league play and creates a steady stream of customers for C&N.
"We have a good relationship with our bars. Sponsoring leagues puts customers … that eat and drink (in their bars). League matches are usually played on nights that the sponsoring bars are historically less busy with nonleague customers, such as Sunday, Monday, Tuesday and Wednesday nights," Chris Phinney said.
League play begins in October and runs for about 20 weeks through May each year. There is also an abbreviated summer season.
Teams range from two to five players for pool leagues and two to four players for dart leagues. The cost is $20 per person for the league season. Each team is also sponsored by an area bar.
"All you need to do is get four or five friends together to form a team, ask your favorite bar to sponsor you, then go to the C&N website and sign up. Some bars will even pay for your player fees and some of your tournament entry fees to entice you to play at their business," Chris Phinney said.
Participants can be at any skill level, and sign-up is simple on C&N's website, cnnsales.com. C&N then creates a schedule for all participating bars and players and tracks player standings.
"Craig (Dumdei) is the league director and, along with the league staff in all three offices, he gets the leagues set up," Chris Phinney said. "This process used to be done by hand, which Craig is very good at, but it did take some time. Now we have a computer program that the player names can be put in for each team, night and location and then it'll drop the players into brackets. It works nicely for the tournaments, too."
Many C&N staff members play in dart and pool leagues themselves, including the Phinneys. It keeps them in tune with their customers and provides a fun outlet.
"Mark and I play both darts and pool at home for fun. He's in a dart league, and I'm in a pool league," Chris Phinney said. "It's a fun night, and it gets you out of the house."
Tournament Fun
Although pool and dart leagues are C&N's biggest promotions, it also partners with bars to organize other types of competitions. Its two full-time promotions directors work with customers to set up in-house foosball, video games and Megatouch tournaments.
Anyone who plays in C&Ns leagues is also eligible to play in its pool and dart tournaments. Tournament brackets are based on league play results. Its 2022 calendar, available on its website, lists five dart and eight pool tournaments.
Chris Phinney said the tournaments are staged at fun locations like the Mayo Event Center in Mankato and Jackpot Junction in Morton, Minnesota. These venues are equipped to handle large crowds and provide plenty of room for play, an important consideration, since tournaments draw hundreds of players and require lots of equipment. Chris Phinney said for their largest tournaments, they typically set up 139 dartboards for dart tournaments and 90 pool tables for pool tournaments.
"It's a process because you've got to move them all to the location, place them the correct distance apart, level the tables and get the darts hooked to the power and the internet," Chris Phinney said. "I pack up my store, and I put up a booth there where they can find me and hope I didn't forget anything the players need. It's fun."
Tournaments run Thursday through Sunday, with plenty of side competitions for players who don't make it to the finals level.
"We do our big year-end one in downtown Mankato in April. We have a big darts tournament and a big pool tournament," Chris Phinney said. "Anybody is welcome to come down and check them out."
---
The Essentials
C&N Sales
1840 Commerce Drive
North Mankato, MN 56003
Phone: (507) 387-7086
Web: cnnsales.com
Photography by Jonathan Smith