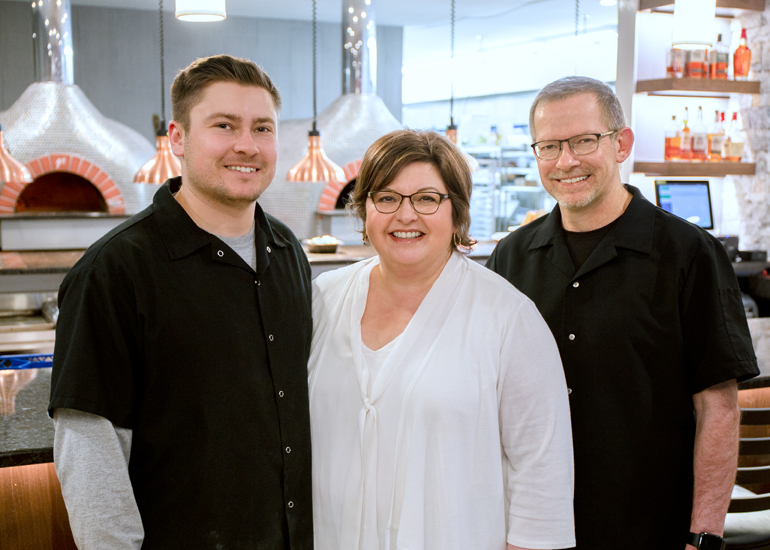 If you like great wine and exquisite food served up in an inviting setting, you can't go wrong with the A-Town Tavern in Arlington.
"When you walk in the front door, the first thing you see are our twin wood-fire ovens. We built the restaurant around them. There's a built-in wine cabinet and a double-sided fireplace in our dining room," co-owner Linnea Bullert said. "Our objective was to make it homey and cozy."
A-Town Tavern opened for indoor dining in February 2021. It's the passion project of husband-and-wife team Craig and Linnea Bullert. The Bullerts are veterans of the food service business and also own Chef Craig's Catering, which they started in 1994.
"We love wine and we wanted to offer a nice wine selection," Linnea Bullert said. "We also serve a variety of craft beers on tap and cocktails."
The A-Town menu includes Parmesan-crusted walleye, bacon-wrapped meatloaf, jumbo tiger prawns and, of course, wood-fire pizzas. Wednesday nights are pasta nights in the winter and Mexican margarita nights in the summer. Saturday night is always prime rib night.
"We've used delicious family recipes, and everything is made from scratch," Linnea Bullert said. "We want people to come in and relax and enjoy."
Speaking of family, their 65-member staff includes the Bullerts' four children, brothers and sisters, in-laws and other extended family, all focused on making their customers feel right at home.
The A-Town Tavern building was formerly a furniture store and then a kindergarten. The space has been completely remodeled, adding an enormous kitchen, a spacious patio and windows for natural light. The restaurant seats 100, with an additional 50 patio seats. Reservations are highly recommended.
---
The Essentials
A-Town Tavern
600 Sheila Drive
Arlington, MN 55307
Phone: (507) 964-2212
Web: a-towntavern.com
chefcraigscatering.com
Photo by Jon Smith