Ever try to sell an idea before its time? Neil Lillo did, enduring a six-month drought without a drop of revenue. "My wife was getting nervous," Lillo said, recalling the period in 1980 when he came home night after night without ever having made a sale. It was an uncomfortable time for Lillo as well as his wife because in his previous business, he'd been accustomed to "selling something every day."
What stymied Lillo over 18 years ago was convincing building owners they could significantly reduce their utility costs by installing automated energy management systems to control lighting, heating, air conditioning and ventilation. "Even though we had the equipment, which was tangible, we were hand-calculating the savings, which were intangible," Lillo said. "There were a lot of black boxes being manufactured and there were a lot of 'Doubting Thomases.' "
Finally, Lillo persuaded a Mankato bank it could achieve a three-year payback with an energy management system. That sale ended the drought, other businesses said "yes" and it wasn't long before "we were doing 10 projects in 10 different states at the same time." Suddenly Lillo and his wife felt better about this new venture in which Lillo was the start-up manager and one of five investors.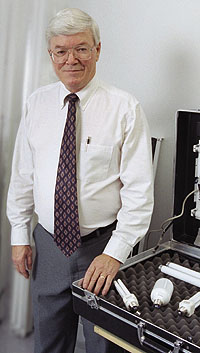 Lillo credits Arnie Reiter, owner of Cuddy Mechanical Contractors, as being the prime mover in forming the new company. "He was looking for a way to automate his commercial customers with computerized building management systems," Lillo said. "We started Cuddy Energy Systems as a separate corporation." Reiter approached Lillo for a variety of reasons. He'd had nine years of experience in sales and service (1961-1970) with another mechanical contractor in Mankato. Then he sold industrial maintenance supplies and equipment for a few years before starting his own company, Tri-State Supply, in 1975. In 1978, he sold it to a larger company and was managing it as a branch, so he had a stake to invest. Finally, Lillo's brother, Arnold, was head serviceman at Cuddy Mechanical.
"Energy prices in 1980 were projected to increase dramatically. I realized this would be a rapidly growing industry that needed people who believed in it to make it go. I felt that unless you marketed this energy savings strategy full time, it wouldn't be successful."
After his initial meetings with the Cuddy group, Lillo studied the industry, then he and Reiter flew to Dallas and bought a franchise from Leland Industries. "They supplied the hardware. There was no software in those days, just the hardware and the technique of how to sell and install and calculate the savings," he said. (Personal computers were a rarity then, and Lillo didn't get one until 1982, which took the drudgery out of projecting energy costs over a 10-year period.)
Lillo said the new company's association with Cuddy Mechanical Contractors, which had been in business since 1904 and enjoyed an "impeccable reputation," helped open the doors of potential customers. Behind those doors, however, Lillo encountered one Doubting Thomas after another. The idea "was all brand new to everybody," he said.
Eventually, American State Bank said "yes," and Lillo automated the bank's air-handling equipment, air-conditioning and the heat at its drive-in teller facility. The payback on that system was estimated at three years, although Lillo said "we were always striving for a two-year payback. We felt you had to be in a two-year payback period to attract capital from an owner."
It wasn't long before Cuddy Energy Systems had its second customer, the National Bank of Commerce, followed by the Holiday House in St. Peter, C&S Supply in Mankato and the Mankato Clinic. It wasn't a landslide, but it gave Lillo time to build a staff of electricians and technicians and add sales and secretarial help.
When the first systems were installed, Cuddy technicians read the meters of customers "virtually every week, trying to determine a weekly drop in usage," Lillo said. "That provided the verification and confidence that this was a real energy-saving system, meeting our projections or better. That's what assured owners they had made a wise decision."
Lillo recalls the dramatic savings experienced in 1983 at a NAPA building in Owatonna "where they had thermostats with covers, they set everything back and were operating very tightly manually. After we put the automated equipment in, the utility company thought the meters had gone bad. I think there was a 34 percent reduction in electricity use and 43 percent in gas."
This kind of documented evidence, plus the willingness of satisfied customers to provide "word of mouth advertising" and referrals "is what propelled us," according to Lillo. By the fall of 1981 the floodgates were open. Brett's, a leading department store retailer at the time, signed up five of its stores. Cuddy installed a system at Cotter and Co., the True Value Hardware distributorship in Mankato. "Based on that installation, they hired us to do all their facilities nationwide," Lillo said. That meant contracts in 28 states with Cuddy controls going into a variety of facilities ranging from paint and hardware factories to Cotter's corporate headquarters in downtown Chicago. Cuddy also installed systems in Shopko stores and Perkins restaurants around the Midwest.
"We pre-built the packages in Mankato, designing them with wireless Honeywell controls. We hired local master electricians to install them, then flew a start-up person in during the last week of installation," Lillo said. "They did start-up training and connected the systems to phone modems so we could monitor and change programs from here."
By 1986, Cuddy began obtaining equipment for its larger projects from Control Systems International (CSI) in Dallas. "Honeywell had the big stuff, but wouldn't sell it to us. They became our competitor," Lillo said. In 1986, Cuddy bid against Honeywell and another giant, Johnson Controls, for a project at South Central Technical College in North Mankato. "We were 15 percent lower," Lillo smiled. (Today Cuddy remains a value-added reseller for CSI.)
Since the fall of 1989, Lillo has been the sole owner of Cuddy Energy Systems. "We still work on some cooperative projects with Cuddy Mechanical Contractors (which is still run by Arnie Reiter), but most of our current business in energy management is doing all the expansion at Bethany College in Mankato as well as the technical college campuses in North Mankato and in Albert Lea," Lillo said. "Our focus is on these customers and most other projects are within a 90-mile radius. That enables us to generally do a full turnkey installation with our own people." (cont'd pg. 37)
Lillo said the energy management portion of the business has matured, enabling the company to develop other methods of cutting utility costs for customers. The chief effort since the early 1990s has been to provide more efficient lighting. By switching to better efficient fluorescent bulbs, changing to electronic ballasts, and adding improved reflectors, Lillo said up to 70 percent savings can be achieved on some fixtures. This segment of Cuddy's business blossomed when Northern States Power and other utilities encouraged commercial customers to upgrade their lighting, offering rebate programs and/or financing for the improvements. "It's the quickest way for a utility to reduce the electrical demand of most commercial accounts," Lillo said. Some utilities would finance the whole project with no money down," he said. The user paid for his upgraded lights monthly "with the utility trying to match the payment to the savings so the owner saw no difference in his light bill and had all new lighting."
As Cuddy began concentrating on these upgrades, Lillo wasn't satisfied with the generic reflectors available from various suppliers. As an alternative, he turned to his brother, Arnold, who once worked for Cuddy Mechanical but had moved to a job at Mankato State University and operated a metal shop as a sideline. "In 1992, we decided to make our own reflectors, custom building them for 20 or 30 different fixtures," Lillo said. "We got them approved by Underwriters Laboratories, bought our aluminum directly from Alcoa and manufactured them in Arnold's shop in Good Thunder." About a year ago, the industry had caught up to the standards desired by Neil and Arnold Lillo, so they stopped manufacturing their own reflectors. "We now can buy products very similar to what we were making, but at far less cost than we could make them for," he said.
"Utilities like NSP, Frost Benco, Interstate Power, Ottertail Power and SMMPA have been a major force in our growth since 1992 as lighting became 75 percent of our business," Lillo said. "Their advertising made them virtually like a sales force for us. We regularly attended seminars put on by utilities so that we could be placed on their approved vendor lists and remain there."
But now, Lillo said, "utilities have quit telemarketing and their rebate programs are in constant flux. They still have rebates and financing, but they've diminished in value." He's not sure where NSP and other utilities are headed with rebate programs, but he believes that deregulation of utilities "is the biggest change on the horizon for my industry. I look for rate drops similar to what we're seeing in California. I look for 10 to 20 percent savings and it's being done in preemptive moves. Rates are coming down already."
As rates fall, of course, Lillo's customers have less incentive to automate energy management systems and install more efficient lighting. "If utility prices go down significantly, it makes my payback time go up," he said. But since deregulation will increase competition between utilities, "they'll have to offer as many services as the next guy. If the next guy has rebates, we're going to be just as important partners with utilities, but the incentives aren't clear to me yet," he said.
Whether it's designing and installing automated controls, or putting in more efficient lighting, Lillo recognizes his prime motivation. "To this day, I really enjoy saving energy with creative type engineering and doing special niche work that other contractors stay away from or haven't invested the time to learn," he said. "Our company has also had a big impact on the environment by all the energy we've saved in the last 18 years. NSP has already avoided building one new power plant because of energy management systems and improved lighting."
©1999 Connect Business Magazine