Advertise with Connect Business Magazine to directly reach a large audience of business decision makers in the Southern Minnesota.
Mailed free to over 12,000 area business decision makers, including executives, managers, purchasing agents, and professionals.
Serves a fifteen county area including Mankato, North Mankato, New Ulm, Marhsall, Fairmont, St. Peter, Le Sueur, Waseca, Redwood Falls and surrounding communities.
Approximately 40% of issues are mailed to addresses in Mankato and North Mankato.
Mailing list updated every issue for accuracy.
Continuous bi-monthly (every other month) publication since 1994.
The region's only locally owned business magazine.
Print Display, Digital and Sponsored Content Marketing options.
Prestige. Connect Business Magazine is recognized for accurate business coverage and dynamic presentation. It has received design awards from the Minnesota Magazine & Publications Association. Its full color glossy print quality is unequalled for showcasing products and will make your business or organization look its absolute best.
A clearly targeted audience. Connect Business Magazine provides near-blanket coverage of every business in a nine-county area in south-central Minnesota. Each issue reaches an estimated 25,000+ decision makers, including owners, top executives, professionals, managers and purchasing agents. If your products or services are aimed at businesses, organizations or people of higher income, Connect Business Magazine is where you want to be to reach your primary prospects.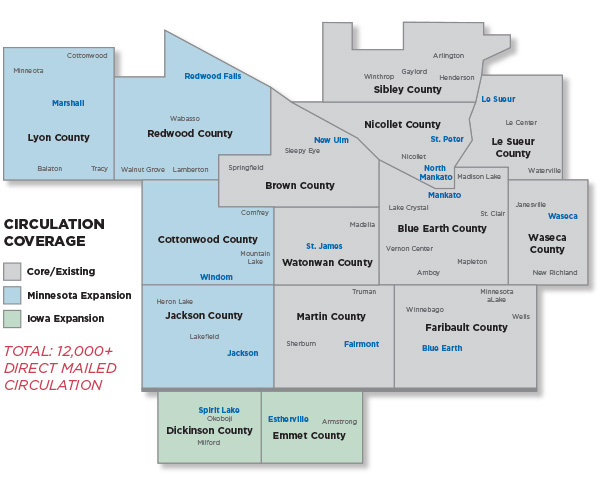 Verified distribution. Connect Business Magazine is direct-mailed bimonthly to over 12,000 business decision makers. Our mailing list, which we developed in-house, is checked for accuracy and updated each issue.
Staying power. Magazines are one of the longest lasting advertising mediums. From the primary recipient, magazines typically are passed on to a second tier of readers. Our research has found, on average, 4.8 people read each issue of Connect Business Magazine. Many magazines are also placed in waiting areas, further multiplying the reach of your advertisement.
Does Connect Business Magazine fit your marketing objectives? Connect Business Magazine is where you need to be if business people are your target audience. Its content is specifically aimed at this distinct group of consumers. The high production quality enables your company to project the best possible image to build strong name recognition and awareness for the products and services you offer. In addition, readers of Connect Business Magazine are individual consumers of higher income, making them excellent prospects for sales of high-end goods.
Contact us today to get noticed!
Phone: 507-232-3463