Heritage Fest Executive Director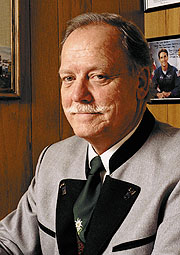 Cottony snowflakes drifted past Leo Berg's second-story office window as he swallowed another swig of diet pop. The interviewer silently read the business card he'd just been handed: "Leo Berg, Executive Director, Heritagefest."
Outside, just then, downtown New Ulm's loudspeakers kicked in and began spreading its daily diet of festive German music over busy Minnesota Street. At the same time, the music ­ the oompah tubas and accordions, his German lifeblood ­ must have caught Leo's attention, because he pivoted towards the window and the idyllic scene outside. He paused, as if to appreciate the beauty of it all, and finally said, "It's snowing again."
Heritagefest has the highest visitor count of any festival or tourist event in Connect Business Magazine's reading area. By quite a margin, it beats out either Vikings Summer Camp, Interlaken Heritage Days, People's Fair, Good Counsel Chapel, Traverse des Sioux Commemorative Encampment, or Oktoberfest. Heritagefest estimates that it pumps up to $2 million into the region's economy each time around, a good chunk of it into Mankato-area hotels.
Not bad for a six-day event that began with $5,000 and a friend's promise.
The Experts say a festival or tourist event should have continuity, which means it needs the same go-to guy year after year. Leo Berg has been Heritagefest's Mr. Stick-to-it for twenty-five years, and with a little luck, he could still be at it in another twenty-five. His glue has helped hold it all together. Besides clinging to Heritagefest, he's been involved with the Minnesota Festivals & Events Association, the International Festivals & Events Association, and he's a Certified Festival Manager (CFM).
While the interviewer checked his recorder's sound level, cottony snowflakes kept drifting past the office window. Inside, it seemed Leo couldn't wait to share the Heritagefest phenomenon. With the tips of all five fingers, he lightly tapped the top of his desk to the oompah beat, and the interviewer, sensing a profound eagerness from the man who has made his German heritage his life, decided to quickly show off a little high school German to get the ball rolling.
CONNECT: Kannst du Deutsch?
BERG: No, I don't speak German. But I understand quite a bit of it. You have to realize, I grew up in New Ulm during World War II. The German language was suppressed then. Sure, my father spoke fluent German at his business, but he never brought it home because in those days he didn't want his children to have the stigma. That happened a lot in New Ulm. It was a sign of the times. The World Wars had a very bixg influence on how this community viewed its ancestry and heritage. They weren't very proud of it.
When I returned to New Ulm in 1967, after leaving for a few years, I joined the Concord Singers. After singing standard English-language music at practice, we'd go to an adult beverage establishment. The old-timers there sang in German. And I thought, My goodness, what great music. I thought then the music they were singing would work for the Concord Singers. But the old-timers didn't see it that way because they were raised with German. My father went through his first six years of school learning nothing but German in New Ulm. At my insistence then, we began singing some German songs. Now we sing all German in our programs, and when we go to the adult beverage place we sing nothing but English.
For Heritagefest we insist that all the European groups that come here must vocalize in German. Anybody can play European music, but you wouldn't recognize that music unless you heard the language sung. A band that just plays music isn't going to be chosen for our event. Singing it is the only way you can keep the language alive and vibrant for such an ethnic event.
CONNECT: It sounds as if Heritagefest is one way to reclaim what a lot of people in New Ulm lost because of the wars.
BERG: Very definitely. Years ago we also had Polka Days. It was the first polka event anywhere in the country. It was hugely popular. The problem was that it focused on dancing and beer drinking ­ something which brought about its end.
CONNECT: How many people attend Heritagefest?
BERG: About 40,000 over the six days. Last year we had 36,200. We were down because of the weather.
CONNECT: Back in the early '70s, Dr. Howard Vogel contributed $5,000 to get the ball rolling with Heritagefest.
BERG: It was more like $5,000 a year for several years, depending on how much money we lost. When he and I talked initially about doing this event, he wanted me to do the elbow grease. But I told him I wasn't interested in being involved because the event would fail the first year, I said, and then it would fall apart because of a lack of money. So he agreed to underwrite any loss, which got my attention. That commitment by him was what we needed.
CONNECT: If he were alive today, what would he say to you?
BERG: He'd say, "Wonderful." He loved it. He liked people getting together and he loved singing German songs. The Rotary Club in New Ulm was really where Heritagefest got its start because Howard and I were Rotarians, as were the original corporate members. The Rotary gave $1,000 to help establish the corporation. We received money from the New Ulm Area Chamber of Commerce as well.
With an event such as ours that has alcoholic beverages, it needs a confined area. The Agricultural Society allowed us to hold Heritagefest at the Fairgrounds. Without their help, we wouldn't have touched first base.
CONNECT: If Dr. Vogel were alive today, what would you say to him?
BERG: I'd say, "It's all your fault, Howard, you got it started and now we can't shut it off." (Laughter.) He was really full of energy. He was very opinionated, too. We didn't do certain things because he didn't want us to do them, and with some things, his opinion even sticks today. His daughter, Ann, also a medical doctor, plays a big part even today. She's been very helpful.
CONNECT: How many dollars does Heritagefest pump into the local economy? Can that even be gauged?
BERG: We haven't done an economic study, but our accountants tell us the total amount of money generated is between $1.5 million and $2 million. Our budget is about $650,000.
Everybody wants into the festival business. There are really too many events out there. We think our event must be worthy or people wouldn't come back every year. We work very hard at it. We have a full-time staff that earns its living from this event. It was the wisdom of the board of directors some years back to determine that the management of Heritagefest should be non-volunteer. The event had been run by volunteers for 18 years. In a competitive festival marketplace, the reality hit them it couldn't be done properly with volunteer management.
If this isn't the best job in New Ulm, it's a pretty decent job for me. If I had the choice, this is what I would want to do. I have no reason now to retire.
What has made the difference with this event is that we've stuck to it. Not that I have the answers to everything, I surely don't. But continuity in community events is so important. We deal with a lot of festivals and events where you don't know who is going to be in charge the next year. When people aren't dedicated enough to do it more than one year, that's where most events fail. And I'm not saying having a rotating person in charge is wrong, but it makes it more difficult. Events run like that often have either a limited life span, or continue on with the same limited activities.
CONNECT: Do you try to tie-in with special events outside Heritagefest?
BERG: Sure, we promote events like MarketStrasse. We want other events to be happening in New Ulm during our event. We think if we're too focused on us, it isn't good. The American public is pretty sophisticated. They like choices. For example, one of our problems is that some people don't like German music ­ if you can imagine that. (Laughter.)
Now on both weekends we're going to have a variety of entertainment. We've had New Odyssey, a very popular group. This year we're bringing in an Arizona Tex-Mex group, The Mollys, which has an accordion lead in its music. After all, Tex-Mex is German-influenced. German emigrants established a number of communities in Texas. Accordions and concertinas were very common. The music has a deeply rooted European background, but has added Southern, Spanish, and Mexican. I've seen them perform, and I'm convinced young people, especially, will love them. They do all original work. It's jumping-up-and-down music.
CONNECT: What about the name, Heritagefest?
BERG: When we started out we hired a scriptwriter to write the play "Hermannstram," which is a history of New Ulm. At a meeting one day, we asked around the room, What are we going to call this thing? The scriptwriter said, "There's only one thing to call it, Heritagefest." Just like that. It was short, and in those days, fest was as German as you were going to get so that people could understand it. Now the name is trademarked, so no one can use it unless they have permission.
CONNECT: Have you had to fight someone over use of the name?
BERG: Oh, yes. It's such an easy name. Some people claim they thought of it first, but they didn't. Our board of directors had a lot of vision and spent a lot of money getting a national trademark for that name.
CONNECT: How many outside vendors do you have? and how do you select them?
BERG: We handle most of the food with local organizations. That has been our hallmark. We do about $160,000 worth of food business in six days. The reason we can do this is because we have all those volunteers helping us. We control what we're going to serve, its production, what it's going to look like. Not many events do that. We have about a half-dozen outside food vendors providing items that we really can't or don't want to make. For instance, we don't have volunteers deep-frying all day long. That's a very tough task. Ask anyone who has had to run a deep-fryer for a day and they'll more than likely tell you they won't do it again.
This year we're selling sponsorships. That's the big focus now of our organization. We will not survive without it. We didn't have any sponsorships the first 24 years. We were self-supporting. We didn't expect the community to do much for us, and we still don't. Even though we buy primarily from New Ulm people, we don't buy everything locally. As a corporation, we have to watch the bottom line. Not everyone agrees with that logic. It has to be a very dramatic price difference for us to not deal with New Ulm people. To those people who haven't sold us anything: my door is always open.
CONNECT: What incentives do you use to recruit volunteers?
BERG: We have 27 organizations that work with us. They help because each and every year they get a donation from us for helping out. Last year we wrote out checks totalling $52,000 to those organizations. Those organizations stay with us because we are stable. If we lose money they're still going to get paid. Now, granted, we're going to have to start making money or else no one will be paid. Heritagefest is always a sticky problem for the leaders of the 27 organizations we deal with because they are the ones who have to scout out the 1,100 volunteers. We don't do that.
Heritagefest touches almost everyone in New Ulm. It may not touch them the right way because many aren't happy about having to volunteer. I'm sure a lot of them would rather stay home with air conditioning. We take lumps for this. On the other hand, we donate to these organizations and they benefit. Most organizations have been with us for over ten years. If it weren't for this incentive of raising money for the organizations, we wouldn't have anybody working for us.
CONNECT: Have you made connections with people in Germany for this event?
BERG: Oh, sure. Lots and lots of connections. Really, the focus of our event is festive German music, which is not polka, it's the European sound. Some people say it all sounds the same to them. But some people also say all symphonies sound alike, too. We've been very fortunate to get community groups out of Germany on a cultural exchange basis. They don't get big money to come here. When they visit, we take care of their ground transportation. Almost all of them pay for their own air transportation. Germans have a difficult time travelling anywhere in Europe where they're as accepted as they are here in America. Go to DisneyWorld and hear all the German spoken. Germans are very comfortable in New Ulm, too. Their bands or vocal groups want to come over here. Because of that, it's relatively easy to get them to come. We have a nice reputation. There are more people wanting to come over than what we can accept.
CONNECT: Over the years, if the weather is bad, so goes your attendance. Is that frustrating?
BERG: It's frustrating for anybody in the festival business. But after 25 years you begin to realize that's just the way it is. We always have contingency plans for bad weather. Three out of the last four years we've had weather problems.
CONNECT: What are your thoughts on a new Fairgrounds building to keep the event dry in bad weather?
BERG: We're working for the County, City and Ag Society to come together on a joint venture. I think it will be very important for this to take place. This way we can keep the event going. Right now we're having trouble with the lack of bathrooms. It's a very big problem. We can't go to the next level the way we are now. If it isn't convenient or comfortable many people will stay only two or three hours rather than five or six. In that lies an event's success: keeping people on the grounds. The longer they stay the more they spend.
We almost have to have perfect weather now to keep people at our event and having fun. When it's too hot it hurts as bad as rain. The length of time people stay is more important than how many show. If they don't stay we can't sell them anything, they won't have as much fun, and they won't tell their friends to go. Most visitors come from word of mouth.
We're a small town, so we're not able to house people overnight. Most of the hotels and motels are in Mankato. But we certainly fill up Mankato and the surrounding towns for two weekends. Everyone benefits. But first and primary, Heritagefest must benefit. We have to have enough money to at least break even. We've been very frugal over the years. There has to be some profit, even for a nonprofit organization.
CONNECT: To take it to the next level, have you thought of making Heritagefest a for-profit organization?
BERG: No. I don't see this. A nonprofit can accumulate money. It's a misconception that non-profits can't have and make money over and above expenses. All the money we earn flows right back into the event.
CONNECT: How would you finance a new Fairgrounds building?
BERG: There's talk locally of a 1/2 percent City sales tax. The hockey people here need more ice. The community needs a building large enough to gather 1,000 people for a sit-down dinner. We need a facility. What we have is great but it isn't enough. There's a great number of people who realize that a community building at the Fairgrounds could help us immeasurably. Oktoberfest could also be put out there. It would be a way for Oktoberfest to grow. It's an event that has as much potential as Heritagefest. But it's limited because it's indoors during cool weather.
CONNECT: Your ticket price is $9. Can you remain affordable to families?
BERG: The admissions to our event cover the cost of tents, the seating, the facility, costs of flowers, etc. We need growth to keep our ticket price stable. We don't have any intention in the foreseeable future to raise prices. We're trying to do better at marketing, so we can attract a segment of people that haven't visited yet. We'll have a special program locally to reduce the ticket price for area people.
CONNECT: What happens when Leo Berg retires?
BERG: We'd find somebody to take over. We now, in the state of Minnesota, have started certifying festival managers. The University of Minnesota has started a masters degree program for tourism, festival and event management. I have friends who would love to have my job. They look at me and say, Leo, you've got things so easy. That's great if they think it's that easy.
CONNECT: What makes you happy?
BERG: Personally, it's my love of organization, of putting things together and seeing them run properly. I have a good staff, too. Fun is the ingredient at our event. I learned a long time ago that if people will do it with you, they're going to have a lot more fun than if you're doing it for them as a performer. We get the audience physically involved in the music.
CONNECT: What do you like about singing with the Concord Singers?
BERG: I like to perform. Since a wee boy, I performed and sang with my family. My father was a charter member of the Concord Singers. When I came home to New Ulm he asked me to join. I was reluctant because I had gone through college in male chorus and had had enough of it. I joined to appease him. He was a wonderful person.
Like I said earlier, after I went to the local adult beverage establishment and heard this German singing, I thought, Why are we singing all this other stuff? We learned two or three numbers in German. We knew it was popular when all people would say was, "Give us another German number." Now the program is all German. German is the most popular ethnic music in the world. It is synonymous with fun.
CONNECT: You're the president of the Minnesota Festivals and Events Association?
BERG: When I started in this business, I needed help. Very few people knew much about events back then. One day I called the event in Pipestone when our grandstand burned down and we had no place to put people. They gave me three thousand chairs.
I had the idea then that we needed an association of festivals and events so that if I needed help I had someone to call. Now I have eight pages of people to pick from in case I need help. The members of our association help each other. None of us could survive very well doing it by ourselves. We steal ideas from each other. If we find a good idea, we lock onto it. That's the secret for almost any business.
CONNECT: Anything else?
BERG: We had a community focus group that met here recently. We found out many people in New Ulm don't perceive us as very friendly. Naturally, we're concerned about that. We've always felt we've tried to make people in New Ulm feel comfortable at our event. A great number of people in the New Ulm area have never attended. Maybe they don't understand it, but maybe we haven't made it as friendly as we should have. We're going to try, especially with the admission price, to make it more friendly for them.
Some people tell me these are naysayers just jealous of our success, but I don't believe that. I just think we have to be more positive, and not leave any stones unturned when it comes to creating a positive atmosphere. So we're going to try, and over the years maybe we can change it.
Leo H. Berg Biography
Born: January 9, 1935, in New Ulm.
Occupation: Executive Director, Heritagefest, a Top-100 North American event as selected by the American Bus Association (ABA).
Member Of The Following Organizations: Concord Singers; Minnesota Festivals and Events Assocation (President); Minnesota Department of Tourism Advisory Committee; University of Minnesota Tourism Center Advisory Board; New Ulm Rotary; International Festivals & Events Association (former board member).
©1997 Connect Business Magazine