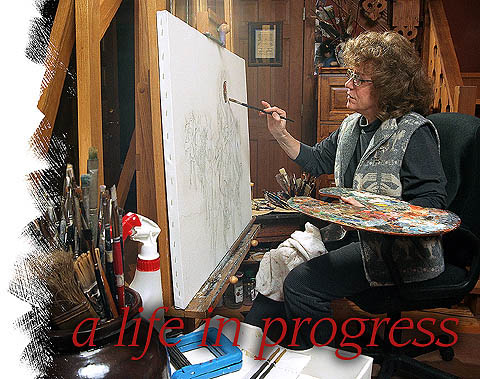 Some folks hide from their heritage, denying their humble origin. They prefer to believe they've never been anywhere but up, never anything but successful, self-assured and solvent.
Not Mankato artist Marian Anderson, known nationally and abroad for oil paintings so exquisite in their detail that they verge on photographic reality. She could be excused for dwelling forever in the present, luxuriating in her reputation as a wildlife and western painter, relishing the professional recognition of her peers and a string of awards from renowned art shows and conservation organizations. Instead, she looks over her shoulder, reminiscing, not to see where she's been, but where she came from.
"I'm at that stage in my life where I'm getting back to the 'why' of what brought me to this point," she said. "Is there a reason in my past that I ended up where I am today?" It's a rhetorical exercise, because Anderson has found answers to that question, some on the backroads of her mind, some in boxes packed away for years. She remembers, for example, being inspired by a simple picture hanging in one of the sparse farmhouses where she grew up. And she still marvels that a Madelia service club sent her to a three-day seminar at an art school, her only exposure to formal training.
Mostly, though, it is the simplicity and innocence of her rural background for which she is thankful. "Everything that's happened to me since has been a big experience. I know how to appreciate things. You can't buy what I had as a child," she said. "You had time to see things, to invent your own activities, to entertain yourself. My parents were good to me, not by giving me things, but by letting me be who I was."
Anderson isn't necessarily enamored by who she was – a shy, very quiet, naive farm girl, but she cherishes the memories. Generation Xers might sniff at her background as squalid and deprived, living as she did beside Swan Lake near Nicollet in an old farmhouse without electricity or running water. When she was 8, the family moved to a farm near Lake Wilson outside Madelia, this one with power. Indoor plumbing came later.
Rather than feel deprived or surrounded by squalor, Anderson enjoyed her childhood and when she begins talking about it, one memory after another pops to the surface. "My dad was a farmer, hunter and trapper. I can remember him getting so excited when the geese would fly over. He'd grab his big "Long Tom" shotgun in a panic. I remember really strongly the old farmhouse (on Swan Lake) where he used to dry his pelts of fur in an upstairs room. It's not a bad smell, just one that's familiar, the smell of drying pelts."
Anderson recalls her "mother and aunt skinning muskrats for pelts. I remember my parents salting pork down with red salt, and my mother washing clothes with an old gas-engine washing machine on the porch. Those are things I truly remember."
Cousins and neighbor children came to the Madelia farm to engage in games of Cowboys and Indians or to set up imaginary homes in an old brooder house in the grove. Her father rigged a crank telephone from the garage to the brooder house so the youngsters could call each other, even though the family never had a real telephone in their farmhouse.
"My folks never knew it, but I was a real climber." She scaled the silo, tall trees, clambered up into the haymow where she discovered kittens. "I loved it when harvest came. I'd drive the tractor and dad would sit on the grain binder. When we put up hay, my dad ran the tractor and I ran the dump rake. I'd pull a lever and it would dump the hay into windrows."
Anderson caught and raised young pigeons, herded cows home from pasture, trailed her father on his trap line, watched him spear fish in Lake Wilson, shot pheasants beside him. "We shot them to eat. It wasn't sport. We canned them."
She tried to solidify, almost codify, some of her childhood memories a few years ago when she was invited to show her art at the Watonwan County Historical Museum in Madelia. "I didn't feel right about going. It felt almost like coming back to show off," Anderson said. She wanted people to realize she was the same person who grew up there, not a cosmopolitan artist who disdained her past. Anderson typed her memories into the form of a poem, framed it, and put it in the museum's entry, next to a pencil sketch of her parents, the late Elvin and Rose Spiess, and their dog Shep. She wanted people to read it before coming into the show so they'd know "I was still who I was back then."
Anderson opened this tribute by typing "I have not forgotten, nor do I wish to…." and then began a brief catalogue of memories. She remembered catching catfish in the creek, her mother always wearing a Catholic medal safety-pinned to her apron, that cow's breath was "sweet" and that there is "no smell more memorable than fresh-turned earth or new-cut alfalfa." She listed her parents' favorite tastes and colors: burgundy and chocolate for her father, white and lemon for her mother.
The artist in her began to emerge when she was about five years old. "I got a coloring book and a few toys for Christmas, not much, and I finished every single page of the coloring book before I played with anything else," she said. "I remember my parents saying how neat and careful I was." Unlike most five-year-olds, she remembers using her crayons to blend colors.
She would sit for long periods, fascinated by "Spring Song," a painting of a small girl seated on a bench, watching a robin. That picture hung in the Swan Lake farmhouse and it hangs in her kitchen today. "I could transform myself into that picture, move myself into it," she said. Anderson wants to inspire the same fascination with her art. "I want my paintings to create a mood so that when people look at my work, they feel like they've been there, or want to go there. I want them to feel it, I want them to smell the rose, feel the breeze, hear the water run." (One of her favorite tributes came from a customer who said "Anderson captures the spirit, then sets it free.")
Anderson graduated from crayons to oil paints after a fortuitous trip with her father to the Madelia city dump. There she found a dozen or more discarded tubes of artist's oil paints. "They were so abused and twisted, with just a little left in each one," she recalled. Anderson had already "fooled around with leftover cans of my dad's paint," but these tubes were different.
Using these treasures from the dump and dime-store brushes, Anderson created her first wildlife scene on a piece of masonite that her father planned to use for an insulated fish box. It depicted a red fox lying by an old wagon with a millstream waterwheel in the background. "It got hung in the basement," she said. "It wasn't that good." Still, her parents admired her promise. "They let me have one of the spare bedrooms to do what I wanted," she said. "I wasn't destructive. I painted a picture on the wall." It was her first studio.
Although Madelia schools offered no art classes, Anderson at least received encouragement in the subject. At her parochial elementary school, "the usually strict Notre Dame nuns gave me private time away from class to paint or draw pictures," she said. She remembers one painting she did in those quiet hours. It was, appropriately, "the Blessed Virgin of Fatima with outstretched arms." At Madelia High School, "the teachers would let me go into the cafeteria and draw all by myself. They must have seen something in me that they would let me do that."
Inspired by the captivating Spring Song, encouraged by nuns and teachers, Anderson eventually received a major shove toward a career in art from the Madelia Rotary Club. The Rotarians gave her a scholarship for a three-day seminar at the Minneapolis School of Art when she was a senior. "I didn't even know I was being considered," said Anderson, who regards winning the scholarship as "my very first achievement. I was truly motivated. It gave me the extra whatever to do what I have done today. For sure, it was a stepping stone."
Madelia's school superintendent drove Anderson to Minneapolis for the seminar, depositing her at the YWCA. "It was the first time I'd ever been to Minneapolis, the first time I'd ever been in a hotel, the first time I'd ever seen a building more than two stories tall," she said. "We never had a telephone, I'd never used an elevator or a taxi. It was more than an art experience. I learned a lot in three days."
But the reality of Minneapolis differed from the reality of home. "My parents were real hard-working, conservative German farmers and there wasn't a whole lot of nonsense in our life. If you had a high school education, you really had it made," she said. "My family had no insight that further education would be what I should have done." With the hindsight of four decades, Anderson now sees that the nuns, teachers and Rotarians were trying to encourage her to seek a formal education in art.
But there wasn't any college, any art school after Anderson graduated from Madelia High School in 1955. She took a job as receptionist for a commercial photographer in Mankato. "It was as close as I could come to any job that was creative," she said. Soon she began coloring and tinting the photographer's portraits, then started using oils rather than tints. "I became well known for doing that and it trained my eye for portrait work," she said.
Anderson worked days at the studio and painted at night. She'd sold a few paintings while still in high school – horses, Native Americans, wildlife – and she began selling more in Mankato. "To get myself known, I would do art shows, set them up at Madison East Shopping Center or a bank, a whole display of art with a sign that said 'Painted by Marian Anderson.'" Still not convinced she could support herself with art, she worked at factory jobs "until I couldn't handle my load at night and on weekends, until I couldn't physically stay awake."
In 1961, she became "a full-time artist, forever, doing mostly wildlife art or portraits on commission for $150 to $200." (Today an Anderson portrait commands $5,000 to $25,000.) To expose her talents to galleries, retailers, art publishers and collectors, she took her paintings to regional shows, then national exhibitions in major cities from coast to coast.
Thus began life on the road, eventually exhibiting at 20 or more national shows every year. "It's an intense job, an eight-day-a-week job. If you own your own business, you just work around the clock if you want to be successful. Success for an artist is to be known and recognized, so you must get your art out in front of people," she said. "When young artists ask me what to do, I tell them to let people know they're around. That's what art shows are all about."
In 1980, Anderson broke into the market for limited edition prints with a portrait of a black labrador. Two well-known wildlife artists, Les Kouba and Ron Van Gilder, helped her with the logistics of printing and marketing limited editions. The labrador print, called "Early Snow," was followed by "Line Fence Ringnecks" and a series of portraits featuring a Native American woman, depicting the four seasons of life. At the moment, she has more than 100 paintings in print.
When Anderson began selling limited editions, "that's when the real work started. Before that, it was just one picture at a time. Starting in 1980, I did nothing but travel, promote, paint, get things published. It was nothing but a whirlwind," she said. She began winning awards, one after another, at a pace that quickened in 1985 when she was named Michigan Habitat Artist of the Year at a Detroit art show.
One of the major U.S. shows, the Wildlife and Western Exhibit and Sale, is held annually at the Hyatt Regency Hotel in Minneapolis. It draws 10,000 potential buyers and 150 to 200 wildlife artists, including such personalities as David Maas, Terry Redlin, Bev Dolittle and Van Gilder. She was named "Artist of the Year" and inducted into that show's "Hall of Fame" in 1991. To commemorate her induction, Anderson painted "Silent Signal," a rooster and hen pheasant huddled on an isolated clump of marsh grass surrounded by windswept snow. Near the birds is a single, indistinct human footprint. "In everything I've ever painted, there's a message," Anderson said. "It usually has something to do with the environment, preserving the earth or historical renovation." The message in "Silent Signal" was "let's not let our paths cross, let's not take away all the habitat. Remember to leave areas for wildlife and not make footprints in their domain."
Anderson chose pheasants for her Hall of Fame print "for several reasons – dedication to my background and my dad for one. And they're extremely hard to paint, so I wanted to prove my ability." The scene conveys a notion of lonely survival and contains the infinite detail that always brands her work. Every small feather is neatly in place, iridescent turquoise flowing into amber.
More awards and honors followed, but two years ago Anderson and Vince Meyer, her husband since 1984, finally dropped off the show circuit, entering semi-retirement. The seed for this change was planted in 1991, when Meyer added space for a gallery and studio to the three-bedroom stone cottage he'd built in 1977 on a high, wooded lot near the Blue Earth River off the road to Rapidan. "That's when we decided we could make a business here, selling from the gallery rather than being on the road," Anderson said.
Five years ago she began trimming the schedule of art shows, spending more time on projects commissioned by the Mankato Chamber of Commerce, Blue Earth County Historical Society and other community groups in Mankato, Sleepy Eye and Madelia.
When the Mankato Chamber approached her about painting the town's old Union Depot as a fund-raiser, "it wasn't what I wanted to do. I didn't paint buildings and landscapes." But she let herself be "talked into it," then put her own stamp on the project by creating a montage blending the depot, the last steam engine rolling into town, passengers waiting on the platform, the old Main Street bridge, the Saulpaugh Hotel, Salet's Dept. Store, and the top of the Blue Earth County courthouse, with a winter sunset in the background.
Anderson was "very worried" about the print's potential as a fund-raiser because the organization had invested heavily in the project, but the 650 prints and 65 artist's proofs "were sold out within a year. I had no idea it was going to be so successful. It raised thousands of dollars for them."
That print, known as "Partners in Progress," was followed by two more nostalgic Mankato montages. "Good Ol' Summertime" captured the Oasis Root Beer Stand and its surroundings, while "Closing Time" recreated Mankato's downtown Front Street as it was before being radically altered by urban renewal in the 1970s. Then came "Yesteryear," depicting a slice of North Mankato's Belgrade Avenue before everything there was torn down for a new bridge.
Anderson then memorialized Sleepy Eye and Madelia with historic montages. In "The Spirit Lives," the image of Sisseton Chief Sleepy Eyes watches over the town's bustling commercial district and many of the community's landmarks. Painting "Pride of the Prairie" for Madelia was an emotional, pleasurable and reminiscing experience for Anderson, who remembered the childhood thrill of seeing powerful trains pass over the viaduct and the water tower so tall that "boys liked to dare each other to climb it."
These montages, and a series of portraits of historic Mankato mansions, "made me very aware of my own community. I'm getting so much satisfaction from visiting and reminiscing with people in my own area," Anderson said. "People have said they're surprised that I didn't move away. But what could I get elsewhere that's better than here? Hey, here's where my heart is."
Perhaps that's why she considers a recent invitation to be parade marshal at a "Celebrate 2000" all-school reunion in Madelia July 8 to be "my greatest award." Pulling the invitation from a stack of papers, Anderson reread it. "Of course, I'm going to accept. I'm very honored, proud as a goose," she said. "But I feel almost foolish, almost embarrassed, not worthy of it."
Another Artist in the Family
Like his artist wife, Vince Meyer respects rather than resents his humble past.
He came from a small farm near Green Isle, a house with a dirt floor in the basement. "We had enough to eat and that was about it," Meyer said. "Our farmhouse had no plumbing and didn't even have electricity until I was about 12."
Meyer still enjoys one of the best parts of that life, a "Round Oak" wood stove. "My mom changed my diapers beside it," he chuckles, a smile as warm as the stove's radiant heat breaking his weather-beaten face. Today, that stove burns in the frame shop on the lower level of the stone house he built in 1977 and now shares with Marian Anderson, his wife since 1984. "I've never been without that stove. I've always burned wood, but it wasn't always for the heat. It was for the smell."
Also like his wife, Meyer is an artist in his own right. While Anderson works with oil on canvas, Meyer spent three decades as a stone mason. If you doubt that's an art, look at the 18-foot-tall fieldstone fireplace in their home.
"A bricklayer or a blocklayer is confined to rectangular shapes, but a stone mason works with irregular shapes. It's a lot more creative, artistic. You make your own design," Meyer said. "With brick, once you've laid one brick, you've laid them all. I couldn't stand the monotony."
The three-bedroom cottage on a wooded bluff near the Blue Earth River is as striking for its openness as it is for the 220 tons of fieldstone covering its exterior. Every window, and there are plenty, floods the interior with light and snapshots of the surrounding woods. There's a reason for all those windows. "I have big claustrophobia. Put me in a room and close the door and I'm liable to kick the door out," he said.
Meyer put down his trowel several years ago, drained of his strength by non-Hodgkin's lymphoma and the chemotherapy and radiation treatments it requires. He continued to travel with Anderson, helping set up the elaborate displays at shows, and started framing in their gallery when they began to scale back on shows five years ago.
They haven't shown on the road for two years and today's pace is far different than when they teamed up in 1984. It was the second marriage for both. "We hooked our talents together, never looked back, worked 16 hours a day, did art shows from coast to coast, border to border, never burned any bridges," he said. "We had lots of energy. We were like dynamite with a short fuse."
Meyer's face is a map of nooks, crannies and ridges. His broad shoulders, long hair and strong frame make him an ideal model for the "mountain man" featured in many of Anderson's paintings. There's no mistaking him in buckskin, astride a horse, hefting a flintlock and carrying a fresh-killed turkey. (With prints like these, Anderson has helped the National Wild Turkey Federation raise more than a million dollars.)
Despite his active lymphoma, Meyer "still enjoys hard physical work. It's a part of me." This summer he'll pick up his trowel again to integrate fieldstone in landscaping around their home.
This mason, mountain man, picture framer sums himself up by saying he likes "peace and quiet, I enjoy putting things together, I like to see progress, and most important, I like to see it done quick. 'Hurry up and get it done! Rain coming!' That's the way it was years ago when I was doing masonry work. I have more fun making money than saving it. Saving is not fun for me. And I love being with Marian. We go on little trips, roughing it in a motor home. We don't rough it in a tent anymore."
Just as cancer put the brakes on Meyer, arthritis slowed Anderson in recent years, leading to surgery on both hands and a hip replacement. She still spends hours in front of her easel, painting life onto canvas. It's an ancient process not yet invaded and "improved" by technology, although computer software for drawing and painting abounds.
"I like to see paint go on a canvas. I like the feel of canvas," said Anderson, who shuns computerized art. "I want to be the sole administrator of what I say with my painting. Hands-on is very important to art collectors."
Moving at a slower pace, without the pressure of 20 or more art shows every year, Anderson believes what she paints "has quality and spirit in more depth than I've done before. Each piece seems to speak stronger. Or maybe I just feel things more deeply these days."
There's a Circle of Hope in Her Heart
Just as she feels a need to implant conservationist and preservationist messages in her art, Marian Anderson feels a need to motivate creativity in children.
Grateful for the nudges she received toward a career in art, Anderson spent 12 years (1983-95) conducting artist-in-residence programs at area schools. During these residencies, Anderson always tried to "paint something that had to do with the children personally," inspiring creativity and teaching respect for the earth and others in the process.
Once, struck by the racial blend of students in kindergarten through second grade in Eagle Lake, she began painting a circle of five young faces, completing the circle with a bald eagle in flight. She saw the eagle as "inspiring us to rise above our old versions to higher aspirations, enabling us to live upon the earth in unity. That picture said that all of us, despite our culture or background, if we use our identity and put it together, can become one strength as Americans."
She completed the painting, called "Circle of Hope," during a seven-week artist-in-residence program at Madden's Resort near Brainerd, a residency she did from 1987 to 1997. Judy Ladd, a guest who watched her work later became president of the American School Counselors Assn. and remembered that painting. She called Anderson, wanting to use it to deliver the organization's message about the importance of cultural diversity. Anderson said yes.
In 1998, Ladd presented the painting to U.S. Secretary of Education Richard Riley in Washington, DC. Standing by were Anderson and her five young models, now teenagers in junior high. USA Today had tracked them down, including one who'd moved to Alabama, and paid for their trip to Washington.
©2000 Connect Business Magazine