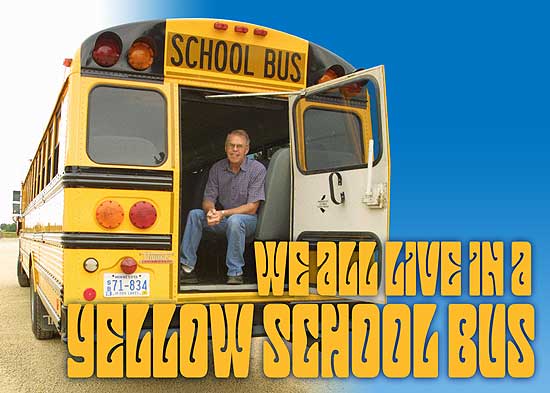 Photo by Kris Kathmann
Even a dirt-poor farm kid, mocked by classmates for his ragged clothes and brown-bag lunches, can make a million in America. That may be the paramount lesson of Floyd Palmer's life, a life no longer endured in rural squalor because Palmer followed his instincts. "I didn't want to live poor. I wanted to own my own business."
Today he heads Palmer Bus Service, the nation's 36th largest privately-held school bus company, a ranking based on the number of buses operated. Palmer runs 225 buses and vans, shuttling 12,500 Minnesota and Wisconsin students to and from classes and extracurricular events. "Some days all 225 are running, even the spares. We have close to 350 drivers on the payroll," he said.
Not bad for a kid whose self-esteem was crushed by insensitive classmates, a kid whose grades drifted along at subterranean levels until he was handed an Atwater High School diploma in 1961, a kid who enlisted in the Navy because he had "nowhere else to go."
Once he had that diploma, he wasn't going back to the spare bedrooms of dairy farmers where he'd lived since his father sent him away to work as a hired "man" at the age of 14. "If I stayed around Atwater, there was nothing for me to do but work for farmers for the rest of my life. I didn't want that. The Navy was my way out."
Today, he lives in a comfortable home in St. Clair, a small community south of Mankato. His dream of owning a business became a reality when he bought the St. Clair school district's eight buses in 1974. Palmer used all the $10,000 he saved by working three jobs to make the down payment, forming the first Palmer Bus Service. Short of cash to operate, he struggled but survived.
Palmer gradually acquired more buses in more towns, sometimes from school districts, sometimes from private operators. He plans to keep expanding, even though he's 58, a survivor of two battles with prostate cancer in the 1990s, and faces eventual bypass surgery after a heart attack this past summer.
"Am I going to buy more? Absolutely. I really feel we can offer good service, quality service," he said. "Plus, I like it. It's fun. It's a challenge," he said.
But even he knows there's more to his passion for expansion than the notion of offering good service along dusty rural roads. Lois, his wife of 35 years, knows it even better.
"He expands to keep proving himself. He's trying to change his past," she said. It is a matter-of-fact statement. There is an understanding smile on her face and no hint of reproach in her voice. "Palmer Bus Service is Floyd Palmer. When you see a Palmer bus, it's clean, it's shiny, going down the road, getting somewhere," she said.
"The bus business is my life. I live it, breathe it," Palmer said. But his past is always on the tip of his tongue. You must understand where he came from to understand where he is today.
He made his first million years ago. But it was, and still is, "on paper. I have very little cash in reserve and that's earmarked for maintenance and improvements." Cash is even harder to come by these days. A change in Minnesota's transportation aid formula squeezes his revenues, right along with higher costs for gas, maintenance and drivers.
Palmer emerged from the steaming dairy barns and unfriendly classrooms of central Minnesota with an emotional scar or two, but surprisingly little resentment. "That's just the way it was," he said. There's a tone of finality and acceptance in his voice.
It hurt, he said, to see his farmer-father lose everything not once, but twice, in 1957 and again in 1958. When the family's last rented farm failed, his father began driving a grain truck and the Palmers lived, rent-free, on an abandoned farmstead near Kandiyohi.
On the last day of school in the spring of 1959, 14-year-old Floyd Palmer came home to learn his father had hired him out to an area dairy farmer for $80 a month. He spent only $20 all summer and delivered the rest to his parents. "Dad gave me $20 of that and kept the rest to feed the family. There were no hard feelings. You respected your mother and your father. You did it if you felt they needed it," he said.
Such transactions carried a collateral benefit. He felt he "gained acceptance by working and bringing money home."
After that summer, Palmer never moved back with his family. He spent his $20 for school clothes and began living with area dairy farmers, milking cows and doing other chores all through high school. "I loved farming. I loved the freedom, the work, the business. I like to work."
Some might say life as a farmhand would "make a man" out of any youngster. But it also created an enduring sense of loss. "I never really was a kid," he said, a pensive look crossing his face. "I would never put my kid in that situation (leaving home to work at 14). Your whole life is shattered." Even when the Palmer family ran its own farm, "we never had a hired man. I just got out there and worked."
Palmer showed up for classes at Atwater High School, but that was about it. "For the 7th through 12th grades, I basically had a D-minus average," he said. Despite miserable report cards, he escaped with a diploma in 1961. "I was just one of the kids they got rid of."
Not long ago, a classmate who farms near Atwater visited Palmer. "He said he wanted to apologize to me for the way the Class of 1961 treated me," Palmer said. "They laughed at me and poked fun at me for what I wore. I got my clothes from secondhand stores. I carried my lunch. They'd call and ask me to go to the movies, then they wouldn't show up." But Palmer blames himself also. "Part of my problem in high school was between my ears. I didn't have any self esteem."
Rather than resent the deprivation of his growing-up years, Palmer believes "it probably gave me the determination to succeed. I attribute my success to my background. If I'd had something close to a normal childhood, I probably wouldn't be where I am today."
Two months after graduating, Palmer joined the Navy. "My grades weren't good enough for college, and I never had any encouragement (to attend college). My point was to survive."
The Navy began to reshape Palmer's life and put a shine on his self image. His gratitude tumbles out as he recalls his service in a Naval air patrol squadron. "It had a profound effect on me. I wouldn't trade my Navy days for anything," he said. He trained as a mechanic and flew patrols out of Alaska, Japan and Hawaii aboard a four-engine plane.
"The squadron itself built character. By flying as a crew member, I did things I never dreamed I could do. I learned I could be a damned good mechanic. I enjoyed the camaraderie with the crew. We were really just kids, doing a job, functioning as a team rather than individual stars. We were a crew. That philosophy has carried on in the business world."
(Palmer has attended reunions of the VP Patrol Squadron 2 Assn. since 1986 and was elected president of the association in 2000. "It was the greatest honor of my life.")
The Navy years reinforced his desire to own a business. "I saw pilots and officers driving nice cars, living in nice homes, going out with nice-looking girls. I wanted that," he said. "I got exposed to people who worked hard and got an education and I saw what that resulted in."
Still, after being discharged in 1965, Palmer seemed headed nowhere, assembling furnaces in a Minneapolis factory. Free of the Navy's structured lifestyle, he began "drinking like a fish. In some respects, I was on a path to self-destruction."
That changed when he met Lois, an education major at Minnesota State University in Mankato, on a blind date in January of 1966. "Meeting Lois was the biggest turning point of my life," he said. "Without her, I wouldn't be where I am today."
But at first, she seemed presumptuous, asking pointed questions about his factory job. "Is that all you're going to do for the rest of your life?" she wondered. "I told her I really enjoyed working on engines and she said 'why don't you go back to school for that?' She was the first person in my entire life that said 'why don't you go back to school?' I'd just met this person and now she's giving me advice!"
Ten months later, after Lois graduated from MSU and began teaching kindergarten in the Twin Cities, they were married Nov. 26, 1966. He then took her advice and approached a Minneapolis vo-tech school, hoping to enroll in a course that could lead to an airline mechanic's job. But his Atwater transcript was so dismal the vo-tech first required him to take night classes in algebra, physics and geometry. He worked full-time, cleaning planes for the now defunct Braniff Airways, and went to school full-time. He became a straight-A student and landed a mechanic's job with Northwest Airlines in 1969. "The job paid well enough that I knew I could save some money," Palmer said. "I still had the goal of owning my own business. I worked every hour of overtime I could for Northwest."
But strikes and layoffs plagued the company, so Palmer took a mechanic's job with Ozark Airlines in St. Louis, MO in 1972. The Palmers sold the home they'd bought in Apple Valley and built one in St. Louis. A year later, Ozark went on strike.
"After two strikes and three layoffs with the airlines, I told Lois, 'that's it!' We're going to get into our own business.' I always had the attitude that if I was going to work hard, I was going to work hard for myself!" He considered everything from Dairy Queens to bars, laundromats to vending machine companies.
In 1973, the Palmers went to his wife's parents in Mankato for the Christmas holidays. Palmer visited with his brother-in-law, Ken Lenz, about a bus company Lenz purchased that year in Waseca. "I told him if anything else became available to let me know. I wanted to get out of the airline business," Palmer said.
Lenz advised him to get a job driving a school bus to see if he'd like the business. "He said 'if you can't handle the kids, get along with the kids, it's not for you.' " Palmer took the advice, returned to St. Louis and became a part-time school bus driver. He also put in 3-1/2 hours of overtime every day at Ozark, then mounted tires on cars at a Firestone store in addition to driving bus. "I worked three jobs in 1973 and 1974 until we bought that first bus business in St. Clair," he said.
Perhaps because he worked so hard and started with so little, the turning points in Palmer's life seem like granite monuments. Naming them puts a halting tremor in his voice, a hint of tears in his eyes. On a chronological list, the Navy comes first. But on a prioritized list, his wife ranks first for her encouragement, faith and strength.
When he recalls his 1974 entry into the bus business, his voice begins to break like a fading radio station. Lenz tipped him that the St. Clair school district planned to sell its school buses. "I'll always be eternally grateful to my brother-in-law and the six people on the St. Clair school board. I'll always remember the night those six people gave me a chance and the opportunity that nobody else ever did. They trusted me. I told them I'd never let them down." They sold him eight buses, some miscellaneous equipment, a bus barn and three acres for $81,500; a hefty sum for a man who earned only $26,200 by working three jobs.
It was a lightning-quick deal, approved on a Thursday. That Friday, Palmer was back in St. Louis, quitting his job. "The foreman patted me on the back and said 'go. You've got more guts than anybody.'" That Saturday the Palmers loaded a moving van and headed for Minnesota. They pulled in at midnight.
"In that first month of operation, we didn't have any money. I showed my contract with the school district to fuel suppliers and parts suppliers, telling them they'd get paid when I got paid. Not one person turned me down."
When he couldn't meet his first payroll, a sympathetic superintendent intervened, giving Palmer his first contract payment ahead of schedule. "Once we got that first check, we were off and running."
The Palmers, however, faced problems more serious than a skimpy cash flow. Two of their four daughters were born with disabilities. One had cerebral palsy and required around-the-clock care. The other was born with Down's syndrome and autism. "That's when life really changes," he mused. "We always looked at these kids as gifts. We did the best we could with them. But we never let it stand in our way." Despite burdensome medical expenses, they kept adding to the savings account that would become their down payment in St. Clair.
Their first years in business were lean and frugal, living first with Lois's parents in Mankato, then in a rented St. Clair house before building a home near the bus barn in St. Clair. They eventually expanded that home as they gradually expanded Palmer Bus Service.
Leah, the daughter who required constant care, died at the age of 14 in 1985. The other, Amber, now is one of three residents in a licensed group home in Mankato and works part-time for an organization that employs handicapped individuals. Lois built that home in 2000, as a way of providing better care for Amber.
When Lois reflects on the struggles of life, ranging from starting a business from scratch to raising disabled children, she quietly defines her faith in God. "He will provide a way. He has a plan. He will work it out, one way or another. All things work together for good for those who love God," she said.
Palmer mirrors her feelings. "Ultimately, there's a reason for anything that happens. God has a plan for all of us. If it's to be, it is," he said. "For every door that closes, another opens. He'll never give you more than you can handle."
The Palmers' other two daughters, Jenna and Hollie, graduated from college and became schoolteachers. That's a particular source of pride for a guy who scraped through high school on a D-minus average. "It's the greatest legacy I could leave. If I lost everything, I'd still have my family," he said. "I draw strength from my family, but I bury myself in my work. They've been really good with me. They gave me the opportunity to pursue my goals."
Palmer's goals changed as Palmer Bus Service grew. "We want to be good corporate and individual citizens. We do a lot of things anonymously that we don't talk about," he said. "We encourage our managers to be active in their communities. We have to make a profit, but we have to put something back into the community. We've enjoyed doing this over the years, since we got on our feet."
The Palmers have become quiet philanthropists. "If a church or a hospital has a fund drive, we contribute. We do a lot of charitable work in our communities. If there's a kid who can't afford to go to camp, we make sure that kid gets to go," he said, pausing. Once again, his past leaps to the tip of his tongue.
"I was that kid," he sighs.
Fighting Through Adversity To Diversity
Like many entrepreneurs, Floyd Palmer knows both pain and gain.
He's steadily built Palmer Bus Service from eight buses in 1974 to 225 today. But once he almost lost his proverbial shirt.
That happened in Iowa, where Palmer bought the bus company in Ottumwa in 1981 and "lost everything" four years later. "I lost half a million bucks in that deal, but it made a businessman out of me," he said. "You can't leave anything to chance in the bus business. You always have to be on top of everything you do."
Palmer operated the Ottumwa company successfully for four years, bidding on annual transportation contracts. But in 1985, he was underbid by his former Ottumwa manager. Worse yet, the school board awarded the man a three-year agreement, which made it impossible for Palmer to sit tight for a year and try again.
"We auctioned everything off. We paid everybody every penny we owed them," he said. "It taught me to follow my instincts and not listen to accountants and lawyers. If I had followed my instincts, I would have won the bid."
The episode also taught Palmer the importance of diversity and spreading risk. "If you have just one company, like Ottumwa, and lose it, you're done. We were able to survive," he said. "If we'd had only one or two companies, and took a hit like that, we'd never be able to survive. But as diversified as we are, we can survive an occasional failure."
Fortunately, Palmer Bus Service's growth has been steady and relatively failure-free. Here's his track record of acquisition:
1974 – St. Clair, his first.
1976 – Minnesota City, bought in partnership with Ken Lenz, his brother-in-law. Palmer sold his share in 1983.
1978 – Waldorf-Pemberton.
1981 – Ottumwa, IA, lost in 1985.
1982 – Kandiyohi, also serving Willmar.
1985 – Hayward, WI.
1988 – St. Peter.
1993 – Elcho, WI, near Wausau, also serving Lanoa and White Lake.
1994 – Cumberland, WI, sold in 1998 to his manager in Cumberland.
1996 – Olivia, also serving Bird Island and Lake Lillian.
1996 – North Mankato, where he now has his corporate office.
1997 – Clara City, also serving Maynard and Raymond.
2001 – Little Falls.
Subtracting Minnesota City, Ottumwa and Cumberland leaves Palmer with nine separate operations. (St. Clair and Waldorf-Pemberton are run as one entity.)
Good, on-site management is crucial to the success of these individual operations, according to Palmer. "It starts with a good manager. I simply look for a guy's ability to do the job. I look for honesty and work ethic, dedication, commitment, how they handle themselves," he said. "A lot of what I look for is common sense."
Palmer admits he expects a great deal of local managers. "I put in a lot of hours. I think the managers should do the same thing," he said. "When it comes to busing, I don't accept average. Anybody can be average."
(Palmer Bus Service is anything but average. It received a 2001 National School Transportation Assn. Golden Merit Award "in recognition of excellence of service, safety and outstanding demonstration of community responsibility." The award was one of six presented to school bus operators across the U.S. and Canada at the NSTA convention in Philadelphia last July.)
Although Palmer lost his Ottumwa company because of the actions of a former manager, he remains determined to "give these young guys an opportunity to get into management so someday they can buy their own company. There's enough business out there for everybody."
He has many reasons for continuing to expand, one being "to provide opportunity for other people." When Palmer hears a bus company is for sale, he acts swiftly. "Most bus companies are sold out of emotion. Owners get upset with the school district or they have problems with drivers. Most of the time, they're acting out of emotion, so you have to move quickly," he said. "When they want to go, you go. No screwing around."
Little stands in Palmer's path when he decides to move because he entertains almost no distractions. "I don't really golf, fish, hunt…none of that stuff. I don't have a lot of hobbies. If I heard about a bus company for sale in the middle of this interview, I'd probably get up and leave."
© 2001 Connect Business Magazine. All Rights Reserved.