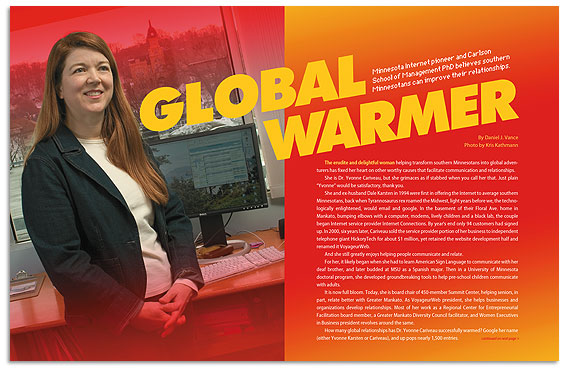 Minnesota Internet pioneer and Carlson School of Management PhD believes southern Minnesotans can improve their relationships.
Photo by Kris Kathmann
The erudite and delightful woman helping transform southern Minnesotans into global adventurers has fixed her heart on other worthy causes that facilitate communication and relationships.
She is Dr. Yvonne Cariveau, but she grimaces as if stabbed when you call her that. Just plain "Yvonne" would be satisfactory, thank you.
She and ex-husband Dale Karsten in 1994 were first in offering the Internet to average southern Minnesotans, back when Tyrannosaurus rex roamed the Midwest, light years before we, the technologically enlightened, would email and google. In the basement of their Floral Ave. home in Mankato, bumping elbows with a computer, modems, lively children and a black lab, the couple began Internet service provider Internet Connections. By year's end only 94 customers had signed up. In 2000, six years later, Cariveau sold the service provider portion of her business to independent telephone giant HickoryTech for about $1 million, yet retained the website development half and renamed it VoyageurWeb.
And she still greatly enjoys helping people communicate and relate.
For her, it likely began when she had to learn American Sign Language to communicate with her deaf brother, and later budded at MSU as a Spanish major. Then in a University of Minnesota doctoral program, she developed groundbreaking tools to help pre-school children communicate with adults.
It is now full bloom. Today, she is board chair of 450-member Summit Center, helping seniors, in part, relate better with Greater Mankato. As VoyageurWeb president, she helps businesses and organizations develop relationships. Most of her work as a Regional Center for Entrepreneurial Facilitation board member, a Greater Mankato Diversity Council facilitator, and Women Executives in Business president revolves around the same.
How many global relationships has Dr. Yvonne Cariveau successfully warmed? Google her name (either Yvonne Karsten or Cariveau), and up pops nearly 1,500 entries.
"Measuring young children's preferences: the use of behaviorally anchored rating scales." Explain what all that means.
(Laughter.) That was the name of my doctoral dissertation at University of Minnesota. I developed a new way for researchers to measure how children prefer various consumer products. For example, a company like General Mills could use the rating scales to determine if children like a particular brand of cereal over another. In medicine, a company could use the scales to determine if a child would find a certain flavor agreeable. Children under age five have great difficulty articulating anything. If an adult asked a child that age if they liked a particular flavor, most would say yes. Our behavior rating scales are based on pictures that illustrate a child's preferences. The child can then pick the picture that matches their preference for a product. It was something that hadn't been done before. We were published in a couple of journals.
You and your ex-husband were first in bringing the Internet to the public in southern Minnesota. In particular, those first years you were an Internet missionary of sorts, spreading the word throughout Minnesota. Where did you take the Internet story?
I traveled all over southern Minnesota and to the Twin Cities. I went to Owatonna, Waseca, Faribault, Janesville, New Ulm, Fairmont—all over. I taught people about the Internet and what it could do.
In 1994, in the beginning, I simply explained to people what the Internet was. I'd show real-life examples of email and what it could do. Unless seeing email demonstrated, most people couldn't understand it. Sometimes I'd send an email to France at the beginning of a meeting to someone I knew, and by the end of it I'd have the reply. People 'got it' then. The groups I visited couldn't believe I'd just sent that email free to France and received a reply in minutes. You could see their mental wheels start turning.
How did the Internet get started in southern Minnesota?
Really, it started at Minnesota State. My ex-husband used to be a network person for the university. MSU then had Internet access for its students—and they were just about the only ones with access in all southern Minnesota.
Dale and I sat down one day to talk. We had a couple of choices on our plate in terms of job opportunities that could take us out of Mankato. I had been interviewing for doctoral teaching positions in various cities, and a particular university in British Columbia topped our list. We really didn't want to leave Mankato, though.
At the same time, Dale was thinking about creating our own 'Internet line' from the Cities to Mankato to allow private access to the Internet. Eventually, we decided to stay in Mankato and start an Internet company. Basically, we started by buying a 'pipe' of bandwidth. Our first year was crazy. We worked out of our basement on Floral Avenue near Minnesota State, and had dogs running around and two young children playing around the computer and modems. The first time I met with a person from the City of Mankato about putting their information on the Internet—that person coming to our home was greeted at the door by our black lab. We contacted a few hobbyists Dale knew who were interested in getting hooked up. Then Doug Johnson of the school district became interested—and he helped launch us that first year by letting us hook up two schools.
Explain what you did at Kennedy Elementary in 1994?
My kids were at Kennedy. One of our dreams was to give children access there to the Internet. But here was our problem: We could bring the Internet to the school building, but we then had to get it to the classrooms. Of course, the school didn't have any money to network the building, so Dale and I volunteered over nights and weekends to wire it. I was involved in the Parent Teacher Organization, so the teachers and principal knew me well. We all worked together on nights and weekends, up there pulling wires through ceilings. My second-grade daughter even pulled cable. (Laughter.) I learned how to wire the boxes. Dale supervised. He had done that kind of work at the university. We wired the school for 56k, and at the same time, I helped them work on a grant to get computers.
Your company would grow quickly. In 2000, only six years later, you would sell Internet Connections to HickoryTech. Take us through the process.
We sold a portion of the business to HickoryTech, just the Internet access portion, which basically was the customer list and equipment. We also had a website design and consulting business. I was becoming much more interested in the website end. We still own the name Internet Connections, but we renamed the website business VoyageurWeb.
I knew it was time to sell the Internet portion after doing a financial analysis. One day, I was drawing charts of the profit margins for the two different businesses. The profit margins for the Internet access portion were decreasing, while at the same time the demand for that service was increasing. Customers wanted more speed, reliability and customer support. I knew the next step for the industry would be DSL, high-speed bandwidth, and wireless. If adopting that technology, we'd incur another big jump in investment. To do that, we would have to determine if we wanted to make that commitment.
At the same time, I believed the website portion of the business would continue growing. People were just beginning to understand what a website could do for their business or organization. Unlike Internet access, the profit margins on the website portion of our business were increasing. As it turned out, the timing of our sale to HickoryTech went well because shortly thereafter the market dropped for what we could have sold the company for.
Did you contact HickoryTech, or did they contact you?
We had a good relationship with HickoryTech and had been buying telephone lines from them. I remember asking for a meeting. I was on a first-name basis with many people there, including Jane Rush. I asked who would be the person to negotiate with, and Dave Christensen's name came up. For the most part, he and I were the people negotiating the deal. He didn't involve many people at HickoryTech because we wanted to keep it quiet. The negotiations were a long, difficult, complicated process because lots of details had to be worked out.
As for details, I had strong feelings about how I wanted business to be handled in the transition and thereafter. This may sound corny, but when customers give me money I take the trust they've given me seriously. When Dale and I began in business, we had customers that hardly knew what the Internet was. They believed me when I said it would be useful and they started giving me their money. And now here I was handing them off to another company, HickoryTech. In other words, I felt Internet Connections had been, in part, my 'baby,' and much as I could control it wanted my customers taken care of afterwards. At the time of the sale we had 4,800 customers and we received through various means of compensation about a million dollars for the company—although the IRS got a good portion.
One nice aspect of selling: With Internet Connections, I didn't enjoy having to manage 25 employees. That's too difficult. I manage only eight people now.
You've worked with the Greater Mankato Diversity Council. Why?
It's a passion, probably because of the influence of my brother, who is deaf. Because he's deaf, in many ways, he's different from people around him. I grew up watching people treat him differently and it didn't seem fair. When seeing the Diversity Council needed facilitators, I figured most people applying would be thinking about racial diversity. I thought I'd have something useful to contribute. My brother and I both use American Sign Language.
Right now I'm a facilitator for middle school children and we usually go into classrooms in teams of two. In giving our introductions to the kids, I usually begin by signing and sharing about my brother.
What is an ADA-compliant website? Does your experience with your brother help you create them?
There are international standards for ADA (Americans with Disabilities Act) websites.
I know people who are color blind, who need contrasting colors on a website page in order to differentiate between text and background. In being around my grandmother, who has Alzheimer's, I've seen her mental abilities change. So when designing a website I think about what I can do to make it more usable for people like her. Also, for people with hand tremors or arthritis, I sometimes design websites with larger buttons to click or put more space between the buttons. For people not seeing well, I avoid small font sizes. Furthermore, blind people have special mouses and software available to help them 'read' the Internet. If you don't design your website to the international standards those special tools won't work properly.
My experience with my brother helps. I'm sensitive to the fact he can't receive sound information, so he'll need more and better visuals. When my brother was younger he used to visit Easter Seals, and I spent time there with people having a variety of physical disabilities. I remember 'hanging out' with blind, paraplegic and quadriplegic children. When designing a website, sometimes I think, "That guy wouldn't be able to use this."
You lived in Mexico three months?
I studied Spanish and French in high school. I received my undergraduate degree in Spanish from Minnesota State. While there, I had the opportunity to visit Mexico with Dr. Heise and others. Over the years he had taken a number of groups of students to Guadalajara. You could go there and take a full load of classes at its university. We lived with a Mexican family and were immersed in the culture. I stayed with a family of six children, and the mother was pregnant. While there, I also had a job teaching English in a nursery school. I had to take three buses in order to get back from there to my host family's home. (Laughter.)
You are a businessperson. You also speak Spanish. Do you see an untapped market with businesspeople in terms of marketing to Spanish-speaking people?
Oh, definitely. For example, entertainment websites in southern Minnesota often only list events in English. Manufacturers and people selling product for shipment—Central and South America have hundreds of millions of potential customers. Mexico is becoming a tremendous marketplace. A person in southern Minnesota could easily sell to those markets if they could communicate in Spanish. I've made a few Spanish-speaking friends through the Diversity Council, and they use computers and email like everyone else. Even just having a few Spanish words on a website is welcoming to a Spanish-speaking person. Personally, I'd like to see more Spanish information on our government websites. If not wanting to redo an entire website in Spanish, a businessperson could have a few welcoming words on the first page and a one-page review of their business in Spanish—and show a contact name if customers want to speak to someone in Spanish.
I know a lady in Madelia married to a physician. She wants to start a newspaper called 'Mujeres,' which means 'Women' in Spanish. This monthly or weekly newspaper would be written in Spanish and English, and feature a variety of Spanish-speaking women. I hope she follows through with it. I'm trying to help her much as I can.
The Regional Cnter for Entrepreneurial Facilitation used to be called Riverbend Center for Enterprise Facilitation. It is an award-winning free service for businesspeople funded in part by Blue Earth County. You are on the board. Why change the name?
When Milt Toratti left, we no longer had a person with the required training to be officially called an "enterprise facilitator." So we had to change it.
As for Bryan Stading, who currently runs our center, he's a very good listener. People speaking to him about their business ideas—he'll pull up a chair, grab a cup of coffee, and make them feel comfortable. He listens well. And sometimes that's all you need to get a business idea off the ground—a person who listens and takes you seriously. Bryan is willing to help. People always tell me they enjoy talking with him.
You like antiques and genealogy. What do you get out of that?
I must like old things. (Laughter.) With genealogy, I'm primarily interested in my father's French Canadian ancestry. I've traced my ancestry over thirteen generations to 1482 in France. Our ancestors settled in Canada in the 1600s prior to the Pilgrims in Massachusetts. They were among the first French soldiers sent near the St. Lawrence River. I've been tracing about four family lines for the last twelve years.
Your hobbies create an odd juxtaposition: A person on the cutting edge of an ever-changing technology is also very interested in genealogy and antiques, things that never change.
My interest in genealogy and antiques is all about 'anchoring.' If understanding history, you better understand the patterns of where you could be going. A good understanding of history helps a person become a good futurist. And I fancy myself as an amateur one. For instance, I like reading Popular Science and Scientific American. I like trying to figure out what is coming. When doing my family history, I'm also interested in what they used for cooking, what they ate, and social interactions. That kind of cultural information often changes over time, usually because of climate and geography. Much of it changes, yes, but much of it also remains the same.
You are president of Women Executives in Business. What do people in your organization do?
The organization primarily is for people aspiring to be business owners or who already own businesses. Some women involved are Nancy Fogelberg of American Artstone, Linda Hachfield of Appletree Press, Caroline McGowan of Caroline's Kitchens, Connie Hoffman of Broad Street Brick & Patio, Pauline Marlinski of KMA Design & Construction—some heavy hitters in terms of women who've been around and know what they're doing. It's an amazing group, primarily for support and education. Many of us are the only women in our industries in this region, so we share that common experience.
What was there about your parents that helped prepare you for business?
They have been entrepreneurs for years and have independent spirits. As for my dad in general, he says he has his own way of doing things and sometimes he 'just doesn't work well with others.' He has high standards refinishing furniture and he can be uncompromising. It just wouldn't work out if he had an employee. (Laughter.) So they don't have any. They own Antiques Oronoco north of Rochester. It's a beautiful place, where my dad refinishes the furniture and my mom cares for the shop. The two of them often fight over setting prices. (Laughter.) It's a delight watching them work together in life, at work and at home.
Is that where you grew up?
I grew up in a number of places—attending ten different schools from kindergarten through twelfth grade. My dad is an entrepreneur and when the bug bit him it would be time for us to do something different. We lived in Mason City, Rochester, Preston—a number of places.
For a while they managed rent-all stores in Mason City and Rochester. Then I remember Dad coming in one day and drawing a picture of a motel onto a napkin. He said he saw this motel in Preston, Minnesota, and at the end of the conversation he told everyone he'd just bought Valley View Motel. (Laughter.) My mother hadn't been involved and kind of freaked out. I think my brothers and I had to leave the room in order for Mom and Dad to discuss it. We soon moved and ran a ten-unit motel. Next to the motel was a piece of land where Dad said it would be great to build a Dairy Queen-like restaurant. So he physically built the restaurant and purchased the equipment.
My job every morning in high school was to strip motel beds and clean rooms, and my brother would follow behind me with other chores. Then I'd grab my books and we would walk over to school. At day's end, we'd work in the restaurant until closing and then do homework. I remember the broasted chicken and serving ice cream cones. It was great fun.
From all this, one of my best qualities is that I'm adaptable. Maybe that's because of my father moving us around so much. Change doesn't bother me.
In 2004, you received more than 20 percent of the vote for Mankato City Council president. Yet you never campaigned. What was that all about?
(Laughter.) Reaching a point in my life where my kids were out of high school, I wanted to do more for my community. I thought becoming involved in politics and city council might be interesting. When the seat came up, I filed for it. About the same time, my grandmother in Arizona contacted us, saying she had some problems. We thought she was having marital problems. So I flew down to help her, and when getting there realized she had more serious problems than marital issues. My grandmother had Alzheimer's disease. So we moved her to Minnesota, and had to deal with her legal and financial affairs.
I thought everything would be fine, and so went on with my campaign. Then Grandma hit rock bottom physically and mentally because the move to Minnesota was difficult and disorienting. Next, my mother hit bottom because of the strain. That's when I decided I really couldn't campaign and needed to take care of my family. During that time I spent about two solid weeks visiting St. Mary's Hospital in Rochester. My name was still on the ballot. I never thought I'd get that many votes.
You are chair of the Summit Center for seniors. Why be involved?
Former State Rep. Julie Storm invited me to join its board. I had known her through Riverbend Center for Enterprise Facilitation and SCORE. Julie is an entrepreneur and the kind of person who, when sensing a need, always steps right up to help. She has done that for me, and she asked me to help at the Summit Center.
The other reason relates back to the troubles I had with my grandmother. Because of her, all of a sudden I was more aware of services for seniors. The only reason I became chair was because there was no one else willing to do it. It definitely wasn't me seeking the position. (Laughter.) There have been times over the last year when I've realized that the position involved more than I thought it would. I'm trying hard to do the right thing and I take those kinds of roles very seriously. We have a wonderful, 18-person board. Every major decision we've made on the board the last few years has been unanimous. The board has amazing people who display great character. I'm very proud to know them.
How many people does the Summit Center serve?
Between 400 and 500 members, and many more are served through various educational programs. Our RSVP program has 1,200 people volunteering throughout the region. RSVP stands for Retired Senior and Volunteer Program. The people in it are seniors volunteering thousands of man-hours on projects, such as at hospitals and schools.
You helped raise funds for its new building. What did you learn about raising funds?
This was a whole new animal for me. I went to workshops on non-profit fundraising and read anything I could get my hands on. I talked with people in the community who have raised funds. Through it, I've learned it's all about building long-term, real relationships with potential donors by trying to find ways to connect with them. That's the best way to do it. You don't get it accomplished solely by mass mailing. That doesn't work unless you already have long-term relationships built with people. You need to learn what your donor's needs are, and try to figure out ways your organization can meet those needs. Both ends of the relationship need to get something out of it.
You went to Bellingham, Washington, last fall along with a large group of Mankatoans. The ideas you and others brought back have helped seed Envision 2020, which is a brainstorming and planning process Greater Mankato is going through—to take the area through 2020. What's your take?
The best thing about the Bellingham trip was the networking opportunity. That city is very nice, with a good quality of life, but I didn't see it as being much better than Mankato. We have an absolutely gorgeous place here to live. The people here are very nice and we have a great work ethic. In Bellingham, I was expecting this amazing Land of Oz. It is a nice place. But the nicest part was the trip there, when I talked with others in our group.
What's on your wish list for Greater Mankato over the next 15 years?
One thing I'd like to see is light rail service to the Twin Cities, so a person can live here and have opportunities there. I'd like to see seniors more integrated into the community, with more intergenerational events and programs happening. For instance, I'd love to see senior citizens running a billiards tournament with a bunch of high school and college kids, and with them all having a good time. I'd like to see young women able to find older community women to mentor them, someone you could talk to about life, work, and relationships. I'd like to see more 'connectedness' among generations. There is so much real-life experience and wisdom at the Summit Center, for instance. Much of it is not being utilized. High school kids especially need it so badly. Many of them are so adrift in our culture, without anchors. I'd love to see some magic way to make that happen.
Top Of The Class
After receiving an MBA from Minnesota State, I was a full-time instructor there from 1982-84. I taught Spanish and business courses, even teaching a class in new product development. I also taught marketing management, a senior-level course, and introduction to business. I taught at the University of Minnesota while working on my PhD. They often use graduate assistants to teach beginning business courses. I also worked as a research assistant for several professors. And I've taught community education classes for people interested in learning about the Internet, about how to make a web page, and how to do email. —Dr. Yvonne Cariveau, President, VoyageurWeb.
Future Shock
I believe telephones, mp3 players, cameras (video and still) and computing power will be compressed into a small device that we carry with us at all times. Instead of a PDA, I'd call it a PAL (Personal Access Link), because it will link to what we now call the Internet. Identification (to access it) will be available with a simple fingerprint or retinal scan with emergency contact information and customized settings you've established via a secured website. Privacy and human rights issues will be addressed by giving control of the information to the individual and the ability at any time to turn off your PAL or review data stored about you. But first, we have to make those privacy and human rights concerns heard, loud and clear, to manufacturers and elected officials. —Dr. Yvonne Cariveau.
On Intimidating Others
I really never think about people being intimidated by me. As for making people feel comfortable, first, I never introduce myself as 'Doctor' Yvonne Cariveau. I use my first name and try to be friendly. A few people have told me they have been intimidated. When they do, I'm always surprised and puzzled. Usually, when it happens, I think about my past interactions with that person and try to figure out what I could have done to make them feel more comfortable. —Dr. Yvonne Cariveau.
Yvonne Cariveau
Born: 1961, age 44
Family: daughters Jackie and Samantha; fiancée, Derek Liebertz.
Education: B.S., in Spanish, Minnesota State; M.B.A., Minnesota State; PhD., University of Minnesota, Carlson School of Management.
© 2006 Connect Business Magazine. All Rights Reserved.