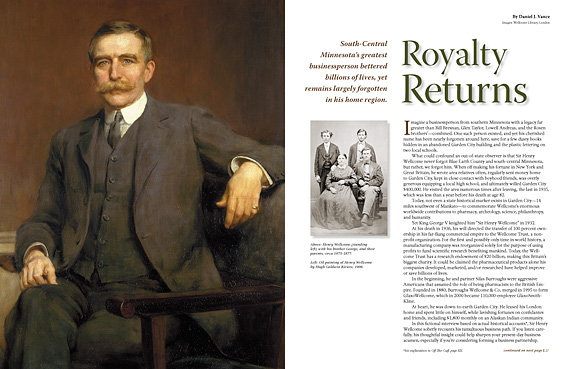 South-Central Minnesota's greatest businessperson bettered billions of lives, yet remains largely forgotten in his home region.
Images: Wellcome Library, London
Imagine a businessperson from southern Minnesota with a legacy far greater than Bill Bresnan, Glen Taylor, Lowell Andreas, and the Rosen brothers'—combined. One such person existed, and yet his cherished name has been nearly forgotten around here, save for a few dusty books hidden in an abandoned Garden City building and the plastic lettering on two local schools.
What could confound an out-of-state observer is that Sir Henry Wellcome never forgot Blue Earth County and south-central Minnesota, but rather, we forgot him. When off making his fortune in New York and Great Britain, he wrote area relatives often, regularly sent money home to Garden City, kept in close contact with boyhood friends, was overly generous equipping a local high school, and ultimately willed Garden City $400,000. He visited the area numerous times after leaving, the last in 1935, which was less than a year before his death at age 82.
Today, not even a state historical marker exists in Garden City—14 miles southwest of Mankato—to commemorate Wellcome's enormous worldwide contributions to pharmacy, archeology, science, philanthropy, and humanity.
Yet King George V knighted him "Sir Henry Wellcome" in 1932.
At his death in 1936, his will directed the transfer of 100 percent ownership in his far-flung commercial empire to the Wellcome Trust, a nonprofit organization. For the first and possibly only time in world history, a manufacturing company was reorganized solely for the purpose of using profits to fund scientific research benefiting mankind. Today, the Wellcome Trust has a research endowment of $20 billion, making this Britain's biggest charity. It could be claimed the pharmaceutical products alone his companies developed, marketed, and/or researched have helped improve or save billions of lives.
In the beginning, he and partner Silas Burroughs were aggressive Americans that assumed the role of being pharmacists to the British Empire. Founded in 1880, Burroughs Wellcome & Co, merged in 1995 to form GlaxoWellcome, which in 2000 became 110,000-employee GlaxoSmithKline.
At heart, he was down-to-earth Garden City. He leased his London home and spent little on himself, while lavishing fortunes on confidantes and friends, including $1,800 monthly on an Alaskan Indian community.
In this fictional interview based on actual historical accounts*, Sir Henry Wellcome soberly recounts his tumultuous business path. If you listen carefully, his thoughtful insight could help sharpen your present-day business acumen, especially if you're considering forming a business partnership.
You spent your formative years in Blue Earth County?
I lived there from ages 8 to 17 before moving to Rochester to work for my uncle's friend, Dr. William Mayo. My family stayed on in Garden City many years. In all those years after I left—including my first in London to decades later when I was excavating the archeological treasures of East Africa and the Holy Land—I never forgot Garden City. That includes my lifelong friendship with George Palmer, who accomplished great things partnering with R.D. Hubbard to build a Mankato flourmill.
After my passing in 1936, through my will I left Garden City $400,000. That was a lot of money back then and was eventually used to construct a school building and begin an endowment fund. The school building still stands—although it's not used much—and I've been told the endowment, which has funded student scholarships, has more than $500,000.
You've no doubt heard of Lake Crystal Wellcome Memorial High School. Perhaps it would sound a bit better as Wellcome Memorial Lake Crystal. Don't you think? (Laughter.)
When we first arrived in Garden City in 1861, the local schoolhouse was a little log cabin. The only school books we had were the ones we brought with us from Wisconsin—and the same for everyone else from wherever they lived. Everyone had different books. Yet we learned well and many of us enjoyed success. When leaving the town money, I wanted Garden City to have a first-class facility and its students to have opportunities I never had.
What were your mother and father like?
They made quite an impression. I believe we were the poorest family in Garden City and the stigma associated with it spurred me on to make money. My father eventually began helping out my uncle at my uncle's Garden City drug store. Dad was an ardent Adventist who, in my later teen years, spent quite a bit of his time away from home as an itinerant preacher. He could be a hard man. My mother was a softer influence, who I could talk with more openly. More than anything, although I would later reject their particular brand of Christian faith, I still kept that faith in general and many of the solid moral principles they taught. My family was so poor that when I went off to Rochester for work, I sent back money just so they could survive. I continued supporting them for two decades.
You said you kept many of their morals—such as?
After my company was on solid footing, I was able to dedicate more time to archeology, one of my passions. My interest in it began when I was a youngster and found an Indian arrowhead in Garden City.
In the mid-1910s, when we were trying to excavate Jebel Moya near the Blue Nile and needed dependable workers, the locals were being lazy and seemed to work only to earn enough to pay for an alcoholic beverage called merissa, which was bloody potent. To help train the men not to drink, I would award them with a peacock feather and make them honorary members of the Order of the Peacock if they could go eight weeks without drinking any merissa. You can laugh all you want, but two thousand men took the pledge and peacocks had to be imported from England to meet demand. Most importantly, Jebel Moya yielded great quantities of archeological remains. Besides keeping the locals off alcohol, we also taught them basic carpentry and engineering skills, and the value of saving their money.
Another example of those morals: In 1886, I was on sabbatical in Maine. I was recovering from colitis, had nearly drowned in a water accident that year, and was under a great deal of business pressure due to my partner.
While in Maine, I met William Duncan, a lay Christian missionary, who had been in British Columbia establishing a faith-based village for Indians, called Metlakahtla. He had successfully weaned the Indians off alcohol and taught them meaningful job skills. Then, unbelievably, the Church Missionary Society of London withdrew all financial aid to the village because he refused to serve the Indians communion wine—alcohol. My book about Duncan's plight, The Story of Metlakahtla, became a U.S. bestseller and went through four printings. It aroused such public sentiment that the U.S. Senate felt compelled to approve a transfer of U.S. land to those Indians in 1887.
Who were your early mentors?
Without a doubt, my Uncle Jacob Wellcome was one. He was the first doctor in southern Blue Earth County and later would become the first surgeon at the hospital in Mankato. His good acquaintance and contemporary, Moses Wickersham, has a medical center named after him in Mankato. Perhaps one day, someone will name something after Uncle Jacob. He was very compassionate and for a while was the only doctor covering the wilderness between Garden City and Spirit Lake, Iowa. He was tall, wore a black stovepipe hat and, appropriately, rode a white horse. He was my first hero.
When the Indians attacked in 1862, and though I helped my uncle treat wounded settlers, I never felt any hatred toward the Indians. We were on friendly terms with the Winnebago, in part because Chief Good Thunder helped us after the Sioux attacked. Without a doubt, my experiences during that uprising were the most interesting of my life. Years ago, my biographer, Robert James said, "The American Indian never had in modern times a greater individual supporter than Henry Wellcome."
Another person affecting me—I wouldn't say a mentor, but more an influence—was H.J. Barton, a chemist settling in Garden City from England. He gave me a copy of Attfield's Chemistry and I used that book to spend many a day playing spot-on practical jokes on my friends in, shall I say, an explosive sort of way. I particularly remember one experiment with ammonium nitrate not ending well. I also really loved making firecrackers—boom—and have always loved being a practical joker. (Laughter.) It was H.J. Barton who told me of the glories of England and developed in me a desire to visit.
Another mentor, Dr. William Mayo, ended up relocating his medical office from Le Sueur to Rochester. He was a good friend of Uncle Jacob and would become my greatest mentor. With Mayo's help, I landed a job in Rochester as a prescription clerk at Poole and Geisinger in 1870. His office was directly overhead ours. Dr. Mayo encouraged me to attend college to acquire professional qualifications in pharmacy. He believed in me and I owe everything to his inspiration, kindness, teaching, and advice.
From there, begin taking me through your career path.
It ended up being a rite of passage for me in 1872 to leave Rochester for Chicago, because I did it against my father's wishes. After I attended Chicago College of Pharmacy a while, a close friend persuaded me to transfer to Philadelphia College of Pharmacy. Of course, I had to work my way through college. My dissertation in 1874 was on the manufacture of urethral suppositories.
I've heard that dissertation could have made you a lot of money had you patented the process.
I learned my lesson. You're right: I should have patented it. My process worked, was totally reliable and inexpensive—and became widely copied. Later, I tried putting a good spin on my mistake by telling the American Pharmaceutical Association that not seeking a patent had been my personal contribution to the development of pharmacy and the relieving of pain.
From there you went to New York?
I worked at Caswell Hazard & Co. two years, and then McKesson & Robbins four years. They were two of the most respected pharmaceutical firms in New York. Granted, I wanted to make a lot of money and could have made more in the short-term in Chicago, but saw New York as a means to cultivate my knowledge about business. It would pay off in the long run. With Caswell Hazard & Co., I learned about selling good-quality products in large quantities. I wanted to learn more about natural plants and their uses for medicine—the era of synthetic drugs was still far off.
Any other lessons learned there?
While on business travel, my colleagues would stay at the best hotels and bill the company accordingly. I stayed at inexpensive boarding houses. With McKesson & Robbins, I traveled the U.S., peddling the company's new gelatin-coated pills to druggists and medical professionals.
Throughout this time, I also established my credentials as a medical scientist, contributing regularly to such publications as American Journal of Pharmacy and The Pharmacist. I authored one paper condemning the practice of druggists selling liquor for medicinal purposes, which is not unlike the current debate over marijuana. These druggists were frequently troubled with unreliable clerks. Was it any wonder why?
My most celebrated paper was my firsthand account of exploring Ecuador's Cinchona forests in 1878. Cinchona bark was the prime source of quinine, which is still used to treat malaria. That paper put my name on the map. Suddenly, at age 26, I was famous in my profession.
Then in 1880, you began a rather stormy relationship with Silas Burroughs?
Though he was seven years older, Silas graduated from Philadelphia College of Pharmacy three years after me. His graduation dissertation was on compressed medicine, i.e., medicine pressed into tablet form. When you enter a business partnership, it's like getting married. If you don't like your partner, you're going to have a difficult time. Silas and I didn't get along. He was most unreasonable.
I should have known from the beginning not to be involved. In 1879, in his first letter to me inquiring about the possibility of joining him, he suggested I lie to McKesson & Robbins about my true reason for coming to England. He wanted me to say I was coming over to spy out the country for them, but really he wanted me over to persuade me to be his partner.
Then when we partnered, he wanted someone to look after the fort while he went gallivanting about the globe on expensive sales trips. Near the end—his earthly end—he was bad-mouthing me to employees and proposing we become employee-owned in entirety. I can honestly say that never once did I retaliate against him or injure his name. In the late 1890s, his widow was not easy to deal with when I was trying to buy out the company according to my original agreement with Silas.
Due in part to all my contentious dealings with Silas and his wife, surprisingly, I started becoming what my biographer has called a reclusive, emotionally cold, and lonely man. I did not even attend my own mother's funeral. I'm not proud of that fact.
One reason for your success was your re-worked agreement with McKesson & Robbins. Present-day business owners could learn a lesson or two from your experience.
Yes. I resigned in 1880 and they immediately offered me a 30 percent pay raise along with an expense account and commissions. When declining their offer, I immediately countered with a contract in which I proposed being their sole agent for Europe, Asia, Africa, East Indies, and Australia. In essence, I was proposing to be their broker, and would work on commission. This was huge. Those markets were completely untapped and I could enter at the perfect time with the perfect products. Silas had an almost identical brokerage agreement with Wyeth, his former employer. Our new combined company would have formidable clout.
We named our partnership Burroughs Wellcome & Co. Though a marketing-only company at first, we soon entered manufacturing after purchasing one of the lines we represented, the Kepler Malt Company, to help insure product quality for customers. We were brokers for everything from cotton balls, caffeine, plasters, and pine tar soap, to a full line of McKesson & Robbins and Wyeth products. Eventually, we sold morphine and cocaine.
I didn't trust Silas, and in that vein had written up my contract with McKesson & Robbins in such a way that would void the agreement if I ever left our partnership. That meant if ever forcing me out, Silas would lose the entire McKesson & Robbins line. Though I couldn't trust him, Silas was still a brilliant salesman. He pioneered the sales practice of giving doctors and hospitals free samples in order to entice them into trying and eventually ordering product. He and I were like salt and pepper. He was an East Coast extrovert and son of a wealthy Congressman. And I—
It's public knowledge your relationship was terribly stormy—to say the least.
Our partnership agreement said I could have 40 percent ownership and within two years buy up to 50 percent. Silas actually had the gall to resist my becoming an equal, and to even sue me, saying I wasn't doing my fair share of work. He demanded I pay him more. It was preposterous—especially considering he had failed to sign a brokerage agreement with one company, which hurt us financially. In a way, I was relieved when he died in 1895. Eventually, I took complete control of the company. In all, he took me to court three times.
Today, many of your readers would call Silas a communist because he believed the ownership of land was the root cause of all societal problems. I thought his beliefs were dangerous. He was impulsive, always latching on to an idea or person without first thinking through the consequences. For the opening of our Dartford manufacturing facility in 1889, Silas invited Henry George to speak. Today you would call George a leftist radical. The local Conservatives boycotted our grand opening. It was a nightmare. Silas even printed up George's speech and circulated it to our customers. They were aghast. During that stormy period, as with all others, I was the cement that held the company together. Until Silas died, our partnership existed in name only and never in spirit, like a dreadful marriage staying together for the sake of the children.
He called you lazy.
It is true I rarely showed up at the office before ten, took long lunches, and left for home most days at four. This is what people saw. But what they didn't see was that at home I usually worked late into the night and on weekends. I took personal responsibility for every decision made at that business and kept a close eye on our product quality and the firm's books. You could say I practiced flextime.
Silas criticized me mercilessly. I consider my ability to deescalate his strident attacks and to make amends one reason for the company's success. No matter how justified, I refused to hold grudges.
Is it true you were a master at marketing?
From my earliest days advertising "invisible ink" in the Garden City paper, I understood the power of advertising. It came naturally. We broke into the British pharmaceutical market in August 1880 by "taking over" the British Medical Association annual meeting. We wooed the physicians with free samples, a superior meeting location, and a wonderfully designed exhibit. It was dramatic, to say the least. You could say we introduced the trade show exhibit to Britain.
In the field, I simply overwhelmed competition by hiring an army of sales representatives and buying extremely large ads—one ad in a medical journal went 27 pages. I advertised our medical products only in medical journals because I didn't want to water down the reputation of our products by being in newspapers.
And you had a unique product to sell early on.
Compressed tablets held a number of advantages over our competitor powders and potions. For one, each of our tablets was identical in dosage, so a person couldn't have too much or not enough of a medicine. When taking a product in powder form, such as aspirin, you really can't have confidence the dose will be the same each time. With some newer medicines, miniscule changes in dosage can make the difference between life and death.
Another advantage was our compressed tablets could undergo severe temperature and humidity changes and still remain effective. This proved useful in far-off parts of the British Empire where medicines weren't readily available or reliable, such as in India.
In 1884, we began manufacturing our own product lines when faced with high British import taxes and too many British manufacturers knocking-off our expensive American-made products. They could sell theirs for less. Besides, we were spending all our time in court trying to aggressively go after manufacturers stealing our American brand names. We had to do something.
And that something?
It took work, but I was able to trademark our name "Tabloid" to include all classes of goods in Britain, even those classes we didn't trade in. (I had learned my lesson back in America by not patenting my dissertation.) This offered enormous marketing advantages. "Tabloid" was the world's most recognized brand name in the late nineteenth and early twentieth centuries. Only later did the word begin referring to a type of newspaper. I believe we had better brand name recognition than today's Coke or McDonald's.
The trademark took our company to the next level. We were able to differentiate much of our product line. It became our firewall against people infringing upon our name—though not a fail-safe firewall, we would learn. Instead of having to legally protect dozens of product names from knock-off manufacturers, we only had to protect one. When challenging us in 1903, a competitor unsuccessfully tried claiming the name "Tabloid" was descriptive of a product and wasn't a trademark.
With the name Tabloid, we were able to market one rather than dozens of lines separately. In time, we were selling Quinine Tabloids, Tabloid Tea, Tabloid Photographic Developer, Tabloid First-Aid Kits, Pepsin Tabloids, Saccharin Tabloids, Aspirin Tabloids—anything you can imagine. We expanded into Australia first before conquering the world.
After Silas Burrough's death, you began a number of research laboratories. The way you set up the organizational structure was definitely out-of-the-box. Why?
I eagerly wanted our laboratories separated from the rest of the company. Medical research benefiting mankind should not be done in a commercial spirit. That said, our diphtheria anti-toxin, which put our research laboratories on the map, did make our company a great deal of money. My theory with research, as with business, was always to hire the best person, give them the necessary staff, budget, and equipment, and then let them do their thing.
I founded Wellcome Physiological Research Laboratories, Wellcome Chemical Research Laboratories, Wellcome Tropical Research Laboratories, Wellcome Entomological Field Laboratory, and others. We eventually founded the Wellcome Historical Medical Museum and Wellcome Bureau of Scientific Research.
By 1912, our Wellcome Physiological Research Laboratories alone had produced serum for anti-typhoid, anti-rheumatic fever, anti-dysentery and tetanus, and anti-staphylococcus, anti-streptococcus, anti-venom, and anti-meningococcus. We also produced vaccines for cholera, typhoid, and Mediterranean fever.
Over the years, we helped develop a wide range of commercial products, from the antihistamine Actifed, to AZT, the AIDS medicine. In World War II, we manufactured penicillin for battlefield use. As for synthetic drugs, we developed sulphaguanidine (for bacillary dysentery), emetine (amoebic dysentery), digoxin (to treat heart failure), ephedrine (decongestant), Methadrine (psychiatric drug), Tubarine (muscle relaxant), adrenaline and synthetic adrenaline (also known as epinephrine), Daraprim (anti-malarial), Histantin (antihistamine), and globin insulin.
Also, you could say we were responsible for popularizing the "First Aid Kit."
Your company certainly raised the bar in terms of employee relations. Your employee-friendly approach must have shocked many people in England.
Surprised, not shocked. I believe we were the first major manufacturer to introduce the eight-hour workday and offer company-paid education after-hours. We built a club for employees, the Wellcome Club, which included a library, gymnasium, and tennis courts, and clubs and societies for employees to join. Our Entertainments Committee arranged day trips to the sea and evening musical and literary events. It was revolutionary. By doing this, we became a preferred employer in the region. People wanted to work for Burroughs Wellcome.
Changing thoughts: It seems you had great challenges with two of your partners: first, Silas Burroughs in business, and then, the former Syrie Barnardo, your wife in marriage. How did she change your life?
We married when I was 48 and she 21. We had a son and little else in common. All I can say is that I adored her as the idol of my heart. I want nothing unkind said about her. I'm sure she and author Somerset Maugham were deliriously happy—at least a short while until they divorced. The child born during our marriage was his.
Why renounce your American citizenship in 1905?
I was really more British than American by then. Winston Churchill signed the document declaring me a British citizen in 1910 and I was knighted in 1932 as "Sir Henry Wellcome." However, I did spend a great deal of time in the U.S. my last years, particularly in Garden City and Rochester—the latter to treat prostate cancer.
Why set up the Wellcome Trust?
For one, my son Henry was not well suited to lead the company. He lacked ambition and had a learning disability, dyslexia, which no one understood. Everyone thought he lacked intelligence.
On my death, 100 percent ownership in my companies—all under the Wellcome Foundation umbrella—went to the Wellcome Trust, which began divesting itself of ownership in the for-profit companies in 1986. In my will, I wanted profits from the Wellcome Foundation plowed back into the Wellcome Trust to fund scientific research. Today, the Trust has an endowment of $20 billion, which drives a great deal of important scientific research.
How would you like to be remembered in southern Minnesota?
It seems the only people remembering me are the organizers of the Sir Henry Car Show in Garden City. For that I'm grateful, because I was passionate about motoring. That is enough, although I do wish someone would please recognize my Uncle Jacob's contributions as an early Mankato surgeon. He was a great man.
Completely Driven
While on a ship bound for England in 1880, Henry Wellcome penned a letter to his mother in Garden City. In it, he revealed an unbending determination that ultimately would contribute to his conquering the world of pharmacy: "In my departure I shall bend every nerve to make a success, and with God's help and good health and strength I do not expect to fail," he said. "I have never accomplished anything without severe efforts and it is only such things as are not worth an effort that fall into the hands as bits of luck."
Tabloid Sensation
Wrote Wellcome in 1884: "We thought of having a new name. To find this I passed through my mind all the letters and syllables I could think of. I wanted to coin some word that would be euphonious—that is, something that would be pleasing to the ear and easy to remember. The result was the word 'Tabloid'! It was an entirely new word. I have never found the word in any shape or form before the date of my invention or registration of it."
School Days
At least one person alive remembers Sir Henry Wellcome: 94-year-old Mankato resident Lyle La Favor. Sir Henry Wellcome was the keynote speaker for La Favor's 1932 Garden City High School graduation. La Favor had the opportunity to shake Wellcome's hand.
In a Connect Business Magazine telephone interview, La Favor said, "Sir Henry would visit the school frequently. We had an empty library, so Sir Henry gave us a blank check to fill it with books. He was a good friend of the school janitor and gave him money to buy equipment to care for the school lawn. We also had an empty science lab, and Sir Henry gave the science teacher a blank check and told him to buy what he wanted. When the equipment arrived, it was my job to match up what we had received with the catalog pictures—so we knew what it was used for. In our auditorium, our old curtain was made of canvas. Sir Henry said he didn't like it and gave us money to buy a new one. Because he was royalty, we ordered purple curtains."
Exhaustive Collector
At his death, Sir Henry Wellcome's museums and libraries contained more than 200,000 historical exhibits, 200,000 books, 10,000 manuscripts, and 100,000 letters.