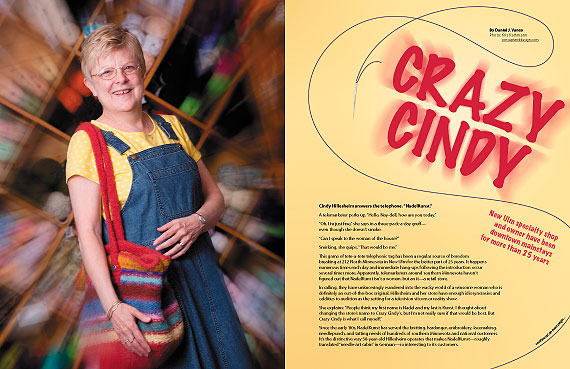 New Ulm specialty shop and owner have been downtown mainstays for more than 25 years
Photo: Kris Kathmann
Cindy Hillesheim answers the telephone. "NadelKunst."
A telemarketer perks up. "Hello, Nay-dell, how are you today."
"Oh, I'm just fine," she says in a three-pack-a-day gruff—
even though she doesn't smoke.
"Can I speak to the woman of the house?"
Smirking, she quips, "That would be me."
This game of tete-a-tete telephonic tag has been a regular source of boredom breaking at 212 North Minnesota in New Ulm for the better part of 25 years. It happens numerous times each day and immediate hang-ups following the introduction occur several times more. Apparently, telemarketers around southern Minnesota haven't figured out that NadelKunst isn't a woman, but an it—a retail store.
In calling, they have unknowingly wandered into the wacky world of a winsome woman who is definitely an out-of-the-box original. Hillesheim and her store have enough idiosyncrasies and oddities to audition as the setting for a television sitcom or reality show.
She explains: "People think my first name is Nadel and my last is Kunst. I thought about changing the store's name to Crazy Cindy's, but I'm not really sure if that would be best. But Crazy Cindy is what I call myself."
Since the early '80s, NadelKunst has served the knitting, hardanger, embroidery, lacemaking, needlepunch, and tatting needs of hundreds of southern Minnesota and national customers. It's the distinctive way 58-year-old Hillesheim operates that makes NadelKunst—roughly translated "needle-art cabin" in German—so interesting to its customers.
—–
In 1952, Hillesheim's father, Henry Nupson, accepted an invitation to open a bacteriology lab in Dr. Howard Vogel's downtown New Ulm building. Nupson had just graduated with a major in physics and chemistry at the University of Minnesota, when Hillesheim was only a toddler. The little lab eventually became the mighty Minnesota Valley Testing Labs, which today offers a slew of environmental, agricultural, food science, and energy technology testing services for U.S. and Canadian clients. (Nupson sold the business in the 1980s.)
Says Hillesheim, surrounded by a sea of colorful wool and acrylic yarn: "As for my mother (Carol), she had been trained as a home economics teacher, but ended up substitute teaching. She never taught as a full-time teacher, but did teach me many things well. And my grandmothers were Norwegian and Swedish, and both did needlework, which played a big part in my upbringing."
One set of her grandparents had a rustic cabin fronting Green Lake. When Hillesheim visited there during the summers, her grandmother always forced her—there is no other way of saying it—to first embroider a dishtowel or dishrag before being allowed to swim in the cool lake. Her brother didn't have to embroider anything "because my grandma said he had big fingers and was never going to be a good sewer anyway," says Hillesheim. When she sewed extra-big stitches as a shortcut in order to leave for swimming a bit sooner, her grandmother would pull out her stitches and make her start all over again.
"I learned from my grandmother you either did it right or you don't do it at all," she sighs. "Although I didn't like embroidering, and still don't, I learned a lot from her."
—–
Her father, Henry, really enjoyed hunting and fishing, and often brought Cindy along with him on these outings. He left his two younger daughters and son behind. The latter had health challenges, including a heart defect, which severely limited his activities. According to Hillesheim, her father poured a great deal of energy originally meant for his son into her, resulting in a woman today who not only can do needlework, but can also hunt and fish.
After graduating from New Ulm High School, she tried completing a degree while double majoring in psychology and math, first at the University of Minnesota and then at Mankato State. She couldn't complete the degree because of not being able to pass the basic foreign language requirement. Both schools mandated five quarters of a foreign language and Hillesheim couldn't pass more than three. In the process, she tried mastering five different languages, hoping the next would be easier, but each could have been Greek to her.
"I tried French—that was horrible," she says, shaking her head. "Spanish, German, Russian, Latin—I could read and speak them, but couldn't understand anything. I passed the written tests, but during the oral tests I was just guessing. The teacher would ask in Russian, for instance, 'How many sisters do you have?' and I would reply, saying, 'I live in a brown house.' I even tried taking classes as pass/fail but couldn't do pass."
Unlike her mother, who grew up "spelling challenged," Hillesheim would realize she was permanently "language challenged."
However, one language she did understand: needlework. So in 1981, she joined up with NadelKunst as a "resident crotchetier," then became a part-time employee, and finally, three years later, she outright purchased the business.
—–
"I was drawn to the fact NadelKunst was low-key, working there I had lots of personal interaction with customers, and the hours seemed really flexible," she explains. "My youngest child was two and I could have her in daycare or I could just bring her to work with me. We had a playpen set up in here. I also had employees with kids, and pretty soon realized it was becoming a daycare."
As for the flexible hours: Even today, she keeps a schedule that seems as ever changing as the spinning pictures of fruit appearing on a Jackpot Junction slot machine. She arrives at work at 9:00 a.m. for coffee and doughnuts with a group of up to eight friends, and continues her kaffeeklatch with them until about 30 minutes past the 10:00 a.m. store opening. Browsing into NadelKunst in the morning to shop can be like entering a neighbor's kitchen during breakfast, and the informality initially surprises some customers.
"The coffee shop next door closed five or ten years ago," says Hillesheim, "and we've been doing the coffee and doughnuts thing for about five years. People wanted a spot to go where they didn't have to drive and could get together to talk. It's mostly people on this block and we learn about each other's businesses. We have men and women and our ages go from the mid-30s to 75."
She said the men enjoy having coffee with women and not being asked to participate in controversial discussions. Hillesheim doesn't pressure any of the coffee drinkers to buy, but one might see another working on a craft and desire to learn more. Former New Ulm Journal editor and Connect Business Magazine writer Roger Matz used to frequent NadelKunst for coffee.
Its posted hours are 9:00-5:00, but if a bustling crowd at the Lamplighter next door or the Kaiserhof across the street has swept up all the available parking places, Hillesheim might just close a little early to mow grass at home. Or if the funeral at 3:00 down the street has a great crowd taking up the available parking, she closes early. Nearly all her elderly customers shop NadelKunst in the morning or early afternoon anyway, she says.
In July, New Ulm hosted a 70-team girls softball tournament and many of the players piled into the Lamplighter after the games—and she closed early. Of course, she posts notes on the door before leaving, and locals from New Ulm instinctively know, she says, to call her at home if they really need to purchase product.
"If I have a first-time customer from out of town, I explain up front how crazy my hours are," she says. "I tell them to call first to make sure I'm in. I don't want customers to come 40 miles to get here only to learn I'm mowing the lawn. However, if I know you're coming, I'm staying. And if I know you're coming and you can't be here until a bit after five, I'll wait."
—–
In no small measure, out-of-towners have built up Crazy Cindy's customer base. Many were born and raised in New Ulm and faithfully return to visit relatives during one of the city's annual festivals, while others are curious lookers and tourists from the world over—but don't expect Hillesheim to speak their native language. She ships merchandise to customers in 50 states and overseas. What especially attracts these customers is her long-standing policy of offering free shipping with each order.
"There are so many kinds of needlecrafts, and by ordering the product here and shipping it out free, these customers can purchase what they really want versus buying what I have," she says. "For instance, there are about 50 different kinds of cross-stitch fabric and thousands of colors. Thankfully, cross-stitch doesn't weigh much. My husband has often said he's glad I'm not in the cement block business because shipping that would be very expensive."
She can get more than a bit crazy when gabbing with cross-stitch pattern collectors who buy only as an investment. Amazingly, she has talked quite a few of them out of buying. For instance:
A pattern collector will say, "I'll take one of each."
She says: "Which will you be doing first?"
"Oh, I won't be doing any of them right away. It's for when I'm retired."
Hillesheim says, "If you take all those patterns, what if I have a customer walk in thirty minutes from now who really wants to do one of them? Except they can't because you bought it."
They may reply: "What's the matter with you?"
Hillesheim will then scribble down all the pattern numbers for the customer, so they have it for future reference when truly ready to buy.
"I have a problem with people buying for a project they're not ready to start," she says. "I want people to be passionate about what they buy."
—–
NadelKunst is in the old New Ulm Savings and Loan building, and Hillesheim's business office literally is inside the aging steel vault, which is fronted by a perpetually open, six-inch thick, steel door. She doesn't have any use for a vault, and similarly, not much for her office. She's a "bit claustrophobic" when inside there, she says, even though she has rigged the door so it can't close and has had the door bolt removed.
"Sitting in that vault, it just makes me feel like I'm in a vault because it is a vault," she laughs. "So I fill the vault with stuff that looks like office stuff and I hardly go in there. I don't do my own accounting anyway. The only way I can physically get in there is if I turn the rack of books a certain way. I've made it like a turnstile."
"So are you going in there today?" asks the writer.
"No."
"Tomorrow?"
"No."
"Once a week?"
"Possibly, but only for a short while to get certain pieces of paper that might be in there."
—–
Knitting supplies accounts for 60 percent of her business, and what once seemed a passing fad—knitting—hasn't shown any signs of fading. About six years ago, Newsweek quietly reviewed a book from author Debbie Stoller called Stitch 'n Bitch: The Knitter's Handbook, a knitting how-to, which sold 200,000 copies in six months. That began a series of highly successful Stoller spin-offs, including Stitch 'n Bitch Nation, Son of a Stitch 'n Bitch, Stitch 'n Bitch Crochet, and The Happy Hooker, for crocheters. In addition, the Internet now has a Facebook-like site for knitters, called Ravelry, which boasts a close-knit society of more than 350,000 members.
She says, "These Stitch 'n Bitch books feature modern-day projects and are written in modern-day language. They are user friendly. When people come in holding one of them, I know they have at least a little knitting know-how. They can go home with a project they can complete. We sell the book here—and others."
While knitting has taken the country by storm the last five years, and her store, other segments of her business have faded a bit the last 20 years—cross-stitch, for one. Customers that used to work on 100-hour cross-stitch projects are now choosing smaller projects.
"The New Ulm area has so much talent," she says, "and the things I don't know how to do or don't want to do, I have a huge pool of talent to draw from. We teach everything free here and I do a lot of knitting counseling over the telephone. NadelKunst is a great networking place, too. So many people come in on a regular basis just to ask who is good at this or that. This is what I can offer that the catalog and online people can't."
—–
Today's Woman
"The women of today tend to complete their projects, more so than the women of 25 years ago," says NadelKunst owner Cindy Hillesheim. "If not finishing a project then, most threw it in a corner and forgot about it. Now, it seems as if a lot more really want to finish their projects. They are making better choices because their time is more valuable to them."
Fiction Fame
Hillesheim just didn't realize people purchased paperbacks to read. Then she purchased a dozen knitting-related books from fiction author Debbie Macomber and all sold within three days. Next, she ordered 24 books and they sold out.
"I hadn't read a fiction book from cover to cover in years," says Hillesheim. "Then somebody said I needed to read one of Debbie Macomber's books. By the second chapter, I was enthralled. Her books are so full of passion and feature regular people. The setting in that book reminded me so much of my own shop."
She also reads Minnesotan author Monica Ferris, of Excelsior, another writer from the same genre. Ferris called one day to learn about the shop, and said she would be writing about NadelKunst and Hillesheim in a manuscript. Unfortunately, the part about Hillesheim was edited out in the final version. Hillesheim says the plot had involved a person transporting an item from Morocco to the U.S., and then a murder occurred, a woman fled to St. Peter, and eventually the story ended up in New Ulm and NadelKunst.
She admits: "That's what Monica Ferris told me. I was edited out of the book after I told everyone in the world she was going to come back and we would have a signing party. It never happened."
Night Life
Hillesheim's husband has worked in the trucking industry for 35 years, currently driving a semi-truck for Kraft Private Fleet. On weekdays he is away from home delivering in the Chicago area. In his spare time, for years, he was a part-time bartender at Turner Halle in New Ulm.
"We lived two blocks away from Turner Halle," she says, "and I would walk up when he was on shift and we would walk home together. Back then, I could barely open a beer and put it in a glass without the beer foaming over. One day my husband said he needed help and I said I could do it. He said, 'You can't even get the beer in a glass without spilling. Why do you think you can bartend?'"
Hillesheim dutifully watched, and learned, and her husband became a believer. She started tending bar about 20 years ago, and now works only one night a week and for private parties. With some regulars, she says, "We no longer need verbal communication. They walk in and I hand them their drink. They give me money and I smile."