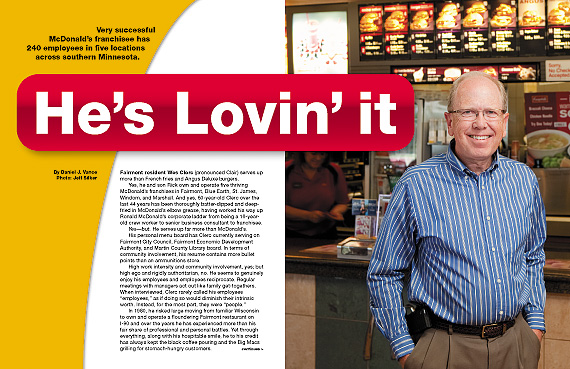 Photo: Jeff Silker
Very successful McDonald's franchisee has 240 employees in five locations across southern Minnesota.
Fairmont resident Wes Clerc (pronounced Clair) serves up more than French fries and Angus Deluxe burgers.
Yes, he and son Rick own and operate five thriving McDonald's franchises in Fairmont, Blue Earth, St. James, Windom, and Marshall. And yes, 60-year-old Clerc over the last 44 years has been thoroughly batter-dipped and deep-fried in McDonald's elbow grease, having worked his way up Ronald McDonald's corporate ladder from being a 16-year-old crew worker to senior business consultant to franchisee.
Yes—but. He serves up far more than McDonald's.
His personal menu board has Clerc currently serving on Fairmont City Council, Fairmont Economic Development Authority, and Martin County Library board. In terms of community involvement, his resume contains more bullet points than an ammunitions store.
High work intensity and community involvement, yes; but high ego and rigidly authoritarian, no. He seems to genuinely enjoy his employees and employees reciprocate. Regular meetings with managers act out like family get-togethers. When interviewed, Clerc rarely called his employees "employees," as if doing so would diminish their intrinsic worth. Instead, for the most part, they were "people."
In 1980, he risked large moving from familiar Wisconsin to own and operate a floundering Fairmont restaurant on I-90 and over the years he has experienced more than his fair share of professional and personal battles. Yet through everything, along with his hospitable smile, he to his credit has always kept the black coffee pouring and the Big Macs grilling for stomach-hungry customers.
——
Take me through your upbringing.
I grew up in the '50s and '60s in Milwaukee, Wisconsin, along with my parents and three siblings in a small, four-room house. We were a middle-class, working family and my parents were factory workers. My grandfather lived with us, so we had seven people living in four rooms. We all shared two bedrooms. It was tight quarters, but when you're young, and if that's the way you're raised, you don't know any different. It was normal to us.
When you say four rooms, you mean literally four rooms?
Living room, kitchen, two bedrooms, and a bathroom in 760 square feet. It was five rooms literally, counting the bathroom.
What did your father do for a living?
He started out as an auto mechanic and then had a business venture that went awry. He was also a tool and die maker for a Milwaukee paper goods company. My mother had various factory jobs, including one with Master Lock.
What did you take from them that helped you in business?
Their work ethic. They were constantly doing something, either for us kids or my dad always had a project going in the garage. There wasn't a lot of rest where they just sat and did nothing. I learned from them that from hard work and keeping your nose to the grindstone and not quitting you could have the things you want in life.
Were they driven?
Considering what they were earning and having four children, they were driven to survive. They were driven to put food on the table, pay utilities and rent, and keep clothes on our backs. They were making ends meet paycheck to paycheck.
You started at McDonald's when you were 16. Was part of starting there a way to help the family survive?
No, it wasn't actually. I got a job at McDonald's because my girlfriend went to another high school in another part of town. She wanted to go to her prom and mine, so I needed money to be able to afford both proms. Also, I was a Boy Scout and went to Boy Scout camp every summer, and in order to go we had to raise $40. We went house-to-house collecting and bundling newspapers and storing them in the garage. Every other month, my dad loaded up the station wagon and took the paper in to recycle. That paid for camp. If we wanted something, we had to work for it.
Were you an Eagle Scout?
Yes.
Take me through your McDonald's career path.
I started as a crew person in 1965, when McDonald's had red and white tile buildings and no drive-thrus or breakfast menus. We opened at ten-thirty in the morning and closed at eleven at night. We had a limited menu of hamburgers, cheeseburgers, french fries, and double cheeseburgers. The fish filet sandwich came out right before I started. We were in a large Catholic neighborhood and the fish filet was a big success for McDonald's in Catholic areas.
This had to have been one of the first McDonald's nationally.
It was on 73rd and Appleton Avenue and was store No. 65.
Do you often look back at how fortunate you were to pick the right restaurant chain?
It was fortunate in terms of where I ended up. Before applying at McDonald's, I applied to a pizza restaurant and to Mark's Big Boy. McDonald's was the first to call back to offer a job. I worked my way up from crew person to swing manager and continued work at the same location while attending the University of Wisconsin-Milwaukee. I ended up getting married at 19.
So at age 19, you were working, married, and attending college?
In college, I began as an education major with the goal of becoming an elementary school teacher. Two years into it, I changed to accounting and business. I lost a lot of credits when most wouldn't transfer. I went to college five years and never graduated, but I did end up with a McDonald's career.
What caused the change from education to business?
I saw more opportunity in being able to support a family and having things in life I thought were important. I definitely enjoyed what I was doing in retail with McDonald's, such as servicing customers and having a camaraderie with others. By 1980, I had worked my way up to senior business consultant, working with owners/operators from southeast Wisconsin to Upper Peninsula Michigan. I had to travel and knew there would be additional travel.
Back then, we had three young children and I wanted to be there as a dad for them. I then learned of the Fairmont store being available, which had opened in October 1978. The original operator was from Chicago and had struggled because he didn't have as much experience as McDonald's thought he had. He sold after four months to the corporation, after which the corporation ran it for 18 months before selling to me. We didn't know anyone in the community, but did have the chance to tour schools and look at housing. We liked what we saw.
How many stores and employees do you have now?
We have locations in Blue Earth, Windom, St. James, Marshall, and Fairmont. We have more than 250 part- and full-time employees, including a minimum of eight top managers at our Fairmont location, which is right off I-90 and is our highest volume store. The other stores have four to five top managers and shift managers, too.
In our cover story interview four years ago with Mankato-area McDonald's owner/operator Jerry Bambery, he referred to you as being "top-notch." In your eyes, what defines a top-notch McDonald's operator?
The focus on the customer. Every day, we have only one opportunity to satisfy and impress customers, either through the drive-thru lanes or front counter. We have to be ready for that interaction. You have to have a passion for the business—what many of us old-timers call "having ketchup in your veins." It's a fast-paced business. It's demanding. In many cases, it's 24/7. You're closed only on Christmas. You're dealing with many personalities. If you don't have a passion for it, this business will consume you.
The way I see it, I'm getting paid to have a really good time with people. That's one thing McDonald's people talk about—i.e., whether with McDonald's or someone else, everybody owes it to themselves to find something they enjoy and then invest their energy into it rather than hating a nine-to-five job.
In terms of passion, we have four managers who have received the Ray Kroc Award, which goes to the top one percent of store managers nationwide. My son Rick was first. Brenda Fellersen, Jeff Hauglid, and John Tietje were the others. All our management people, more or less, started as crew people and worked their way up.
As for passion: Was there ever a time when you lost it?
In the mid-'80s, I went through a divorce and ended up being a single parent for three young children. That was challenging. You can do only so many things great at any given time. My time was divided between McDonald's and raising three children. I gave them as much time as I possibly could. It was a balancing act. I went through those cycles of being at work and wishing I was home, and when home, wishing I was at work.
I've been told by someone who knows you that you're a hands-on operator. You like being behind the counter. Are you doing it out of necessity or enjoyment?
It's my nature. I enjoy being in the store working shoulder-to-shoulder with people. The people aren't working for me; they're working with me. I have that mindset as my management model. I lead by example. I hold myself accountable to the same standards I hold my people accountable to.
Is there anything in a store you won't do?
No.
You clean restrooms and toilets? You pick cigarette butts off the parking lot?
If the toilets need cleaning, yes. And when I get out of my car, if there is paper on the lot and it's on my way to the door, I pick it up. If there's a situation requiring more than my picking up a few pieces, I go in and make sure somebody responds.
I'm going to change topic now. Why run for Fairmont City Council in 1991?
I found out you can't fight city hall. I had wanted to expand my business by putting a PlayLand on the front of my building. I was told I didn't have the setback to do it. I asked the city what we needed in order for a variance—and we asked they not only change the setbacks for us, but also for other businesses.
I went to the city council, which then directed me to the planning commission and zoning board. We went through them and had a schematic drawn of a proposed building. The planning commission and zoning board approved it. We went back to the city council for the final approval and a motion was made on the floor to change the zoning. There wasn't any second. So the motion died for lack of a second.
In my meetings with council people before then, I was assured the city was pro-business and wanted me to grow and expand. A PlayLand would have increased our business more than 10 percent. At the time, we were competing with restaurants on different exits off I-90. Our main reason was to remain competitive and being competitive would include creating more jobs for our business and community. We weren't asking for any money from the City, only their help in moving our plan forward.
So you ran for office.
I won with just under 70 percent of the vote. My main focus was to have the attitude of and treatment by the City become more conducive for businesses.
In the 1980s, Happy Chef co-founder Sal Frederick announced his candidacy for state representative. Immediately, people disagreeing with his politics canceled reservations at Happy Chef's Mankato banquet facility. Frederick soon sold his shares because he didn't want to hurt his family business further. Have you had people stop eating at McDonald's because of your political decisions?
I have had a couple people say they would never eat here again. One was because of a McDonald's corporate decision and another was because of the peace issue before Fairmont City Council.
First, the McDonald's corporate decision.
They had supported a gay rights event in San Francisco. Some people I know personally emailed to say they would never frequent my business again. It was a decision we in Fairmont had no input on. It was a corporate decision. We made those concerns known to corporate and weren't the only operators to voice concerns. Since that time, they have rescinded that decision. The other situation was another customer calling because of the peace issue.
About the peace issue: In 2006, Fairmont City Council, which you were on, made national news when it fought over a vote to endorse a U.S. Cabinet-level Department of Peace. What led to the vote? And what sort of backlash was there?
A peace group in Fairmont presented the potential proclamation to a couple city council members. They brought it to a council meeting. There wasn't any overall discussion. It seemed at first to me like a benign issue. I admit: I made a mistake by not doing more research before casting my vote. But it became a partisan issue—more than I could have ever imagined.
Were you getting telephone calls at home?
I received more telephone calls on that issue than on any other. The sad thing, in my mind, was we had good people on both sides. I knew people in favor of the peace proclamation and people against it. On the night we had a second vote on the proclamation, I said the peace proclamation had done everything for the city except bring peace to the city itself. I withdrew my support and made a motion to withdraw the proclamation. It was seconded. It was rescinded 3-2. That vote ended the controversy. From my standpoint as a council member, our focus needs to be on what is best for the city of Fairmont.
On January 1, 2010, an electrical short caused a fire that burned part of your Blue Earth restaurant. What happened? And what did you learn through that experience?
I learned you could never be too prepared. There was nothing done wrong by any employee. We have electrical fryers and grills in all our restaurants. It was the first time we had ever had a fire shut us down. The fire department put it out with a great deal of water. I also learned fryers can't be replaced quickly.
But having a McDonald's open without french fries?
We felt the effect. We couldn't sell any Value Meals, but staying open without fryers was better than being closed and without jobs for employees. They count on their jobs for income. It affected anything deep-fried, including chicken nuggets, fries, and chicken sandwiches. We were without a fryer for 13 days and dropped 15-20 percent in sales. We notified customers with a posting in the drive-thru lane and even had the burned vat sitting outside, so customers could see it.
Governments at all levels are becoming more aggressive in telling restaurants what they can and can't do. For instance, New York City and California have banned trans fats and many states have banned smoking. In 2008, the City of Los Angeles placed a moratorium on new fast food restaurant construction. This is all in the last five years. What goes through your mind when you hear about these things?
Too much government control. A city council, I believe in California, wants to ban the use of toys in our Happy Meals. People can make choices on their own and parents can make choices for their children. There has to be personal level of responsibility in terms of people being able to choose their own food without governments telling them what they can or can't eat.
Why Happy Meals?
They feel the toy creates an incentive for children to eat food they consider unhealthy, which will ultimately cause them to be obese.
What do you think is the next thing activists could go after and how could that affect McDonald's?
Another thing already in the works is to have calorie and fat intakes posted on menu board strips. If done from the federal level, this is doable because it's just one government entity dictating what needs to be done rather than city councils or state governments supplying 50-60 local variations. We already post our nutritional information on our packaging. We also make it available on our tray liners for all our products. It's also posted on our website. This information is already out there, but the government feels it needs to be posted before customers order.
Your son, Rick, is an "official" McDonald's owner/operator. Eventually, he will take over. Not long ago, his wife became ill. How did that struggle affect him, you, and your operations?
I don't believe it affected operations. We have many people doing a great job day in and day out. From a customer standpoint, I don't believe they knew anything was going on. Rick's wife Mary worked for us in our Windom restaurant until a few weeks before she passed away. She enjoyed what she did and always had a smile on her face despite how she felt any given day. It was traumatic for all of us—to have a young loved one pass away.
Several years ago, a great deal of worry existed among some Fairmont business owners prior to Walmart opening here. How has Walmart changed the landscape of business here?
It's been a plus. We had been looked at by Target a few years prior, but they decided on New Ulm. Walmart has created jobs. Most importantly, it has opened up a business district north of I-90. People from other communities, including in Iowa, who normally wouldn't, are coming to Fairmont. A small retail strip is going up now across from Walmart.
Maybe there will be an expanded McDonald's out there one day?
You never know. We had the opportunity to place a McDonald's inside Walmart when it was under construction, but the numbers didn't work out. Having a second Fairmont location just across I-90 didn't make sense.
You have known Fairmont City Administrator Jim Zarling and Assistant City Administrator Mike Humpal a long time. You're on the Fairmont Economic Development Authority board. What do you see them doing right in terms of economic development?
They are pro-active. Mike and I are on the FEDA board. He aggressively pursues leads and makes sure all our ducks are in a row when it comes to knowing what we have in warehouse and office space inventory. We have a virtual building available online, i.e., everything is ready except bricks and mortar. As a community, we have to be ready because we don't know when opportunity will knock. We compete with other communities.
Jim Zarling—I can't say enough good about him. He's been a bright shining light for our community and is very aggressive. He has the foresight to project out where we need to be. If it wasn't for his conservative approach to city finances and a strong financial base, we would be in a lot worse shape from state cutbacks. As a result, we've been able to maintain city services without raising property taxes a large amount.
You mentioned he looks to the future. You, along with State Agriculture Commissioner Gene Hugoson and Cenex Harvest States President John Johnson, were at the 2003 ribbon cutting of the CHS soybean crushing facility. Is agribusiness Fairmont's future?
I definitely believe it. The ribbon cutting was one of those great moments in terms of Fairmont having attracted and created jobs. We were in competition with other Minnesota and South Dakota cities. They chose Fairmont in large part due to Mike and Jim's efforts putting the proposal together.
Are you involved in other businesses besides McDonald's?
McDonald's corporation, as part of the licensing agreement, says we can be involved only with McDonald's. One hundred percent of our work and focus needs to be McDonald's.
How did you step into the St. James location?
In 1994, we had one location, in Fairmont. A McDonald's regional manager showed up unannounced one day. He said they wanted to build a store in St. James and wanted to see if I was interested. I'd been an operator 14 years. I had been through a divorce and its financial aspects had controlled what I had been able to do. We weren't strong financially. I had the people, but my gut said St. James then wasn't a good fit. I told the regional manager I appreciated the offer, but had to decline. They built it anyway. Jerry Bambery of Mankato ended up buying it.
In 2006, the region office asked if I would be interested in it. By then, our financial situation had changed because we had added Windom and Blue Earth. We were definitely interested in buying if the numbers worked for everyone. We took over in March 2006.
I've heard you have plans for a sixth restaurant?
We're always looking for opportunities and had an opportunity last year to expand, but chose not to participate in what ended up being a bidding war. In terms of our structure, we have two supervisors overseeing five stores and it would make sense for each supervisor to have three stores. When the opportunity presents itself again, we want to be ready. Don't be too surprised if within the next couple years you learn we have a sixth location.
Are you the 100 percent owner?
Yes, in three locations. My son Rick is 51 percent owner in Marshall and 49 percent owner in St. James.
What is the one thing an employee does that really makes a positive impression on you?
Smile. Because a smile says so much. We want to greet customers with a smile.
Also, one thing motivating me is people that have our business as their first job. I like seeing the potential in them before they see it in themselves. Something we talk about at our manager meetings: we need to see potential and believe in our people. Many times we need to believe in them before they start believing in themselves—to help get them on the right path to maximize their gifts.
What about the one thing an employee does that makes a negative impression?
Talking about others behind their back. We call it backstabbing. It tears everybody down, is a lose-lose situation, and doesn't correct anything. It's just feeding fuel to the fire and divides the crew and management. We have to stay on top of it. If someone is doing something wrong, we want to address it in a constructive way.
Someone who knows you wanted me to ask how you integrate your faith into your business.
My faith is very important. I'm a Christian, and believe in Jesus Christ as my personal savior. I do a lot of praying. Before each city council meeting I ask the Lord to give me wisdom to hear the real issues out there. Same thing when it comes to people working for me—I pray for help in making wise decisions. A lot of prayer goes into any decision. My own wisdom isn't sufficient for me to handle so many complex issues. I've learned many issues aren't what they seem to be on the outside. My job is to get to the core of an issue so I can make the best decision.
What do you like best about your job?
I've been an owner/operator 30 years. Next year, I will have been with McDonald's 45 years. McDonald's is always evolving. It's a great company because it's not content just sitting on its success. It has high goals, expectations, and standards. It has great owner/operators and people in the stores that are all out after the same thing—to make a great customer experience.
—–
Getting to know you: Wes Clerc
Born: December 6, 1949.
Education: Custer High School (Milwaukee, 1967); Attended University of Wisconsin-Milwaukee.
Family: Wife, Linda (for 22 years—the love of his life, he said); children, Wesley, Rick, Louisa, Sarah and Amanda; and eleven grandchildren, Ethan, Payton, Colin, Brielle, Caedmon, Sophie, Sadie, Jamin, Calvin, Brekken, and Josie.
Organizational involvement: Fairmont Economic Development Authority; Martin County Library board; Fairmont City Council; Martin County Youth for Christ board; Bank Midwest Community Advisory Board; and former Fairmont Hospital Community Advisory Board member, Grace Lutheran Church council member, Cub Scout leader, and youth baseball coach.
Beanie Babies
CONNECT: I hear you have an obsession with Beanie Babies.
CLERC: (Laughter.) Wow, you are really well sourced. (Laughter.) I had the addiction, but broke it. We were on family vacation at Lake Mille Lacs years ago. My daughter-in-law Mary called to say she was "into" Beanie Babies and there was one named "Glory" she wanted us to buy if we saw it, no matter what the cost. She just wanted it.
In Brainerd, we happened onto a Beanie Baby store. We found "Glory" with a $175 price tag. (Laughter.) This was a heck of a lot of money. We tried calling Mary, but couldn't get through. We were at a loss on whether to buy it, until I remembered she said cost wasn't a factor. So I just got one—for $175.
Later in Fairmont, she couldn't believe it cost $175. Her jaw dropped. She said she couldn't pay $175, so I ended up with it. After a while, I kept looking at it, and thinking, You know, that looks kind of cute. (Laughter.) Famous last words. We have family jokes about this. Then I started collecting them and discovered a subculture of people collecting Beanie Babies. I thought I could make money by buying low and selling high.
CONNECT: Like people buying baseball cards around 1990, right?
CLERC: Exactly. Going on eBay was dangerous. I ended up with more Beanie Babies than I could have ever imagined. (Laughter.) Somewhere along the line I stopped cold turkey.