Precision Carpet & Upholstery
By
Daniel Vance
• Jan 2013 • Category:
Hot Startz!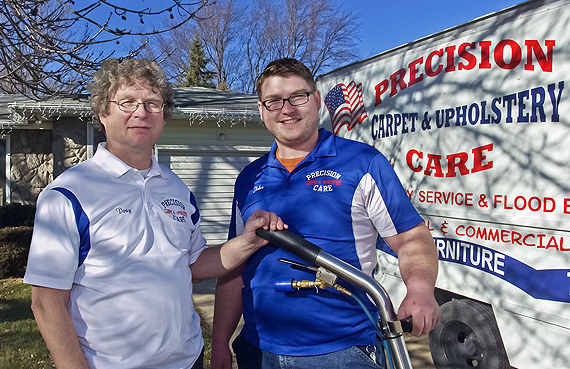 Photo: Art Sidner
Fairmont: Precision Carpet & Upholstery
John Elbert's grandparents owned an eye clinic, his father a transmission business, his uncle a law practice, and now Elbert (right, in photo) has started Precision Carpet & Upholstery at 310 North State. His family hails from Dunnell, which is about as far west as anyone can go in Martin County without being in Jackson County.
Said 26-year-old Elbert in a telephone interview, "Growing up, I was always around people that owned their own businesses. I always knew that was what I wanted even though starting a business would mean lots of hard work and long hours."
While attending Minnesota State, he latched onto a carpet cleaning company to earn cash. He enjoyed the business, and would go on to work for other companies in the industry. He tried working for his father, who owned a transmission repair business, but kept returning to carpet cleaning.
He said, "I didn't know what I was going to do for a living, and it took me a while to figure out what I loved. Now I can't imagine anything else."
He started Precision Carpet and Upholstery in May, and shares space in his father's business, D&D Transmission. "My dad (left, in photo) and I work together every day. He is a good mechanic and is able to help problem solve and fix any machinery problems I might have."
The business does residential and commercial floor care, which includes carpet and upholstery cleaning, with the latter involving cleaning any non-carpet fabric. He does tile floor care, such as grout cleaning and sealing, and concrete care. He even does vehicle detailing and janitorial. He's a certified Clean Trust carpet and upholstery cleaner. His business covers a 50-mile radius around Fairmont that includes Mankato, Albert Lea, Spirit Lake, and Worthington.
He said, "What I like best is solving customer problems and being out on the road talking with customers. There is nothing more satisfying than a job well done."
Precision Carpet & Upholstery
Telephone: 507-236-1200
Address: 310 North State

Daniel Vance is a former Editor of Connect Business Magazine
All posts by Daniel Vance