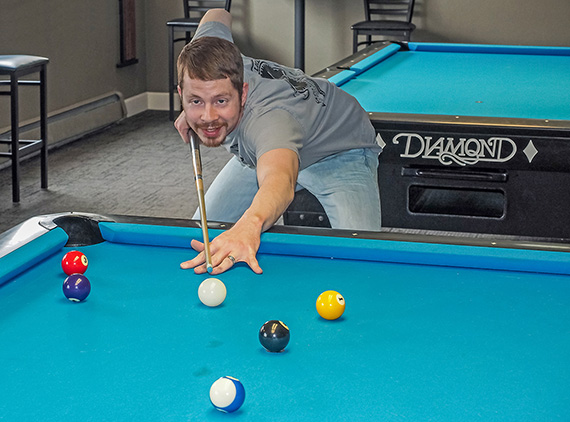 Photo: Art Sidner
Mankato: Kato Cue Club
For Josh Raines, pool has always been a passion. Now, he's found a way to make it an even bigger part of his life: opening the Kato Cue Club, Mankato's first pool hall in more than a decade.
"I'm just a huge, huge fan of the sport," Raines said. "I'd like to bring quality to Mankato and advance the sport in a good direction."
Raines is a Mankato native who graduated from Mankato East High School. He met his wife, Erin, at a pool hall (of course), and the two of them moved to Burnsville so she could attend college in Eagan. While she studied, Raines worked at Mystic Lake in the casino finance department. In 2005, once Erin had graduated, the two of them moved back to Mankato. The couple now has three children: Jenevieve, Jacobie and Jovie.
When Raines first moved back to Mankato, he took a job at Papa John's delivering pizzas, which he did for seven years. But he never forgot his passion for pool. He enjoyed the game so much that he practiced for hours every week and participated in tournaments across the Midwest. It was only a matter of time before he opened his own pool hall.
In January, Raines opened the Kato Cue Club. The pool hall has two levels, 14 pool tables and a dining room that serves gourmet burgers and other meals. Raines hosts weekly tournaments every Friday night and a constant stream of events on the other nights. Two of his pool tables are set up with cameras for live-streaming and commentary.
Between cooking, hosting, serving and giving lessons, Raines keeps busy; he works about 115 hours every week, often from 10 a.m. to 2 a.m. But he says it's worth it.
"Pool was always going to be a part of my life," he said. "[A pool hall] was something that I really wanted to do. I just had to make good choices and make some sacrifices to try to put myself in the best position to make that become a reality."
Kato Cue Club
Address: 121 East Cherry Street
Telephone: 507-388-7665
Web: katocueclub.com