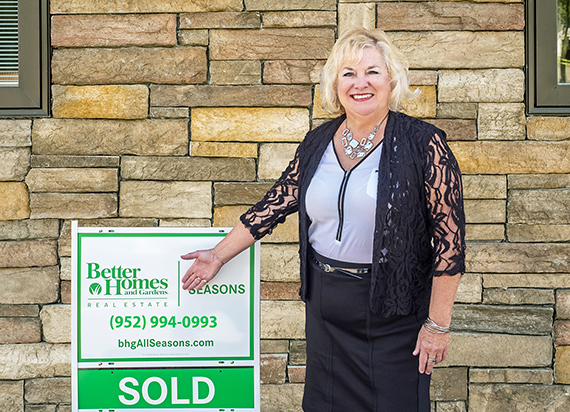 Photo: Art Sidner
Gaylord: 
Judy Lindemeier
Judy Lindemeier has always had a knack for houses.
She has been in real estate for more than 20 years, first as a general contractor and then as a licensed real estate agent. Recently, she opened an office in Gaylord, starting a partnership with real estate company Better Homes and Gardens.
Lindemeier grew up in Cologne and worked as general manager of an eye care center in Waconia for some time before deciding to pursue her true passion—real estate.
"The housing industry was calling me," she said.
Lindemeier explained that she had bought and sold several properties herself, often renovating and remodeling old houses. At first, she started doing the same thing as a general contractor, where she would fix up homes and then move them to a new location—remodeling everything from plumbing to windows. Usually, these jobs took two to three months to complete. Eventually she was required by state to earn a real estate license. Once she had her license, she decided to start selling real estate.
Lindemeier set up an office in Waconia but eventually decided to find a new market, settling in Gaylord. She spent more than a year remodeling an old café before opening this spring. She also entered a partnership with Better Homes and Gardens, which acts as her broker. She calls her office a "one stop shop," where people can talk to a lender about finance options, obtain a title, find a house and anything else necessary throughout the process.
In her free time, Lindemeier sits on Gaylord's housing committee to find ways to bring more affordable housing to the city. Her goal is to construct some one-level twin homes in Gaylord.
"It'd be really nice for Gaylord's community to have a neighborhood for first-time homebuyers, with reasonable housing," she said. "It'd be a great asset for the whole community."
Judy Lindemeier
Address: 325 Main Avenue
Telephone: (952) 994-0993
Website: allseasons.bhgre.com/agents