Spinner's Bar and Grill
By
Lisa Cownie
• Sep 2016 • Category:
Hot Startz!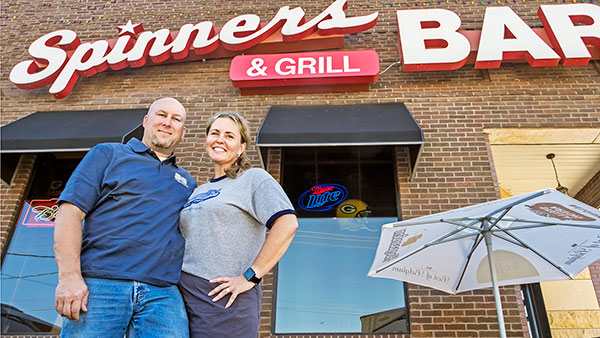 Photo: Art Sidner
North Mankato: Spinner's Bar and Grill
Spinner's Bar and Grill on Belgrade Avenue in lower North Mankato has new ownership after almost 13 years, but new owners Clay and Sandra Oachs say Spinners will remain the same beloved neighborhood bar it's always been.
Sandra says, "We pride ourselves on having some of the coldest tap beer in the area, quality drinks and friendly service. We are inconspicuous and will never be trendy and we're okay with that. Our soul is intangible and our regulars are the heartbeat of our business."
Clay was born and raised in Mankato. For the past 20 years he's worked as a Master Mechanical Insulator in the Twin Cities. Sandra grew up an Iowa farm girl who moved to Mankato the summer of 1992 to attend college. She never left!
She says, "I fell in love with the place and the people and a particularly handsome man and never looked back."
Most recently Sandra worked as the Director of Sales at the Hilton Garden Inn in downtown Mankato.
Owning a bar was a big step for them, but they felt the time was right.
"I have a passion for the hospitality industry and purchasing Spinners will allow my husband and I to continue to serve in the industry we love," explains Sandra. "Spinners Bar has an interesting past and we look forward to continuing to tell the brand story and preserving the history of it. The hospitality world is so varied, and making sure we stay relevant in the ever-changing business will be the key for our success. Our heart is investing in the community that we live and work in, and we will continue to strive to make it a better place for our neighbors, children and grandchildren."
Sandra and Clay have two children Amber and Chase, and two Grandchildren, Cayden and Rylynn.
Spinners is open Monday through Saturday 8 a.m. to 2 a.m. and Sunday's 10 a.m. to 2 a.m. Sandra muses, "Currently we don't serve breakfast, but have a great coffee!"
Spinner's Bar and Grill
Address: 301 Belgrade Avenue
Telephone: (507) 625-9751
Website: spinnersbarandgrill.com

Lisa Cownie is Editor of Connect Business Magazine
All posts by Lisa Cownie