Salon Lab Professional LLC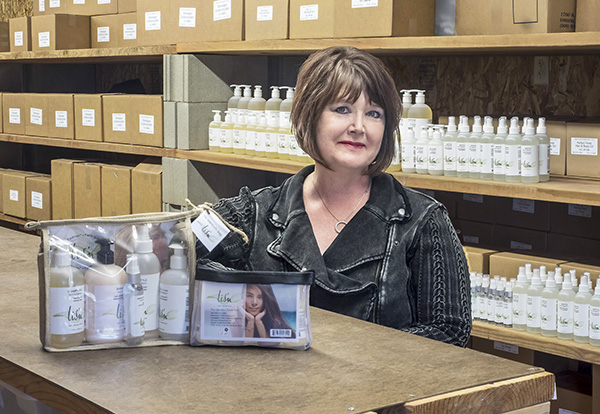 Photo: Art Sidner
Bricelyn – Salon Lab Professional LLC
The "farm to table" movement has been popular in the last few years, and now one local woman is taking it a step further with her Farm to Fashion™ line of hair products.
"One of the key point of differences in Lis'n, is the Farm to Fashion™ ingredients. The key active ingredients are naturally farm derived. Protein from sheep wool, corn, soy, macadamia seed oil and the scent is derived from ruby red grapefruit. I grew up on a farm and still live on a farm to this day. I have spent my entire career in the beauty industry traveling the USA and Canada working for major manufacturers. So the marriage between Farm and Fashion is a natural step for me" says Paulette Legred.
She launched her company, Salon Lab Professional LLC, in September of 2016. But it had been in the works for a couple of years prior to that, as she met with a chemist and a creative director to make sure she was getting just the product she wanted.
"I met with my chemist friend and she asked me what I envisioned in my line and I replied, "I want it straight-forward and honest. Don't put any ingredients in there that aren't doing anything. And she did.
"My next meeting was with my Director of Creative. I didn't know where to begin when it came to bottles, labels, barcodes, a logo…. Any of it. She guided me completely and could put my vision into design and print. What a talent. I firmly believe without either of these two people, I couldn't have gotten off the ground."
She predominately sells directly to professional beauty salons that sell to the consumer. She sells to distributors in Michigan and Texas and through her website can sell in 9 states and growing daily. Lis'n Premium Professional hair care currently has five products, Shampagne Fresh Shampoo, Shampagne Clean Conditioner, All. U (need) Styling Elixir, Restyle Flexible Styling Mist, and Perfect Finish Hair and Body Oil. She plans to launch two more products yet this year and is working on 2018 launch of a new one as well.
Salon Lab Professional LLC
Address: 8067 510th Avenue
Phone: (844) 688-0692
Web: lisnbeauty.com