Grassroots Housing Efforts in New Ulm
State, City and Local Task Force of Community Members Collaborate to Solve Housing Issue
Over the past few years, community leaders in New Ulm began noticing a troubling trend; like many cities, New Ulm was seeing a steady erosion of affordable housing supply as properties that were originally developed using federal subsidies started being converted to market-rate housing.
"The latest housing study has identified only 19 remaining tax credit, income-based rental units within our community. The study goes on to state that a community of New Ulm's size should have at least 100 such units to adequately meet the demands in this segment of the housing market. This deficit is due to most of the tax credits expiring on existing units over the last several years which has caused these apartments to be converted to market rate rental properties," says Dan Braam of Alliance Bank and chair of the Housing Needs Task Force. The task force was formed after the need for affordable housing was identified during a  2016 New Ulm 2020 Visioning Conference.
"During this conference, housing was a common and reoccurring topic at various conversations during table discussions," says Braam.
So, a group convened to cooperatively plan for the creation of new workforce housing in New Ulm. They felt the benefits would be far reaching. For instance, the task force concluded that increasing affordable housing will aid local employers' efforts to recruit and retain workers.
But they also knew they couldn't do it alone, and that's when Minneapolis-based Community Housing Development Corporation (CHDC) stepped in. Community Housing Development Corporation is a nonprofit Minnesota affordable housing developer, specializing in fulfilling the affordable housing goals of neighborhoods, communities, and nonprofit organizations. The agency approached the task force about converting the former middle school into affordable apartments by applying for tax credits with the Minnesota Housing Finance Agency, which is the agency tasked with approving affordable housing tax credit projects throughout the state.
"The old middle school building has changed hands several times in recent years," explains Brian Gramentz, New Ulm City Manager. "When CDHC decided to purchase the building from the current owners earlier this year, they approached the city for support with their tax credit application."
Early in 2017, the New Ulm City Council and New Ulm Economic Development Authority passed resolutions to show their support for the project. The group then went to work gathering all the needed information. "But in August we received devastating news," says Braam. "We were notified from the proposed middle school developer, the Community Housing Development Corporation that the Minnesota Housing Finance Agency was not going to further consider the project.
"According to MHFA, the Community Action Plan failed to demonstrate that the proposed middle school development was part of the community's overall housing plan. We at the Housing Needs Initiative Task Force took this news to heart. It appeared to us our action plan that had consumed so much of our group's time and efforts didn't measure up to the acceptable standards set forth by MHFA. "
But the group pulled together, persevered and tried again, appealing the decision. Their second effort was a winner.
"We believe the combination of the community's involvement in contacting MHFA to hear the appeal as well as the action plan being fully read and reviewed, played an important role in ultimately getting the project approved," says Braam.
State Street Apartments Coming Soon
Plans are now underway for the development. The building, which is listed on the National Register of Historic Places, was constructed in 1918, with later additions in 1932 and 1955. It served as a school until 2005 and then housed administrative offices for the school district. With the exception of the former school auditorium space, which houses the State Street Theater Company, the building has been vacant since August, 2016.
City and community leaders tout the importance of this project to the region. First, the $15 million project will provide 55 affordable apartments.
"First and foremost this project will provide 55 affordable rental units to the City of New Ulm. When reviewing our housing study and in conducting our public meetings we saw that senior citizens were being particularly impacted by the lack of affordable rental housing," Braam explains.
"The study had indicated that nearly fifty percent of seniors renting in our community were paying rents deemed to be unaffordable (over 30% of their monthly incomes). At our public meetings we heard from a number of seniors that were hoping to sell their single family homes but were unable to because they lacked any affordable rental alternatives.
"So it is our hope with the addition of the State Street Project we can see some movement of our senior population into these units thus freeing up both single family homes and market rate rental units to provide more alternatives to our workforce housing needs."
While the project has community support overall, there are some that remain skeptical. That, according to New Ulm Housing Coordinator Heather Bregel, may be due to misunderstanding.
"There is a local misconception that the renters at this property will be households with little to no income. The rents at State Street Apartments will not be based on the household income, but a percentage of the area medium income. Rents are projected to range between $570 and $760/month. In order for those rent ranges to be considered affordable, annual household incomes would range from $22,800 to $30,400, or a full time job of roughly $11 to $14.50/hr.,"  Bregel explains.
Braam says the second reason this project is important is it will be saving a historic and valuable community asset.
"The Middle School includes an 800 seat theater which has provided our community a venue to offer a number of different types of plays, shows, and musical concerts over the years. Its walls also contain artistic murals. Preserving this building is in complete alignment with the city itself which has a good number of historic buildings with both architectural and historic prominence," he says.
The CHDC says that is a big reason for their involvement in the project.
"This project reflects New Ulm's deep community values by preserving a historic asset while increasing housing opportunities for families at a variety of income levels." says Heidi Rathmann, senior vice president at CHDC.
With a $15 million price tag, Braam says the community couldn't have pursued it without collaborating with CHDC.
"The cost of this project will be quite expensive. It is inconceivable that our community alone would have been able to raise those kind of funds. We are extremely thankful the folks at the Community Housing Development Corporation offered the vision and expertise to make this happen," Braam says.
The project will be primarily financed using the Low-Income Housing Tax Credit Program, federal and state historic tax credits, the Greater Minnesota Housing Finance Agency, and local resources.
The rehabilitation is expected to begin in mid-2018 and last about 12 months.
State Street Apartments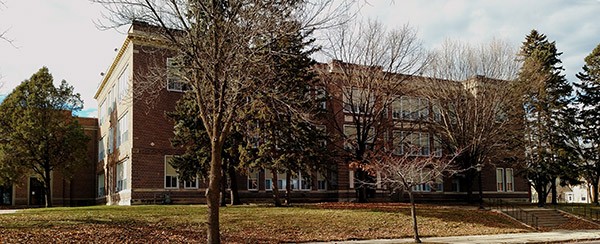 "The State Street Apartment project is important for the City of New Ulm because we are in dire need of quality, affordable housing.  Since 2000, New Ulm has had a net loss of 185 affordable rental housing units from various programs as they met their regulatory requirements and converted to market rate units.  Even with the addition of 55 new affordable units, the city has a remaining deficit of 130 affordable units.  Local employers are having difficulty recruiting and retaining an adequate workforce due to the lack of available affordable housing. The State Street Apartment project will also preserve an historic building."
– Heather Bregel, Housing Coordinator