Kim Ruby and Emily Green (Photos: Kris Kathmann)
Mankato – ARTifact – Paint Your Own Pottery
Emily Green has a Bachelor's of Science in History. Kim Ruby has a Bachelor's of Science in Psychology. So it makes sense then, that the two friends would open up a unique art shop in the heart of Old Town Mankato.
"Neither of us have any training in art or ceramics," says Emily smiling. "But Kim is from Southern California and they have these type of studios everywhere out there. She would take her kids all of the time. She moved here over ten years ago and always wondered why Mankato didn't have anything like it. When we met four years ago, we both had a desire to own our own business as a means to have a flexible schedule for our families. And we both thought Mankato could use more family friendly, creative options."
So they opened ARTifact in December 2017. ARTifact will supply pre-fired pottery and related materials in a comfortable, organized and artistically-inspiring environment for parties or individuals.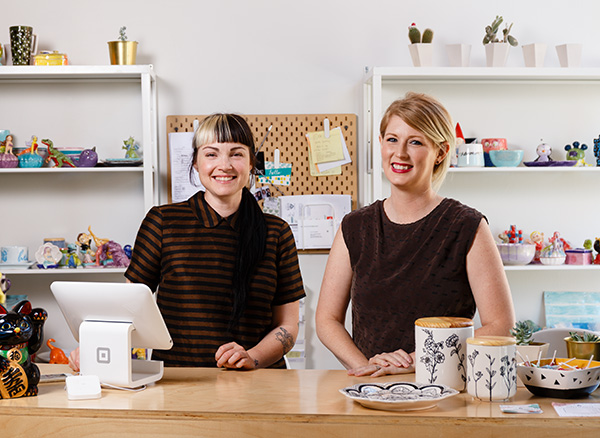 "We also provide idea books and any assistance needed to get the "artist" started. You need only bring your ideas and inspiration to create unique gifts with a personal touch- like a mug with a child's handprint, a custom photo frame, a bowl for a canine companion or a sweetly sentimental wedding gift," says Emily.
Walk-ins are always welcome at the studios on Riverfront Drive.
"We LOVE our location! Our sign has great visibility and we are easy to find. Our block has good parking and our building has great old character," she says.
The concept is starting to gain in popularity, but she admits the biggest challenge has been the nuts and bolts of starting a business.
"Figuring out all of the legal aspects of owning your own business and putting the time into finishing the space was one challenge," She says. "We also had to learn how to use a kiln!"
ARTifact – Paint Your Own Pottery
321 N. Riverfront Dr., Mankato
507-351-3111
artifactmankato.com