Franklin Rogers Park & Mankato MoonDogs
Connect TV is produced with True Facade Pictures | Photos by Kris Kathmann
Local Investors Hit Homerun
Large city and private investments in baseball park renovations along with local ownership of a minor league team bear dividends beyond the balance sheet.
During the 2018 season, the renovated Franklin Rogers Park in Mankato has made nearly as many headlines as the final scores of Moondogs games. The team has been playing over .500 baseball, but the ballpark is hitting a homerun with each home game played.
Lost somewhere in the box scores is the fact that new ownership took over the Northwoods League team in the off-season, giving the 19-year-old collegiate summer baseball team something it has never had before: local ownership.
Chad Surprenant and Kyle Smith are an interesting pairing on the ownership line-up card.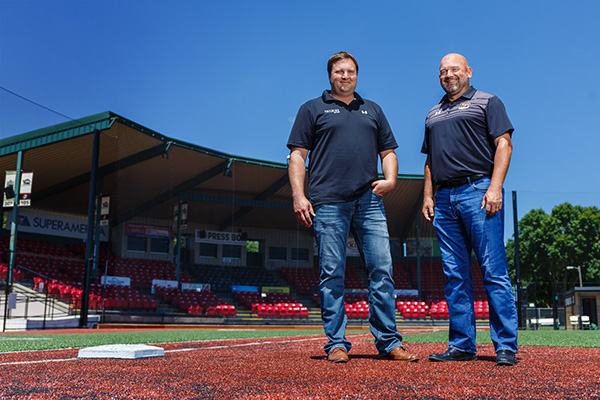 Tailwind Group's Kyle Smith and ISG's Chad Surprenant are majority owners of the Mankato Moondogs.
Surprenant, CEO and President of ISG, is a Mankato native who grew up eight blocks from the Moondog's field at Franklin Rogers Park – "The Frank." He remembers sneaking in through an unlocked gate to practice on the field with neighborhood buddies or his dad, patriarch of the engineering and design firm. ISG now boasts offices in Minneapolis, Des Moines, Storm Lake and Waterloo, Iowa, La Crosse and Green Bay, Wisconsin, and Sioux Falls, in addition to Mankato.
He watched the town grow as a youth from his family's home on North Fifth Street, and today he watches – and helps guide – its growth from downtown corporate offices at Second and Hickory streets. The sixth-floor conference room gives him a unique perspective on what Mankato has and needs. He uses his personal and professional means to assist in that growth.
Surprenant says he's probably attended two-thirds of the Moondogs home games this season, often with his family or co-workers, and loves the opportunity to improve the amenities his hometown has to offer residents, guests and potential employees. One of his two sons works the camera at games, while his two other kids attend regularly.
Smith, with the partnership of family and friends, has turned Tailwind Group into a successful property management, leasing and management group with a high profile beyond the seven-story Profinium Plaza in downtown Mankato. While the Tailwind Group name seems to be everywhere, Smith prefers a role that keeps him at the bottom of the line-up. Despite the building's prominence on the Mankato landscape, for example, his email signature and business cards still list the much more modest address of their previous offices under Pita Pit on South Front Street.
The view from the seventh-story offices of Tailwind Group is inspiring, taking in views of South Front Street, the area near Cub West that is undergoing development, the bridge across the Minnesota River and South Riverfront Drive. If visitors can take their eyes off the view, they'll see the corporate offices are sprinkled with helmets from a variety of college football teams. When he meets on a Saturday morning in late July Smith is wearing athletic shorts and shirt emblazoned with the Minnesota State University, Mankato logo.
He has attended maybe four games this season, he admits, though corporate tickets are popular among employees. His attendance numbers may increase as his four children get older, he says. Regarding the Moondogs, he says he is happy to let Surprenant's comments suffice for them both, saying "he's dead on."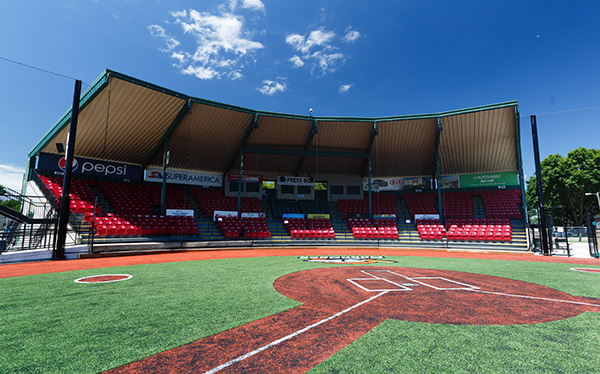 These two diverse personalities are bullish on Moondogs' success, both as a feeder team to Major League Baseball and as a business operation. When asked what about the business investment side entered into his decision, Surprenant says flatly, "Nothing; however, I went into it with low expectations."
Although his business expectations were low – he said that breaking even the first season would be considered a success – the emotional dividends have been more than he expected. The smile seen on his face at the public opening of The Frank was that of a kid who went to sleep on Christmas Eve hoping to find a baseball glove or bat under the tree in the morning. Instead, he found a very large box wrapped in orange paper with "Moondogs" ribbon.
"Of all the reasons I chose to do this, the pure happiness of being at the park and watching people be happy was underestimated by me," he says. And doing so while walking the same field on which he played from 1983-88 was overwhelming.
Smith is happy to offer opportunities for everyone who attends Moondogs games, from those who fanatically follow the team at home and on the road to those who may attend one game to see what all of the fuss is about.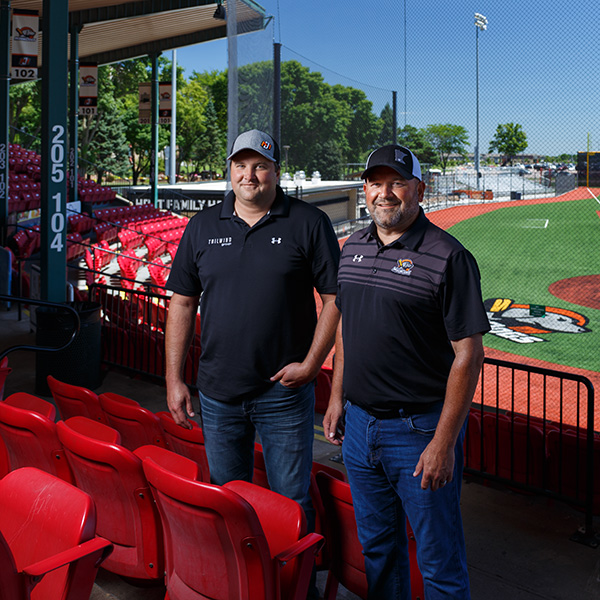 TIMING IS EVERYTHING
Timing is everything for a baseball player, and the same can be said for a baseball owner. Around 2004, Jim Schwei of Minneapolis, who owned the Moondogs before the most recent owner, Mark Ogren, approached the City of Mankato with improvements he would like to see made to Franklin Rogers Park. Back then it wasn't cool enough for its current nickname. ISG was hired by the city to start designing improvements to correct deficiencies and take advantage of opportunities presented through years of neglect.
Franklin Rogers Park was built in 1967, and most of the 1,400 seats were contained within the grandstand. The stadium saw upgrades in 2006 with new lights, in 2014 when the grandstand was renovated, and in 2016 when a second part of deck was added. But it still lacked amenities that other parks had.
"The City of Mankato was always taking the position of responsibility for facility 'needs,' and the Moondogs were taking the responsibility for facility 'wants,'" Surprenant says. Because many of the improvements would also benefit other facility users, the new owners immediately sought and received a longer-term lease agreement.
Many things had to happen before these renovations could be considered a possibility. With the new Moondogs ownership, which was willing to make a considerable investment, and Mankato able to contribute sales tax proceeds, the improvements roster was expanded.
Another reality that made the ownership deal attractive for Smith was the expansion of the Northwoods League (NWL), in which the Moondogs play.
"I think [league expansion is] maybe a greater vision for the long-term. I think there's probably a brighter outlook," Smith says. "So, it's the ballpark improvement and I think the league's heading in the right direction."
For the team, Surprenant ranks synthetic turf and the construction of actual locker rooms for both teams as "game changers." Following a rain delay, he says, the turf can be ready for play as quickly as the players are.
"For the fans, the drastic improvements to the game-time experience are obvious: many more seating options, vantage points, informal elevated berm seating, expanded concessions, a great new Dog Pound, and the brand new largest video board in the NWL measuring in at 20 feet high by 50 feet wide," he says. The Dog Pound, along with the Dugout Club hospitality area, also include higher-amenity features such as unlimited food and beverages during the game.
The Dog Pound down the left-field side holds up to 400 people; beverages and unlimited food during the game come when an additional fee is paid. Another section of bleachers is adjacent. The Dugout Club, which sits atop the dugout on the first-base side, has tables and four chairs that can be reserved for the entire season. The area has its own grill and a private wait staff that provides unlimited food and beverages as standard amenities.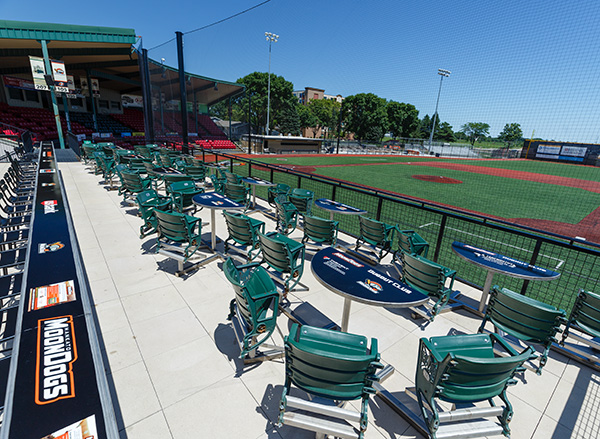 Further down the first-base line is a berm that curves around the outfield fence, providing more casual family-style seating. A paved walkway provides handicap accessibility to the Dugout Club.
"I think [these improvements are] going to carry past the Moondogs," Smith says. "You're going to see how many games with Bethany Lutheran College? I think you're going to start to see some state tournament games there.
"Obviously, we're the largest tenant of the field, but I think the opportunity to use that field is endless," says Smith.
The team averaged 1,129 fans through their first 27 games of 2018, according to Northwoods League stats. This is slightly more than the 1,096 average from 2017 but below the 1,154 average in 2016, as reported by ballparkdigest.com.
PREVIOUS OWNER WANTED TO SELL
Local ownership came about through a solid job of recruiting.
"It was really by chance," Surprenant says of their foray into baseball team ownership. "I was doing our Minneapolis office a favor by saving them a trip to Mankato, so I was meeting with Mark Ogren of Stillwater [previous Moondogs owner] around February 1, 2017, presenting design ideas for the ballpark improvements."
The City of Mankato, owners of Franklin Rogers, had sought out ISG for ideas to improve the 57-year-old ballpark that had fallen into disrepair. Still a workhorse for various levels of academic and summer baseball leagues, the park lacked the amenities that would raise it to the next level. Foremost among those amenities were an artificial turf playing surface, concessions and seating options for the fans, and a modern, multi-function scoreboard.
After the meeting – where Surprenant says Ogren commented on his apparent passion for baseball and recent business successes – Ogren had the type of proposal you'd expect to see projected on a stadium Jumbotron: "Do you want to buy the Moondogs?"
As it turns out, Surprenant wasn't the only ownership prospect being approached.
"Mark and I had done business before previously," Smith says. Along the way they had talked about the possibility of Smith purchasing the Moondogs. "I'm certain [having worked together was] not the only factor. But Mark's a great guy and he came back to it and said, 'Hey, I want to keep this low-key. I don't want to take this and make a scene over it.' "
Discussions continued on that low-key basis. "I kind of told Mark, 'Hey, I think we're going to pass.' He even mentioned that he was going to go to talk to Chad, and I said that would be a great fit," Smith says.
Both Smith and Surprenant had concerns that the sports team ownership would be distracting to their established businesses. Neither had experience in sports operations, and they had clients investing large amounts of money with them for their full attention. Surprenant expects the same dedicated attention from his employees.
Surprenant says that's when relief came from the bullpen.
"Around July 1, 2017, Mark came to us with an idea to meet the La Crosse Loggers group, Dan and Ben Kapanke, and Chris Goodell. They are well known in the Northwoods League as fantastic operators.
"Kyle and I traveled with my daughter Ellie to meet them at the ISG La Crosse office. We knew instantly that they were great people."
Adds Smith: "Frankly, knowing and trusting Mark, and then the chance to meet the guys from La Crosse," sealed the deal. It guaranteed that operations would be handled by experienced professionals, and it removed the distractions that the local owners feared when making the decision to buy.
"My primary reason was as a community asset/quality of life amenity for the area," Surprenant says. He saw retention of the Moondogs as important, especially following the departure of the Minnesota Vikings training camp and Mankato's emergence as a regional center.
"After I had been approached, I did a little fishing on other potential investors, and while all thought it was a good idea, no one was really wanting to write a check. The point of that is that if we didn't do it, I am not certain who, if anyone, would."
When asked about the future prospects for Mankato, Smith was hesitant to speculate. "But you look back to what I consider an 18-year snapshot since I've been here – I came here in '99 so it's been almost 20 years – it's crazy how much this town has changed in 20 years. So, who knows? It's been fun, and as it continues to grow. I think the options [for Mankato] are endless."
---
Local Hands Make Light Work
Many local companies were among those who contributed to the $4 million renovation of Franklin Rogers Park in Mankato.
ISG Architect, engineer, landscape architect
Astro-Turf Turf contractor
DMI (Dirt Merchants) Site contractor
WEB Construction General contractor
Daktronics Videoboard and scoreboard supplier
Ross Thate Custom Welding Custom tables
Kaduce Plumbing and Heating
Guaranteed Electric Service
Culinex Kitchen equipment
Greencare
Century Fence
Pongratz Fence
Reichel Painting
THE ESSENTIALS
Mankato Moondogs
1221 Caledonia Street, Mankato, MN 56001
Phone:  507-625-7047
Website: northwoodsleague.com
Twitter:  @MoonDogsBall