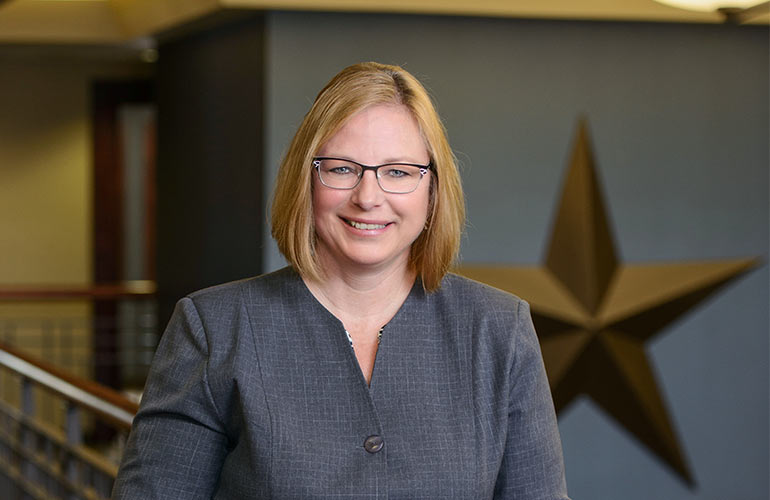 Betty Ouren
Vice President of Human Resources and Marketing, MinnStar Bank, Mankato and Lake Crystal
There are self-help books, motivational blogs and leadership symposiums to help the business and entrepreneurial-minded make the most of each day to maximize productivity. Connect Business Magazine, though, recognizes we have great resources right in our own communities. So we are going right to local business leaders to give all of you a glimpse into how they manage their days. The goal is that readers may be able to take away little tidbits to incorporate into their own lives to be at their best in and out of the office!
This issue we feature Betty Ouren: mom, community leader and powerful professional. Ouren is Vice President of Human Resources and Marketing for MinnStar Bank. She is responsible for staffing administration, marketing and bank philanthropy. She has been with MinnStar for 22 years…and counting!
Ouren was also the 2017 recipient of Greater Mankato Growth's Hap Halligan Award for leadership, an honor Ouren has certainly earned through her involvement in many civic-minded projects.
What community organizations are you involved in.
I am currently involved with City Center Partnership in several ways. I am on the CCP Board, Chair of the CCP Marketing & Promotions Committee, and member of the Old Town Association Group. I am also currently involved with the Minnesota Valley Action Council, Warm Your Heart fundraising committee. We are planning our 7th annual event and I have been a part of all of them. I am a long term member of the Southern Minnesota Human Resources Association. (SMAHRA)
Tell me a bit about your family.
I have been married to my husband Todd for 34 years. Todd and I are graduates of MSU Mankato. We lived in the Minneapolis area for several years after graduating. We chose to move back to Mankato in 1993 to raise our family – it always felt like home here. We have 3 grown sons, Ken who lives in Minneapolis, Eric who lives in Mankato, and Matt, a Gustavus College student. I loved having three boys and driving them to all of their events all over the country. I really miss it and I think I am still working through the empty nest thing. The fun part is that we now have more time to travel, spend more time with friends and attend events that happen right here in Mankato.
You are so busy! What are your top three "keys" to staying organized and productive each day?
First of all, I always give myself two BIG missed meetings/events per year. Especially when my kids were younger, if I missed a doctor/ dentist appointment or a game or a meeting, I just told myself no one is perfect and moved on.
That said, I like to be on time, if I'm late or always running behind it takes more energy. I also like to know what the next thing is that I plan to do and have it waiting. That way I know what I will be doing next and I don't have to waste time thinking about it – which means sometimes my desk gets a little messy! I pretty much have a list for everything I do.
Do you have any routines that you can share with us that you do each day.
A quote I heard 30 years ago 'Every act of kindness done makes life nicer for someone' has always stuck with me. Only it doesn't only make life nicer for thatsomeone, it makes life better for you. I maybe don't do it everyday, but it sure isn't hard to give someone who isn't expecting it a compliment. I've done the drive thru difference, handed out flowers to the school bus crossing lady and to the school lunch account lady, ice cream at the orthodontist office, coffee to the random walkers, or doughnuts to the hotel workers where I was staying. I hate to say it, but I might be doing it for selfish reasons. It is just such a great feeling to make someone's day brighter.
Congrats on receiving the Hap Halligan Leadership Award.
GMG is a respected community organization and I am honored to be recognized by them. Our community has so many good leaders and so many selfless volunteers, I am truly proud to call this home. The opportunities to lead and volunteer are endless – there is always more to be done.
How would you describe your leadership style.
I like to empower and inspire others to be the best they can be. I do this by giving confidence and encouragement, guiding but not dictating. I'm willing to allow the person to make their own mistakes knowing they will learn even more. I'm always available if and when they have questions or issues. Good leaders will earn the respect of others and show respect in return. I try to be a good communicator and keep others informed, be appreciative, set a good example, put others first, and show empathy.
What is the last thing you do before you leave the office each day.
Look at my calendar to see what I have the next day or two. That way I can plan out how my tomorrow will work. Of course there are always surprises to be side tracked by but having the plan helps me get back on track after the distraction has been resolved.