CURRENT ISSUE: November 2014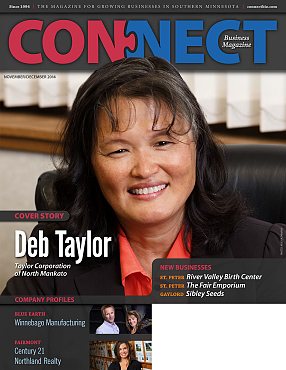 Deb Taylor – Taylor Corporation
Imagine being seven years old and permanently having to leave behind your mother, sister, and extended family, fearfully flying to an unfamiliar land, and beginning life anew with a foreign family you had never faced.
(Comments: 0)
Read & Comment >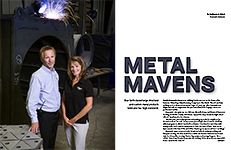 Winnebago Manufacturing
Daryle Pomranke's heart is in welding, but his eyes are on the future of his business, Winnebago Manufacturing Company in Blue Earth. The refocus from welding torch to financial statements began 37 years ago, after Pomranke was diagnosed with an astigmatism that prevented him from forging a career as a professional welder.
(Comments: 0)
Read & Comment >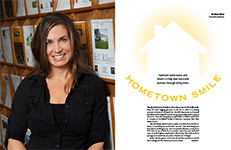 Century 21 Northland Realty
Photo: Kris Kathmann Hometown Smile Fairmont native leaves and returns to help lead real estate business through trying times. Wendy Emler learned early on about the power of a friendly smile. From her time bagging groceries at Hy-Vee to work as a nursing assistant at Fairmont Hospital, her cheerful disposition and natural friendliness have helped […]
(Comments: 0)
Read & Comment >
First Impressions
The Taylor flair for fluid conversation and business acumen became apparent after we spent 90 minutes interviewing her at Taylor Corporation headquarters.
(Comments: 0)
Read & Comment >
Hot Startz! features very new or reformed businesses in our reading area. Contact us to be considered.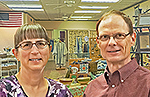 The Fair Emporium
Family physicians Carrie and Keith Stelter grew up in Michigan and Lake Benton, Minnesota, respectively. Nothing in their backgrounds would indicate any clue they would own or manage a retail store, which explains why the opening of The Fair Emporium has been more a social cause than a business decision.
(Comments: 0)
Read & Comment >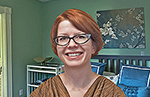 River Valley Birth Center
The daughter of two schoolteachers, 33-year-old Erika Urban is carrying on a family tradition. Rather than music and social studies, like her parents, her "teaching" involves helping women give birth to healthier babies. She opened River Valley Birth Center in March.
(Comments: 0)
Read & Comment >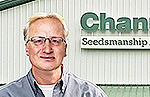 Sibley Seeds
Though now a farmer and having recently opened a 6,000 sq. ft. Sibley Seeds warehouse in Gaylord, Ron Geiger wasn't raised on a farm. His father was a businessman and high school teacher who later headed the accounting department at now-South Central College, and his mother worked for a Mankato bank.
(Comments: 0)
Read & Comment >
OFF-THE-CUFF
You will just have to wait patiently for the unveiling of our 2015 Connect Business Magazine Business Person of the Year, which our annual panel of Minnesota State University College of Business professors has already chosen. You can read all about their choice in our January 2015 issue. What a crop of nominees we received this year!
(Comments: 0)
Read & Comment >