CURRENT ISSUE: November 2013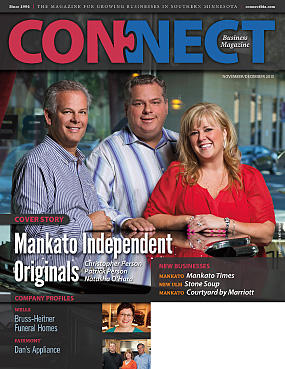 Mankato Independent Originals
Lightly run fingertips over the adjective-laden menu at swank Number 4 American Bar & Kitchen inside downtown Mankato's art deco Landkamer Building and you might first discover the creative "Nicoise" salad, which features pan seared Yellowfin tuna, herbed fingerling potatoes, haricot verts, hard cooked eggs, kalamata olives, mixed greens, and lemon thyme vinaigrette.
(Comments: 1)
Read & Comment >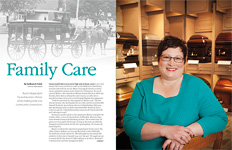 Bruss-Heitner Funeral Homes
Some people believe your junior high school dream career is your true destiny, that if your job history results in the fulfillment of that dream, you have achieved true success. Many of us happily settle for a related career, perhaps becoming a nurse instead of a veterinarian. For mortician Sue Nasinec, who owns Bruss-Heitner Funeral Homes in Wells and Bricelyn, there were no alternative career choices, not after she researched mortuary science for a seventh grade English class assignment.
(Comments: 1)
Read & Comment >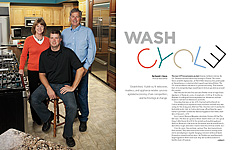 Dan's Appliance
The year 1979 was pressure-packed. Iranian militants overran the U.S. Embassy and held Americans hostage in Tehran. The Soviet Union invaded Afghanistan. At Three Mile Island nuclear power plant in Pennsylvania, a coolant accident caused a partial meltdown. The U.S. annual inflation rate was at 11 percent and rising. That summer, fears of an energy shortage caused lines to form at gas stations around the country.
(Comments: 0)
Read & Comment >
Homegrown Business
Our November/December issue showcases independent, locally owned business owners successfully battling large chains and franchises. All of them have their winsome ways.
(Comments: 0)
Read & Comment >
Hot Startz! features very new or reformed businesses in our reading area. Contact us to be considered.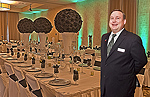 Courtyard By Marriott
General manager Preston Lougheed began his hotel industry career at age 15 as a bellman and doorman at the Minneapolis Hyatt Regency. After graduating from Robbinsdale Cooper Senior High, he went to a Hyatt hotel in Chicago. He had an "in" with Hyatt.
(Comments: 0)
Read & Comment >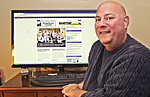 Mankato Times
Joe Steck opened the community news website MankatoTimes.com on January 1, but in many respects the genesis for his business began six years ago. He was a steel salesman for Hutchinson Manufacturing when one day his world was turned upside down.
(Comments: 0)
Read & Comment >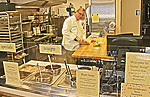 Stone Soup
Of all the cities in the U.S., food industry veteran Jeff Dahms chose New Ulm to launch the prototype of his neighborhood café, Stone Soup, located at 512 1st North.
(Comments: 0)
Read & Comment >
OFF-THE-CUFF
I paid $99 and sent spit to genetic testing service 23andme.com to learn about potential health problems that could harm and hurt over the next decade. Besides discovering a few genetic anomalies, such as a strong predisposition toward celiac disease, I also found out about being an African American.
(Comments: 0)
Read & Comment >