CURRENT ISSUE: September 2014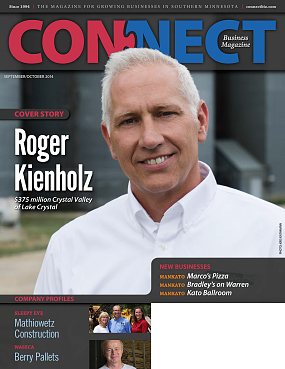 Roger Kienholz – Crystal Valley
He has been general manager of Crystal Valley more than fourteen years and would not have been if not for persevering through many setbacks and challenges—and skillfully turning those situations into assets.
(Comments: 0)
Read & Comment >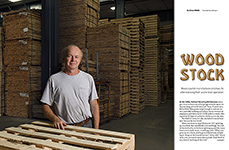 Barry Pallet
In the 1980s, Richard Berry's pallet business was a part-time venture out of his garage while he spent his days working at his full-time job. Now, 25 years later, Berry Pallets has grown large enough to warrant its own assembly building and offices. Berry oversees 36 employees and turns out 8-10,000 pallets a week, offering about 30 types of pallets to clients across the state.
(Comments: 0)
Read & Comment >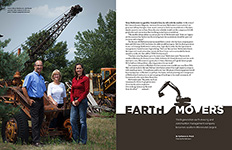 Mathiowetz Construction Company
Brian Mathiowetz is a gambler. Instead of dice, he rolls with the weather. At the time of his Connect Business Magazine interview this summer, Mathiowetz Construction Company was halfway through a three-month contract to build two roundabouts in Mankato, despite excessive rain in June.
(Comments: 0)
Read & Comment >
Labor Day, Every Day
In agriculture, we feature 25-year industry veteran Roger Kienholz, 57-year-old general manager of $375 million Crystal Valley, which serves customers and members in its four business segments of grain, energy, feed, and agronomy.
(Comments: 0)
Read & Comment >
Hot Startz! features very new or reformed businesses in our reading area. Contact us to be considered.
Kato Ballroom
Tania Cordes grew up outside Chicago, where her father was a structural engineer and her mother a volunteer on many boards and for charities. In a telephone interview, 45-year-old Cordes said, "My mother has lots of energy and I have some of that from her, for sure."
(Comments: 0)
Read & Comment >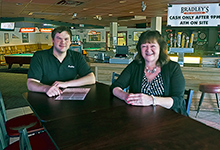 Bradley's on Stadium
Owner Kathy Depuydt manages Bradley's on Stadium with son, Bradley, opening the bar/restaurant in the former Boomtown location on April 1, 2014
(Comments: 0)
Read & Comment >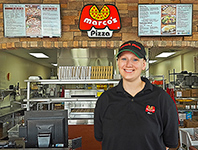 Marco's Pizza
Pam Breeden, acting general manager of Marco's Pizza, grew up in Grand Rapids, Minnesota, where her mother worked in a dental office and her dad drove truck for Coca-Cola. In a telephone interview, 32-year-old Breeden said, "My dad always said if you're going to do something, then do it right. He would lead by example. I learned from both my parents to always pay attention to detail and take pride in your work."
(Comments: 0)
Read & Comment >
OFF-THE-CUFF
Now to the rough: The editor had an eye-opening moment after reading details on the U.S. Supreme Court's 5-4 decision allowing family-owned Hobby Lobby, under the Affordable Care Act, to opt out of having to offer insurance coverage for certain contraceptives the company believes cause abortions.
(Comments: 2)
Read & Comment >