CURRENT ISSUE: May 2015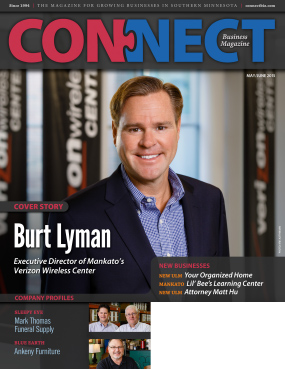 Burt Lyman
The Verizon Wireless Center, located in the heart of downtown Mankato, is a thing of multi-faceted beauty. Built in 1995 for $23 million, it has blossomed into one of the very anchors of the city itself, more than repaying its initial costs thanks to the roughly $47 million in economic activity it generates each year.
(Comments: 0)
Read & Comment >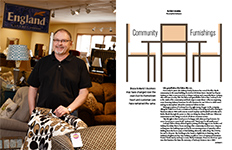 Ankeny Furniture
For nearly 70 years, the Ankeny family business has served the Blue Earth community in the same building, located at 230 Main Street. Started by Clayton Ankeny in 1946, it was passed on to Wayne Ankeny and eventually Bruce Ankeny, who still runs it today.
(Comments: 0)
Read & Comment >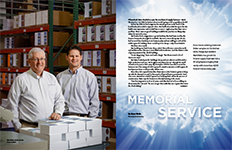 Mark Thomas Co.
When Mark Beito decided to open his own funeral supply business—Mark Thomas Co.—in 1990, he had no idea it would spring to life as quickly as it did. In fact, by 1993, he had outgrown his rented quarters in the back of the local bank and needed to expand—fast.
(Comments: 0)
Read & Comment >
Change Is In The Air
Change. It can be frightening. It can be difficult. It can be unpopular. But sometimes, it can open the door to opportunities that never could have existed if you didn't take that uncertain first step.
(Comments: 0)
Read & Comment >
Hot Startz! features very new or reformed businesses in our reading area. Contact us to be considered.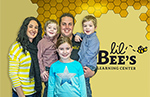 Lil' Bees Learning Center
Growing up, Brandon Olson always wanted to start his own business—but running a daycare center was never on top of his list.
(Comments: 0)
Read & Comment >
Your Organized Home
Jayne Jensen has always had a knack for organizing. When other kids her age were coming home from school to watch cartoons, she would head to her bedroom with a duster and plan ways to reorganize her space.
(Comments: 0)
Read & Comment >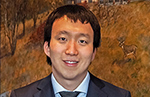 Attorney Matt Hu
When Sung Woo "Matt" Hu was growing up in South Korea, he would watch American crime dramas and dream of working in a U.S. law office himself one day. Now, three decades later, he's made that dream come true.
(Comments: 0)
Read & Comment >