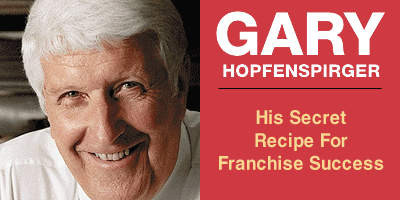 This interview is a condensed version from Connect Business Magazine.
"'You know, people look at you, and they say 'oh man, they got bucks.' But they don't realize how much you're working at it," says Kentucky Fried Chicken franchise owner Gary Hopfenspirger as he stretches his legs and joins his hands behind his head. He's seated now in his North Mankato home and he squints out his back picture window for his next sentence. After a pause, he taps his chest and says, "And all of these KFC franchisees are just like me. They work hard."
Gary Hopfenspirger owns ten fast-food restaurants in three states and simple proof of that is his lily-white hair. He does work hard. In years past he would register 80-100 hour work weeks, though lately he's toned that down a bit, he claims. But you wonder. Earlier this morning, just before our 10:00 a.m. interview at his home, Gary was out painting the interior at one of his retaurants.
Hard work is only the half of owning a fast-food franchise, he'll tell you. Years ago, along with other KFC franchisees, Gary backed a major lawsuit against Pepsico, formerly Kentucky Fried Chicken's parent company. That eight-year war ended with an out of court settlement.
Gary occasionally battles dishonest employees too; he hates it when cigarette butts litter a restaurant floor or a parking lot; he's frustrated with KFC when new food concepts flop; and if the food isn't fresh….
Despite such hard work and headaches that come with owning ten fast-food restaurants, you get the instant feeling he wouldn't trade seats with anyone. Deep inside he truly loves his work and that fact shines in his upbeat smile. So sit back now and listen as Gary shares some hard-earned insights into the fast-paced, fast-food franchise industry.
CONNECT: Now that I've got you here, what's the Colonel's Secret Recipe?
HOPFENSPIRGER: (Laughter) If I knew I'd share it with you.
CONNECT: It comes in prepackaged?
HOPFENSPIRGER: Oh yeah.
CONNECT: So you don't know what's in it?
HOPFENSPIRGER: Well, I know there's pepper in it – let's put it that way. I think it's fairly close to what it was twenty, thirty years ago.
CONNECT: Gary, how did you get to the point where you now own ten Kentucky Fried Chicken Restaurants?
HOPFENSPIRGER: My wife and I have always been in the food business. We started even before we were married. My mother and grandmother owned an A&W. When they were in the A&W business I always said, 'that's one thing I'll never get into – the food business.' Well, I was going to college, I wasn't a good student and I wanted out. So we bought the A&W from my aunt and uncle, who'd bought it from my mother and grandmother. We were in that business for fifteen years before we sold out.
In the meantime, we really didn't know what we wanted, so we just kind of let things go wherever. I ended up selling insurance for AAA for a couple years. Then, in the meantime, good friends of ours from Mankato, their son, an accountant, had started to buy some Kentucky Fried Chicken restaurants. And they kept saying, 'Why don't you come in with our son, why don't you come in with our son.' All of a sudden, one day, I got a call and he wanted me to run their operation. At that time they had six Kentucky Fried Chicken stores. I went into a partnership with them – at that time there were three of us. That was about 1973.
Along the way Barry and Larry, the other two partners, they traded stock and Barry went another way. After that it was just Larry and I [with Kentucky Fried Chicken]. We probably had, as far as I'm concerned, one of the most harmonious partnerships that anyone could possibly hope for. It wasn't that I knew all the answers, but that he knew nothing about the food business. That was my job. Being an accountant, he took care of the money end.
For a long time we couldn't get any other KFC franchises. They wouldn't let us have another. We tried. I remember early on, even when Barry was still there, we tried for Burnsville. We had a store in Shakopee at that time, and we could not get that Burnsville franchise.
[KFC] had, somewhere in the early '80s, gotten several franchisees together and divided up the metropolitan area. Don Delaria, his family, at one time, had the whole rights to Minnesota. And he was quite upset that he was not allowed to develop all of these areas. There was some healthy discussions going on there. He even went down to Louisville, the home office. But it was decided that Larry and I could develop a store in Bloomington.
Well, a year or so, many hours and hours of time, and twenty to thirty thousand dollars later, we never did get a store in Bloomington. (laughter) It took us a long time to convince the City what we wanted to do. And [KFC] would have to make huge changes in the store to fit in with what Bloomington wanted us to do. Then, on top of all this, the land owner wanted fifty percent more for the land. At that, we just said 'forget it,' and we walked away.
Then we found another area in Bloomington [to build] and we were dealing with a big Twin City developer. We thought we had that put together. Then we learned he had a clause with some of their other tenants – it was in a small strip mall area – and their other tenants refused to let us in. And they had the right to do that. So we gave up on Bloomington.
Finally KFC did allow us to build [other places]. We built a store in Worthington. In the meantime, we made an offer on a store in Okoboji, Iowa. It's just a seasonal store but it's done fairly well over the years.
Then one thing led to another. We just kept finding more sites and KFC was willing to let us build. And we were, more or less, developing in small towns.
CONNECT: So the company has to give you permission to build?
HOPFENSPIRGER: Right.
CONNECT: Where are your stores now?
HOPFENSPIRGER: 3 here in Mankato, Faribault, Shakopee, Worthington, Chaska, and Brookings, South Dakota, and Okoboji and Spencer, Iowa. The original ones were the 2 in Mankato, Faribault and Shakopee – we sold St. Peter and Hutchinson. I enjoy opening new stores. I would possibly like to do more, but my wife says no.
You know, we're very fortunate. We have a lot of great people working for us. You hear so many down things about people today. Some of these kids today – I strongly feel it's not the kids' faults, it's the parents. But it's terrible out there. But boy, we have a tremendous amount of great people working here for us.
CONNECT: With restaurants in three states, how do you even begin to control what goes on? Or can you?
HOPFENSPIRGER: Very easily, because we have good people. Makes my work easy. I'm not ashamed to say that I put in a tremendous amount of time. It used to be 80 to a 100 hours per week. I've tried to cut that down, but still it gets to be a lot of hours.
We have at least four people that have been there 20+ years. In Brookings, South Dakota, that manager's been there 10-12 years. We have 15-year people too. Iowa is shorter term. But they're all very concerned about how they run the store. They want to do a good job. The young kid who is in Iowa, he's brought the business up; we had a struggle when we first moved into Spencer. It took off well and then took a big dip. We thought we had some good people there, but it just didn't work out.
I think sometimes the individual has to fit into the community. And that maybe wasn't the case in Spencer. The person who is there now was born and raised there. He knows well over half the people who walk in.
We put a lot of responsibility on our managers. They pay the bills, they have their own checkbooks. The only bills they don't pay are the royalties, the advertising, or the bank payments.
You can ask my wife, we've been married forty years now, I kid people that she's learned to put up with me. She is a dear, sweet gal, and we really have a super marriage, I think. It used to be I could pop off that quick, just like that, with the snap of a finger, but I've tried not to do that now. It's hard not to get upset with something that goes on in the restaurants.
But still, we have a lot of good people. There's no question about it. Our restaurants are a franchise, but yet KFC isn't hovering over us. Yes, they have some guidelines they have to go by. But they don't necessarily have someone coming in and inspecting the stores all the time. They do have Field Operations Managers that come around.
CONNECT: I've read that the 3 elements that must be present in a successful franchise venture are a good franchise name, good financing and a good location.
HOPFENSPIRGER: A good franchise name is very important. You see, with the Ma & Pa store you have to build a reputation.
KFC is a very close knit family. A lot of franchisees have been there thirty, forty years. Everybody knows one another. Some of those franchisees have spent hours and hours, and days and days, and months and months, on things that they get no benefit from except that it's making the franchise as a whole better; that things are getting done right; that there's good product.
You walk in any place in a strange town and unless somebody has told you about a local restaurant, you're going to pick out a franchise as a place to eat. Whether it's a Perkins, a McDonalds, a KFC, a Pizza Hut. You're going to stop at one of those. You're not going to stop at Joe's Pizza Joint.
CONNECT: And financing?
HOPFENSPIRGER: You have to have the financing and the money to operate during the tough times. Through the years you'll have a bad year and then some good ones. In years past, a lot of franchise people, whether it was KFC or someone else, they were in [financial] trouble. Fortunately, in recent years, KFC has tightened up their requirements to own a franchise. They want to make sure you have the funds before you even get into it.
CONNECT: So you have to have X number of dollars in net worth?
HOPFENSPIRGER: Yes.
CONNECT: Location?
And with location – when we were developing these new stores we would go out with Realtors and they would say, 'this is a really good place.' (laughter) And we'd have to say 'no, no, we're not interested in that piece of property. I don't care if they are giving it away. We don't want it.'
I don't think we're that good at picking sites, but you just get a feeling. When you see a place that's good the bells and whistles go off.
CONNECT: What do you look for in a good location? The traffic flow?
HOPFENSPIRGER: I would say normal people do that. But Larry and I weren't normal. People would laugh at us with some of the things we did. But it's turned out fine for us. Yes, some people look at traffic counts, they look at the population in the area, blah, blah, blah. That's maybe true in a large community. But we're in towns that are mostly 10, 15, 18 thousand. Outside of Mankato, Faribault is the largest town we're in. In Shakopee we recently rebuilt that store. We looked at moving out to the bypass and everything, but we decided it was a good place to be. People are still going there.
Visibility in the city is important. We looked at traffic counts somewhat. If we had a choice of two streets when Street A had five thousand, and Street B fifteen thousand cars passing by, we'd pick B. We look at where the traffic is moving too.
We always felt that we didn't want to be on the other side of an interstate from the town – and that's proved to be right. Stores on the opposite side of the interstate don't do well because it's a barrier to a lot of people in the town.
In one location we picked, there was a grocery store nearby that had thousands of people going to it each week – that's the kinds of things you look for.
CONNECT: Do franchisees often get into disagreements with their franchisors? What sort of disagreements could take place in that relationship?
HOPFENSPIRGER: It's pretty much an ongoing thing. For 7 or 8 years, KFC franchisees were suing Pepsi. We had a lawsuit against them. We finally settled out of court, but millions of dollars were spent on attorney fees.
[KFC} wanted to rule everything. First off, they didn't want to give you territorial rights. They say you can build a store here, but they wouldn't say they wouldn't put a store right across the street. Let's say you're in Mankato – they could put KFC chicken in every SuperAmerica store too and we would have nothing to say about that. Or they would allow somebody else to build a store three blocks away. So you want rights like that.
Here again, here's where certain franchisees, just a handful of people, spent hundreds of hours on this lawsuit fighting for everybody, including themselves. Some were pretty big players. One has 75 to 100 stores.
They wanted to take all of those rights away from us and do whatever they wanted. Or let's say someday they put KFC chicken into the grocery store freezers. Taco Bell is there now. They also have talked about bringing all of our products in frozen and we were very upset about that.
This was an ongoing battle for 8 years. Finally we got a new president, and this individual, yes, he was being paid by Pepsi, but he was concerned about us franchisees too – that we would not get beat up. He's still there.
CONNECT: Do people buy different products at your Mall store?
HOPFENSPIRGER: We were one of the first in the country to go into a mall and be successful at it. In the Mall, at first, we were lacking the right products. We were selling 50-55 percent chicken on the bone. But when the popcorn chicken came in that was a big lift for us. All of a sudden we were seeing younger kids coming in and eating it as they walked through the Mall. Then we got so we couldn't even buy that product; we were having it made just for us and just a few other franchisees. But the amount that you have to buy – they would not make it unless you bought 100,000 pounds at a time. They wouldn't even make a run of it at the plant.
But then when they came with Crispy Strips, that was a huge boost again. The pot pies too. Now they're trying to get in with more of the food-on-the-go.
CONNECT: How much chicken do you go through in a day?
HOPFENSPIRGER: (laughter) Lots.
CONNECT: How do you juggle professional and family life?
HOPFENSPIRGER: Back in Redwood Falls, when we were in the A&W business, my wife convinced me, and it was true, it got to the point where I was never at home. I think through the years, with my job, I've been gone a lot. Carolyn, this morning, when she left for work at the Mall, she said, 'You're leaving me again?'
You know, people look at you, and they say 'oh man, they got bucks.' But they don't realize how much you're working at it. And all of these KFC franchisees are all just like me. They work hard. Yes, I'm not in the store everyday anymore. Through the years I have been. It's funny, cash registers though, I hardly know how to run those things. I haven't worked them. When we were in the A&W business we didn't even have a cash register. Everything was figured up in the head.
Just this morning, earlier, I was in one of the stores doing some painting. I still do a lot of that.
©1997 Connect Business Magazine