Waseca Enews, Red Barn Retreats, Vanderberg Clean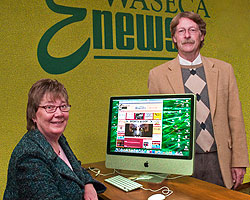 Photo: Art Sidner
Waseca: Waseca Enews
Waseca Enews launched on August 11 webcasting print, video, and audio over its WasecaEnews.com website. This online community news service and forum currently employs four full-time—and two others with an associated company—with strong ties to Waseca. Its general manager's name has a familiar ring: former Mankato Free Press editor Deb Flemming.
"I'm a Waseca native and started my journalism career here for the Waseca Daily Journal," said 55-year-old Flemming in a telephone interview. After that newspaper folded, she went on to work for the Mankato Free Press, Owatonna People's Press, Traverse City (Mich.) Record Eagle, and in 1995, the Mankato Free Press again, as editor.
She said, "My interest in journalism goes back to the late '60s and early '70s, when I became a firm believer that an informed public was good for our democracy. We were surrounded with headlines of the Vietnam War and Watergate. It just appeared to me this was a profession that would allow me to do some good if I did it right."
For her, "doing it right" includes balanced reporting, accountability to the public, and being committed to covering local news in smaller markets.
In late spring 2009, while serving as executive director of the Minnesota Newspaper Foundation, Flemming began meeting with Waseca native Dan Hall, a long-time newspaper, shopper, and specialty publication veteran, and one-time publisher of Minnesotacars.com, who would become the owner of Waseca Enews. He eventually hired Flemming.
"Waseca Enews takes the latest technology and with it blends the best of print, radio, and broadcast television into one site for the community," said Flemming. "Our goal is to be where the community gathers for information and discusses important community issues."
She said Enews Networks, the parent company owned by Dan Hall, wants to expand into other related areas, including creating videos, producing advertising, and establishing similar media ventures in other southern Minnesota markets.
Website: wasecaenews.com Telephone: 507-833-4748.
(Note: Only days before press time, Flemming left her position with Waseca Enews.)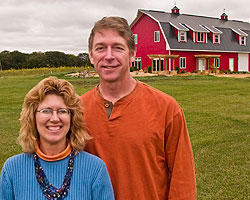 Photo: Art Sidner
Garden City: Red Barn Retreats
Shelley and Marty Leenhouts began Red Barn Retreats on August 22 with a well-attended grand opening. Said 50-year-old Shelley in a Connect Business Magazine telephone interview: "Marty and I are definitely entrepreneurs and we're not afraid to try something new."
Over the years, Marty has been an industrial education teacher, math teacher, chip carving instructor, scooter/bike dealer, and TV content blocking device dealer. Besides other occupations, Shelley has owned Bobo's Balloons, and been a Creative Memories scrapbook consultant and a District 77 adult basic education teacher. "With Bobo's Balloons, I dressed up as a pig while wearing a pink tutu," said Shelley. "I had wild pink hair and a crazy pig mask. We did balloon delivery and balloon bouquets."
Red Barn Retreats began as a way to create synergies between Marty's chip carving and Shelley's Creative Memories businesses. Shelley said, "A couple years ago, we realized Marty needed a wood shop. Our barn was in disrepair. So we started brainstorming. We decided if we built Marty a shop, we could build one for my customers, too. Our idea evolved into a 4,500 square foot, two-story red barn."
Marty brings in chip carving students to Red Barn Retreats through his mychipcarving.com website that offers a free tutorial video and sales of chip carving supplies. More than 3,000 people around the world receive his monthly e-letter/video. A recent three-day workshop he led brought in couples from far away as Wisconsin and Illinois.
"And I'm arranging for scrapbooking, crafting, and quilting retreats and workshops," said Shelley. Other renters include community education programs, churches, businesses, weddings, and camps. Facility rental begins at $240 per day. Said Shelley, "I'm a huge people person and love visiting with people from different places. We want our barn to bring glory and honor to God. It's a way for us to reach out and to share our faith and love for others."
Website: redbarnretreats.com Address: 51654 164 Street, Garden City.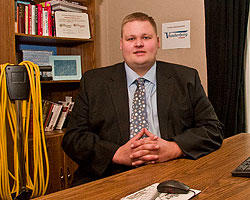 Photo: Art Sidner
Mankato: Vanderberg Clean
You could almost say Joshua Vanderberg has cleaning supplies coursing through his veins. His grandparents owned Sharon's Cleaning Service in Mankato from the late '60s until 2004.
"From the time I was old enough to walk, I was in the least helping empty trashcans for them," said 24-year-old Vanderberg in a telephone interview. His grandparents had some choice Mankato accounts: the government center, courthouse, and Madison East. "Their business entailed vacuuming, mopping, and dusting—basic janitorial services was their focus," he said.
In 2004, when his grandparents closed the business, Vanderberg was too young to purchase it, and most importantly, simply didn't have the desire anyway. He was more interested in becoming a real estate or insurance salesperson.
"I gave insurance sales a try for six weeks and realized fairly quickly it wasn't for me," he said. "I was doing telephone and door-to-door sales and never really could build much of a relationship with the customer. It was very cold calling."
At the six-week point, he met a nationally franchised cleaning service owner. The relationship evolved into Vanderberg becoming an employee for three years. This last May 1, he left to begin his own business, Vanderberg Clean.
He said, "Currently, our business is focused on business janitorial and service cleaning, and we service dental clinics, car dealerships, and financial industry offices. We also do stripping and waxing of floors, and cleaning tile and grouts. We don't yet do carpeting, but hopefully will within the next year or so." The company now has nine part-time employees.
He said companies hiring a cleaning service can receive an efficient service for a fair price and not have to worry about hiring and managing an employee. Vanderberg has Institute of Inspection and Carpet Restoration (IICRC) certification, and his business uses Green Seal Certified products.
What does he like best about his business? "It's the relationships we build," he said. "
Website: vanderbergclean.com Telephone: 317-5665 or 507-345-8487.