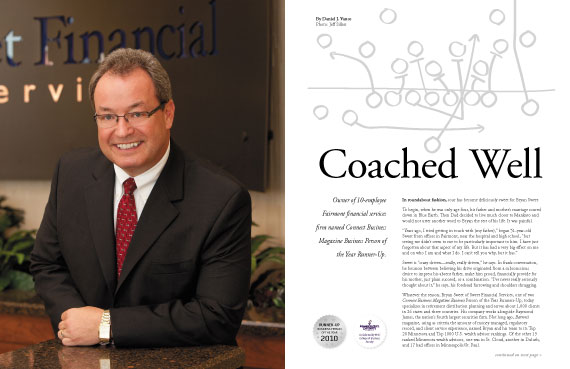 Business Person of the Year 2010 – Runner-Up
Owner of 10-employee Fairmont financial services firm named Connect Business Magazine Business Person of the Year Runner-Up.
In roundabout fashion, sour has become deliciously sweet for Bryan Sweet.
To begin, when he was only age four, his father and mother's marriage soured down in Blue Earth. Then Dad decided to live much closer to Mankato and would not utter another word to Bryan the rest of his life. It was painful.
"Years ago, I tried getting in touch with (my father)," began 51-year-old Sweet from offices in Fairmont, near the hospital and high school, "but seeing me didn't seem to me to be particularly important to him. I have just forgotten about that aspect of my life. But it has had a very big effect on me and on who I am and what I do. I can't tell you why, but it has."
Sweet is "crazy driven—really, really driven," he says. In frank conversation, he bounces between believing his drive originated from a subconscious desire to impress his absent father, make him proud, financially provide for his mother, just plain succeed, or a combination. "I've never really seriously thought about it," he says, his forehead furrowing and shoulders shrugging.
Whatever the reason, Bryan Sweet of Sweet Financial Services, one of two Connect Business Magazine Business Person of the Year Runners-Up, today specializes in retirement distribution planning and serves about 1,000 clients in 26 states and three countries. His company works alongside Raymond James, the nation's fourth largest securities firm. Not long ago, Barron's magazine, using as criteria the amount
of money managed, regulatory record, and client service experience, named Bryan and his team to its Top 20 Minnesota and Top 1000 U.S. wealth advisor rankings. Of the other 19 ranked Minnesota wealth advisors, one was in St. Cloud, another in Duluth, and 17 had offices in Minneapolis/St. Paul.
—–
Little Bryan and his newly single mother, Marilyn, moved post-divorce from Blue Earth to Fairmont, where she worked as the office manager of a local radio station to provide for her only child. "From my perspective," says Sweet, "I didn't think we didn't have any money. But I'm sure things were tight. I know my mom sacrificed so I could take advantage of virtually any opportunity I wanted to be part of."
Like most other kids, Sweet was able to attend class trips and high school sporting events, but he lacked a father to teach him the finer points of playing sports and other outdoor activities. Seeing his mother having to work hard instilled in him a desire to be able to financially help her. But he didn't lack for much because extended family members were always ready to mentor and support him. For example, Aunt Jean Yeager, former principal at schools in Delavan and Granada-Huntley, intrinsically understood the value of a college education and began urging Bryan to attend Gustavus Adolphus College in St. Peter. Uncle Roy Yeager owned Yeager Implement in Blue Earth, and he helped Bryan develop a strong work ethic.

Sweet says, "I used to spend summers with my grandmother down in Blue Earth (who taught him the right way to treat people). During the day, I'd go to (my uncle's) implement shop. If anyone was a good male role model for me, it was Roy. We spent good, quality time together. They even helped financially with my college expenses."

After graduating from Fairmont High in 1976, Sweet did attend college, but not Gustavus Adolphus. Instead, he and high school friend Jeff Schlomann became dorm-mates in Mankato and later shared an apartment while attending what would become Minnesota State University.


—–


From his sleek office building, 51-year-old Sweet reveals to Connect Business Magazine, "One reason I'm doing what I am today is because of my MSU advisor and professor, Dick Ford. On the side, he was a district 
manager for an insurance company. I was planning on going into sales 
as a career, so during my senior year he suggested I work for him 
selling life insurance. If nothing else, it would look good on my 
resume, he said." Sweet graduated from MSU in 1980 with a business administration degree.

Ford mentored Sweet in all aspects of business etiquette, from majors 
to minors, including how best to treat clients, even the right way to 
knot a tie. Sweet worked for Ford at National Life of Vermont before 
leaving two years later to work for a Fairmont company. In time, in 1985, he married a hairstylist, Mary Beth, just two months before his 
mother remarried.

Three years later, Sweet began his business. "I came to a point 
where I began believing I always had to do what was in my clients' 
best interest," he says. "So from my perspective, I felt I needed to 
be totally independent rather than work for a specific company, where 
you could only sell those products and services a specific company 
had. Because of training and experience, I knew other things out 
there were better for my clients. Mainly because of that, I 
decided to go completely on my own."

It took a big leap of faith to open a two-room office above the 
old public utilities building in Fairmont. He started with one 
employee, mainly selling life and health insurance. Soon, in 1989, he had begun an independent contractor relationship with Raymond James. The 
business grew gradually over the years until 1998, when Sweet's life 
and career suddenly underwent a paradigm shift.


—–
Again, Sweet was raised without a father. Deep down, this void he 
felt always seemed to be drawing him into one-on-one relationships 
with gifted male mentors—such as Dick Ford and Roy Yeager. Then in 
October 1998, he encountered another, Chicago-based Dan Sullivan.

"The biggest change in my career came when I joined a program called 
"The Strategic Coach," says Sweet. "It's an individual coaching program. 
Literally, Sullivan caused me to totally rethink what I do, how I do 
it, and why. It changed my thought processes. I totally changed my 
business plan and the way I do business inside and out."

Before 1998, Sweet, in part, also sold life and health insurance. The 
Strategic Coach taught him to stay with what he liked best and to 
leave what he liked least. He realized he enjoyed retirement 
distribution planning, so he began specializing in it. He also 
realized underwriting wasn't at all his cup of tea—so he promptly 
sold the insurance portion of his business. His company tag line 
became "Helping you live your retirement dreams."

"We saw a big gap in the industry here," he says. "We now help 
transition clients from accumulating money to helping them 
efficiently take that money to live the next 30 years—helping make 
sure they don't run out prior to their life expectancy. To me, this 
is challenging and rewarding. That is where we spend nearly all our 
time. Most of our clients are three to five years from retirement or 
they are retired."

He credits The Strategic Coach the most in helping the company 
achieve success. Now, he only does what he enjoys while utilizing his 
"unique abilities," which includes working with clients, being the 
company visionary, and creating new relationships to expand the 
client base. The company has grown to ten employees, nearly 1,000 clients, and has clients in 26 states and three countries. Sweet 
acknowledges that mutual funds, stocks, and other investment products 
to some extent are commodities—services just about any competitor can 
provide. But Sweet Financial Services differentiates itself by 
providing those services in a highly unique way.
He says, "My favorite quote is, 'Resolve to succeed. The greatest thing one can discover is that nothing is impossible.' We're committed to providing the ultimate client experience for our clients. We're passionate about succeeding in our efforts to be the best possible wealth managers—and in helping our clients reach their retirement dreams." 


—–


If alive today, Sigmund Freud might call the customer service 
experience Sweet helped design using the Strategic Coach as "anal." 
It's systematic and highly detailed. A satisfied client would 
probably call it highly organized, intuitive, and clear.
 Says Sweet, "Our goal is to deliver Ritz Carlton service with FedEx efficiency. It's service that people would expect in Minneapolis. I know what we offer is as good or better than what people can experience in Mankato or Minneapolis."
He begins an initial client meeting usually by not talking about 
money or investments, but rather learning the client's values and 
timeframes, and perhaps what may not have worked in their previous 
financial services relationship. The most important thing, he says, 
is finding out the client's dreams and aspirations. From that initial 
relationship, Sweet (or others) tailor the client's 
portfolio to fit their retirement goals. One way of assessing a client's confidence level has been Sweet's use of a "Retirement Success Stress 
Test." Some clients worry about a complete market meltdown, others 
about high inflation, others about a weak dollar. The Stress Test 
hashes over seven different economic scenarios that could occur, 
compares that to the client's portfolio, and helps the client adjust 
accordingly.

In addition, staff members spend a great deal of time among 
themselves discussing new ways to positively tweak the client 
experience. The Sweet system involves checklists with dozens of items 
each that must be followed in chronological order, and can include 
such items as exactly when to telephone a particular client for a 
certain need, what each staff member will say, and specific methods 
of communicating. In essence, the company has developed a repeatable, 
standardized customer service process while still developing deep, personal client relationships. Through The Strategic Coach, 
the company also has developed a five-step 
process called the "Freedom Solution," which involves money 
management, tax planning, and estate planning.

"Attention to detail is one defining component of Sweet Financial—that, and 
our being proactive," says Sweet. "We like talking about good and bad 
experiences and what we can do to make sure they are all good 
experiences. That's the reason for our checklists. We want to make 
sure we don't drop the ball. We're concentrated on doing 
what's best for the client. We cherish old-fashioned values like honesty, integrity, commitment to our community, but use state-of-the-art technology to keep our clients' portfolios on track—and keep our clients informed."

Sweet indicates that clients rarely ask about their rate of return—"very, 
very rare," he says. That's because by that point he and they have 
reached a comfort level in terms of his knowing goals and objectives, 
and their confidence in Sweet in carrying through to completion a 
shared plan.


——


Since Sweet deals only with what he enjoys, others must fill in the 
gaps. Though he has a word in the final decision, Sherri Krogmann 
does most of the hiring. "The first determination of whom we hire is 
they must be a genuinely nice person that cares about people," Sweet 
says. "Then we look to see if they are organized and detailed-oriented. We can teach the system, but we can't teach them how to be 
nice."

Krogmann and Sweet try matching a job candidate's personal strengths 
with specific job characteristics. To help them in doing this, they 
use the Kolbe Index, a test Sweet first heard of through The 
Strategic Coach. Once in, employees have the opportunity to 
benefit from personal coaching, too. Currently, Sweet himself is 
involved in two study groups and three coaching classes to improve 
his business acumen.

And people want to get "in." Says Sweet, "You have to reward good 
results. My name is on the door, but if not for my staff I could 
never have accomplished anything close to what we've accomplished. 
Every year we set some audacious goals, and whenever we accomplish the high-end ones, we like doing something for the staff. In 2005 and 
2007, we met those objectives and I took the staff and spouses on two 
different trips: one to an exclusive Mexican resort and the other was 
a Caribbean cruise."


——


Most of Sweet Financial Services' nearly 1,000 clients live within a 30-mile radius of Fairmont, though the firm does have clients in 26 states and 
three countries. Most new clients come from word-of-mouth advertising.
"We've gotten to the point where we only take on a limited number of 
new clients—and we do this for the benefit of our existing clients," 
says Sweet. "We want to be careful not to reduce the service standards for 
our existing clients. We don't take on everyone because not everyone 
fits. Our specialty is retirement distribution planning. Sometimes 
people are just looking for a stock idea or an alternative for a cash account. Since that is not really an ideal fit, we normally recommend 
another option or suggest they go to another investment company that 
can help them more."

Even though the firm has been taking on a limited number of new clients, don't believe for one minute Sweet will ever lose his drive to expand. Above all, he is a business perfectionist, and one day he will figure out a way to greatly expand while keeping his existing clients happy.

Perhaps hearing the echoes of his childhood, he says, "I still have that burning desire. I am driven to do better and to do the things we do more efficiently and effectively."
——
Hair Gallery
"My wife (Mary Beth) has been the most supportive person in this whole thing of building the business," says Sweet Financial Services Owner Bryan Sweet. "When first getting started, you work a lot of evenings and make a lot of calls. Mary Beth has never once said anything bad about my having to work evenings. It probably was helpful we didn't have any children. She has been so supportive."

After the Sweets married in 1985, Mary Beth went from working for a hairstylist to owning her own hair styling salon in Fairmont, the Hair Gallery. She sold the business in the late 1990s, yet for a while continued working for the new owners, her former employees. As for their never having children: "We both had businesses, were busy, and children just never happened," says Sweet."
Market Advice
"There has been a big shift the last ten months," says Sweet, discussing the U.S. stock market. "There have been net outflows from money market accounts and 
huge inflows into the bond market, which is not what you would think given the markets significant gains since March. Because of this, there is a huge amount of money on the sidelines, and, given the historic lows of interest rates of the marketplace, that potentially could fuel the stock market's future upside. People are 
not happy with the low interest rates. The jury is still out on whether that money goes back into the stock market. Maybe there is a new normal out there."
To help reduce volatility, Sweet Financial Services has implemented an "Advance and Protect" strategy that utilizes unique asset classes that run counter to stocks in a down market.
Client Base
Who are some of his clients? Says Sweet, "We work very well with business owners and have been very fortunate to get to watch some great success stories unfold."
For one, Tom Torgerson owns/manages a number of hotels in Minnesota, including the New Ulm Holiday Inn and four properties in Fairmont. Tom and State Sen. Julie Rosen of Fairmont have been clients forever, he says. 
Other relationships of over 20 years have been Mike Drummer of Drummer 
Construction in Mankato and Jeff Greischar of TECH Builders.

Says Sweet, " We try to visit all our clients whenever possible, even 
those out of state. When I'm traveling for business or personal reasons, and I'm 
anywhere remotely close to a client, I will try to see them. 
We also do a lot of web conferencing to stay in touch."