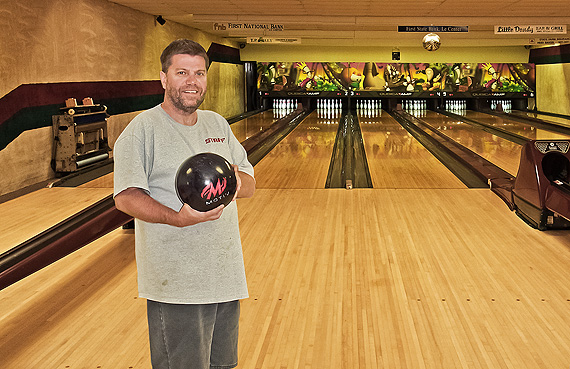 Photo: Art Sidner
Le Center: Le Center Lanes
Co-owner Ron Long and two partners re-opened Le Center Lanes on June 15 after the facility had been dormant four years. Long has been joined at the hip his entire life with the sport of bowling. In fact, for eight years, he was a Professional Bowlers Association tour regular, even earning at one Michigan tournament $25,000, his best payday.
"I've been in the bowling business since 1974, when I was setting pins in high school at Stadium Bowl in Bloomington," said 53-year-old Long in a telephone interview. "I was bowling in junior leagues and averaging 180 as a ten-year-old. I worked for Bill Baden at Stadium Bowl and later at Chanhassen Bowl as a mechanic/manager. It was Bill who wanted me to turn pro."
If not for the traveling required of a professional, Bill would be on tour today. He has retained his Professional Bowlers Association membership and still participates in the annual Milwaukee Open. After leaving tour in 2000, he became a mechanical troubleshooter for AMF, which owns a chain of bowling centers.
He said, "I was attracted to (co-owning) Le Center Lanes because of its history, and I knew this would be a gold mine once I got it back to where it should be. We started working on it April 1 and opened June 15." While a professional bowler, he co-owned at various times other bowling centers.
Six-lane Le Center Lanes offers a full food menu, including pizza and beer, and has moonlight bowling on select Fridays and Saturdays, junior leagues, adult leagues, and leagues for darts and pool. He said, "I'm in this for the long haul to completely remodel this facility. We have already redone the flooring and now we're working on the ceiling. Within the next year, it should be totally remodeled to where it should be."
Le Center Lanes
Telephone: 507-357-4063
Web: lecenterbowl.com
Hours: Sun-Th 10 a.m. to midnight, Fr-Sat 10 a.m. to 1 a.m.