Ballman Roofing & Coating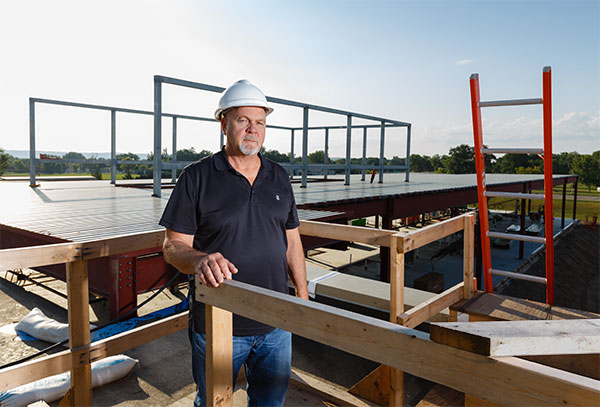 Photo: Kris Kathmann
They've Got it Covered
Mark Ballman strives to create a culture of appreciation for his employees and shared passion for the roofing trade.
The materials and tools needed to build or replace a roof may seem basic: an underlayment, shingles, roofing nails, a nail gun and roofing knife. But it's the tools you can't see that Mark Ballman really believes makes a difference in his company.
"The typical roofer has had some type of tough situation in their life," says Ballman. "But most have got a good soul and a big heart. I learned this years ago and now I hire accordingly. In interviews I ask feeling-finding questions. If I ask for an answer and if it gets answered with feelings and anything from the heart – I know they will be a good fit. Anyone working for Ballman Roofing needs to be caring and have feelings for what they do and they have to care about their trade."
It's a company culture that has worked for Ballman Roofing and Coating LLC. Over the last decade he has grown from four or so employees in his home office in St. Peter to almost 35 total employees from a 4,600sf facility in Kasota.
"I had spent many years in the industry working for others and learned a lot," he explains. "When I decided to go on my own, the adventure started with a commercial flat roof coating project at the Friendship Church in Prior Lake, Minnesota. A board member there recommended us because of the way they were taken care of by me previously. They advanced money for the coating material and to help with other expenses such as labor. I hired four men to help with the project. I also purchased a truck from a friend to get us started. And just like that Ballman Roofing and Coating had its first project. Four weeks later we had our first project completed."
That was in 2008, now Ballman Roofing and Coating serves the commercial and residential market throughout the entire Midwest. The company has had a hand in numerous bigger projects over the years. For example, a few years ago Ballman worked on the Walmart Distribution Center in Mankato. His success, he'll tell you, comes from the employees he's come to rely on.
"We have never had much of a turnover of field people. I used to go out in the field and work side by side with them up until about 4 years ago – I can't keep up with them anymore," he reflects. "I feel very fortunate to have the guys we have – all have big hearts and work awfully hard. Being on a hot roof when it is 90 degrees out all day. That's tough and the work is hard. They put in many 10 to 12 hour days, go home and are back the next morning and heading down the road many times at 5:30 a.m. They never hear it enough but we all appreciate their work efforts. Never enough at-a-boy from us."
He has built the culture of the company around three key values: act like a service company not a construction company, treat others the way you want to be treated, and go above and beyond on every job. All are ideals he says he got from parents and grandparents.
"I grew up Catholic on the family farm in Cleveland, Minnesota with eight brothers and two sisters. Working on a farm wasn't easy and it was a lot of hard work every single day but with as many siblings as I had we made a great team. I would not trade it for anything in the world. We grew up with great grandparents and parents who taught us great work ethics and morals," says Ballman.
"There were times when I would tell my dad about an idea I had or something I wanted to do and if he didn't like it he would say 'like fun you are' as he walked away, not really allowing a counter argument. It wasn't until years later I realized he was right. Sometimes the best answer is no. He sometimes made me sit back and figure things out."
And that's how he has lived his life and runs his business: he just figures it out.
"After high school I went directly into the work force and did not do any college! I always thought for what I really wanted to pursue that college was going to teach the same exact thing to every student in the classes. Therefore everyone knows the same thing. Then when you compete for a job you have no advantage over the other person. Growing up on the farm, there were times if something broke you had to think of a way to fix it. Sometimes that took thinking outside the box. Believe me when I say I am positive my dad said to me "where in the world did you come up with some of these ideas!!!" Also believe me it wasn't flattering in any way. I had a few one-on-ones with my mother about this. She told me straight up that I was different from my brothers and sisters. She told me 'Keep thinking outside the box. Always keep thinking of great ideas for things.'"
One example of that "outside the box" thinking came three years ago when he diversified and added residential roofing to his services.
"We started a residential division called Ballman Exteriors. It has taken us a few years to find the right person to run it and we finally did. We hired an experienced guy as our head residential manager and have had nothing but great results. He handles our siding, shingling, windows, and any bids that have to do with the residential side of things. We feel being diversified helps open other doors and opportunities for us to grow financially stable in years where the economy isn't so friendly. The economy can't control a hail storm!"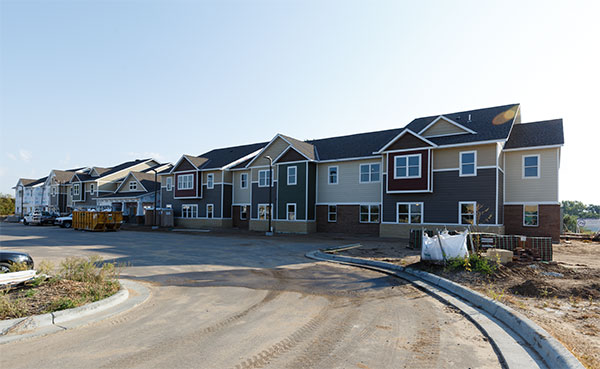 The growth of his company has been explosive, but it has not come without its challenges.
"The main challenge, for any growing company, is to try to grow a business and deal with a finance system where we do work and at times don't get paid for 30-60 days. We have ordered hundreds of thousands of dollars in materials and paid for all labor to solve someone's problem, but they don't feel they need to pay for a long amount of time. Therefore it makes it hard to pay bills on time. I guess as they say, it's always about doing what's best for the business."
His passion for his employees is evident, but he plans to take it that extra mile.
"In June of 2019, my wife Barb and I are setting up an offering of a percentage of the company to be employee-owned. I feel if our team is building the company, then they should own some of it!! If they own it, they will profit from it and our customers will always be better taken care of. Ballman Roofing customers are the employees' customers. I think we all know of an employee-owned business and can agree that when it's employee owned all the employees are getting 100% of everything that company gets. If you prove to be a leader and give a better product, you don't need to be the low guy on the block! You need to consistently prove to the customer that you care and that you will always take care of them."
Ballman's nature for wanting to see the good in all people though, has proven to be a challenge at times.
"Over the years of building Ballman Roofing I have had good people at times and sometimes not good people. The hardest thing for me is when one of our people or a subcontractor does not deliver. It is my biggest pet peeve!! If something doesn't go as planned and someone drops the ball and thinks it's alright to walk away, I'll always try to reach out to them, so we are able to sit down and go back to see where things went wrong. Even if this costs us money. All we have is our name! When I started the business, I was trying to think of a name. It came down to MY NAME, and my goal is to protect my name. I share my last name with my brothers and sisters so having that to protect as well is very important to me. The best way to protect the name is by having all the employees protect it with me and own a part of it! My end-run dream for all who have joined the Ballman Roofing family is for them to have an employee-owned company. They're the ones that will end up with this after my dream is gone."
That's why continuous training and development of his employees is also important to Ballman and his bottom line.
"Commercial flat roofing has so many intricacies and details. Most people don't understand what all goes into a roof system," he explains. "The ongoing education roofers go through is more than most trades."
He knows after the next decade goes by, Ballman Roofing and Coating will look much different than now, employee-owned for one, in a new location for another. But he hopes the culture will still be the same.
"I wonder at times like my dad use to say, 'What were you thinking! Where do you come up with some of these ideas.' I guess my answer to him would be if he were still around, that I was raised with morals and ethics. I grew up with a solid family life. Even being the black sheep, there were enough brothers and sisters to keep me in line and had enough time alone to dream. My question to him should be with 11 kids, what were you thinking?!? Maybe that was his dream!!"
---
Family First
"I got married in 1980 to my wife Barb. Together we had 2 daughters, Rachel and Ann. Rachel now lives in Wisconsin with her three kids and Ann lives in Prior lake with her 3 boys. My first sales position I traveled to 14 different states in just about 3 years while Barb worked at the St. Peter state hospital. She retired a little over 3 years ago."
Life's Greatest Lesson
"An element that has been big in my life is the day I was offered a sales position with a company. I stopped at my grandparents' home to visit and I told them I was offered the sales position and had accepted it. I never wanted to be a salesman growing up so this was a shock to myself as well. But my grandmother jumped up off her chair and congratulated me with a huge hug and kiss on the cheek. I can't even begin to describe how in shock I was. First off, I had never seen her move so fast in my life. You would've thought someone was behind her with a hat pin. Grandpa then started talking about salesmen stopping by the farm to sell them farm machinery. He told me that the one thing a man never does is lie to another man! He explained if you lie and the other man knows the answer and knows you're lying, he will never believe another word that comes out of your mouth for the rest of his life. He said he knew a few who lied to him in the 50 years he's known them, and he would listen to that person talk but would never believe a word they said. He looked me straight in the eyes and asked me if I understood how important this lesson he was offering was, and I did. From that day on many, many, many times I have told people of what he taught me and the importance of it and I couldn't be more thankful of what I learned that day early on in life."
Takin' Care of Business
"If I am being interviewed to be hired, I let them know I do everything, so we have a long-term relationship. If there is an issue, any issue, they need to come to me and let me know, so I am able to fix it. I did not start the company for a
financial gain. I started it to do what I love and take care of the people I love and that includes my employees. I take care of people when they have problems. I didn't start this company to work alone. You do what's right. It's never about just the money. If I take care of business, business will always walk through that front door!"
All In a Day's Work
"When I first started Ballman Roofing my typical day would start at about 3:30-4 a.m. I would wake up with my mind racing at full speed. I would do the bids, pay bills, work on work orders, put together folders, etc. I did this for about 6 years in my in-home office. Now with more help in the office I am able to come in at about 6-7 a.m. I still wake up at about 5 a.m. and have priorities in my head that I send myself emails and reminders to call people and other tasks that need to be done. General follow ups with others to make sure things have been handled all around the business. Many times, when I have the feeling that looking at where the company was and the direction I would like to go I start planning the next plan of growth."
THE ESSENTIALS
Ballman Roofing & Coating LLC
45668 MN-22, Kasota, MN 56050
Phone:  507-519-1196
Website:  ballmanroofing.com