Winland Electronics, Inc.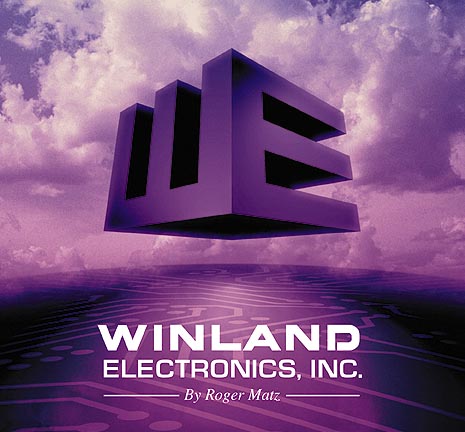 W. Kirk Hankins likes to say Winland Electronics, Inc. had three beginnings, one in 1972, another in 1984 and a third in 1995.
Today the Mankato company is recognized as one of Minnesota's fastest growing electronics manufacturers, guided by a master plan that many of its 125 employees had a hand in crafting. It's set impressive sales and profit records for three consecutive years, streaking ahead at 40 percent annually, and netting $856,000 on revenues of $18 million in 1998. Earnings per share tripled in that period and more money than ever is being spent on research and development, according to Hankins, who is chief executive officer and chairman of Winland's board.
The company designs, engineers and produces high quality electronic controls for about a dozen Original Equipment Manufacturers. It makes the electronic controls found in the popular Minn Kota electric trolling motors and controls for Scotsman ice machines commonly found in hotels and restaurants. Producing for others represents a shift from the days when Winland focused on marketing its own brand of environmental sensing devices. Although the company remains a leading supplier of proprietary products to security and industrial markets, these sales account for only about 10 percent of annual revenues.
Winland's strong growth continues in 1999, with first-quarter sales of $6.6 million running 50 percent ahead of the same period last year. Hankins attributes the sustained growth to "efforts that began several years ago to take control of, plan and effectively manage the inevitable changes that rapid growth produces." In the process, "we addressed endless questions and challenges, took inventory of our skills and resources and audited the quality and value of our products. We analyzed the marketplace today and attempted to pinpoint where it was going in the future."
This exercise in analysis and soul-searching "included every member of Winland's team," according to Hankins, and it resulted in a corporate vision, a mission, guiding principles and an employee-developed set of core ideologies that could be the basis for future success."
Hankins exhibits a definite shyness about taking responsibility for Winland's rapid forward movement. "In this company, there's a team approach to making decisions and I'm just one member of the team. When decisions need to be made in any area of our operation, the people who are most closely involved or affected are always included in the process," he said. "The credit for what's been happening really goes to a great number of people, not to any one individual."
Winland didn't become a high-tech company overnight, but evolved from a decidedly low-tech ancestor. Mankato barber Swen Farland formed the company in 1972 to manufacture toupees. (Farland and a partner, Mr. Winn, merged their surnames to christen the company as "Winland," according to Hankins.)
Like most entrepreneurs, Farland had a knack for recognizing opportunity. Farmers were starting to build confinement livestock systems in the 1970s and as Farland cut their hair, he listened to their complaints about losing turkeys, chickens or hogs because of power or equipment failures. "Farland teamed with Denny Siemer (who taught engineering at what is now South Central Technical College) and they designed an agricultural alarm system that would go off if there was a problem with temperature or equipment failure," Hankins said. "Farland would drive around the country on his days off and when he'd spot a confinement building, he'd stop and try to sell the farmer an alarm system. If he sold it, then they'd build it. They built them one at a time."
Winland's revenues plateaued at $230,000 for three consecutive years, producing a loss of $52,000 in 1983. That's when Hankins first encountered Winland. A native of Minneapolis, Hankins was dividing his time between teaching financial management courses at Minnesota State University and running a management consulting company he'd started. He and his wife had moved to Mankato from Southern California, where he'd spent 17 years in management positions in the aerospace industry. He'd been a Navy pilot as World War II was ending and earned a master's degree in accounting from the University of Southern California in Los Angeles.
While it's not unusual for California's life-style to drive some Midwesterners back home, Hankins' exit was a bit more dramatic and traumatic than most. "A car smashed through the front of our house and ended up in our bedroom, with me buried under the car and my wife pinned against a dresser," he said. In search of a "less stressful life-style," the couple migrated to Mankato.
After Hankins provided consulting services for Farland and Siemer, "they asked me to come in and run the company," Hankins said. He sized up Winland's potential and agreed, taking over early in 1984. He regards that as Winland's "second beginning."
Hankins first sold $150,000 worth of stock to family and friends, then took the company public and raised another $780,000 from stock. Soon Winland developed a new line of sensing devices for temperature, water and power. "Denny designed these and Swen tried to sell them, but it soon got beyond what he could do on his days off. So we began to grow the company, getting our products directly to dealers and distributors," Hankins said. Efforts shifted from agriculture to the security industry because it was more stable and Winland began doing contract production for other manufacturers.
In 1984, the struggling company operated downtown in the Free Press building, where its office doubled as a production facility. Ten years later it was still downtown, occupying about 8,000 square feet in that building, absorbing space whenever other tenants moved out. In that situation, with a focus on manufacturing sensing devices and electronic controls, Winland had sales of $5.4 and a net profit of 481,000 in 1994.
But Hankins wasn't satisfied, wanting the company "to grow more rapidly. We wanted to grow, be more profitable and create new jobs." He postulated that it would be more profitable to sell a package that included engineering and manufacturing services to Original Equipment Manufacturers. "The growth potential was greater in my judgment to go after that kind of business, at least in the short term, so we quit spending money on developing our own products. Instead, we went after the business of developing products for other people to their specifications and requirements." It's an approach that makes an engineering department a revenue source rather than a cost center. That shift in strategy, plus a decision to invest in the new building, gave Winland its "third beginning."
The building covers 53,000 sq. ft., about seven times larger than Winland occupied downtown. Even so, the company has gone through one major remodeling, converting a strip of production floor along one wall into offices for additional production engineers and technicians as well as a training/conference room. This spring, the company completed a 5,000 square foot addition for more offices.
The old downtown space rambled over four floors in the Free Press building and the first floor of the former JC Penney building. "I hate to use the word "rinky-dink," but our former facilities were pretty informal," Hankins said. The image conveyed didn't attract the kind of customers Hankins wanted. "When we moved to the new building (Feb. 1995), it opened up a whole new world for us. Companies would come and look at us and listen to us that wouldn't even consider us before," he said.
Besides improving Winland's image, Hankins wanted to create the infrastructure that would sustain the kind of growth he envisioned. The company's goal is to become a leading designer and manufacturer of custom electronic controls and assemblies in the Midwest by 2000. Toward that end, the production floor is lined with computer-controlled machines capable of producing single-sided, double-sided and multilayer printed circuit assemblies with machine-gun rapidity. Winland engineers write the software that drives these machines to operate at high speeds without sacrificing accuracy. Every finished product is tested and failure rates are minuscule. "People are funny about electronic products," Hankins smiles. "They expect them to work."
As part of its emphasis on quality, Winland takes extreme measures to prevent components from being zapped by static electricity, a nemesis in all electronics plants. "Static electricity will shorten the life of a unit," Hankins explained. "It will test fine but that component will fail much sooner and that causes the whole product to fail."
Buried 18 feet deep beneath support pillars in the plant are copper rods designed to attract and ground static electricity. Three layers of a waxlike antistatic material coat the tile floor, and beneath the floor copper wires bleed the static toward the buried rods. Antistatic smocks are mandatory for employees and visitors. Some workers have antistatic bands on their feet while others wear wrist straps plugged into grounding outlets via coiled, flexible cables like telephone cords.
The expanded infrastructure Winland created also includes a computerized materials management system, which automatically replenishes the supply of warehouse parts, triggering purchase orders to vendors as parts are consumed. Any employee can log a parts order from their workstation and have it delivered anywhere in the plant. The new system enabled Winland to increase its inventory turns on some parts by more than 400 percent. "Companies that excel in procurement and materials handling have a clear edge in acquiring new business, retaining customer partnerships and achieving financial objectives," Hankins said.
When Hankins tours potential customers through the plant, they encounter more than a first-rate building with impressive equipment. They meet knowledgeable production employees willing to interact with visitors. "Marketing is part of everybody's job, including those on the production floor," Hankins said. "We have a lot of skilled, enthusiastic people. This building and this sophisticated equipment are worth nothing without our people. They're impressive."
Hankins says all three the building, equipment and people are needed to create the kind of confidence required before an Original Equipment Manufacturer will assign its design and engineering functions to Winland. "Referrals from our present customers and suppliers also help attract new business," he added. "We must be doing something right because we've never lost an OEM customer except for one that went bankrupt."
That bankruptcy provided one of Winland's few setbacks in recent years. Before that company went bankrupt, it placed a large order for electronic controls on a new consumer product, a two-loaf breadmaker, in 1994. Winland moved into its new building in 1995, expecting a good volume of reorders. "We made the decision to build expecting reorders, but that didn't happen. We lost $150,000 (on sales of $5.8 million) the year we moved because of the huge increase in fixed costs without the anticipated volume," Hankins said. "The only solution was to go out and get more business."
By 1996, Winland moved back into the black, netting $264,000 on sales of $8.3 million. Key factors were orders from two new customers, Select Comfort Corp. of Minneapolis and PeopleNet Communications Corp. of Chaska. Select Comfort makes air beds for the consumer market, with Winland supplying the controls. For PeopleNet, Winland provides a mobile communications/tracking system which employs both the Internet and Global Positioning Satellites to help trucking firms monitor the exact locations of their vehicles and stay in contact with their drivers.
By all measures, Winland's efforts to secure design, engineering and production contracts from OEMs has been a marked success, dramatically strengthening sales and profitability. To enhance its ability to serve these customers, Hankins said Winland is making major investments in research and development, "trying to stay ahead of the technology curve."
Hankins sees immense potential for the company as a full-service contract manufacturer. In 1996, full-service companies took 6 percent of a $31 billion global contract manufacturing market. That market is expected to more than triple to $101 billion by 2001, with an estimated 17 percent going to full-service firms. "The continued trend toward corporate downsizing has resulted in more companies looking to outside sources for assistance with their electronic design and manufacturing needs," he said.
At the same time, Winland "can now afford to fund more research and development to further diversify its own line of products," he said. "We're going to stay in the niche we're in but we want to market a new line of proprietary products that incorporate emerging technologies with high sales and margin potential," Hankins said.
Becoming An Employer Of First-Choice
Despite Southern Minnesota's chronic labor shortage, rapidly growing Winland Electronics, Inc. in Mankato hasn't been hurt. "We have almost no turnover because we've become known as a good place to work," said W. Kirk Hankins, chief executive officer and chairman of Winland's board.
When the company moved into its mammoth new plant in 1995, it had two people in engineering. Now it has 17 plus six in production engineering, talent acquired by aggressively recruiting professionals who enjoy living in smaller towns like Mankato. "Good engineers are never unemployed. We have to go after them," smiled Hankins.
Winland offers what Hankins calls a "robust benefits package" which includes a 401(k) retirement plan, stock option plan for management personnel, flexible benefits, competitive medical and dental coverage, long-term disability and life insurances and an employee stock purchase plan. It also provides education programs on such general topics as leadership, growth strategy and quality systems and specific job skills training such as soldering, computer software applications and electronic assembly techniques.
"Our employees know they are valued," Hankins said. "We don't just say the word, we live it. If there is a problem on the production floor, we ask them for ideas because the people who are working with it are the best-qualified to come up with solutions. They know they're valued because we're asking their opinions and help and they're proud to contribute to a solution."
"A very friendly atmosphere" exists throughout the company, Hankins said, adding that employees are on a first-name basis with management. "They know that any time they want to come and talk to me or Lorin or any other member of management, they just have to walk in. They're welcome." (Lorin is Lorin Krueger, president and CEO. Krueger, elevated to president in 1998 from senior vice-president of operations, was one of two people employed at Winland when Hankins took over in 1984.)
"We hire some employees who've worked under an old style of management or a military command structure," Hankins said. "We get them out of that train of thought rather quickly. We don't give orders around here."
Hankins is a firm and somewhat humble believer in the need for education. "I have never grown a company from two employees and $230,000 in sales to $18 million, so all of us have to learn," he said. All new Winland employees go through a 16-hour course "on personality profiling, evaluating your strengths and weaknesses, understanding the differences between people," Hankins said. "It's the very same course whether the new employee is an engineer or a custodian. You can't change your personality, but you can modify it, and people tend to do that when they understand it."
One key lesson is that different personalities are just different, not better or worse, according to Hankins. "Understanding those differences helps people work better together. I'm a strong 'D,' a 'let's charge, let's go' kind of person. That's my whole being. People who work with me make allowances for that and humor me out of it sometimes, slow me down."
Hankins shows little sign of slowing down, even though he's 71. "I've told the board they can count on me for five more years. I'd rather do this than anything else on earth. It's exciting to make this happen, although no one person makes this happen."
This Hot Small Cap Generating Some Heat
The trade press and other industry-watchers are beginning to notice Winland Electronics, Inc., giving the Mankato company some prestigious recognition. Winland officials hope potential investors are also paying attention.
Winland set impressive sales and profit records for the past three years and tripled its earnings per share during the same time frame. So far in 1999, it's ahead of the first-quarter pace which set a record in 1998. But Winland stock has remained relatively static and stable over the years. It sold for $2.50 when W. Kirk Hankins took the company public 15 years ago in 1984. This year it's hovered at an average of $3.25, with a price-to-earnings ratio of 8.5.
Hankins, who is chief executive officer and board chairman at Winland, admits he's "really disappointed in the performance of our shares." So is his son, Kirk P. Hankins, who has been with the company for 16 years and now is vice president of sales and marketing.
"Our historical performance is good and it's been really exciting the last three years," said the younger Hankins. "We think that with significant further growth, we'll be able to attract the attention of fund managers and analysts at larger brokerage firms."
The stock had been an over-the-counter offering until 1995 when it began trading on the Nasdaq Small Cap Market under the symbol WLET. Noting that the market can be "trendy," the younger Hankins said, "maybe small caps will become hot. The volume of trading is going up and we're getting more telephone calls about it. We've really souped up our web site and we're getting about 200 hits a day."
Meanwhile the father and son appreciate the recognition earned by Winland in the past few months. In March, Winland was one of three finalists for "Minnesota Technology Company of the Year," an award sponsored by Minnesota Technology, Inc., together with Medtronic, Honeywell, McGladrey and Pullen and Minnesota Technology magazine. A month later, Corporate Report magazine identified Winland as Minnesota's 23rd fastest growing public company during the period of 1993-98. Winland's ranking was based on its 35.5 per cent annualized growth rate during those five years.
Late last year, Winland turned up on two other impressive lists. In September, the company was named to Deloitte and Touche's "Minnesota Fast 50," a ranking of the state's 50 fastest-growing technology companies based on the non-compounded percentage of growth in revenues from 1993-97.
Two months later, IW Growing Companies, an edition of Industry Week magazine, put Winland in the inaugural class of the "IW Growing Companies 25, America's Most Successful Small Manufacturers." Industry Week is the leading management magazine for small to mid-sized manufacturers, according to the Winland executives.
Gathering Up Core Beliefs
In too many companies, labor and management seem to speak different languages. They coexist in a workplace tainted by misperceptions, polluted by misunderstandings. That's what makes a 1997 project at Winland Electronics, Inc., so interesting, because it reflected a climate of understanding and shared perceptions. In attempting to define the Mankato company's core ideologies, management asked employees to nominate five people from their ranks who best represented their perception of Winland.
These five were then asked to write down what they regarded as Winland's core ideologies, which are the stories, historical records and legends that create a word picture of an organization. Then a consultant asked Winland's top two executives, W. Kirk Hankins and Lorin Krueger, to make their own list.
When a consultant compared them, Hankins said "they were all the same. Employees and management see Winland the same way. The basic concepts are all the same." The consultant then paraphrased and summarized the ideologies for publication in an employee pamphlet.
Here, somewhat condensed, are the 11 core ideologies:
1. The organization demonstrates a positive, aggressive, can-do persistence to do well.
2. Everyone works in superior working conditions.
3. Customers believe that Winland designs, engineers and produces results that benefit them specifically.
4. People are valued, people listen to each other and loyalty exists.
5. An outstanding benefits package provides for employee economic security.
6. Pride is demonstrated everywhere in the organization.
7. Recognition occurs for quality performance.
8. The company is innovative.
9. Reasonable, well-researched risks are common.
10. There is significant emphasis on the protection of stockholder investment.
11. Education and promotion opportunities are always available to those who choose to pursue them. People are rewarded who desire to learn and grow.
©1999 Connect Business Magazine