Dennis Miller – Runner-Up – 2006 Business Person Of The Year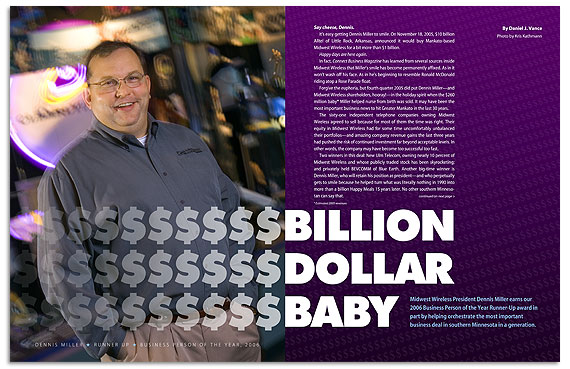 Midwest Wireless President Dennis Miller earns our 2006 Business Person of the Year Runner-Up award in part by helping orchestrate the most important business deal in southern Minnesota in a generation.
Photo by Kris Kathmann
Say cheese, Dennis.
It's easy getting Dennis Miller to smile. On November 18, 2005, $10 billion Alltel of Little Rock, Arkansas, announced it would buy Mankato-based Midwest Wireless for a bit more than $1 billion.
Happy days are here again.
In fact, Connect Business Magazine has learned from several sources inside Midwest Wireless that Miller's smile has become permanently affixed. As in it won't wash off his face. As in he's beginning to resemble Ronald McDonald riding atop a Rose Parade float.
Forgive the euphoria, but fourth quarter 2005 did put Dennis Miller—and Midwest Wireless shareholders, hooray!—in the holiday spirit when the $260 million baby* Miller helped nurse from birth was sold. It may have been the most important business news to hit Greater Mankato in the last 30 years.
The sixty-one independent telephone companies owning Midwest Wireless agreed to sell because for most of them the time was right. Their equity in Midwest Wireless had for some time uncomfortably unbalanced their portfolios—and amazing company revenue gains the last three years had pushed the risk of continued investment far beyond acceptable levels. In other words, the company may have become too successful too fast.
Two winners in this deal: New Ulm Telecom, owning nearly 10 percent of Midwest Wireless and whose publicly traded stock has been skyrocketing; and privately held BEVCOMM of Blue Earth. Another big-time winner is Dennis Miller, who will retain his position as president—and who perpetually gets to smile because he helped turn what was literally nothing in 1990 into more than a billion Happy Meals 15 years later. No other southern Minnesotan can say that.
You could call Dennis Miller the boy next door who made it big—in fact, he was the boy-next-door to a great many people before making it big. Climbing the corporate ladder for Cargill, Miller's father in the '60s often hopped to bigger and better grain elevators and town-to-town. Dennis had lots of neighbors. Finally in 1972, the elder Miller reached rural Ellendale Minn. and its plump grain elevator, he became satisfied, and it would become Dennis' hometown.
"I'm a product of Ellendale-Geneva High class of '77—good god, that was a long time ago,' said Miller while being interviewed in the "Frank Lloyd Wright" meeting room inside the tony headquarters of Midwest Wireless in Mankato. This crisp, dressed-to-kill building on Highway 14 seemed light years removed from the John Deere-fed grain elevators of Ellendale and its environs.
At this moment, in this room, Miller was but hours away from announcing Midwest Wireless' $1.07 billion sale to $10 billion Alltel of Little Rock, Arkansas.
"Ellendale is home for me," he said, not at all distracted by the impending sale. "I still have a number of very good friends from there. We all graduated together and still hang around with each other to relive the fun times. There's Wayne Jensen—we were roommates at MSU for four years. Chuck Hagen and his brother Randy were from New Richland. Then there is Steve Quam and also Scott Groth, the ex-mayor of Ellendale." Just the kid next door.
Back in the late '70s, Mankato to Miller was a "big town" where he could experience a "big-city" social atmosphere, which he eventually realized would equal in importance his "book" education.
"I wasn't entirely sure what I was going to be upon arriving at MSU," he said. "At first I thought I wanted to be a computer scientist because that was hot then. I realized I wasn't cut out for it after toiling hours trying to run this one program. Those were the days you went to the computer center in Armstrong and put your stack of cards into a machine. I seemed to be successful only at creating reams of error messages. One night, a friend told me that my program wasn't working because I'd been typing in the letter "O" instead of the number zero."
From stumbling through computer science, he learned he was really more a big-picture guy and that continuing down the detailed path of computer science would lead only to more mental self-flagellation and frustration. It was time to leave that major.
Quietly, he switched to business management and later graduated with an additional economics minor and an industrial relations concentration. Then came job interviews. "Motorola came on campus," he said. "Tom Pucci was the interviewer and we talked for half an hour. I knew Motorola had done work in the land mobile side, but then I said I knew them more as a TV manufacturing company. Tom Pucci told me they had sold the TV operations a couple years before. I thought, Well, I've made a fine impression here."
Miller for years had been fascinated with two-way radios and wireless connectivity. This also was the heyday of the CB radio. Working summers for the local farmers' cooperative while in college, Miller had enjoyed playing around with the two-way radios placed in the co-op sprayers and pickups.
Despite the interview blunder, he and Pucci really hit it off well. Two interviews later, Miller was hired to sell two-way radios and pagers to police and fire officials, plumbers, electrical contractors, and anyone else in southern Minnesota. He relocated to Owatonna, but within a year at only age 23, remarkably, he was promoted to a management position over people more than twice his age and he was working out of Rochester.
Miller said, "The Motorola of then was different. The industry has changed. What they did well then was educate and train people to think strategically—beyond just the next move, but the next three or four moves. I learned from them how to position products and services so they would be attractive on a larger scale. Motorola really drove home the notion of under-promise and over-perform, that is, be better than the customer expects and you will delight them. Along the way, I learned how to operate a business because Motorola was so very decentralized."
It was an environment in which he could thrive. So why leave?
After learning that Pucci was being promoted to a "very senior" position within Motorola in Chicago, Miller realized the Windy City ultimately could be his next and final pit stop, too. Due in part to the great time he had growing up in rural Ellendale, Miller unexpectedly decided to leave Motorola. By 1988 he had been married five years and wife Jackie was pregnant for the first time. Chicago wouldn't be the best place to raise a family, they decided. So Miller interviewed for an opening in La Crosse, which was close as he could get to his rural roots and still be in his industry. A job offer came, but he decided to sit on it until Jackie gave birth.
"The very morning Chris was born," said Miller, "I came home to the telephone ringing. I thought, Who could be calling? It was the recruiter for the company in Wisconsin asking if our child had been born. They were still interested."
Miller became a corporate sales manager for Northwest Telephone, which had operations in Milwaukee and northern Wisconsin. In 1989, the federal government began auctioning off cellular telephone licenses in rural areas. The president of Northwest Telephone personally asked Miller to move to Minnesota to fulfill a contract his company had to help a group of independent telephone companies building a wireless network. So Miller moved to Mankato and opened an office on Madison Avenue, and by 1995 that company would officially become known as Midwest Wireless, operating under the Cellular 2000 brand. The original group that had formed in 1990 included 40 telephone companies, and that has grown to 61 today.
Rehashing Midwest Wireless' Cinderella story of the last 15 years, Miller pointed to three key events or time periods that led to the present-day company being sold to Alltel for more than $1 billion.
"The first event was the network kickoff in 1990, which brought mobility in this area to the masses," he said. "We were flying in the face of conventional wisdom that said wireless service would work only in major metropolitan areas. But those of us growing up in rural America knew that it had pockets of population separated by miles and miles of road, and that people in their everyday lives moved from town to town. We knew that having the ability to make those miles productive would be extremely attractive to many customers.
"The second event happened in 1995 when we consolidated into Midwest Wireless at the same time the industry was migrating from first to second generation services, to digital. Suddenly a customer could have a portable phone in their pocket that didn't need charging every five or six hours. You could take a weekend trip and leave your charger at home. It had a hockey stick effect growth curve of adoption. This technology moved our society from calling things and cars to calling people. Consumers adopted this technology in droves.
"The last inflection point is right now with the combination of the Internet with mobility. For instance, in my pocket I have a pocket PC. It's just as robustly configured as what I have on my desk. From it, I can go anywhere in the country and my email can follow me. As a businessman, I can manipulate the attachments using Microsoft Word or Excel and send it back to the office. Consumers will be attracted to being able to extend the world of data for personal use, such as in updating a family social calendar on the spot."
With the horizon appearing so bright, and the industry entering another "inflection" point, the average Minnesotan might wonder why the owners of Midwest Wireless would even consider selling.
One reason, said Miller, was that company shareholders over the last 15 years had watched their investment wind through various "value cycles." In late 2005, wireless telephony had reached another cycle peak. Values were exceptionally high. If the company was ever going to be sold, this would be one opportune time. Another—and likely a more important reason—revolved around the gnawing feeling among many Midwest Wireless owners that the company had grown too much. For nearly all the shareholders, its gargantuan girth represented a majority of their total portfolio. Also, a new "inflection" point and industry change would require investment capital to take the company to the next level—capital the shareholders might be reticent to invest.
Ultimately, the decision to sell for Miller came down to maximizing shareholder value. The company had considered a myriad of options, including recapitalization, an initial public offering, and a full or partial sale of equity in the business. But the proposal from Alltel was best.
The $1 billion sale to Alltel conceivably could put Miller and others on the unemployment chopping block. But sounding a bit like Mad Magazine's Alfred E. Neuman—"What, me worry?"—Miller brushed off that sort of speculation post-haste. "I have no worries," he began. "First and foremost, the Midwest Wireless story is one of growth. I can tell you that every [potential buyer] we discussed our strategic alternatives with was extremely interested in taking this company to the next level, which meant keeping this team together and seeing what more we could do together in the long term, not less. That meant not getting rid of people and parts of the business, but enhancing and growing it."
Miller knew going into any deal that he could lose his position. But the temptation of steering the Midwest Wireless board toward a deal that would best benefit him personally never entered his mind. There was no conflict of interest, he said, "because I have obligations and responsibilities—not just personal and moral—but fiduciary. Maximization of shareholder value is what a chief executive officer is charged with. That's what I do everyday. I did it not just with the process of selling the company, but every time we introduce a new product or service. I have to evaluate whether it will detract or add to shareholder value."
So the great big grin gracing Miller's exuberant face these days seems to be genuinely genuine. Say cheese, Dennis. And so do the smiley faces slapped on 61 independent telephone ownership groups, including those at New Ulm Telecom and BEVCOMM.
Happy days are here again.
Work Hard,Open Doors
"Sometimes things are fortuitous when we fall into them. But sometimes it's not that at all. I give speeches now to young people telling what education can do for them. I say that an education prepares you for when hard work and education meet opportunity—and the result is success. You work hard, prepare yourself and yet you also have to recognize when you're in the right spot. You can't just walk through life blindly wondering what might happen. You need to look around and see the possibilities. You need to know when you're in a spot where that hard work and preparation meet opportunity." —Dennis Miller, Midwest Wireless.
Knuth Speaks Truth
"If I have a mentor, it's Ken Knuth. He just stepped down as Midwest Wireless board chair to transition to retirement. He is with a small telephone company in southwest Minnesota, Woodstock Telephone. Even more, Ken is president of a large engineering firm, Finley Engineering, which has operations throughout the Midwest. He is a visionary who can bring together consensus, capital, and can focus people on getting the job done. And he does it with such integrity. Ken is as honest as the day is long. He has an interesting way of expressing what he sees in the future so other people can capture his vision." —Dennis Miller.
More Than A President
Dennis Miller wasn't nominated for this magazine's Businessperson of the Year award solely due to his effective leading of Midwest Wireless. He also has been actively involved as a visionary in the Greater Mankato community. For one, he was on the committee that in late 2005 sent nearly a hundred Mankato leaders on a note-taking and discussion tour of Bellingham, Washington.
"This region is on the cusp of great things, even greater than what it has accomplished the last ten years," said Dennis Miller, Midwest Wireless president. "We have all the ingredients here. We have an education system second to none—from kindergarten to post secondary. We have a retail core that is such that you don't need to go to the metro area anymore. We're also only 90 minutes away from all you would ever want in a major metro area, such as the Ordway, Twins or Timberwolves."
He said the Bellingham trip "turned the batter" of ideas and the results one day will be "spectacular." Greater Mankato has the potential to become more of a major regional hub, much like St. Cloud and Rochester.
Miller easily could have mentioned "healthcare" as an existing ingredient in the region's mix for success. When considering relocation to Greater Mankato, potential employees of any company always ask about the area education and healthcare systems. The latter Miller can influence somewhat: he is the current vice chair of the ISJ-Mayo board.
He said, "The big picture for ISJ-Mayo is the creation of a robust regional medical center bringing elements of the Mayo Clinic we've never seen before to Greater Mankato, such as a cardiology center and helicopters to rescue rural cardiac patients. Bill Rupp of ISJ-Mayo is a master of quality services. His mantra is serving the customer in a high-quality fashion. He has brought a new level of sophistication that will drive the hospital to the next level."
In addition, Dennis Miller was heavily involved in the "Wireless Initiative," which brought wireless-related education enhancements to MSU and South Central College. Though the Initiative didn't result in a major wireless manufacturer siting a factory in Mankato, which was one of the original goals, Midwest Wireless has hired a great deal of wireless-educated employees from area colleges. More than a third of Midwest Wireless employees are MSU alumni, and many were hired as engineers and technicians trained in wireless.
Finally, Miller has been actively involved as the president of Technology Plus, the high-tech incubator and more run by Greater Mankato Economic Development. He envisions the center ultimately as a place where MSU graduates with a high-tech idea, for example, can have rich soil to watch their vision grow into reality before being bought out by a larger company. The jobs then will likely stay in Greater Mankato, Miller said, because the roots would be here—much like high-tech Firepond has stayed, even though it's owned now by a California-based company.
Old School Days
"I've also learned from Ken (Knuth) that you don't look over the hood of the car; you look over the horizon. If you look beyond the hood, all you see is pavement. If you look over the horizon, you will see where you might be able to go." —Dennis Miller.
Connect Fact:
Dennis Miller of Midwest Wireless received the Ernst and Young Entrepreneur of the Year 2005 award (service category) for Minnesota and the Dakotas.
© 2006 Connect Business Magazine. All Rights Reserved.