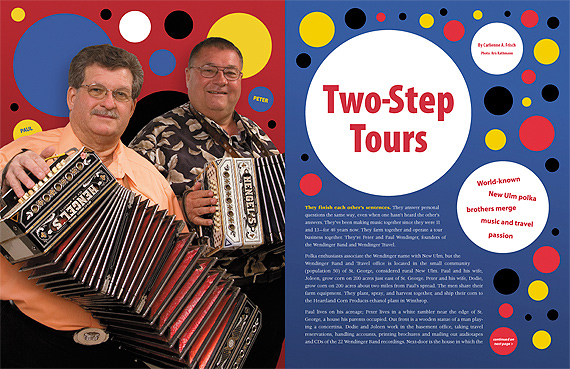 World-known New Ulm polka brothers merge music and travel passion.
Photo by Kris Kathmann
They finish each other's sentences. They answer personal questions the same way, even when one hasn't heard the other's answers. They've been making music together since they were 11 and 13—for 46 years now. They farm together and operate a tour business together. They're Peter and Paul Wendinger, founders of the Wendinger Band and Wendinger Travel.
Polka enthusiasts associate the Wendinger name with New Ulm, but the Wendinger Band and Travel office is located in the small community (population 50) of St. George, considered rural New Ulm. Paul and his wife, Joleen, grow corn on 200 acres just east of St. George. Peter and his wife, Dodie, grow corn on 200 acres about two miles from Paul's spread. The men share their farm equipment. They plant, spray, and harvest together, and ship their corn to the Heartland Corn Products ethanol plant in Winthrop.
Paul lives on his acreage; Peter lives in a white rambler near the edge of St. George, a house his parents occupied. Out front is a wooden statue of a man playing a concertina. Dodie and Joleen work in the basement office, taking travel reservations, handling accounts, printing brochures and mailing out audiotapes and CDs of the 22 Wendinger Band recordings. Next-door is the house in which the brothers grew up, now occupied by Peter's daughter and son-in-law. There's only one shadow on this picture of family harmony. Paul has health issues that will affect the future of the band and the travel business, but he does not wish to dwell on them.
"I'm going to keep on doing what I've been doing," Paul said. The day after he gave this interview, Paul and Joleen would lead a tour to four destinations in Mexico, including Copper Canyon. Only two days earlier, they had returned from a personal vacation to Florida. 
The Wendinger story begins on Polka Day 1962, when Peter and Paul's father bought their first concertinas—they were used—from a Christy Hengel display. The brothers pointed out that the same company manufacturing the Hengel concertina on the market now did not make these Hengel's concertinas. Christy Hengel made the first concertinas, but he called them "Hengel's."
Paul recalled, "Polka Day was a city festival in New Ulm, with six or eight local polka bands playing on semi-trailers in the evening. Our father took us there. He wasn't musically inclined, but he was very interested in music."
Peter said, "Our parents were good friends with several bands and followed them. My dad saw young people playing at Polka Days and he got it into his mind that if those young people could do it, his boys could do it."
Neither Peter nor Paul were interested in music classes in school, and do not, in fact, read notes. Concertina music is played by numbers, they explained.
"We took concertina lessons from three people our first year, including a piano teacher," said Paul. "The second year we took lessons from a gentleman in New Ulm named Johnny Helget. He taught us style."
Peter explained, "Different styles go with ethnic trends—Czech, Polish, German. The style in New Ulm is actually Bohemian style, a cross between German and Czech."
Just a few months after receiving their concertinas, the Wendinger brothers were asked to play at the wedding reception of neighbors George and Marian Altmann.
"We played for the experience," said Paul. "As a token of appreciation, we each were given a pair of black socks."
Peter added, predictably, "On our 25th and 40th anniversaries, and when we were inducted into the Minnesota Music Hall of Fame, (the Altmanns) gave us another pair of black socks—four pairs so far. I expect another pair on our 50th anniversary."
The brothers' first paid performance was for John Deere Day in Gibbon, Minn., on January 15, 1964. They played new concertinas received from Christy Hengel just three days earlier.
Peter said, "Our dad did his implement business in Gibbon and mentioned that we got our new concertinas. We got a $5 check for the job and framed it." He quickly retrieved a small, worn notebook in which that first job headed a hand-written list.
Paul said, "We've got every job written down, every year. Peter added, "We can look up how many jobs we played in 1964." Their list of that year's 25 performances includes a fish fry, a town celebration, birthday parties, a barn dance, the New Ulm Legion and a few bars, to which their father accompanied his underage sons.
"We got $5 and all the Coca-Cola we could drink," recalled Paul. "Most people didn't get much Coca-Cola in those days."
Their father didn't accompany them to quite all of the performances. Peter recalled one night when he drove himself and Paul to a job.
Peter said, "My dad had had a rough day on the farm, but we did not have a driver's license. Dad called the police chief, who was a friend, and asked if 'the boys' could drive to and from the Legion. The chief told my father what roads we should take that night.
"We added a drummer and a tuba player, all seasoned musicians," he added. "Maybe that's where we got our credibility. If someone had told me in high school that I could make a living playing, I'd have said they were crazy." Nevertheless, when aged 15 and 17, "the boys" added a banjo player to the band and made their first recording.
"The gentleman who had the record label in Bloomington, Minn., called it Lone Star," Paul said. "His name was C.B. Brown. One of our recordings on that was the 'New California Polka,' which we learned from Johnny Helget, and 'Our Mike Polka.'"
During high school years, Peter and Paul took turns playing concertina with the well-known Harold Loeffelmacher and the Six Fat Dutchmen band. This gave them an opportunity to gain confidence performing before large crowds. Another major opportunity occurred when one of the evening bands in New Ulm's Polka Days folded, and the Wendinger Band was asked to take its place.
"I wanted to go along on a Texas trip with those professionals, but my folks didn't want to take me out of school," said Peter. "Through the years, we played every other Friday night at the New Ulm Legion, and when I was 18, someone reported us. ("It was a jealousy thing," interjected Paul.) And we were told we were too young to be playing in a liquor store."
Although Peter was in the National Guard for six years after graduating from Cathedral High School in New Ulm—where Paul also graduated—and Paul worked for two years in a factory that made mobile homes, their making music together never stopped.
Neither Peter nor Paul are vocalists—several band members are. The performer who plays the keyboard, trumpet and trombone also sings. Two other singers play trumpet, trombone and tuba. The band includes vocalists known for their three-way harmony, and Paul's son Jon is the lead singer and one of two drummers.
"Once we got going it didn't take us long to get up to 100 performances a year," Peter said. "Then, for years we did 150-160." (In 1992, the year they had 180 engagements, they played for an entire month in Camp Snoopy for the grand opening of the Mall of America in Bloomington.) "Polka Days started up in five states, and we played all of them. That's how we got out of state. Now we play about 100 performances a year and take winters off from performing. We do more traveling because our clientele goes south in winter, and there are fewer ballrooms. We take time out for our grandkids."
A staple in the Wendingers' schedule is their radio show on KNUJ-AM, every Sunday from 12:30 to 1 p.m. When the brothers are out of town, they do wireless telephone interviews, rather than live ones, for the program. They never play live at the station; KNUJ has a library of their CDs.
The Wendingers' musical philosophy reflects down-home Midwestern niceness. "We enjoy entertaining with music, which is the universal language," Peter said. "We give any young person playing a concertina an opportunity when we can do that. That's how we got started."
Paul's advice to his son Jon when the young man joined the band was, "When playing for older people, just be nice."
Their reputation for polka playing grew, even though they never bought an advertisement. In 1975, a travel wholesaler in St. Charles, Illinois, contacted them with an idea for performing beyond the Midwest.
"We got tricked into the travel business," Peter said. "The wholesaler asked us if we were interested in playing a polka festival in March 1976 in Hawaii."
"You should have seen these two boys beam," Paul interjected.
Paul replied, "We didn't know at the time that we had to sell trips to get ourselves there. We had no clue what to do. We had a travel meeting with the gentleman from Illinois at the Gibbon Ballroom, and our mom baked cookies for it. I think people came just to see what it was about. We didn't know anything about advertising; we just had the brochures on the stage when we played."
Peter recalled, "We got 60 people to go with us, and we got on a free person for every 10 we sold. We took the band and our wives, and paid for some." Wendinger Travel was born.
"The following year we did a Caribbean Cruise," Paul said. "We were part of the entertainment, one of the polka bands." In 1980, the Wendingers went to Germany and have been back every year since, and some years twice.
Eventually, Wendinger Travel began receiving commissions as well as free trips from the Illinois company, Inter Trav Corporation, which arranges the overseas tours. The Wendingers have been to China, Japan, Taiwan, Australia, New Zealand and all the countries of Europe.
"There are no longer polka tours," Paul said. "Our players all have full-time jobs, but Peter and I take our instruments along and we may play at a punch reception at a hotel. The people enjoy having us entertain, but we focus more on the tour itself."
The Wendingers arrange domestic tours themselves and have a built-in market with their audiences. Peter and Paul act as tour guides but hire step-on tour guides in larger cities. They often arrange tours to a city where the Irish singer Daniel O'Donnell is performing because his show makes the trip an easy sell. His style and apparent niceness appeals to the Wendingers' audiences.
Paul said, "While I was on vacation in Florida, I got a phone call from Danny O'Donnell, asking after my health."
The niceness goes both ways. In the midst of the Connect Business Magazine interview, Peter took a call from a travel participant and trip promoter, then returned to the table wondering aloud whether he should check on medical care options for the caller's husband during a planned trip.
This year, in addition to the Mexico trip, the Wendingers have scheduled a spring trip to Washington, D.C., during cherry blossom time, with a side trip to Gettysburg and Lancaster County, Penn., two July excursions to Alaska, an August trip to the Canadian Rockies and Glacier National Park, an August trip to the Colorado Rockies, a September trip to Door County, Wis., and Mackinac Island and an autumn tour of New England, including Niagara Falls, Boston and New York City, and trips to Austria and Germany. Dodie Wendinger will escort one noteworthy trip in September, visiting Fatima, Lourdes and Barcelona. They now work with several tour promoters.
The Wendingers won't even talk about a typical day. Instead, they offer a description of a typical month, noting that during the winter they haul corn to the ethanol plant in Winthrop once a month.
"This year I took a family vacation, a cruise around Cape Horn, then was home for two days," Peter said. "Then I took part in a six-day bus tour to the Farm Show in Louisville, Kentucky, was home four days and had an eight-day tour to the Grand Canyon and Las Vegas. Paul was home, working the phones, taking reservations and organizing.
"In the spring and fall, when we're out on the farm, we stop in the office once in a while to get some business done, or we do it from the tractor with a cell phone," he said. "If we're both gone, call forwarding reaches our cell phones."
"The travel has gone from being a vacation to being a job," Peter said. "It's our main income, now. We're playing music for seniors, and seniors have the time and money for travel. The farm gives us the time to do it, and the travel puts the machinery in the sheds on the farm."
Special Recognition
Minnesota Ballroom Operators Old Tyme Band of the Year (1985)
Induction into the Polka Hall of Fame at the Polka Festival in Ironworld, Chisholm, Minn. (2005)
Induction into the World Concertina Congress (2005)
Induction into the Minnesota Music Hall of Fame (2007)
Peter & Paul Get Personal
Favorite school subjects:
Peter: math, geography and history
Paul: history and industrial arts
(Peter pointed out that an interest in history fits with travel.)
Family:
Peter: Wife Dodie, four children, six grandchildren. Daughter Sheila helps design travel brochures and has escorted a few tours.
Paul: Wife Joleen, five children, 13 grandchildren. Son Jon plays in the Wendinger Band and has escorted several tours.
Hobbies:
Peter: "I remember going fishing once when I was nine."
Paul: "Going to family functions and being with grandchildren."
What are you the most proud?
Peter: "That we got to play out there with the big names in the business."
Paul: "I'm proud of what we've accomplished in the music business, playing with people like Frankie Yankovic and Jimmy Sturr, who has won Grammys."
What possession do you value most?
Both: "Our concertinas."
What intangible do you value most?
Both: "Our families."
Peter added: "Our kids are cousins, but they're like brothers and sisters, maybe because Paul and I have always been so close."
If you didn't play music and travel, what would you be doing?
Both: "Farming."
C

hristy Hengel Concertinas

Born in Wanda, Minn., in 1923, Christian D. "Christy" Hengel was the great-grandson of two of Brown County's first settlers. He made about 300 concertinas in his lifetime, to which he affixed a shiny metal nameplate, noting the maker.

His interest in concertinas began in 1944, and 11 years later he began making his own concertinas after buying out a concertina factory in Chicago. He produced his first instruments in Sleepy Eye, then in Waseca, and later in New Ulm, employing friends and family members in his enterprise.

The National Endowment named Hengel a National Heritage Fellow for the Arts in 1987 for his contribution to American folk art. In 2000, the Minnesota Historical Society placed one of his concertinas in its museum in St. Paul. Christy Hengel concertinas sold new for about $750. His used instruments now sell for $10,000 to $12,000.

(Information about Christy Hengel from Music & Dance News, March/April '08.)