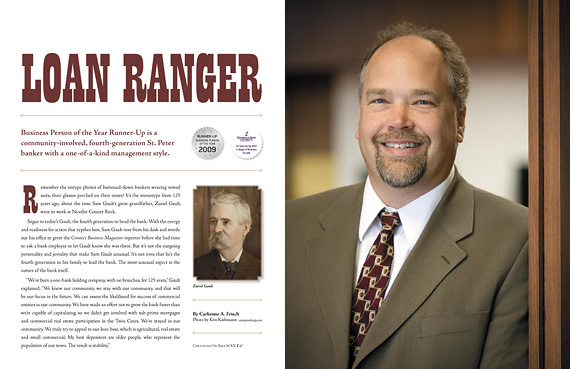 Business Person of the Year Runner-Up is a community-involved, fourth-generation St. Peter banker with a one-of-a-kind management style.
Photo by Kris Kathmann
Remember the tintype photos of buttoned-down bankers wearing vested suits, their glasses perched on their noses? It's the stereotype from 125 years ago, about the time Sam Gault's great-grandfather, Zuriel Gault, went to work at Nicollet County Bank.
Segue to today's Gault, the fourth generation to head the bank. With the energy and readiness for action that typifies him, Sam Gault rose from his desk and strode out his office to greet the Connect Business Magazine reporter before she had time to ask a bank employee to let Gault know she was there. But it's not the outgoing personality and joviality that make Sam Gault unusual. It's not even that he's the fourth generation in his family to lead the bank. The most unusual aspect is the nature of the bank itself.
"We've been a one-bank holding company, with no branches, for 125 years," Gault explained. "We know our community, we stay with our community, and that will be our focus in the future. We can assess the likelihood for success of commercial entities in our community. We have made an effort not to grow the bank faster than we're capable of capitalizing, so we didn't get involved with sub-prime mortgages and commercial real estate participation in the Twin Cities. We've stayed in our community. We truly try to appeal to our loan base, which is agricultural, real estate and small commercial. My best depositors are older people, who represent the population of our town. The result is stability."
Gault manages Nicollet County Bank with a philosophy of being there for the long term and focusing on maintaining client relationships. The bank has received a Five-Star Bank rating for 76 consecutive quarters for safety, soundness and performance from Bauer Financial Reports, which puts the bank in the top 10 percent of the nation's financial institutions.
Compared to the banking industry average on non-accrual
loans (loans on which payments are not being made), Nicollet
County Bank is, indeed, an example of stability, with 1.09 percent versus the 2.32 percent state average. But it's the bank's service and responsibility to the community that Gault promotes.
"We've moved to a society of cheap prices and no service, and as times have become bad, most people need good, sound advice," Gault said. "The financial sector is so important in providing that advice. You want a long-term relationship."
Gault has yet another distinction, this one personal. He's quite content that his name, Samuel Brian Gault, doesn't have quite the character of his father and great-grandfather's name, Zuriel Samuel Gault, nor his grandfather and uncle's moniker, Lorenzo James Gault. (Gault's uncle legally changed his name to James Lorenzo.)
Within a year of Nicollet County Bank being established as an accounts receivable for a grocery store in 1883, Zuriel Gault left a job as Nicollet County auditor and joined the bank as cashier. The plan was for him to become the bank president, which he did within the first year.
The bank has been in its present location on Third Street in St. Peter, just one block off the main drag of Minnesota Avenue, for a good portion of its history—45 years. Before that it was located on the corner of Nassau and Minnesota, where today there's an Erbert's & Gerbert's.
"You can see the name Nicollet County Bank embedded in the stone on the Minnesota Avenue side," Gault said. "Before that, the bank was on the first floor of the Nicollet Hotel. The original location was the Ben Franklin store location, now Contents."
Although Gault's comments make it obvious he's a hometown boy, he did leave St. Peter after graduating from high school. He planned to pursue a music education degree at the University of Wisconsin, River Falls.
"I love music and I wanted to pursue a music career, but I wasn't good enough to make a living as a sax player," Gault explained. "I was planning to be a music teacher, but kids don't enjoy the instruments as much as I do. Their parents push them, so I gave up that idea."
He still plays Big Band music on tenor, alto and soprano saxophones with The Echoes, practicing weekly and performing often. The band had a gig at Kato Ballroom for a Bandwagon TV show taping last November.
A baseball to his mouth while playing third base for Wisconsin-River Falls kept Gault from playing sax for a few months, sealing his change of focus. He returned to St. Peter and attended Mankato State University, now Minnesota State University, Mankato.
"My father offered me a car if I'd go to a state school because two of my siblings were in college the same time I was," Gault said.
While a student at MSU, Gault began his banking career in 1984 as a teller at the family-owned bank. He recalled, "My father made me work because my spending habits exceeded my income. I enjoyed being a teller, but I don't know if I balanced all the time. I wanted it to be fun. I worked with several elderly ladies, all gone now. They had such a different background from mine growing up. We had a lot of laughs. I miss those ladies."
The exuberant teller didn't miss a chance to play a few practical jokes on his favorite clients. One rainy day he stealthily, and repeatedly, sprayed eye saline solution toward the bank's skylight in the presence of one of the ladies. When the fluid responded to the force of gravity, she reported a leaking skylight to several bank officers before realizing the "leaks" were the result of her favorite teller's antics.
Gault graduated from MSU in 1987 with a Bachelor of Science degree in business, with majors in real estate, finance, insurance and marketing, and a minor in economics. In 2004, he graduated with honors from the Graduate School of Banking at Colorado in Boulder.
"I attended the Graduate School of Banking for three years," Gault said. "The schooling was a great source of information from fellow students and teachers, even to this day. The schooling was very similar to college except all classes were bank related. To my dismay, we had to write six major papers; but during a bank simulation, my group's bank soundly came out on top."
Once having his BS degree from MSU, Gault was promoted to the position of consumer loan officer. He explained, "My father wanted me to learn all the aspects of banking. I thought I knew a lot and found out I didn't know anything, all in one day. I still occasionally make a bad loan. When you grow up in a community it's hard to separate your heart from your mind. All the loans go through an officer to the loan committee, so I've never made big enough mistakes to affect the bank."
Bank administrative assistant Ann Menk has this story to tell about Gault's loan-making philosophy. She said, "I remember a time when Sam was a consumer loan officer. It was during a particularly cold snap in the winter, and a young father came into the bank for a loan to repair his furnace. His assets were such that he clearly did not qualify for a loan. Sam simply could not approve a loan for the man. Instead, Sam wrote the man a check from his own account to cover the expense. Sam later remarked to me that he probably would not see that money again. I told him, 'Maybe not, but it doesn't change the fact that you are a good man.'"
There also are the turned down loans Gault regrets not making. It's not only that he could have helped a neighbor grow into success, but also, he said, "because those individuals remind me quite often."
Under Gault's leadership, Nicollet County Bank has grown to $125 million in assets—from the $89 million when he became president in 1999—and has what Gault termed "30 wonderful employees" serving 2,500-3,000 bank clients. Today, he oversees the loan portfolios ("it's not my job to make loans, it's to manage the bank"), balancing the efficiencies of work with the happiness of the employees.
Gault's sister Lisa, who is the bank's senior vice president of real estate and marketing, is one of those employees. She said, "Sam has created a positive work environment where employees are proud to work. Each morning he greets each employee, walking down the teller line, through the lobby, then back to his office. On Secretary's Day (in April), he can be found outside, grilling steaks for the staff."
Gault's take on his human resources philosophy is simply that he's laid back. He explained, "I hire smart people and let them do their jobs. To be here tomorrow, I hire people to take care of work today. Some people have been here for 20 years. I deal with different people in different ways. My management style is talking with people."
Another aspect of Gault's management style is encouraging bank employees to participate in family and community activities.
"Community and family are the cornerstones of why I'm here," he said. "I believe employees should take the time to go to their kids' activities at school. I go to my kids' games, basketball for Spence, basketball and soccer for Ben and gymnastics for Scooter."
With a workweek that varies from 37 to 50 hours, Gault adds a variety of community activities to the schedule. Although he's no longer in the police reserves ("I got training, volunteered at high school dances and the Rock Bend Folk Festival, had no gun"), he's been an emergency medical technician for seven years ("I've been fortunate to be part of saving a few lives"). He has influenced at least one bank employee, Ann Menk, to follow in his EMT footsteps.
Menk explained, "Not only did Sam encourage me to take the courses to become an EMT as he is, he also allowed me to run ambulance calls during the workday. Service to the community is important to him and he believes that it is great public relations for the bank as well."
The value of Gault's involvement in the community is immeasurable, but he credits his sister with the nitty-gritty of bank promotion, saying, "Lisa does the advertising. She has the creative touch, a way of writing that I would never come close to achieving."
Gault also is active in seeking advice and information from the St. Peter and bank communities.
"I have a group I call 'my elders,' retired business people, smart people, who help me not recreate the wheel," Gault said. "There also are people within the bank whom I bounce off information. A group makes many decisions. With a wealth of information, we get a better decision. My greatest source of information is my father, Z. Samuel, who at 78 is still smart as a whip. And, yes, he still has a very sharp tongue."
Although Gault's youthful exuberance has remained a hallmark of his approach to life and work, his goals, of course, have changed as he has matured.
"When I was in my 20s, I was materialistic," he admitted. "I wanted to make a lot of money and hang with my friends. As I've gotten older, I've focused more on my family. I met my wife, Julie, in high school, but we didn't date then. I was the loud, obnoxious one. I met her again in my junior year of college and we dated for five years before we married in October 1989. She was a dental assistant and now is a full-time mom, the toughest job in the world, I think."
Although Nicollet County Bank has run counter to the trend of the death of family-owned banks, Gault won't hazard an opinion as to whether any of his children will follow in the family footsteps.
"I won't push my kids into anything specific," he said. "I push them into music, sports and education, but not which instrument, sport or area of study."
Only the future will tell if there's a fifth-generation bank president in the Gault family, but one thing's for sure—Gault has been enjoying the ride.
"I've had a wonderful life," he said. "I think I won the lottery in life. I've been very fortunate, partly because of this community. Without a healthy community I wouldn't have a good future. I live in a city that has good schools, cares about its future and works together."
ST. PETER'S GATES
In addition to involvement with banking organizations, such as the Minnesota Bankers Association and the Independent Bankers Association of America, Gault also takes an active leadership role in his community. He serves on the Economic Development Authority of 
St. Peter, the St. Peter Hospital Foundation board and the Shoreland Country Club board. He's active with the St. Peter Ambassadors, whose purpose is to help the community prosper, and Masonic Lodge #54. He's past president of the St. Peter Chamber of Commerce board of directors and St. Peter Rotary Club.
INSIDE GAULT'S VAULT
Position in birth family: Only boy in a family of four. Rebecca, older by six years, is a high school music teacher in Rochester. Lisa, older by three years, is the senior vice president of real estate and marketing at Nicollet County Bank. Shelley (Gault's twin) is a stay-at-home wife and mother. (Born after his twin, Gault was a surprise to the doctor, but not to his mother, who told him she had been much larger than in her previous pregnancies.)
Favorite class: "Mr. Harvey's mythology class because he made it fun. He was an excellent English teacher."
Least favorite class: "Physics in college. I really had to work at that one."
First jobs: Busboy at the Holiday House; life guard; teaching swimming lessons, which was "more fun than anything."
Hobbies: "I love cooking. I also golf, fish and enjoy archery with my son Ben, tennis with my son Spence, and downhill skiing."
Most valued intangible: Integrity.
Descriptive words (according to his sister Lisa): Compassionate, problem solver, fun.
Desired change: "I'd like more hair and less belly."
Alternative career: "I enjoy the outdoors. I'd do something with it, the DNR maybe."
NEXT GENERATION
Three children with wife, Julie.
Spencer, age 15, whom Gault describes as "a driven child, taller than I am," adding, "the person who makes the decisions is no longer the tallest, it's the heaviest. What we have in common is tennis."
Benjamin, age 12, who, Gault said, "is more like me and that scares me. We have similar types of humor and taste in movies."
Alexandra, age 8, nicknamed Scooter: "She likes to cook with Dad and make chocolate chip cookies because I can't play dolls correctly," said Gault.