Railway Bar & Grill, The Splendid Nest, European Antiques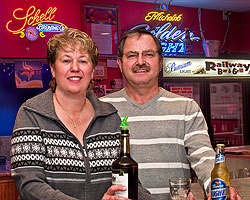 Photo: Art Sidner
Sleepy Eye: Railway Bar & Grill
Dan and Sue Helget had their open house for Railway Bar & Grill at 300 First Avenue North about a year ago. They both have other jobs: Dan owns a Sleepy Eye bakery; Sue is full-time at Norwood Promotional Products. With help from employees and relatives, they somehow have more than enough energy remaining to run Railway Bar & Grill. Their work ethic originates, in part, from having grown up in Leavenworth, near Sleepy Eye.
"There was a culture of work there," said 57-year-old Dan Helget in a telephone interview. "I grew up in a family of fifteen and my wife's family had eleven. When I was growing up, our neighbors all needed help milking or working in the fields, so we were never afraid of getting in there and working."
Dan went on to work ten years as a bakery assistant and another seventeen for Norwood Promotional Products. In 1994, he purchased the Sleepy Eye bakery, where he now spends the majority of his waking hours. Sue, age 54, has been employed at Norwood Promotional Products since 1976. In their free hours, Dan works at Railway Bar & Grill from 10-2, while Sue works 4-midnight. A bartender, cook, and waitresses fill in the gaps.
"This used to be called Jerry's Place," said Dan. "We saw the ad for it and thought we'd pursue a new career." They gutted, rewired, and re-plumbed the entire 1908 building. At one time, it was a hotel for railroad workers passing through.
The grill serves classic American fare, including burgers, chicken, and fries. They rent out the back room and can serve full dinners for class reunions, groom suppers, and Christmas parties. Open seven days 10:00 a.m. to midnight—1:00 a.m. on Fridays and Saturdays.
Telephone: 507-794-5030.   Location: 300 First Avenue North.
—–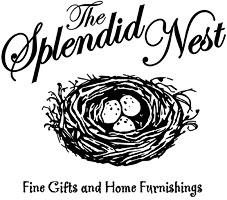 New Ulm: The Splendid Nest
Kathleen Connell recently opened The Splendid Nest at 210 North Minnesota in the former Grand Hotel. It's an interior decorating studio with years of experience and a retailer of home and garden accessories.
"I grew up one of five children in South Minneapolis and have fond memories of family and home," said 61-year-old Connell in a Connect Business Magazine telephone interview. "It was all about family, friends, entertaining, and good times. We had entrepreneurial values. Four out of five of us have owned businesses, so it was quite contagious."
She went on to learn interior design from Ethan Allen and Gabberts before venturing out with her own studio in Lyndale. It was then she received her big break: In 1988, on Super Bowl weekend, a friend introduced her to Minnesota Twins catcher Brian Harper, who would hire her to renovate his Eden Prairie home.
"We touched literally everything in the house, from new windows and doors down to the wash clothes and dishes," Connell said. After the renovation, she was physically exhausted. To help her rejuvenate, Harper gave her keys to his home in Scottsdale, Arizona. She liked the area so much she and her husband eventually bought a high-rise in downtown Phoenix.
"Now my husband and I are repurposing our lives," said Connell of moving to New Ulm. "My younger sister, Deb Oliva, moved to New Ulm and started The Old Corner Store. In 2007, my parents moved into assisted living there at Ridgeway on German."
Besides interior design services, The Splendid Nests offers home and garden accessories, including birdhouses, small upholstery pieces, urns, greenery, pillows, statuaries, birdbaths, foodstuffs and more. She is an allied member of the American Society of Interior Designers.
She said, "It has everything to refresh your home and with every price point across the board. We bring a lot of energy into our businesses, so it's always a lot of fun."
Location: 210 North Minnesota.   Telephone: 507-354-NEST.
—–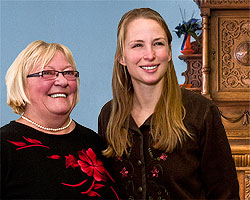 Photo: Art Sidner
New Ulm: European Antiques
Aini Isaksson was born in Hosko, Finland, and early on with her parents moved to Sweden. In time, she owned a cleaning business there. About 20 years ago, her husband accepted a position as a traveling turbine engineer in America and his first assigned job was in Greater Mankato.
"And even though they moved to this area, Aini kept her cleaning business in Sweden," said Sophia Rakowski, Aini's daughter, who sometimes speaks for her mother who isn't yet fluent in English. "She cleaned businesses, schools, and office buildings. After coming here, she'd travel back and forth to Sweden and did a lot of business over the telephone and fax. She had people she could trust there."
Though being a cleaning business owner, Aini's first love was always antiques. Said Rakowski of her 64-year-old mother, "Over the last ten years, she has talked about starting a business here and getting out of business in Sweden. She wanted to sell antiques from Europe, so she collected a great deal of antiques there, had them packaged and loaded on a container, and had them shipped to New Ulm. If the business goes well, we will have to get more."
And Isaksson has quite an assemblage of authentic European antiques: furniture, collector plates, paintings, chairs, cups, glasses, vases, and cookware. In addition, Rakowski said: "We have an old, majestic cabinet from Germany that probably came from a church. I don't know how to describe it; you'd have to see it." Isaksson also procured a black, nineteenth-century church organ. Rakowski and her retired stepfather, who speaks fairly good English, help Aini at the store.
"When people come in to see the things (my mother) has discovered, she will enjoy surprising them and watching them go through the store and seeing everything—and hopefully buying, too," said Rakowski.
Location: 211 North Minnesota.   Open: 10-3 Thursday-Saturday.