Express Diagnostics International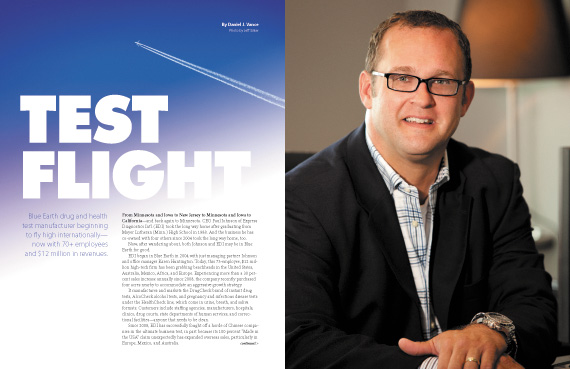 Photo by Jeff Silker
Test Flight
Blue Earth drug and health test manufacturer beginning to fly high internationally—now with 70+ employees and $12 million in revenues.
From Minnesota and Iowa to New Jersey to Minnesota and Iowa to California—and back again to Minnesota. CEO Paul Johnson of Express Diagnostics Int'l (EDI) took the long way home after graduating from Mayer Lutheran (Minn.) High School in 1988. And the business he has co-owned with four others since 2004 took the long way home, too.
Now, after wandering about, both Johnson and EDI may be in Blue Earth for good.
EDI began in Blue Earth in 2004 with just managing partner Johnson and office manager Karen Huntington. Today, this 73-employee, $12 million high-tech firm has been grabbing beachheads in the United States, Australia, Mexico, Africa, and Europe. Experiencing more than a 30 percent sales increase annually since 2008, the company recently purchased four acres nearby to accommodate an aggressive growth strategy.
It manufactures and markets the DrugCheck brand of instant drug tests, AlcoCheck alcohol tests, and pregnancy and infectious disease tests under the HealthCheck line, which come in urine, breath, and saliva formats. Customers include staffing agencies, manufacturers, hospitals, clinics, drug courts, state departments of human services, and correctional facilities—anyone that needs to be clean.
Since 2008, EDI has successfully fought off a horde of Chinese companies in the ultimate business test, in part because its 100 percent "Made in the USA" claim unexpectedly has expanded overseas sales, particularly in Europe, Mexico, and Australia.
—–
Words tend to flow from CEO Paul Johnson's mouth like flames from Fourth of July Roman candles. "I was referred to by neighbors as 'Motor Mouth' when I was young," said Johnson in a Connect Business Magazine interview from his office in Blue Earth's industrial park. "They always figured I would be a salesman because I could talk. And my father always said that instead of being a Type A personality, I was Type AAA. Growing up, I was always into something, always doing something."
Continually fidgeting in his chair, and gesticulating with hands and arms—and above all, talking with his mouth while searching his listener's eyes—Johnson could easily overpower many people with his ample supply of nuclear energy. Yet he doesn't. He listens, too.
His long and circuitous career path unexpectedly began as a teen when one of his older brothers lost interest in caring for the family horse. That's when Johnson became interested. In time, his father, who owned a grain elevator in Plato, Minnesota, purchased his youngest son a show horse.
"I had some natural ability training these animals in getting them to do what they needed to do," Johnson said. "I then began training Western Pleasure show horses and some halter horses. It was a matter of picking the two- to three-year-old unbroke horses that seemed to have a natural gait and knowing how to recognize talent. I then was able to get them broke the first time, put a saddle on them, and have them perform in a show pen. My career in high school and the first few years out was as a professional horse trainer."
He especially enjoyed the satisfaction of having picked a talented young horse and seeing that horse through to being a show winner. It was an ego stroke, he said. He also was involved in selling the trained horses and in being a riding instructor.
He said, "In high school, I was winning on the horse show circuit locally and got to know a lot of Midwest trainers. After graduating from high school in 1988, I became involved with J.R. Reichert of Reichert Quarter Horses near Iowa City, who was considered a top Western Pleasure trainer. I apprenticed under him and learned a lot. Late the next year, a New Jersey horse farm asked me to run their facility of 200 horses outside New York City."
Undaunted, the plucky Minnesotan rode East. Besides being responsible there for 200 horses and 15 amateur clients, he was showing horses across the country. He was training, showing, selling, and buying.
"We had clients spending up to $150,000 on a horse," he said. "The expectations then were that I would maintain that horse so the horse would win every week, week in and week out. But not every horse can win, and they can't always win. The pressure was huge."
The pressure built before the Appaloosa National Horse Show in Columbus, Ohio. He had brought along a dozen horses and their owners came along for the ride, too. Johnson had what he considered a very successful show, but his nerves unraveled.
"After the show, I got out of the industry that fast," he said. "I had been constantly traveling and showing horses. I was burned out. I was working six days a week and 20 hours a day. I told them I was done and moved back to Minnesota."
—–
Soon, after earning his real estate license, he was selling for Chestnut Realty in Chaska. He said, "I have always been able to build relationships. People trust me. As a real estate salesman, I wasn't high-pressure, but could close the deal." He had success as a "rookie" Realtor, until 1995, when his boss thought interest rates were heading up. The real estate industry was losing its curb appeal.
"Someone from Sather's Candy then recruited me," he said. It was a national, $120 million candy company famous for selling 2 for $1 hanging bags. Hired as a territory manager, he handled grocery, convenience store, and major distributor accounts in Montana, Wyoming, Colorado, New Mexico, and Texas. Sather's Candy wouldn't match competitor pricing or low-ball to keep business; their price was always their price. Territory managers like Johnson had to provide accounts solid reasons to stock Sather's Candy or reject its competitors. Today, Farley's and Sathers Candy Company has grown to $800 million and a 300,000 sq. ft. facility in Round Lake, Minnesota.
One interesting note: During Johnson's metamorphosis from horses and real estate to candy, he never once set foot in a college classroom. His was a career path not recommended, he said.
—–
In 1998, a headhunter lured Johnson to an employer in Albert Lea, Minnesota. Using his horse and sales backgrounds there, he managed accounts for pharmaceutical start-up Natural Biologics—while living in Blue Earth. The company had bold plans to supply the therapeutic ingredient in future generic versions of Preimarin, the popular hormone replacement therapy drug for menopausal women.
Said Johnson, "The estrogen in hormone replacement therapy came from pregnant horses. Preimarin stood for 'pregnant mare urine.' We collected urine from pregnant horses and extracted the estrogen. I managed contracts with farmers in Indiana, Iowa, Minnesota, and North Dakota that collected the urine from pregnant mares. They shipped it to Albert Lea, where we extracted the estrogen and processed it into a bulk powder. When I was there, the company was stockpiling powder and trying to set up agreements with pharmaceutical companies."
Essentially, this was a seasonal, six-month-a-year business. Mares were pregnant nine months and Natural Biologics could collect the urine only the last six months of pregnancy. Therefore, due to this seasonality, a company laboratory in Austin, Minnesota, sat idle six months a year. The solution was to start another business to help pay off-season bills and keep everyone happy.
They came up with the idea of providing drug testing services. In 1999, Natural Biologics already had much of the equipment necessary for drug testing and so hired a toxicology expert. The company earned accreditation. In the off-season, Johnson sold drug testing services to hospitals and employers.
"The one big account I landed was in Cedar Rapids, Iowa, called CJ Cooper & Associates, which was a third-party administrator for drug testing programs," he said. "They managed trucking firm drug testing programs. About a year into our relationship, they asked about buying the laboratory division of Natural Biologics."
A few months later, the laboratory moved south to Cedar Rapids, while Johnson stayed put in Blue Earth. He would spend three weeks a month in Cedar Rapids as vice president of sales. And then, the improbable: In 2000, Johnson hooked a very large fish while cold-calling—Tyson Foods.
—–
Tyson Foods had 4,000 trucks on the road and perhaps a couple hundred thousand employees at its processing plants and farms. All employees needed drug testing for marijuana, cocaine, opiates, and methamphetamine. What sealed the Tyson Foods deal was Johnson finding a dependable supplier of onsite testing devices, which was DrugCheck, then a $4 million California company. Onsite devices seemed the future because of their being cheaper and quicker to evaluate than the traditional method of shipping urine across country for a lab analysis. Due to Tyson Foods going through hundreds of thousands of drug testing devices a year, CJ Cooper & Associates suddenly became DrugCheck's largest customer.
"By 2004, we were getting competition from China and our margins were getting squeezed," said Johnson. "Then DrugCheck began having shipping problems." In time, he learned the company was having cash flow issues and the owner had feelers out for a buyer. Express Diagnostics formed in October 2004 when two people from CJ Cooper & Associates, Paul Johnson, and two California men distributing DrugCheck purchased the company. Doing so helped everyone involved maintain a stable supply of product.
Said Johnson, "The company (DrugCheck) was in freefall. We negotiated a deal in which we didn't put up any cash, but paid so much in royalties for the deal's length. However, shortly after we bought the company, the former owner tried getting back in business with the same product and competing with us. Because of it, we sued four companies and nine individuals. The lawsuit proceeded from 2005 to 2008."
During this whole legal mess, in 2006, the company was pondering whether to open from scratch a manufacturing facility in Blue Earth or farm out production to another manufacturer, possibly one in China. They chose Blue Earth—and coincidentally, the building they picked had formerly housed a company manufacturing product for the horse industry.
In part, what swung the manufacturing to Blue Earth was Johnson's belief that employees there had the technical ability and work ethic to continue the DrugCheck tradition of offering quality product. "It has to be quality because people's lives are at stake," he said. "With the Department of Human Services, for example, they use our tests in homes to determine whether families should stay together. And we have trucking companies counting on our products to maintain a safe work environment."
—–
According to Johnson, annual sales have risen from $2.5 million in 2006 to being on track for $12 million in 2011. EDI's urine-based product tests for 17 different illicit and prescription drugs, and the saliva-based product tests for 11.
What has surprised some industry analysts has been EDI's substantial international growth despite having a price-sensitive, commodity-like product and numerous Chinese competitors. About 40 percent of company sales originate from overseas versus nothing only a few years ago.
Said Johnson, "In Mexico right now, DrugCheck in the drug testing business is like Coke in soft drinks here. Our largest independent wholesaler is in Mexico. Our second largest is in Australia. I just returned from the U.K., France, Spain, and the Netherlands. Through a German distributor, we have a presence in Russia, Serbia, and Yugoslavia. We also have a distributor in South Africa, and another in Nigeria. They test for drugs of abuse, and for malaria and dengue fever."
In much of Europe—especially Italy—and all of Australia, EDI receives more support for being "Made in the USA" than it does in America, Johnson claimed. They would rather buy American than Chinese. It frustrates Johnson knowing DrugCheck gets more out of being American made outside the U.S. than inside.
"We tout being 100 percent 'Made in the USA' from our raw materials on up," said Johnson in his natural, rapid-fire style. "The majority—if not all other U.S.-based manufacturers in our industry—are buying most of their product from China. They are doing only the assembly here. Every last bit of material in our product is from the U.S."
—–
Spit and Polish
Going beyond its traditional urine-format products, Express Diagnostics Int'l within the last year began manufacturing saliva-format drug tests.
"It's less invasive, for one" said CEO Paul Johnson. "The science in saliva is not as good right now and urine is still the gold standard, but saliva tests have improved. Some customers know saliva tests aren't as good, but they want them anyway. For example, correctional institutions have restrictions about a male parole officer witnessing a female void. A saliva test is gender neutral."
Currently, saliva tests make up three percent of company revenues, but Johnson expects that to reach 20 percent by early 2012 and 50 percent within two years—more so if the science improves dramatically. EDI's current saliva test took more than two years to develop. The company has applied for patents in Europe, Canada, U.S., and Australia.
"We have our ear to the ground to determine customer needs," said Johnson. "For example, two years ago, we were first to introduce a urine alcohol test. We thought drug courts had a need for one. People laughed at us saying it wouldn't sell. Lo and behold, two years later, every other manufacturer is trying to come out with a urine/alcohol test."
Right now, the company is "very close" to introducing an instant test for K2, a synthetic marijuana many states have made illegal. "I don't think anyone else is even attempting a K2 test. If we can be first, the market will be unbelievable."
Finally, over the last year, EDI has been developing its healthcare line, HealthCheck, which includes pregnancy, infections disease, and cardiac marker tests. These products could be included in a proposed over-the-counter line for national roll-out as soon as EDI receives Food and Drug Administration approval.
FDA Approval
"I will say up front the quality coming out of China is not the best," said Johnson. "Most of these products from China are following FDA guidelines, but it's a lot easier for the FDA to regulate us than a company there. They don't fall under the same scrutiny. For example, we have the Minneapolis office of the FDA near us. They were in the other day. When they came, they looked through our quality systems and reports for a day and a half to determine whether we were packaging according to FDA regulations. It was an unannounced inspection. We have to be on our toes all the time. I'm not saying China isn't on their toes, but they don't have to be as much as us."
Verge of Merge?
Said CEO Paul Johnson, "We aren't sitting on our hands. We're always looking at mergers and acquisitions. I spend perhaps five percent of my time on the road or on the telephone looking at or working through potential acquisitions. And we also have had American companies trying to acquire us three times over the last twelve months. But EDI is not for sale."
THE ESSENTIALS: Express Diagnostics Int'l
Founded: 2004
Phone: 507-526-3951
Address: 1550 Industrial Drive, Blue Earth, MN 56013
Web: drugcheck.com