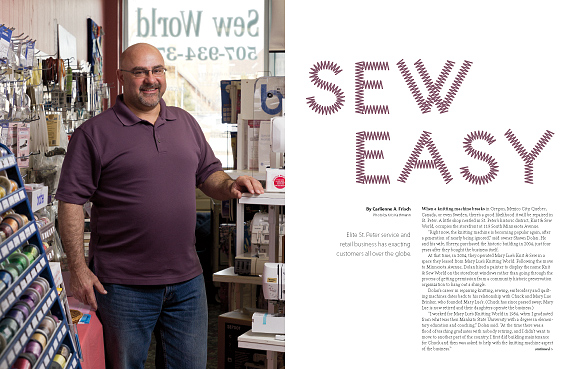 Photo: Kris Kathmann
Sew Easy
Elite St. Peter service and retail business has exacting customers all over the globe.
When a knitting machine breaks in Oregon, Mexico City, Quebec, Canada, or even Sweden, there's a good likelihood it will be repaired in St. Peter. A little shop nestled in St. Peter's historic district, Knit & Sew World, occupies the storefront at 119 South Minnesota Avenue.
"Right now, the knitting machine is becoming popular again, after a generation of nearly being ignored," said owner Shawn Dolan. He and his wife, Sherry, purchased the historic building in 2004, just four years after they bought the business itself.
At that time, in 2004, they operated Mary Lue's Knit & Sew in a space they leased from Mary Lue's Knitting World. Following the move to Minnesota Avenue, Dolan hired a painter to display the name Knit & Sew World on the storefront windows rather than going through the process of getting permission from a community historic preservation organization to hang out a shingle.
Dolan's career in repairing knitting, sewing, embroidery and quilting machines dates back to his relationship with Chuck and Mary Lue Brinker, who founded Mary Lue's. (Chuck has since passed away; Mary Lue is now retired and their daughters operate the business.)
"I worked for Mary Lue's Knitting World in 1984, when I graduated from what was then Mankato State University with a degree in elementary education and coaching," Dolan said. "At the time there was a flood of teaching graduates with nobody retiring, and I didn't want to move to another part of the country. I first did building maintenance for Chuck and then was asked to help with the knitting machine aspect of the business."
—–
"With experience in selling and servicing sewing machines, the Brinkers expanded in 1968 by becoming a sales distributor and service center for Brother brand knitting machines," said Dolan, owner of Knit & Sew World, providing background information about his business. "They were a national service center, servicing 120 dealers in a five-state area, as well as dealers from other regions where their repair people were stymied. Chuck was kind of a genius at repairs. He started showing me how to do repairs, but I was still looking for teaching jobs. In 1985, I interviewed for a position with St. Peter Schools and was supposed to interview again in August."
He continued on. "Our first child was born on that August day, so I decided to stay another year and be mentored by Chuck. Within that year I was well trained in and on the machines and became manager of the wholesale part of the company, selling to about 120 storefront and home business dealers in the five-state area. I was half managing and half repairing by 1987, so I made the decision to stay. We re-formulated how I was paid, including commissions on repairs. I learned a lot from Chuck—advertising, inventory control, focus, finance, and evaluating products, etc."
In addition to an unofficial onsite apprenticeship with Brinker, Dolan accompanied Brinker to national workshops. He also became educated about one of the key products of that time.
"I learned about the yarns, called Mary Lue's Yarns, and the dyeing process," Dolan said. "I didn't do the dyeing, but I ordered raw materials and gave specs to factories. We had eight different weights, and (he gestured at a shelf) we still have some cones of that yarn."
—–
Previous employment also helped prepare Dolan for buying the business in 2000. While in high school, he augmented his mechanical skills by working for Central Radiator in St. Paul. As a college student, he was employed by construction contractors and picked up other business knowledge, including planning and management. He also learned about the importance of paperwork, of which he said, "I don't really like it much."
What Dolan does like are the sciences. "I was kind of into chemistry and biology in college and was going for pre-chiropractic," he said. "But I wanted to coach, so I became a teacher, with a Bachelor of Science degree in elementary education and minors in coaching, chemistry and biology. I would have taught all subjects in the classroom. When I graduated, I coached at MSU and West High School in Mankato. The main reason I quit coaching is that I had to be at school by 3 p.m. We didn't close until 5 p.m. and our repair business was really taking off."
Dolan, a jack-of-all-trades when it comes to knitting, sewing, quilting and embroidery machines, describes his sole full-time employee, Amanda, as his right hand. She's the main instructor for knitting, sewing, and embroidery classes and clubs, as well as the company's webpage developer. Sherry Dolan, a real estate agent, is in the shop one day a week, working with phone inquiries, window displays and bookwork, and cleaning and checking parts of used machines to prepare them for sale. Another part-timer fills in as needed, handling orders.
"I oversee the entire business and decide with Amanda what to order and to display," Dolan said. "I do all the repairs on knitting and sewing machines—not only Brother, but also Singer, Viking, Kenmore, New Home, Baby Lock, Pfaff, Juki, and Janome. I have had Brother elite training, so we're an elite authorized service center. That's why I repair machines that come from across the country and from other countries. I still go to Brother classes annually and often help teach them. Brother has 35-40 sewing, quilting, and embroidery machines in their line, with seven or eight dropping off every few years and seven or eight new ones being added. I do a lot of repair on Brother knitting and sewing machines and sell a lot of used Brother machines." 
Although Brother no longer makes knitting machines, Dolan sells and services other companies' knitting machines.
—–
As a dealer, Dolan takes orders for new machines, but comes from the old school of "if you can fix it, you probably should." He explained, "You have to be sensitive to customers wanting to keep their machines instead of wanting to buy a new one even though it may take time to get parts for older machines, could be six or eight weeks. Then it takes only one to four hours to fix a knitting machine, one to three for a sewing machine. About 75 percent of my work is repairs."  
For customers who choose to purchase a new machine, Dolan offers advantages that don't exist with a purchase on Amazon.com. "Buying from me rather than on Amazon may cost $100 more, but there are additional features I offer and free initial training from me," he said. "I offer additional help for machines bought here. We're small enough that we're willing to help anyone, but you have to draw the line somewhere. Individual lessons on a machine that wasn't bought here are $25 an hour."
"With profit margins down the past few years, it takes the sale of three or four machines to clear the cost of one," he said. "I try not to borrow money to run my business. The only business loan is on the building. I bring in new lines of inventory slowly."
Over the past 10 years, retail sales have replaced wholesale deals almost entirely. Dolan continues using local advertising, such as the Yellow Pages within a 50-mile radius, but gets most of his business from the company's webpage or word-of-mouth. Because of his Brother elite status, he gets all Brother repair calls from throughout the nation. The ailing machines are shipped to St. Peter, where Dolan works on them in the back room or basement. In the front of the shop are displays of knitting magazines, general threads, custom threads, sewing machine feet, memory cards for embroidery, etc.
"I also repair commercial sewing machines on site," he said. "I've gone as far as a three-hour drive away, but prefer to keep it to one hour. The commercial knitting machines are on the East Coast. Around here, it's more of a cottage industry."
—–
When Dolan bought the business, his goal was to increase the number of distributorships and add retailers. Now, he said, "I want to be the best machine repair shop, with that leaking over into sales. If I could change one thing, I maybe would have gone to Mankato instead of buying a building here. A couple of times I have thought of moving to Mankato, but at age 52 do I want to go into debt to expand my business? I don't carry all of the high-end inventory, so when we order a machine for a customer, the customer gets the newest machine available."
He added, "I think the most unusual aspect of the business is that we deal with people all over the country, but we're just this tiny store. More than half of our business comes from out of the area."
That business outside the area includes a few celebrities. One knitting machine customer is the actress Karen Allen, who has been interviewed by Martha Stewart about Allen's fiber arts business in Monterey, California. In appreciation for keeping her knitting machines running, Dolan received an autographed DVD of one of Allen's movies and a cashmere scarf Allen knit for him with yarn from the cashmere goats she raises.
"She called me the guru of her knitting machine," Dolan said.  "I also fix knitting machines for Dr. Laura, the radio advice talk show host.
"Our business is a niche business, and you have to be good at certain things in a niche business," he said. "We do a lot of consultations on the telephone and with photos of the problem on a computer screen. It's helpful in diagnosing a problem from hundreds of miles away."
Dolan makes 350-400 knitting machine repairs a year and about 150 sewing machine repairs. On the merchandise side, he sells 20-25 new knitting machines a year and 150 used, as well as 90-100 new and gently used sewing machines annually. That doesn't include the many additional parts and accessories available. Dolan's used inventory includes refurbished equipment such as four gauges of used knitting machines, from 3.5 (fine) to 9.0 (bulky), and equipment with interesting names like ribbers, color changers, garter carriages, garter bars, and linkers. And that's just in the knitting category. He carries several brands of sewing machines, accessories, sergers, cover stitch machines, etc. There also are embroidery machines, oils and other lubricants, instructional videos, software, memory cards and various yarns, including alpaca.  
—–
Sometimes, timing is more important than availability. Dolan recalled a customer in Christchurch, New Zealand, whose knitting machine had been damaged in an earthquake. She emailed an order for a used machine, which he shipped, but fortunately it did not arrive in Christchurch until after the second earthquake had occurred.
With the rising popularity of knitting machines, there's a parallel trend toward purchase of Asian-made machines. Dolan has examined them carefully.
"Brother quit making knitting machines by 2004 or 2005," Dolan said. "The Asian manufacturers are finding that in producing durable goods, they have to make them well. I have taken apart the machines of certain Asian companies and found the internal workings are good quality, but the exterior appearance is not as upscale as the old machines. The surface is rougher to the touch."
In his business dealings, Dolan offers the warmth of personal service as he deals with neighbors from the next block or the next town, as well as people from around the world. He said, "We like our customers. I have only ever had two bad checks in 14 years, and the people made good on them. Sewing and knitting people are like that, the kind of people I want to deal with."
Dolan's knitting machine expertise makes him a rare breed. He explained, "Other repair shops do sewing, embroidery and quilting machines, but not knitting machines. There are a few shops around the country that repair knitting machines, but not to the extent I do. I had my sons do a little bit of it, but they aren't really interested. A few others have tried, but didn't pursue it because it's quite complicated. There are many variables, even the question, 'Are they using the right yarn?' It's not just mechanical. You have to know the knitting as well as the machines."
—–
Knitting Together
Locally, the Dolans support Relay for Life, Disabled American Veterans, and Adult & Teen Challenge.
Dolan is part of the Brother dealer network and authorized repair network.
A member of the Upper Midwest Knitting Machine Dealers Club, Dolan attends annual seminars. The organization has a Minnesota State Fair booth.
Main Skein
Childhood: The 13th of 15 children, Dolan grew up in Little Canada and Wyoming, Minn. He graduated from Forest Lake High School.
Favorite class: History. "I like learning about how things were. It's intriguing."
Least favorite class: English. "I love to read, and I like literature, but not the grammar side."
Family: The Dolans married during their last year in college. They have two adult sons.
Hobbies: Fishing, golfing, biking and playing softball during the summer. "I mentor younger fishermen, and in one case turned one of them from doing drugs to fishing."
Biggest accomplishment: "Raising two boys."
Most valuable possession: "My family and our home on three acres near Lake Jefferson. I'm not really materialistic."
Most valued intangible: "My faith."
Three terms that describe you: "Easy going, fair, and respectable.
If you weren't doing this, what would you be doing? "Probably teaching. In this business, we're teaching every day."
THE ESSENTIALS: Knit & Sew World
Address: 119 South Minnesota, St. Peter, MN 56082
Open: 10-6 M-F; 10-4 SAT
Web: knitsewworld.com