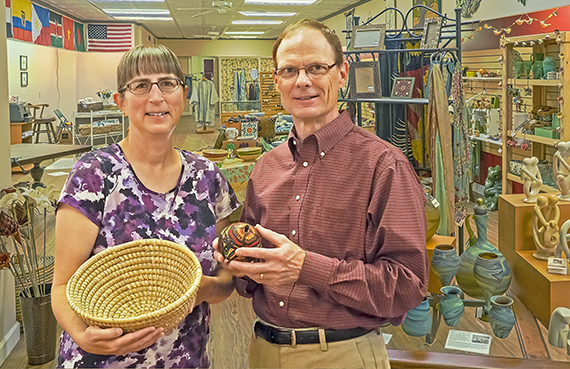 Photo: Art Sidner
St. Peter: The Fair Emporium
Family physicians Carrie and Keith Stelter grew up in Michigan and Lake Benton, Minnesota, respectively. Nothing in their backgrounds would indicate any clue they would own or manage a retail store, which explains why the opening of The Fair Emporium has been more a social cause than a business decision.
In a telephone interview, 55-year-old Carrie said, "Neither of us had done retail before, but we are both interested in global health and fairness—that we all need to help each other all around the world. That's where we come from."
The pair have been family physicians for a Connect Business Magazine area healthcare provider.
About ten years ago, the Stelters became familiar with an international business called Ten Thousand Villages that, according to Stelter, had a vision "that all artisans from developing countries will earn a fair wage, be treated with dignity and respect, and live a life of quality."
She said the decision to open their retail store this September was a natural extension of their full-time work as family physicians, in which they care for patients in diverse ways over an entire life span. They are also having fun. Their building is located near Ace Hardware.
She said, "We sell artisan goods made by hand and have unique family goods, gifts, jewelry, room décor, sculpture, textiles, personal accessories, and we also sell chocolate. Our artisan goods come from places like Ghana, Kenya, Vietnam, the West Bank, Nepal, and Uganda."
Their store does not buy exclusively from Ten Thousand Villages, which has owned-and-operated outlets in Mountain Lake, Minneapolis, and St. Paul. The Stelters also buy product from a fair trade coffee company, and a Bangladesh "hats and mittens" company.
"People say this store is a great fit for St. Peter," she said. "We are so happy there is a store like this in our area. People coming in like the uniqueness and are amazed by what people can make with their hands."
The Fair Emporium
Address: 213 South Minnesota
Telephone: 507-779-9647
Web: thefairemporium.com