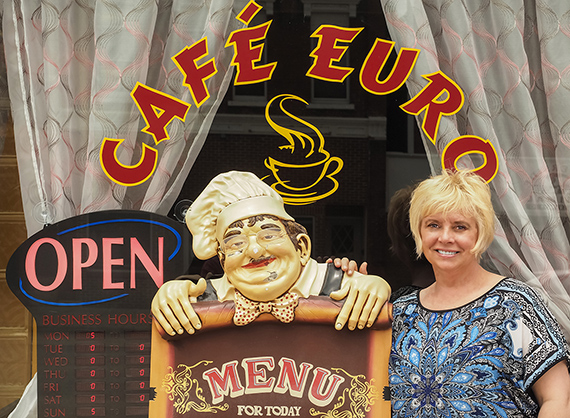 Photo: Art Sidner
Sleepy Eye: Cafe Euro
For Renata Konopka, the path that led her to opening a restaurant in Sleepy Eye was a long and twisting one.
Konopka grew up in Krakow, Poland. She lived with her mother, while her father, a U.S. citizen, lived in America. When Konopka was young, her father tried to bring her with him to the U.S., but Poland was still behind the Iron Curtain at the time and her government didn't allow her to go.
But Konopka was determined to build a better life for herself. She managed to save up enough money to purchase a "holiday" visa to Italy when she was 19. Instead of returning to Poland, she stayed in Italy for another two years until she managed to obtain the necessary paperwork to immigrate to the U.S. in 1990.
At first, Konopka lived in Los Angeles with her father. However, two years later, she went on a vacation to Colorado and met her husband, John. For the next 10 years, the couple stayed in Colorado as Konopka worked as general manager for the local Country Inn and Suites.
Then some of Konopka's in-laws asked her and her husband to move to Austin, Minnesota to help run a hotel, drawing on Konopka's management experience. Konopka and her husband helped for two years before deciding to try it on their own, buying Seven Gables, an inn in Sleepy Eye. They ran the inn for 12 years but recently ran into financial difficulties.
"It was a very tough time we went through," Konopka said. "The last three years were the worst years of my life."
Eventually, the couple had to file for bankruptcy. But instead of giving up, they decided to start over. They had already bought a building with the hopes of starting a restaurant for their inn guests, and they went ahead with those plans, opening Cafe Euro in April. "We had to start from zero, but we're very hard working people, and we believe in ourselves," Konopka said.
Konopka's restaurant serves a variety of foods from different European countries. Everything is made from scratch, and nothing is fried.  "So far, everybody likes it," she said. "I hope they'll continue to support us and come here, so the business can grow." 
Cafe Euro
Address: 136 Main Street West, Sleepy Eye
Telephone: 507-300-1035
Facebook Page: Cafe Euro