2nd Place: Business Person of the year 2016
Iron Giants
Dotson Iron Castings might be a small foundry, but it has made a big name for itself in the metal industry—and a lot of the credit goes to Denny Dotson and Jean Bye.
When it comes to Mankato metal foundry Dotson Iron Castings, the secret to its success comes from a unique mix of Minnesota-nice values, cutting-edge innovation and two extremely talented leaders: chairman Denny Dotson and CEO Jean Bye.
The foundry is described as "small," with only 150 employees, but it has nonetheless managed to carve out quite a reputation throughout a history that stretches back to 1876. Early products included boilers, steam engines, tractors and road signs, while the foundry now focuses on ductile iron casting, machining, painting and heat treatment. More than 100 tons of ductile iron castings are melted every day, with 1,500 different castings produced for more than 150 customers across the world.
Dotson and Bye arrived at the company at about the same time. You could say it was a match made in heaven: Dotson's creativity perfectly complements Bye's practicality. Together, they've managed to steer the company through growth spurts and hard times, always staying nimble, always pushing themselves to be better, always thinking about their customers and their employees. They say they're in the "top five" in their industry—but that's really a humble understatement.
They've racked up countless awards, from the American Foundry Society's Metal Caster of the Year in 2006 to Dotson's induction into the Foundry Management & Technology Hall of Honor in 2010.
Now they can add another win to that list: Runners-up for this year's Business Person of the Year.
—–
By the time Denny Dotson was born, Dotson Iron Castings was already a force in the metal industry, under the helm of Dotson's father, Jerry Dotson. But joining the family business was the farthest thing from Dotson's mind.
"I was absolutely not interested in working at the foundry," he said. "Ending up there was a surprise to me."
Part of that resistance to dive into metal work was probably due to his experience at the foundry during high school, when he took a job there for the summer. Working 10-hr shifts, six days a week, he did just about everything, from pouring metal to making molds.
"The first day we started at 5 a.m., and I was totally exhausted when I got home," Dotson said. "I went right to sleep. I was absolutely certain I'd never come back. But I actually woke up on time the next morning, and I figured, 'I may as well go in.' And it turned out to be a marvelous experience. It gave me a real sense of not only the hard physical labor but also the camaraderie that exists among all the employees."
Still, Dotson had other plans once he graduated high school. He attended the University of Notre Dame to study business. While he was there, he started a student chapter of an international organization to locate jobs and summer internships for exchange students. Thanks to his involvement there, he was able to find an internship for himself in Holland, working at a steel company. After graduating in 1967, he continued on to the University of Chicago to earn his MBA.
According to Dotson, the plan throughout college had always been to go into business, but his life took a detour after the Vietnam War escalated and he joined the Navy. He served for three years as a systems analyst, spending most of his time in Cleveland, Ohio. While he decided to move on once his service time was completed, he said he still learned valuable lessons from the Navy that he uses today.
"What I really saw was how government worked," he explained. "They all worked very hard, but in many cases, it was processing this stack of paper from here to there. They just kept hiring more and more people and didn't stop and look at what was the added value. When Jean and I first came here, we were very similar to that. In the paper processing department, we had 28 people. Today, in all of those functions, we might have two. It took a long time for that process to move from 28 down to two. It was probably 10 years of continuous focus."
Dotson joined the foundry in 1972, explaining that he needed a job and his father offered him one.
"It was less than I was making in the Navy, but I said, 'Well, it's better than nothing,'" he recalled. "So I came back, and I never regretted it."
Dotson worked with his father until 1978, when Jerry Dotson passed away and Dotson became CEO of the company.
"In terms of training for being a CEO, my father was an excellent guide," Dotson said. "He never told me what to do, and I really never asked him what to do. He allowed me to make my own mistakes. When I came to him one time and said that I decided that I had to fire one of our employees, the first one that I'd hired, he just looked at me and said, 'I've been waiting for six months for you to say that.' The lesson there is, if he'd told me earlier that I had to fire him, I would never have gotten to that point."
Another lesson Dotson learned? Patience.
"My father was very patient, and I think that rubbed off," he said. "For years, people remember me saying that I was much more concerned with direction than speed. It was important that you were going in the right direction. If you are going in the wrong direction, you lose ground so quickly. As I've gotten a bit older now, speed is a higher priority to me."
About the same time that Dotson became CEO, Bye joined him at the foundry. Like Dotson, Bye is a Mankato native, and, like Dotson, Bye also worked for the foundry in the summer during high school. She explained that it seemed like a more interesting job than the retail and food service jobs her friends were starting.
"Even though my first jobs were exceedingly boring, spending summers typing 5-part carbon price lists, it still was probably better than some of the other options," she said. "Each summer, I got more interesting and challenging jobs. I didn't plan on coming back to Mankato after college, but I came back in the summers during college and had some really fun, fascinating projects, like plotting out all the different parcels of land that Dotson owned."
Bye originally planned to go into early childhood education, but she enjoyed business so much that she ended up earning a degree in that instead, with an early childhood minor from Concordia College. She married her husband shortly after graduating, and she continued to work at Dotson Iron Castings while he looked for a job. She started as a human resource manager, and a temporary job became a permanent one. Within eight years, she had been promoted to vice president of administration, picking up an MBA from Minnesota State University, Mankato along the way. She also supervised operations, sales and engineering before becoming president of the company in 2010.
Together, Dotson and Bye have weathered some intense storms and watched the metal industry evolve and expand. In the 1980s, the entire manufacturing industry took a hit as the economy fell. Dotson Iron Castings felt the pinch like any other foundry, with sales decreasing every quarter for a five-quarter period and bottoming out at an 80 percent decrease. It would take another 10 years for the company's sales to equal what they had been in 1981. In addition, the foundry shrunk from 425 employees to 87 within six months.
Dotson made the news during this period by asking workers to take 40 percent pay cuts, which he promised to repay with interest. It was a bold move, but it worked. He and Bye also worked to trim down operation costs, closing the brass and aluminum foundry, steel foundry and machine shop in 1983, as well as discontinuing a line of trip hammers. Next, they turned their attention to new melting and molding equipment, the first of many equipment purchases and expansions over the years (with the latest $5 million equipment and building expansion occurring in 2012). These efforts were enough to save the company from the edge of bankruptcy and cement Dotson Iron Castings as a major player in a time when other foundries were falling by the wayside. Just as important, though, the whole process taught Dotson about the need for constant change and reinvention.
"For change, you need an outside source," he said. "It's hard to drive real change within any organization without having an outside push. When things are going along semi-good, it's hard to create the energy to get off of that inertia. Change is difficult. In this company, we've probably reinvented ourselves five different times. There are some companies that, in 40 years, haven't reinvented the company at all; there are some that have reinvented the company once or twice. But I'm not sure that there's any that have done it five times. Part of that is changing the driving force. What is it that you're trying to do? At one time, the focus was on how many tons of product we could get from every labor hour, and today we don't even think about that. Now, the real focus is on agility. When we start up on Monday, we will make and ship products on Wednesday and Thursday that were not in that week's schedule."
"We'll get the orders next week, and make them next week, and ship them next week," Bye added. "About 20 percent of what we make isn't in the schedule when we start the week."
Then came the 1990s, which brought a new problem: China. As more and more companies started sending business overseas, Dotson and Bye worked to find ways to compete with the industrial giant.
"One of our taglines of that time was to get incredibly good at what the Chinese couldn't or wouldn't do," Dotson said. "They were very good at taking the high run work and moving that because it was easy work and they were high volumes. Part of our getting incredibly good was at smaller quantities and getting faster turnaround time."
To help with this, they looked into more automation. The plant was already somewhat automated, but it still wasn't operating at the high levels Dotson and Bye wanted. At their best, they had an 85 percent on-time delivery rate, which was far higher than most competitors but still not as high as Dotson and Bye wanted to be. They also had about two months worth of inventory stored at the plant, while rejections from customers were about 50,000-60,000 parts per million.
"We were on the good side of industry, but I think both Jean and I looked around and said, 'That's not where we have to be,'" Dotson said. "Our focus has always been to push the company. In the past, we had tried to look at this from a manufacturing standpoint, and the manufacturing people always had a reason why it wouldn't work."
That was where Bye came in, taking over operations and bringing in a customer focus that went against conventional industry wisdom. Bye managed to increase their on-time delivery rate to between 98 percent ("when we're bad") and 100 percent. Product lead time was trimmed from 10-12 weeks to nine days at the longest, and the plant now only holds about 3-4 days worth of inventory. The foundry has also improved the quality of its operations so much that it is among the best in the industry when it comes to how many parts are sent back by customers.
"It's made, it goes on a truck, it's gone," Bye said.
In 2010, Dotson and Bye faced another major change for the company when Dotson became chairman of Dotson Iron Castings and handed the position of CEO off to Bye.
"There are different phases that a company goes through," Dotson explained. "There's an entrepreneur phase where the manager is controlling absolutely everything. I think my father and his staff were in that. Then there's the manager-driven phase, which I led. We could say yes to anything, and it was fun saying yes because those were challenges. But it was obvious that if we were in the process of our continual reinvention, we needed to move to a different style of management. Jean's real strength is in the process-driven end of it. That starts with listening to the customer and acknowledging that you need to say what you won't do as much as what you will do. You'll never get 99 percent and above on-time delivery or a nine-day lead time in a manager-driven company. It's absolutely impossible."
As chairman, Dotson's only official responsibility is meeting with Bye's leadership team once every quarter—but he is still pretty involved in the company. He added that, after years of using Bye as a sounding board, he now has the chance to return the favor.
"Denny's exceedingly creative," Bye said. "Usually when I bring him a question, he doesn't give me one answer; he gives me four possibilities. So now I have choices. And they're choices I never would have thought of."
For Bye, creating clear processes and constantly re-evaluating them is the key to keeping the company running efficiently.
"If you're all over doing a bunch of different things for a bunch of different customers, without the systems and processes to support them, you drop a lot of balls," she said. "And then you get frustrated with the employees, when it has nothing to do with them. Instead, you have to understand the processes. If something fails, you look at the process and say, 'What's wrong in our process?'"
The industry is still changing. While the number of foundries has decreased, the overall industry has been globalized along with many other markets. Dotson Iron Castings uses equipment purchased from places such as Japan, Italy and Germany, along with raw materials from China, Brazil, Norway and Canada.
The company has also created strong global connections, such as its major partnership with Sintokogio, a Japanese company that is the world's largest supplier of foundry equipment. Because of this connection, Dotson is the only non-automative iron foundry in North America with 100 percent auto pouring.
Things are also becoming increasingly more digital, which Bye said will enable the company to be even quicker and more agile in its response to its customers.
Dotson agreed, adding, "There is so much information that exists in a manufacturing world because all the equipment is automatic and it's all run by small computers. We can now get information off of it instantly. Even as a small company, we're looking at the world of big data. Using instant feedback on the data becomes very important."
Another technology that has the potential to completely reshape the world of manufacturing is the 3D printer, which Dotson Iron Castings already uses for prototyping.
"The Additive Manufacturing will potentially be a game changer," Bye said. "We need to anticipate how that market's going to develop and be able to be on the leading edge of it without tripping and falling too hard."
—–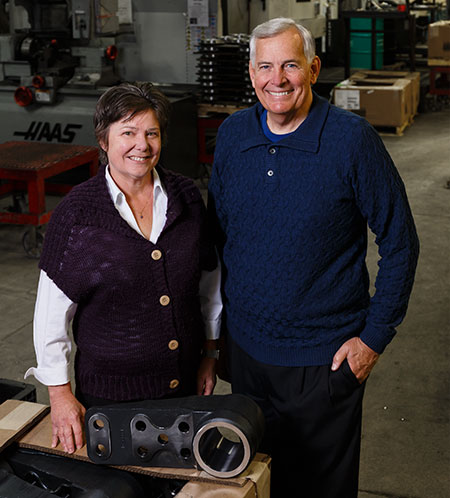 Getting to know you: Jean Bye
Family: husband Tim; children Becci, Dan and Tom; grandkids Camden, Wesley and Gemma; a Golden Retriever and a miniature Goldendoodle.
Education: MBA from Concordia

College (1979), MBA from Minnesota State University

, Mankato (1987)
Hobbies: spending time with grandkids, traveling, cooking, reading.
Community involvement: Board member of the Ductile Iron Society, board member

of the Mankato Area YMCA, board member

(and future president) of the American

Foundry Society, board member of the Minnesota

Safety Council
How Dotson would describe her: persistent, focused, great multitasker, employee-oriented
Getting to know you: Denny Dotson
Family: wife Carole; kids Kelly, Tammy, Andrew and Alyssa; five grandkids
Education: BBA from the University of Notre Dame (1967), MBA in math methods from the University of Chicago (1968)
Hobbies: traveling, mentoring young professionals
Community involvement: Mankato Area Foundation, chairman of People Driven Performance, chair of the National Institute of Science and Technology Manufacturing Extension Partnership advisory board, United States representative to the World Foundry Organization, past president of the American Foundry Society, past trustee of Minnesota State Colleges and Universities.
How Bye would describe him: creative, caring, energetic, intelligent
Employee Engagement
One reason Dotson Iron Castings stands out among its competition is the way the employees are treated.
"We as a company pay more per hour than any one of our competitors that we've heard of," Dotson said. "We have more programs that are benefits to the employees. That's a very hard thing to maintain, but it's a large part because of Jean's desire that we can have a real meaningful job here for our employees."
This commitment to employee care is noticeable throughout several programs, such as the company's promise to pay at least 50 percent tuition for employees' continued education. This education doesn't have to connect to the job, either; Dotson Iron Castings has partly paid for an employee to earn a pilot's license and for another to take baking classes.
"If someone is out in a continual education mode and enhancing themselves, they're excited about it," Dotson explained. "And when they come back and engage with other employees, that enthusiasm is passed on.  It's contagious."
Another way the company cares for its employees is ensuring hours will never drop below a certain point, even if work is slow. Employees are never cut back to a three-day week, and they're even paid to volunteer around the community if they don't have work at the foundry.
"It's important for us that our employees have options to maintain their paycheck," Bye said.
Employees also participate in the Dotson 100 Program, which encourages them to submit ideas for making work more efficient. Ideas have been as simple as color-coding identifiers for different metal types to creating a barcode to replace a cumbersome 6-digit load number. Every time the company hits 100 implemented ideas, everyone celebrates.
"A lot of the best thinking comes from the people who are out on the floor doing the jobs all the time," Bye said. "The goal is to draw that out."
The company makes further use of employees' knowledge by including them in purchasing decisions through the $10,000 Program. If a piece of machinery is going to cost more than $10,000, a group of managers, maintenance workers and on-the-floor employees is sent to different distributers to study possible options. Employees have even been sent overseas to places such as Japan to look at equipment.
"That's what differentiates us from our competitors," Bye said. "They're not doing that, and they're not gaining that positive power that comes from the knowledge of many."
Dotson Iron Castings recently formed an Employee Stock Option Plan, and employees already own 20 percent of the company.
"Jean and I would be absolutely delighted if that was 100 percent of the company," Dotson said. "We think that'd be incredibly good for the employees. It would be good for the community, and it'd be good for the company."
Spectacular Failures
Dotson and Bye are both quick to note the value of failures as learning experiences, with Dotson adding that most of the company's failures come from being too patient and not moving quickly enough.
"A spectacular failure might be taking down a major customer's production line because you don't have parts there that they need," Bye said. "Twenty years ago, that happened. Now, we just don't let customers' lines down. Every employee out there knows that if something comes up where a customer's line is going to go down, it's not going to happen. We say, 'Not us.'"
To ensure breakdowns like that don't happen, Dotson Iron Castings has gotten very good at recovery, even sending an employee to Wisconsin in the middle of the night with parts to make sure the customer's production line would be able to function the next morning. If there's a quality issue, employees are on site by 8 a.m. the next morning to figure out what went wrong and how to fix it.
"This is to make sure our customers know that if they buy from us, we are always going to have their back," Bye said. "If you overreact in those instances, you start having fewer of them. You come back and you error proof."
Jobs and Automation
While some experts have estimated that nearly half of America's jobs will be automated within 20 years, Dotson and Bye believe that automation doesn't necessarily mean companies will be laying people off. Instead, they believe jobs will be built around new automation technologies.
"The jobs are going to change," Dotson said. "When Jean and I started, an employee would come and basically say, 'I own this machine.' Today, to be successful, there's variety on the job. Pretty much none of the jobs that we're doing today existed even 10 years ago, and what we're doing today won't exist 10 years from now."
Bye pointed out that, since starting to seriously automate equipment in the 1980s, Dotson Iron Castings has never seen a decrease in employees. And, while companies across the Midwest are struggling to find skilled workers, Dotson Iron Castings doesn't have that problem.
"We're very willing to take people that are just good, hardworking people and train them in what they need to be," Bye said. "We can do the training. We're just happy to have good people in the Midwest."
THE ESSENTIALS
Dotson Iron Castings
Phone: (507) 345-5018
Address: 200 W Rock Street, Mankato, Minnesota
Website: dotson.com