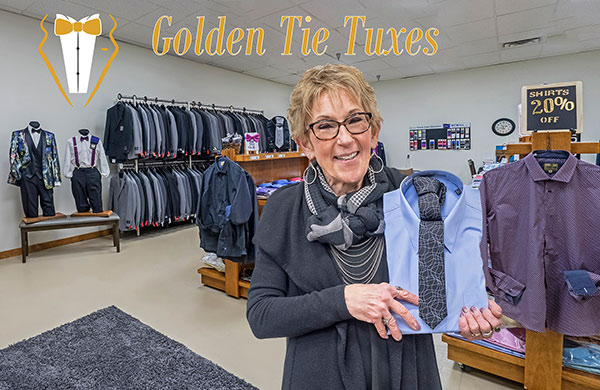 Photo by Art Sidner
Fairmont – Golden Tie Tuxedos
When Golden Tie Tuxes first opened in November 2017, owners Rich and Kathleen Detert, initially just offered tuxedo rentals. But, their focus quickly changed along with their location.
"My husband and I discussed the feasibility of expanding Golden Tie Tuxes to include high quality men's suits, name brand shirts and ties. The idea was exciting but we did not have enough space in our original location to accommodate the addition of men's wear," explains Kathleen. "This prompted the search for a larger location. Five Lakes Centre was willing to rent us an area that had been used for storage."
Golden Tie just opened in a new location with a new name in March 2018.
"Golden Tie Tuxes Plus is a product of our perceived need for a tuxedo rental store, and a men's clothing store," she explains. "This became a greater need when a Fairmont business which had provided these services for over 50 years, closed. I have experience in selling men's clothing, suit alterations, and tuxedo rentals. There is not another men's store specializing in suits, and shirts for about a 60 mile radius in any direction."
It does come with challenges though, Kathy admits their online business needs developing. "I am trying to overcome the 'online' issue by being a very service-oriented business," she says. "We offer individualized attention from trained professionals. We care about following through with each customer, whether it involves informing the bride and/or groom of progress involving their wedding tuxes, or about customizing each suit purchase to your satisfaction. When you purchase a shirt from us, we will ask you to try it on to assure that it fits properly. We will offer to steam it to take the creases out so it is ready for you to wear. If you are unsure of how to tie a tie, we can do it for you. You are not just our customer, you are our neighbor, and our friend and we value your opinion and want your return business. We shop locally and purchase from YOUR local business for our needs. If we work together, we can make "small town America", a viable business option again!"
Golden Tie Tuxedos
Address: Five Lakes Center, 400 State Street, Suite 170
Phone: (507) 236-0732