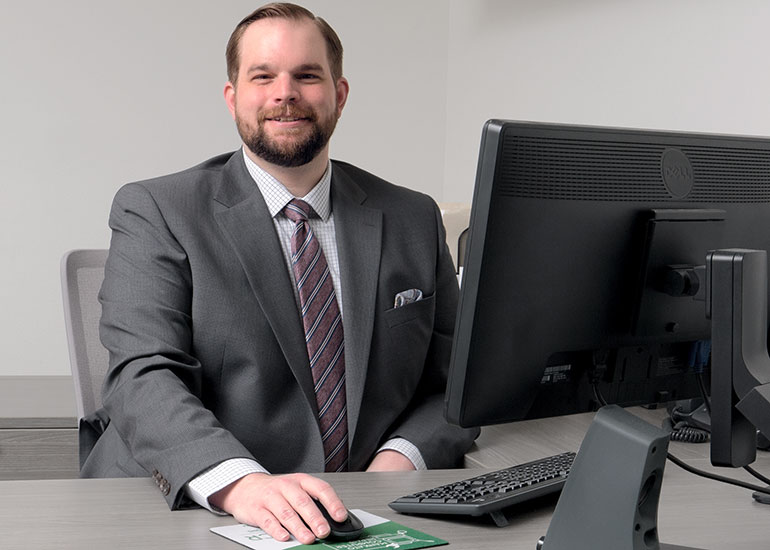 Photo: Jonathan Smith
Wes Gilbert, Mankato Computer Technology
Information technology, or IT as it is commonly known, is not what it used to be. When it first became its own industry, it simply referred to the use of computers to store, transmit and manipulate data, basically referring to a computer system, operated by a limited number of people.
Today, of course, the world of IT has expanded. It is an integral part of any business operation and those venturing into the industry have a large array of diverse opportunities to pursue. So many, in fact, it can be overwhelming to a business owner who knows technology is needed, but doesn't know exactly how to best meet those needs.
Filling that need almost a decade ago, was Wes Gilbert, founder of what was known then as Mankato Computer Repair.
"We serve small businesses and consumers in Southern Minnesota. We work with businesses ranging from one computer up to 130 computers. Our clients are mostly in Mankato, but we also have many in the surrounding communities and some clients who are based in Mankato but have multiple locations across the Midwest," says Gilbert. "Our goal is to take businesses from thinking of technology as a necessary evil to thinking of it as a strategic resource. When approached strategically, technology can be a tool that makes your business operate more efficiently, helping you to grow and add to your bottom line. Also, in this day and age, security concerns are very real for small businesses so mitigating the risk from IT threats is critical."
Just as the IT industry is constantly evolving, so is his company. He recently led the company through a rebranding and a renaming: Mankato Computer Technology.
"We've grown quite a bit," explains Gilbert. "When we started out it was just me and one part-time employee. We've grown steadily over time and now have 10 full-time employees. Half of us went to high school together in Mankato so many of us have known each other for decades. The way we do support has changed drastically as well. When I first got into this industry, almost all the work was done on-site when someone called you to say something was broken. Now, most of our support work is done remotely, and we're much more heavily focused on preventative measures than reactive measures."
Gilbert founded the company after spending several years managing another IT company in Mankato.
"I knew how to run an IT business the right way and wanted the chance to do things my way. I had a clear vision of how an IT company should operate and I wanted to create that," he explains. "It was definitely a little scary. I left a steady job that I enjoyed and sold my car to fund the new operation. But I figured I was young enough that I had time to bounce back if it didn't work out, so the timing was right to go for it."
Going through a recent name change and rebranding is a culmination of all that Gilbert has learned from his early entrepreneurial endeavor.
"We are really thrilled with the rebrand and new location. We think both better represent the company we've become over the years. We have focused heavily on business IT support for over five years now, so we wanted a name, brand, and location that better suited the company we've become, and I think we've achieved that," he says.
In addition to growing staff, the company also outgrew its original location and recently moved across the street to a larger, newly remodeled office on the first floor of the Hubbard Building. Along with constantly learning to keep up with the latest technologies, Gilbert says he has also learned a lot from the business perspective.
"The biggest thing I've learned is to listen to your employees and involve them in decision making whenever possible. I'm lucky enough to have a lot of really smart people who work for me. When we have a tough decision to make, we talk it through as a team and everyone gets a chance to share their thoughts. We make better decisions because of that, which has been key to our success. It's also given our staff a real sense of agency – a sense that we are a team working toward a common goal and that everyone has a say in how we get things done. Also, be willing to admit when you're wrong. Find people who can help you lead and cultivate a management team so that you can focus on growing your business," he reflects.
As far as advice for other entrepreneurs, he says they need to go in with eyes wide open.
"I would suggest that any new entrepreneurs take the time to really figure out what their goals are and why they want to be in business for themselves. A lot of people have a romantic idea of business ownership, but the reality is a lot of hard work, stress, and sacrifice. If you're lucky you'll be rewarded for all that, but it takes time and dedication to get there. So you really need to know what your goals are so that you are driven enough to push through the hard parts," he says.
---
THE ESSENTIALS
Mankato Computer Technology
424 North Riverfront Drive, #120
Mankato, MN 56001
Phone: 507-625-8324
Web: mankatotechs.com