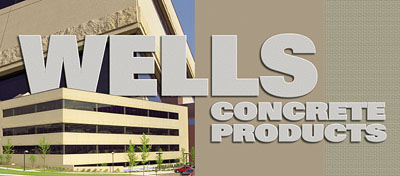 David Buesing can give you many concrete answers to all of your building questions. As President and General Manager of Wells Concrete Products Company, Buesing knows there are many reasons to build with prestressed precast rather than other materials:
Strict quality control that comes from building all member pieces at the Wells indoor production facility;
Reduced scheduling time because concrete members are produced while site preparation work is being done, and construction can be done even during winter's harshest weather;
Durability, strength and fire resistance that come from concrete;
Flexibility, not only in building layout but also in interior and exterior wall finishes.
"Were not the lowest-cost way to build a building, but were not the highest-cost either," Buesing says from the conference room of the company's two-year old offices along Highway 109 on the east edge of Wells. "We feel that our product is very competitive when considering the value that the customer receives."
Wells Concrete was begun in 1957 with a single form in a cornfield on the edge of town, Buesing says. Today, the facility has expanded to include a 32-acre plant and yard in Wells, ready mix plants in Wells, Blue Earth and Mapleton, a plant making concrete septic tanks and steps in Alden, plus a company about half the size in Grand Forks, N.D., which Buesing also oversees. During peak production times, Wells Concrete employs 230 people, making it the city of Wells' largest employer.
Much of Wells Concrete's success is tied to its proficiency with prestressed precast concrete. The process can be explained by visiting the plant, where one room nearly 1,000 feet long contains many molds for forming everything from floor, ceiling and wall members for buildings to spans for road bridge decks. Another production area in a nearby building produces panels that will contain one of the company's architectural finishes.
"Prestressed really relates to the method of reinforcing the concrete with prestressed steel," says Buesing, who has been with Wells Concrete since 1973. "It's high-strength steel cables that are placed in the steel forms, then anchored on the ends and stretched to put 30,000 pounds of tension force in the cable." When the concrete cures it bonds to the stretched cables, which induces compression in the concrete, creating a product strong enough to safely carry heavy loads across long spans.
The cable takes the place of rebar, a much lower-strength building material, Buesing explains. Rebar creates a product with a yield of 60,000 pounds per square inch (PSI); prestressed cable creates a yield of 270,000 PSI, meaning the product is 4-1/2 times as strong.
Wells Concrete produces both double tee panels and flat panels. The double tees are panels shaped roughly like two capital letter Ts placed beneath a top piece. Panels typically are eight to 10 feet wide, with the strength coming from the cable stretched through the stem of the T. The height of that T determines how far the panel can safely span.
Wells Concrete primarily works with architectural plans when formulating bids for a construction project, Buesing says. Each project offers its own challenges the size and configuration of concrete members, span and loading requirements, design for incorporating windows and doorways, different interior and exterior surfaces that keep the company innovating.
After it is awarded a contract, in-house drafters working with computer assisted drafting (CAD) or on drafting tables design all needed pieces. Drawings then go to the production floor. Most pieces are created in standard steel forms, though special wooden forms can be created to incorporate requested design features. One steel form stretches 370 feet across the production floor, allowing for seven 50-foot members to be created in one pouring.
Specific mixes are created in the batching facility, Buesing says. Different aggregate materials (the rock and cement used to create the concrete) are doled out mechanically and carried along a conveyor belt to the mixer. Buesing says as little water is added as possible, creating a dense concrete that will have maximum strength.
The concrete in the forms is heated to temperatures up to 150 degrees to aid in curing. Because of this, the concrete members can cure overnight. A releasing agent applied to the molds allows for the removal of the finished pieces from the form, much like vegetable spray reduces sticking while cooking. Concrete members can be stored in the company's yard until they're needed on the work site.
Wells Concrete has a variety of customers. One of its most consistent is Taylor Corporation, which has turned to the company to build all of its printing and production facilities and its new corporate offices on North Mankato's hilltop. Other recent customers are the AgStar Farm Credit Services building in Mankato's Eastwood Industrial Centre (where it joins Wells CWC building), the Sween Corporation building in North Mankato, the Mankato Barnes and Noble Bookseller, and the new Raintree Mall near River Hills Mall. In recent years, Wells Concrete has built many governmental buildings and schools as well, including the addition to the school in Janesville.
"We do a lot of outstate work," says Buesing. "Were the only outstate located precaster in Minnesota," though there are competitors who work out of the Twin Cities area. Between the southern Minnesota and Grand Forks plants, Wells Concrete serves customers throughout Minnesota, North and South Dakota, Iowa and Wisconsin.
"It's a very competitive business. The competition is not only other precasters like us, but, of course, every other type of building material," Buesing says. "A steel building or a building with glass walls and a steel roof is a competitor of ours."
Buesing says that another big advantage of prestressed precast concrete is that each member comes out of the form ready to be installed. Color can be adjusted by adding dye to the concrete mix, so no additional paint need be applied. Plus, the surface is smooth, with no ledges, virtually eliminating maintenance.
When these features are added to an innovation such as the creation of insulated panels, the company's reach is expanded. The insulated piece is a sandwich panel, where the insulation is sandwiched with two layers of concrete. When the building is up, not only is the structure done, but they've also provided the insulation and the interior wall finish. Nowhere is this more appreciated than in food-processing plants.
"The packing plants and food plants are subject to very strict cleaning requirements, and that means washing the walls with hot water. Of course, concrete doesn't rust and it doesn't rot," Buesing says. "Another aspect of the food plant is that they don't want any ledges in the building because ledges collect dust and dirt, where bacteria can grow. And we can provide a ledge-free construction." Concrete's long spans means large rooms with very few support columns, and its durability makes for walls that can undergo lots of punishment.
Although he says he can't predict where the industry will go, Buesing knows that Wells Concrete will continue to work with its customers and new technology to meet changing needs in construction. One such step may be increased mechanization, which helps assure consistent quality of concrete products at affordable prices.
When you've got a good product, you don't need to mess with success. "There's cheaper ways to build a structure, but when considering all of your costs involved in a structure throughout its life, we feel that our concrete buildings are really the best value for our customers."
That can't be concrete, can it?
Don't look now, but there may be concrete buildings around you that you didn't even suspect as being concrete buildings. Barnes and Noble Booksellers in Mankato, for example. That can't be concrete, can it? After all, it's kind of purple and you can see rocks in it. Marktplatz Mall in New Ulm. You don't even have to look closely and you can see all of the bricks in that building, so concrete is out of the question, right? And there's no way the AgStar Farm Credit Services building in Eastwood Industrial Centre is concrete. You can go right up and touch the bricks there.
In reality, each is a concrete building produced by Wells Concrete Products Company of Wells. The different looks are produced through production techniques and materials selection, according to its President and General Manager, Dave Buesing.
To add different surfaces, the concrete panels are poured and allowed one day to cure. Then they are removed from the forms and undergo either a sandblasting or a pressure washing that removes some of the smooth surface of cement and sand, revealing the stone or aggregate beneath.
"[Adding color] is another advance," Buesing says. "We have been able to put colors, dyes, into the mix, we have been able to work with special cements, and special aggregates." Various combinations of dyes and aggregates can result in countless completed looks to meet myriad aesthetic expectations.
Although much of the aggregate used in their concrete comes from local sources, Wells Concrete now travels to Wisconsin, Wyoming, and even Georgia for aggregate that will provide the look customers want. Brown limestone in gray cement will result in one look, while white marble in white cement will result in a completely different look. Sandblasted limestone in gray cement will not only create a different look, but a different texture as well.
"Many of the architectural finishes came to meet a clients needs," Buesing says. "We learn how to do something and then we say, well, lets take a small step further into an unknown area. The AgStar Farm Credit Services building was unique in that we cast brick into the exterior of the panel." Although they'd created the impression of brick, such as in the Marktplatz Mall exterior, through the form that was used, AgStar Farm Credit Services was the first time they used real brick.
Half-inch thick bricks were placed in a molded rubber liner for equal spacing between them. The bricks were placed at the bottom of the form and concrete poured over the top of them. When the rubber liners were removed from the bricks after pouring, they created a recessed area between bricks to more accurately duplicate the look of a laid brick surface.
"A lot of architects want to build with brick," Buesing says, "and we can provide them with that while maintaining the advantages of precast concrete."
Double tees, reveals, ribs, rakes…
Are you having a hard time envisioning what this "double tee" construction is all about? Well, take a look at any concrete production building or warehouse nearby and you'll probably see a "double tee" in action. In most facilities, such as those at Taylor Corporation in North Mankato or, most likely, any implement dealer near you, the "double tees" in the concrete wall members face out. The vertical protrusions you see add strength to the walls protection against those strong wintertime winds, for example while allowing for a smooth wall surface on the inside of the building.
When insulation is needed, sheets of insulation can be sandwiched between the exterior and interior concrete layers for added protection from the outside elements or, in the case of meatpacking plants, help in keeping temperatures inside at a required low level.
Other variations can be created by using "reveals." These recessed areas, often with a different finish or color than the surrounding concrete, add visual variety and distinction to large wall areas. These reveals are created easily in the forming process.
Finally, ribs or rake and broom textures can be added before the concrete cures completely to create a building that looks nothing like traditional concrete buildings.
©1999 Connect Business Magazine