Tom Fallenstein – Runner-Up – 2007 Business Person Of The Year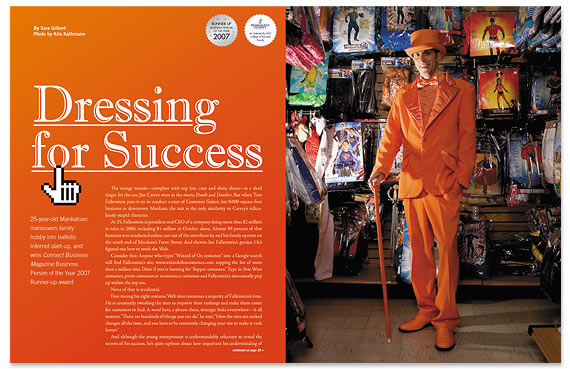 25-year-old Mankatoan maneuvers family hobby into ballistic Internet start-up, and wins Connect Business Magazine Business Person of the Year 2007 Runner-up award.
Photo by Kris Kathmann
The orange tuxedo—complete with top hat, cane and shiny shoes—is a dead ringer for the one Jim Carrey wore in the movie Dumb and Dumber. But when Tom Fallenstein puts it on to conduct a tour of Costumes Galore, his 9,000-square-foot business in downtown Mankato, the suit is the only similarity to Carrey's ridiculously stupid character.
At 25, Fallenstein is president and CEO of a company doing more than $2 million in sales in 2006, including $1 million in October alone. Almost 99 percent of that business was conducted online, not out of the storefront he and his family operate on the south end of Mankato's Front Street. And therein lies Fallenstein's genius: He's figured out how to work the Web.
Consider this: Anyone who types "Wizard of Oz costumes" into a Google search will find Fallenstein's site, www.wizardofozcostumes.com, topping the list of more than a million hits. Ditto if you're hunting for "flapper costumes." Type in Star Wars costumes, pirate costumes or renaissance costumes and Fallenstein's sites usually pop up within the top ten.
None of that is accidental.
Fine-tuning his eight costume Web sites consumes a majority of Fallenstein's time. He is constantly tweaking the sites to improve their rankings and make them easier for customers to find. A word here, a phrase there, strategic links everywhere—it all matters. "There are hundreds of things you can do," he says. "How the sites are ranked changes all the time, and you have to be constantly changing your site to make it rank better."
And although the young entrepreneur is understandably reluctant to reveal the secrets of his success, he's quite upfront about how important his understanding of the World Wide Web is to his business's growth. "That is the one thing that I know will bring in more business quite quickly," Fallenstein says. "I know how to rank well. So really, I can sell anything on the Internet."
But it isn't just anything that Fallenstein sells on the Internet. It's costumes—from darling Dorothy dresses to space age Star Wars suits to funky flapper outfits. And that isn't accidental either.
It started when Tom and his three sisters were children and their mother, Jenice Fallenstein, made their Halloween costumes. Those costumes were the envy of the other trick or treaters in their neighborhood. "My mom is a good seamstress, and every year she'd make us costumes," Fallenstein remembers. "We always held on to them, because there was usually a younger kid who could wear it the next year."
Eventually, the Fallenstein family ran out of "younger kids" to re-wear Jenice's creations. But that didn't diminish demand. As the three girls—Lisa, Heather and Julie—started college, they were besieged by requests to borrow the costumes. So, in 1992, they decided to try renting some out. All 20 of the costumes they arranged in the family garage were gone in a couple days. Each year they added more, sometimes sewing new outfits, sometimes buying them at trade shows. Their inventory doubled, then tripled, then multiplied exponentially. Eventually, they accumulated upwards of 1,500 rental costumes.
Tom Fallenstein was still in high school when Costumes Galore officially started. He helped check customers out and went along on trips to the Halloween Convention in Chicago. When he started studying computer science at Minnesota State University, he married his two passions: In 2001, he started his first Web site, www.flappercostumes.com, to sell six flapper costumes he had purchased at the costume convention.
"I knew what was popular in terms of what we rented, and I knew what good costumes were," Fallenstein says. "So I just went off of that."
He received about an order a week, he says, which was enough to keep him interested. In 2002, he set up a Renaissance costume site, and in 2003 the Wizard of Oz site. He kept his inventory in the walk-in closet of his college house; his own clothes, he admits, were banished to the bedroom floor. "I only had like 10 things I wore," he laughs.
When Fallenstein graduated in 2004, he moved his business home to his mom's garage. That year, he did $40,000 worth of sales, netting a $20,000 profit to live on. "At that point, I really wondered what I should do," he says. "I started to think that I should go get a job. I knew that I'd still do the costumes on the side, but $20,000 wasn't enough money to make it an obvious choice for me."
In 2005, he decided to give the costume business a go full-time. He purchased domain names for three more sites—Star Wars, pirates and superheroes—and invested in a bigger costume inventory. He started tweaking his other sites to improve their rankings on the major search engines. His operations were still confined to the family garage, and his was the only name on the payroll.
That worked just fine until September 2005. And then everything changed.
"I could keep up until then," Fallenstein says. "But then suddenly September and October hit, and just like that things were crazy. I called all my sisters to come help. They all had full-time jobs, but would come over and work until midnight or later to help me."
By the time Halloween rolled around, Fallenstein's business had taken over his mom and dad's home. The living room became the shipping department—designated by a plain printout taped to the wall in one of the family's slaphappy late-night sessions. The kitchen became the break room, the dining room the office. Her minivan doubled as a delivery truck, dropping off stacks of priority-mail packages at the post office daily.
When the season ended, Fallenstein, his sisters and his parents were exhausted. They had pulled several all-nighters in the days leading up to Halloween and were too wiped out to even dress up themselves. Tom didn't need to run the numbers to know that business was better, but he was surprised to find out that sales were up five times over the previous year.
It was obvious that the business couldn't continue to operate out of his parent's house anymore, so Fallenstein acquired the old DeGrood's building in Mankato in December 2005. At the time, the 9,000 square feet seemed too much; Fallenstein intended to rent a third of it out. He never had a chance: Between the spring demand for his Dumb and Dumber tuxedoes and the increasing orders for Halloween costumes, 2006 eclipsed 2005 sales numbers by roughly 500 percent.
"I had hoped that it would get this big," Fallenstein says. "But I thought it would do it in maybe 10 or 15 years—not two. This is way more than I expected."
Just a year after moving into its new home on Front Street, Costumes Galore has outgrown that space entirely. Fallenstein is considering converting the minimal space currently devoted to retail sales—bagged costumes, accessories and wigs—into more storage for Internet sales. "Retail is about 1.5 percent of our sales," he says. "I can make 10 times that amount on Internet sales."
He's also scouting out locations with at least 200,000 square feet, to accommodate his anticipated growth in the next five to 10 years. He'd like to find that space before next Halloween and he'd like it to be in or around Mankato if possible. "All of the family is here, so this is where we want to stay," he says. "I don't know that I'll find something that big right in town, but we will definitely stay close."
Fallenstein's growth isn't limited to physical space. The business is likely to go as far as the Internet will carry it. Fallenstein owns 40 domain names for Web sites that will be designed in the future—expect sites with Alice in Wonderland costumes, sexy costumes and Easter Bunnies, for example. And in the meantime, he'll continue to do his best to drive costumers to his current sites as well.
"It's all about getting people to the site," he says. "It's all about the search engine rankings."
But the truth is, it's all about doing something you love, with people you love alongside you. Costumes Galore employs nine full-time, the bulk of them family members, and as many as 30 part-time seasonal people. Fallenstein feels most comfortable keeping the business's inner workings limited to his own flesh and blood. "When we started growing so quickly, I knew that I needed to have key people who I could trust helping out," he says. "That's why my family is so involved; I don't want to teach anybody else what I know about the rankings."
What he knows about costumes, however, he's happy to share. Selling costumes is "way more fun than selling widgets," he says. "On any given day I can look down at my desk and see a Yoda hand or a Dorothy shoe sitting there. That's fun."
---
Prom Perfect
Tom Fallenstein picked out the tux himself. He was at a costume trade show with his sisters when he saw the orange and blue replicas of the tuxedos worn in Dumb and Dumber. He wanted one for himself, and had a hunch that others would want one too.
His hunch was right. The colorful tuxedos—he's also added red and pink to his line—are especially popular with teenagers hungry for an alternative to the traditional prom tuxedo. In 2006, he sent 500 rental tuxedos all over the country and to Canada and the United Kingdom.
"I figured that I liked it, and if nothing else I could rent it out locally," Fallenstein says. "So I put it online and saw the demand for it."
Now the tuxedos provide a nice little peak in sales during the slow costume season. "We get a nice bump in March for proms," Fallenstein says. "That's nice."
Site Seeing
What started as a single Web site devoted to Flapper costumes has turned into eight sites, each devoted to a separate niche. Tom Fallenstein, the president and CEO of Costumes Galore, has plans to add up to 40 more. For now, however, his products can be found at the following sites:
www.wizardofozcostumes.com The full range of character costumes for kids and adults, including Dorothy, Scarecrow, Tin Man, Cowardly Lion, Glinda the Good Witch of the South, the Wicked Witch, Munchkins, Flying Monkeys and the talking tree. Fallenstein even converted a Mad Hatter costume into the Wizard himself. There's also a full compliment of accessories, including a basket with Toto in it and the Wicked Witch's broom.
www.flappercostumes.com 1920s style flapper dresses, Marilyn Monroe outfits, gangster costumes and all the accessories — including swanky cigarette holders — you could imagine.
www.renaissancecostumesclothing.com Adult men's and women's renaissance faire and medieval costumes, along with many accessories that complete most period costumes.
www.dumbanddumbercostumes.com Especially popular with the prom crowd! Rent or buy orange and blue tuxedos like the ones worn by Jim Carrey and Jeff Bridges in the movie "Dumb and Dumber." Red and pink tuxes are also available.
It's a Superfriends reunion: Superman, Batman, Robin, Spiderman, Captain America, Wonder Woman and Catwoman are all available, as well as funny superhero costumes and movie character costumes.
Ahoy, mateys! There's every type of pirate costume for both men and women, including Caribbean pirates, classic pirates, deluxe and cheap pirates. All the accessories you'll need are available as well.
Every Star Wars costume that is officially licensed to sell, including rare authentic costumes like Darth Vader and Chewbacca.
www.costumesgalore.net Online rentals that include Halloween costumes, specialty suits (think Santa and the Easter Bunny) and clothing for theatrical productions.
All In The Fallenstein Family
Tom Fallenstein may be president and CEO of Costumes Galore, but the entire enterprise—both rental and online businesses—is owned and operated by his entire family. Although the arrangement first started out of sheer necessity, when Fallenstein needed all the help he could get in 2005, it's become one of the joys of the job.
"After 2005, I knew that I was going to need full-time people working with me to make this work," he says. "And I thought, who better than my own sisters? Plus, I thought it would be fun to work with my family. We're very close."
Now all three sisters—Julie Johnson, Lisa Holthaus and Heather Madison—are partial owners of the business. So is his mom, Jenice Fallenstein. His dad Jim is the only family member not involved, but he hangs out at the Front Street offices all the time anyway. "He's our best employee," Fallenstein says. "He's just here all the time, and he knows everything, but we don't pay him."
Although everyone is assigned different duties, responsibilities are constantly shifting. Lisa, who runs her own photography studio, Elite Portrait Design, shoots all the promotional photos of the costumes (most feature other family members as models). Jenice, Julie and Heather, meanwhile, help with shipping, returns, orders and anything else that comes up.
Fallenstein considers the family connection one of the biggest reasons for his business's success. "I've been able to surround myself with people who I trust," he says. "My family is always there to back me. That means a lot."
China Dolls
Tom Fallenstein recognizes that it will be almost impossible to sustain the kind of incredible growth he's seen in his business the last two years. But he also recognizes that there's more than one way to better the bottom line, which is why he's been collecting bids from manufacturers in China to make his costumes there.
"I'd like to do as much as I can there," he says. "It would save me a lot of money; it's probably about a third of the cost to make them there then it is to buy them here. A pair of orange tuxedo shoes, for example, are $5 from China, compared with $15 here."
The overseas experiment started last year with the shiny orange shoes that go with the orange tuxedos. Fallenstein ordered 3,000 of them, each with a "Costumes Galore" tag stitched into the heel. He'd like to add as many other items to his overseas order as possible—Dorothy dresses, flapper gowns, whatever he can get.
"I'll do as much as I can," he says. "It makes a lot of sense, financially."
© 2007 Connect Business Magazine. All Rights Reserved.